Archive for the 'Stories of the Day/Week/Year' Category
October 9th, 2013 · Stories of the Day/Week/Year · 0 comments
1. Chae Dong-wook, the country's former top prosecutor, reportedly has a child from an extramarital affair but the mother of the alleged mistress says it's not true. Mr. Chae has resigned over the flap.
2. Due to the poor economy in the US, an increasing number of Koreans who went there to study with hopes of finding work afterwards are returning to Korea. Once they've returned, they find that it's still to find a job since they have to compete against each other.
3. The man who allegedly killed his girlfriend and then tried to make it seem as though she had actually choked while eating nakji had his conviction overturned on appeal. The woman's father is embittered and says he no longer believes in the law.
4. Police are investigating after reports that the operator of a large group-purchase website called 엄지랑열매랑 stole hundreds of millions of won.
5. More on #1.
6. A daycare in Sejong City is accused of abusing the kids in its care.
7. The Hankyoreh raised doubts about the veracity and political motivations behind the investigation and arrest of Assemblyman Lee Seok-gi on charges of sedition.
8. A man arrested for secretly filming women on the subway turned out to be a director at a large company.
9. The sixth entry in a Money Today series examining how Koreans seek to make more money by pursuing professional degrees. This one focused on those who study traditional Korean medicine.
10. With a new law going into effect that would suspend the licenses of doctors and nurses convicted of sex crimes, the National Union of Korean Medical Doctors and its members are taking to social media to refute the idea that too manyof them molest patients.
1. Police arrested a man for claiming to be a Harvard-educated doctor when he fact had not even graduated from high school.
2. The TV show "I Want to Know That" exposed a man who claimed to be a poor pastor and used donations to live a lavish double life.
3. The Supreme Court ruled that photos and videos can only b considered child pornography if they depict sexual acts, and thus overturned the conviction of a man for surreptitiously photographing underage students after they had come to his studio for ID photos.
4. It turns out that trying to uncover your wife's suspected adultery by purchasing chemicals from the internet that purport to react to the presence of semen is not a foolproof plan.
5. Police are investigating the murder of a female high school student in Heonam.
6. The TV show "Sunday Night" has a popular new segment in which a group of young men document time spent in military training.
7. An idiot working in a hotel in Songpa-gu decided to take a customer's red Ferrari for a spin and (of course) wrecked it.
8. A woman in her 50s died after her blood pressure plunged during a routine colonoscopy.
9. More on the Chae Dong-wook saga.
10. A 56-year old unemployed man used a handgun to commit suicide, leaving behind a young daughter with Chuseok around the corner.
1. Police made an arrest in the Heonam schoolgirl murder.
2. Police arrested one of their most-wanted suspects, a man accused of attempted sexual assault in Paju.
3. A man in Incheon who was accused of murder committed suicide.
4. For National Police Agency commissioner Cho Hyun-oh, who once embroiled himself in controversy for suggesting that Roh Moo-hyun had committed suicide over fears of his secret bank accounts being exposed, was upbraided for those comments by a judge in Seoul. He is appealling his conviction for defamation.
5. More on #3.
6. More on #3.
7. A young person riding a bicycle fell from a road onto a car below and died.
8. The guy in the nakji murder case was released from prison in Anyang, where he had been imprisoned after unrelated convictions for burglary and other crimes.
9. Yonsei University fired the professor of medicine who provided the false diagnosis that got Yun Gil-ja moved from prison to hospital.
10. More on #3.
1. The director of a company was arrested for assaulting a stewardess in an airplane while she was making some instant ramen.
2. A look at a controversial case of adultery and suicide at the Judicial Research and Training Institute.
3. In an SBS report on a basketball game in which Korea University crushed Yonsei University, the logo displayed for Yonsei was incorrect. This is the latest in a series of minor image gaffes that SBS has blamed on software glitches.
4. More on #2.
5. Following the suicide in story #3 from last week, the man's wife also killed herself.
6. Tweeting a picture of the suspect in Incheon wearing a purple shirt, the National Police Agency said that while not all folks who wear purple are criminals, this guy was.
7. A man wrote on the internet that when he, his 3-year old son, and his pregnant wife took a taxi to go home, the driver said that he always gives kids 500 won when they come in his taxi, and gave the wife 5,000 won for a safe delivery. The man posted pictures of the money.
8. More on #1.
9. A woman wrote anonymously in The Hankyoreh about the 35 years she has spent arduously taking care of her family during holidays, with the huge amount of preparation that goes into them.
10. A look at the jackwagon from #1, comparing him to other businessmen who behaved badly.
September 8th, 2013 · Stories of the Day/Week/Year · 0 comments
1. An anonymous tip led to the arrest of a man suspected of breaking into a dormitory and sexually assaulting a woman there.
2. In Busan, some idiot was arrested on charges of blocking an ambulance's progress with his imported BMW.
3. 1  in 5 young people in their early 20s have no particular inclination to get married.
4. A  look at how an increasing number of Koreans are going back to school to try and advance their careers as fewer than ever are able to spend their careers at one company or in one industry.
5. In Daegu, three Sri Lankan workers are accused of sexually assaulting a woman as she walked home at night. One of them has a prior conviction for sexually assaulting a college student who was in such shock afterwards that she ran onto a highway and was killed by a truck.
6. Overturning what normally would have been a 60-40 split of responsibility under Korean auto insurance law, a court found a driver 100% responsible for an accident caused when he cut off another car, which had to swerve to avoid him and hit a third car.
7. More on #1.
8. A man has been charged with assault for beating and seriously injuring a man he says was sexually assaulting his (the arrestee's) sister.
9. Prosecutors in Busan are charging a doctor with issuing false diagnoses to Yoon Gil-ja, the flour company owner's wife who had a college student murdered in the mistaken belief she was having an affair with her husband. The diagnoses were instrumental in getting Mrs. Yoon moved from prison to a hospital for a more comfortable life sentence.
10. The average monthly pension benefit receive by a retired government worker is 2.19 million won, or 2.6 times the average 844,000 won received by other retirees.
September 1st, 2013 · Stories of the Day/Week/Year · 0 comments
1. A look at the many dangers of plastic surgery intended to make patients taller.
2. Oh Seon-hwa, a naturalized Japanese citizen and far-right politician who stirred controversy with idiotic statements about how hangul prevents Koreans from developing the brain power necessary to win a Nobel Prize, actually owns land in Jeju-do.
3. A brief look at the current proposal in labor negotiations at Hyundai Automotive.
4. In Seoul, there seems to be a lack of housing for university students, and ordinary dorm-style buildings have been converting into studio apartments and goshiwons.
5. Some cyberthieves are stealing people's personal information and using it to regularly withdraw small sums from their bank accounts, which frequently adds up to large amounts. For example, one woman thought the 16,500-won withdrawals simply had to do with cellphone fees.
6. A second-year middle school student died of injuries suffered when attacked by a classmate and friend while a group of at least 10 other kids looked on but did nothing.
7. In Busan it was found that a local school has a statue of Ahn Yong-baek, who was a bureacrat in the Japanese colonial government but later an ROK education administrator and National Assembly member who was acquitted of election fraud. This discovery follows criticism of a statue of him in Gwangju from folks who see him as a Japanese collaborator.
8. A look at how women may criticize other women for seeking more maternity leave.
9. Okay, 'fess up. Which of you left a 12-million won hunk of gold in an Incheon International Airport bathroom?
10. An appeals court affirmed the conviction of a teacher for having sex with a female student.
August 26th, 2013 · Stories of the Day/Week/Year · 0 comments
Top 10 in society for August 25.
1. The animal protection group CARE stirred anger online by finding a person in Busan selling cats bound up in onion bags, as photographed bya female foreigner: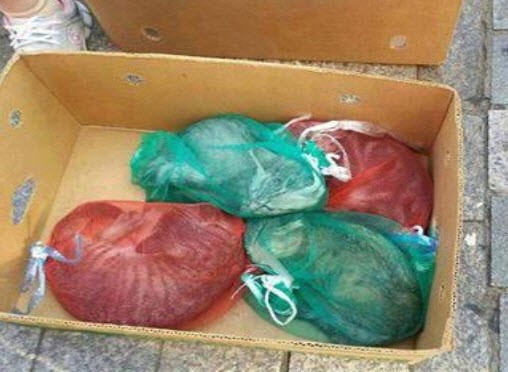 2. The transcipt of a TV report on #1.
3. For some top users of Auction didn't like the site's recent promotion featuring the members of Crayon Pop, and are supposedly upset enough to be quitting the site.
4. Attempting to commit suicide, a woman leaped from a department store walkway and landed on an 11-year old, who suffered head and knee injuries but is not in critical condition.
5. Deepening controversy over the treatment of irregular workers, a woman committed suicide after developing serious ailments after 13 years of work as an irregular employee in the science classroom of an elementary school.
6. The KFDA is investigating after someone reported discovering a frog corpse in a jar of infant formula.
7. The fifth entry in a Hankook Ilbo series on Korean military culture.
8. In Incheon, a middle-aged woman disappeared with her son, who is in 30s.
9. An increasing number of Korean parents who can afford it are turning to professional babysitting services amid fears of child abuse committed in daycare centers.
10. Police are attempting to verify online reports of a man nicknamed the "Monster of Yeonshinnae" has been slashing people's hands with a box cutter, sometimes as they wait at bus stops.
Top 10 in society for August 18.
1. A police officer on patrol, afraid that an elderly woman selling cookies was going to collapse from the heat, bought everything she was selling. Somone took a picture of him doing so and put it on Facebook.
2. Angry over having had a hard time finding a customer's address, a McDonald's delivery boy texted the customer that he had spat in his burgers.
3. A journalist, following a tip from an animal shelter, investigated the existence of puppy snatchers (강아지 퍽치기).
4. The first article in a Hankook Ilbo series on military culture in South Korea.
5. On National Liberation Day, progressives turned out to protest the Park Geun-hye administration. Police responded to physical altercations by using water cannons for the first time under her presidency.
6. Parents spend three times as much when their sons get married as when their daughters do.
7. A police station in Seoul left prisoners sweltering without air conditioning.
8. Water quality in the Han River is very low.
9. Police in Yeongju are searching for a man suspected of murder.
10. A look at "room cafes", which are establishments with tiny partitioned-off spaces for couples to get frisky for less money than a love hotel.
Top 10 in society for August 11.
1. In Incheon a teen girl was murdered, apparently by her tutors.
2. Korean medicine saw the first death of someone who contracted an overseas strain of melioidosis.
3. More on #1.
4. A longish look at #1.
5. Many are wondering what the punishment will be for a driver who stopped suddenly on a highway, causing a multiple-fatality accident.
6. More on #1.
7. A Chinese organized crime boss was found to have been living secretly in Seoul the past two years.
8. More on #1.
9. Women at a bathhouse in Suwon complained that a man had come in, but police found the person was a post-op transgender. Unsure what to do, since the person was legally male, they wound up charging her with trespass rather than a sex crime.
10. More on #4.
August 6th, 2013 · Stories of the Day/Week/Year · 0 comments
1. A woman opened a very successful fruit ddeok shop in Myeongdong, seeing long lines of customers after being featured on TV. But she soon ran into trouble involving a broken contract. She learned the art of producing fruit ddeok in Osaka.
2. Kim Hyeon-chul, the son-in-law of Yun Gil-ja, the wife of the chairman of the YoungNam Flour Mills company who arranged the murder of a young woman she thought he was dating, spoke to the media for the first time about the case.
3. A section of Banghwa Grand Bridge collapsed, killing two people.
4. A right-wing Japanese woman of Korean birth stirred controversy by saying that hangul is the reason Korea will never produce a Nobel prize-winner. She believes that this is because unlike hanja, which expresses meaning as ideographs, hangul is an alphabet which does not, so hangul does not develop the brain. No word on why other alphabets have had so many prize-winners.
5. A look at the increasing use of pre-divorce counseling intended to help couples resolve their problems or gain the skills necessary to continue their marriages.
6. In some kind of deeply misguided publicity stunt, a member of the group "Men's Solidarity" (남성연대) had himself filmed jumping off a bridge and was later found dead.
7. Morea on #3.
8. A police officer suspected in the disappearance of a woman in Gunsan was found to have known her and they had planned to meet.
9. A student at Korea University is accused of sexually assaulting or molesting 19 female classmates, frequently videotaping himself in the act.
10. A report of the death of the man in #6.
July 28th, 2013 · Stories of the Day/Week/Year · 0 comments
1. An article on the deaths of students who drowned at a private camp two weeks ago.
2. Workers who have gotten salary increases since last year may be unhappy when they how much more is deducted from their paychecks for national health insurance this month.
3. The campus of a university in Chunghcheongbuk-do seems to have been taken over by gangsters.
4. A group of smugglers were caught at Incheon International Airport with a ludicrous amount of gold stuffed in their anuses.
5. Not only do convenience store owners continue to pay less than minimum wage to many workers, some of them are giving workers left-over food instead of money.
6. A look at the Atlanta house which used to be home to Chun Doo-hwan's second son.
7. Parents are spending more to seek treatment when their children suffer from depression over being ostracized or bullied at school.
8. More on #1.
9. More on #1.
10. One of those who died in the Asiana crash was killed by being run over by a fire truck after exiting the plane.
July 21st, 2013 · Stories of the Day/Week/Year · 0 comments
1. A "monster fish" pulled out of a lake near Yeosu turned out to be a scalloped ribbonfish (홍투라치).
2. Artist Nickolay Lamm created a realistically-proportioned version of the Barbie doll.
3. During training at a private camp, a group of 90 students were ordered into the sea with just two instructors to oversee them with few wearing lifejackets. 5 drowned and 18 had to be rescued.
4. More on #3.
5. More on #3.
6. More on #3.
7. A 31-year old former pro basketball player is denying that he murdered his wife's sister and has taken a polygraph test.
8. A 57-year old man was sentenced to 7 years in prison for sexually assaulting and molesting his daughter over a period of three years, claiming to be teaching her sex education.
9. More on #3.
10. A "mystery shopper" style report on Samsung Electronics stores.
July 14th, 2013 · Stories of the Day/Week/Year · 0 comments
1. An Asiana 777 crashed while attempting to land in San Francisco, injuring scores of passengers and causing the deaths of three.
2. A look at the heroic performance by flight attendants after the Asiana crash in San Francisco.
3. Following the crash, when flight attendants had to rescue passengers while wearing high heels and pencil skirts, there are calls for them to wear pantsuits for greater mobility.
4. More on the flight attendants.
5. An early report on the investigation into the crash.
6. The Korean government concurred with US reports that the plane crashed when its tail struck a breakwater.
7. Morea on the flight attendants.
8. The National Transportation Safety Board was unhappy that Asiana held its own press conference after the crash and warned it to only do so in consultation with the NTSB.
9. A transcript of the discussion about the crash on a talk show.
10. When some Korean gangsters were rounded up by police, photos were taken of their heavily tattooed backs.
July 8th, 2013 · Stories of the Day/Week/Year · 1 comment
1. The wife of the chairman of the YoungNam Flour Mills Company was living a comfy life in a hospital despite being convicted of arranging the murder of a  lawstudent she thought was her husband's mistress.
2. Lee Jeong-ryeol, the judge who got in somewhat hot water a couple of times with satirical posts on Facebook about politics, has resigned due to a police investigation over a fight with his downstairs neighbors about noise.
3. After the reporting of #1, netizens were further angered after it came to light that the chairman of the  company tried to prevent a popular news program from reporting on the story.
4. The pizza shop owner who has convicted of raping an employee who later committed suicide appealed his conviction and won a reduction from nine years in prison to seven. The appeals court believed that he was not responsible for the girl's suicide despite raping her, photographing her naked afterwards, and threatening to murder her.
5. There are accusations that four male students at a middle school molested a female classmate, yet the school took no action.
6. A group of conmen were nabbed by police for allegedly forging 10 billion won checks.
7. It seems to be becoming a thing to be able to hire someone to protect your kid from bullies, presumably by roughing up the bullies.
8. Employees of a well-known department store are accused of stealing some one billion won from over 300 customers.
9. Almost immediately after reforms to the sex crimes laws, a man has been charged with the new crime of constructive rape (유사강간).
10. A sculptor wants o create a Dokdo education campaign featuring the character Robot Taekwon V. Some are criticizing this since the character, although popular, was heavily influenced by Japanese characters.
June 30th, 2013 · Stories of the Day/Week/Year · 1 comment
1. A brave teen intervened to prevent an attempted murder.
2. Someone posted onto Facebook a video of a man and woman fighting in public in Daegu. Police believe this was illegal.
3. Some idiot in Seoul decided to block the sidewalk by his house and force pedestrians to pay go through. Local government didn't do anything about it for over 10 days.
4. A list of events in Korean history that occurred on June 27.
5. A man in his 50s died after being struck while trying to intervene when he saw a man beating up a woman in public.
6. Police fired a type of tear gas at high school students participating in a candlelight protest in Gwanghwamun to call for a legal ban on the National Intelligence Service attempting to influence elections, as it was accused of doing last year.
7. Five apartment complexes in the capital region have been hit with infestations of booklice just one year after opening, leaving residents with some sort of skin problem.
8. A look at the minimum wage, which is now too low to even allow one to purchase a hamburger combo at a fast food restaurant.
9. The head of a traditional Korean music school was indicted on charges of sexuallt assaulting a young girl who had come to study music.
10. More on the candlelight protests.