Archive for the 'Sports' Category
May 7th, 2014 · Photos, Sports · 0 comments
It's the end of an era this year.
Though officially retired, the great skater performed in Seoul recently as part of the Samsung Galaxy-Smart Aircon All That Skate 2014.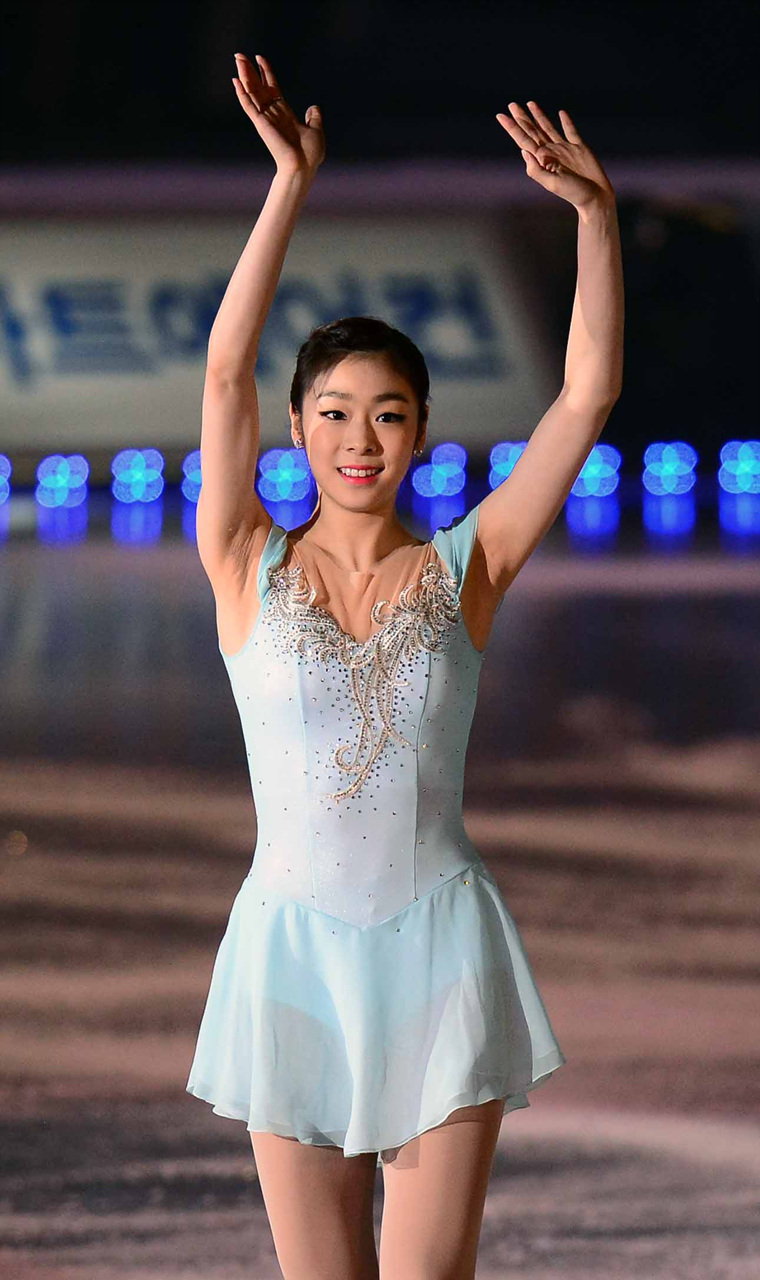 December 19th, 2011 · North Korea, Sports · 0 comments
Pyongyang-born Choi Hyun-mi successfully defended the World Boxing Association featherweight championship for the fifth straight bout, and celebrated with a little booty dance photographed by, of course, the Chosun Ilbo.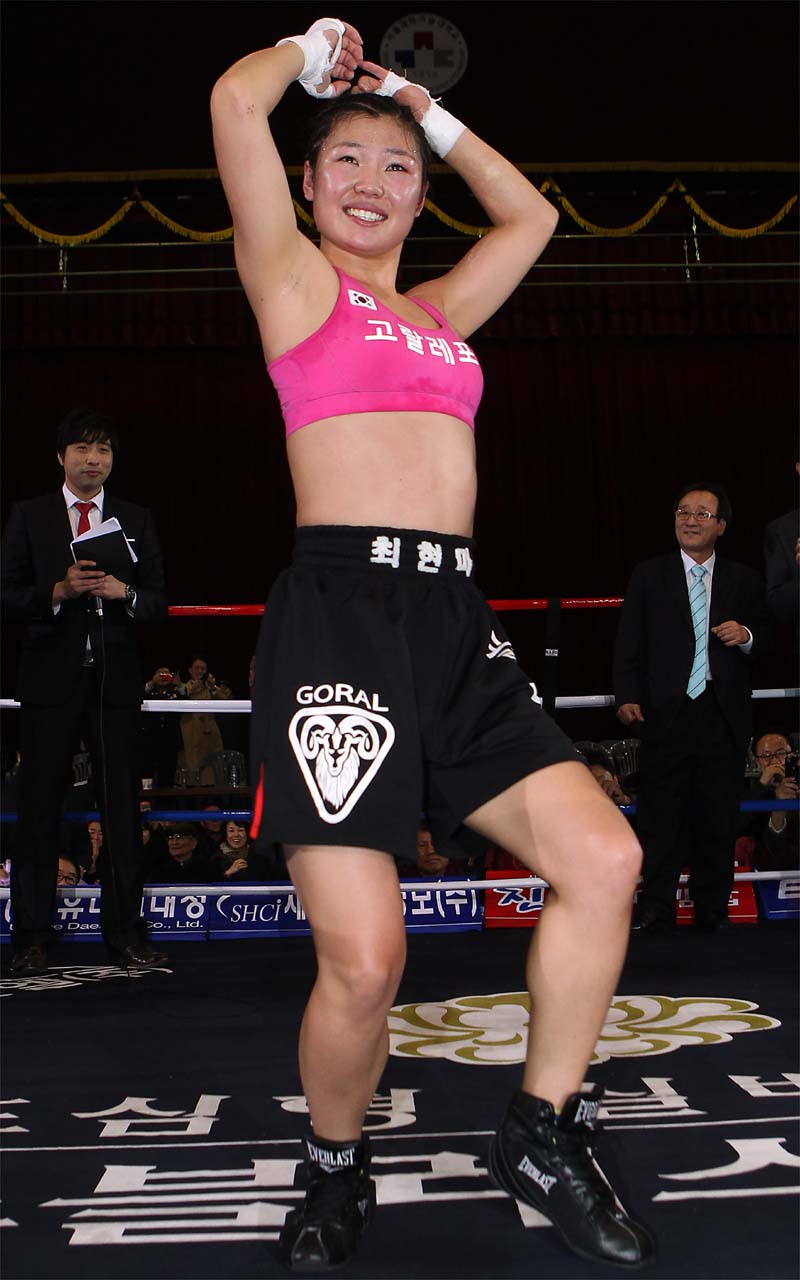 December 11th, 2011 · Sports · 0 comments
1. Pop singer, Rain, is involved in a lawsuit with a designer.
2. A photo of a large amount of snow that got dumped on Misi-ryeong.
3. A look at how scary it can be for teenagers to work alone in convenience stores at night, including the story of one girl who quit after an armed robbery.
4. A father who had gone to visit his son in the military was struck and killed by a truck.
5. An examination of a case in which a woman committed suicide by drowning herself in the Han River after being discovered having an affair.
6. Novelist and radio host, Lee Oi-soo, took to Twitter to criticize the strict rules against media personalities endorsing products. An ongoing English translation of his tweets is kept at this blog.
7. Netizens reacted to a Youtube video showing a man on the Seoul subway berating a mentally disabled kid for playing a video game too loudly. The video is at this link.
8. The Samsung Tower Palace apartment complex in Seoul is catching some flak for its policy of demanding that food deliverymen turn over their national ID cards before being let in.
9. What it's like to be a university student in Seoul who works in an illegal business that works them all day yet mires them in debt. They are known as 거마대학생 for the neighborhoods in which these businesses are concentrated, and as one interviewee puts it, "one mistake destroys your youth."
10. Whoever placed in a bus station a poster of President Lee dressed in a pink Nazi outfit could be in trouble, if they could be found.
Top 10 in sports.
1. Recent news at Chelsea FC.
2. Former Cleveland Indians pitcher, Mitch Talbo,t will be suiting up for the Samsung Lions. He started 12 games for the Indians in 2011, compiling a 6.64 ERA, so I'm scratching my head a little bit over this move.
3. The Lions also signed aging slugger, Lee Seung-yeop, to a one year deal, ending his career in Japan as he returns to his original team.
4. Former manager, Kim Seong-geun, commented on Park Chan-ho's move to Japan.
5. The SK Wyverns signed Lim Hun to replace departing free agent Lim Gyeong-wan, who is 10 years older.
6. SK's premier hitter, Lee Ho-jun, will likely move to the Lotte Giants.
7. Earlier this year Koo Ja-cheol of Wolfsburg got mad at a teammate over a hard tackle in practice.
8. A review of the week in Park Ji-sung.
9. Star pitcher. Ryu Hyun-jin of the Hanhwa Eagles, is considering signing with the Yomiuri Giants in Japan next year.
10. A look ahead to the 'group of death' in the next World Cup.
September 29th, 2011 · Accidents, Crimes and Scandals, Foreigners, Japan, Sports · 0 comments
During an Asian Football Confederation Champions League match between Korea and Japan, some Korean fans hung a banner with a Japanese sentence saying "we celebrate the great Japan earthquake", referring to the earthquake and tsunami that devastated the Tohoku region and killed over 15,000 people earlier this year.
A further reminder that nationalism knows no bounds of stupidity.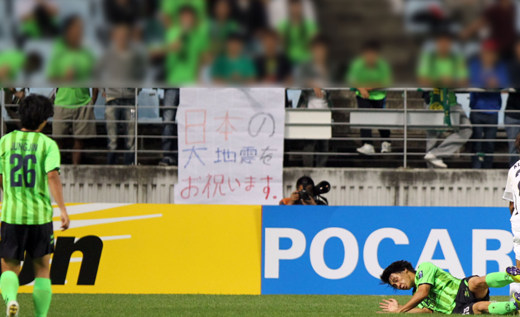 September 1st, 2011 · Accidents, Crimes and Scandals, Foreigners, Sports · 0 comments
Original article in Korean is at this link.
Two foreign athletes from Africa who are participating in the 2011 IAAF World Athletics Championships in Daegu are being investigated by police after it was learned they had sexually molested two female Korean college students.
According to the Eastern Daegu Police Station on August 30, at approximately 8pm on August 25 the two foreign athletes greeted the two female Korean college students, who were working part-time jobs in the athlete village in eastern Daegu, and then grossly felt their bodies.
The foreigners told the female students they would greet them in the fashion of their country, and then touched their bodies, and continued to do so as they ran away for some 20 to 30 meters.
Feeling sexually humiliated, the female students made a report two days later and the foreigners are under investigation by police.
Police referred them to prosecutors for indictment, but the representatives of the victims received an apology from the coach of the national team involved and withdrew their complaint on the afternoon of the August 30, so the athletes cannot be arraigned.
The athletes, prohibited from leaving the country during the investigation, are now unindictable and planed to leave the country at 12.50am on August 31.
An official with the athlete village said of the incident that "we have asked that women who are approached by foreign athletes outside the athlete village approach them with caution, and regret that this ugly incident occurred."
August 3rd, 2011 · Foreigners, Korean Wave, Sports · 0 comments
Original article in Korean is at this link.
It's the 7th of last month in Dulles Airport in Washington, D.C. Just before the doors of the plane, which left Incheon 13 hours ago, open, there is a cry of "wow!" from the cabin. "Just now Pyeongchang was awarded the 2018 Winter Olympics," was the announcement, and the hundreds of passengers cheered.
59-year old Jeffrey Jones, a "blue-eyed Korean" and a lawyer at Kim & Chang, told the news from a crew member. As soon as the plane had arrived he had used his cellphone to read the news and told the crewmember. Mr. Jones said that "at that moment the inside of the plane was like the 2002 World Cup."
He had reason to celebrate "Pyeongchang!" At the beginning of last May an official from the Ministry of Culture, Sports, and Tourism (문화체육관광부) sought him out. "We are in need of your help because of a legal matter involving  the Italian architect Pino Giopini, who is designing the Gangneung Speedskating Rink," he said. There was a complicated contractual dispute and Mr. Giopini hired the lawyer and explained that there were "unexpected demands" related to his fees.
Mr. Jones went to Milan several days later to meet with Mr. Giopini's lawyer and began negotiations, and in early June an agreement had been sketched out. However, on July 1st Mr. Giopini's side made a 'threat' that "we cannot accept an agreement without the guarantee of a bank… if this is not concluded then the speed skating arena will be left out of the presentation." Officials working to bring the Winter Olympics to Pyeongchang had already left for Durban.
Because of the time difference he stayed up like a night owl and began nerve-wracking work on a new agreement. He stayed in touch with Milan mainly by telephone and e-mail, and achieved an agreement in the Durban foreign investment office. The marathon agreement was reached just five days before the presentation. Instead of a bank guarantee, illegal under Korean law, Kim and Chang gave Giopini its own promise of guarantee. Mr. Jones said that "if not for this last-minute agreement the speed skating rink would have had to be left out of the presentation in Durban, which might not have been successful."
Mr. Jones received not one penny for his consulting fee, airfare, and hotel bills over two months. When asked "why did you work for free?" he said that "I did it for my country. All of the citizens wanted it… I am an American citizen but after my son was born and I spent over 30 years in Korea I consider it also my mother country."
He was a missionary in Korea for two years while in university, after which he joined Kim and Chang in 1980 and has lived in Korea ever since. From 1998 to 2002 he was head of the American Chamber of Commerce in Korea, was awarded the Bronze Tower of Industrial Merit for helping bring in foreign investment, and wrote the book "I am Afraid of Korea", which examined Korea's latent potential.
I'm pretty sure that quote in the second-to-last paragraph is inaccurate because Mr. Jones is, as far as I know, a naturalized Korean citizen.
July 18th, 2011 · Education and ESL, Sports · 0 comments
You may recall the scandals that emerged in 2008 regarding sexual assaults of student-athletes and professional athletes by their coaches (for example in many women's sports and in professional basketball). Original article in Korean is at this link.
On the 13th the National Human Rights Commission (국가인권위원회) published its "Sports and Human Rights Guidelines" and distributed it to sports organizations with the recommendation that they implement it.
The NHRCK also created a manual for its implementation, which was sent to the head of the Ministry of Science, Education, and Technology (교육과학기술부), the head of the (문화체육관광부), municipal and provincial education authorities, and another sports organization (대한체육회장).
The guidelines are divided into four parts: a charter; prevention of violence; prevention of sexual violence; and protection of educational rights.
The 'charter' says that human rights must be protected and contains a comprehensive plan for sports and human rights policy.
In 'prevention of violence' and 'prevention of sexual violence', the manual calls for concrete policies to prevent such violence.
In 'protection of educational rights' it emphasizes the need to protect educational rights by emphasizing a student-athlete's entire person, not just athletic ability.
It also recommends that corporal punishment and violence between upper and lower students not be allowed and that athletees not be isolated from the group without reason.
It advises eliminating putting athletes through over-strenuous exercise or training and insults. If there is a violent incident then there should be regularized processes in place to report to superiors or agencies.
Also, to prevent sexual violence, when a person in authority approaches a student there should be advance notification or consent and the door should be kept open. It recommends avoiding situations where face-to-face talks or training are held privately.
During training camp the consent of guardians should be obtained and leaders and athletes should not share rooms.
The NHRCK plans to confer with local organizations on the implementation of the guidelines.
An official with the NHRCK explained that "we have presented normative standards for policies to improve the level of human rights protection in sports… it will aid sports leaders in created an atmosphere protective of human rights."
In 2007 the NHRCK prepared a report titled "Recommendations to Protect and Promote the Rights of Student Athletes" (학생선수 인권보호 및 증진을 위한 정책 권고), which it used to recommend human rights policies in elite-level sports and to form policies to protect the rights of student-athletes.
July 7th, 2011 · Korean Wave, Sports · 0 comments
Congratulations are in order to the city of Pyeongchang, which has won the bidding for the 2018 Winter Olympics. The event I'll be looking forward to the most will be ice hockey, where the national team will get to play in the Olympics for the first time ever. The closest I've ever come to seeing the Korean national hockey team was when Electronic Arts featured international play in the Playstation version of NHL '98… but still didn't include them.
I kid, of course. No doubt everyone will be looking forward to seeing Kim Yu-na compete, and it's hard to image what could prevent her from getting on the ice in her home country. SBS caught her on camera crying joyfully as the news was announced.
June 30th, 2011 · North Korea, Sports · 0 comments
Employing one of the most colorful excuses for losing a sports match that I can think of, North Korean World Cup women's coach Kim Kwang-min blamed a 2-0 loss to the United States on several of his players being struck by lightning while practicing in Pyongyang.
Unfortunately I didn't find any article containing his original quote in Korean. Yonhap News had this write-up of the game, and others haven't mentioned it yet.
June 13th, 2011 · Sports · 0 comments
South Korean UFC fighter Kim Dong-hyun is aiming to be the first Asian fighter to win six consecutive matches when he competes in Las Vegas on July 3rd. He's currently a senior at Yongin University.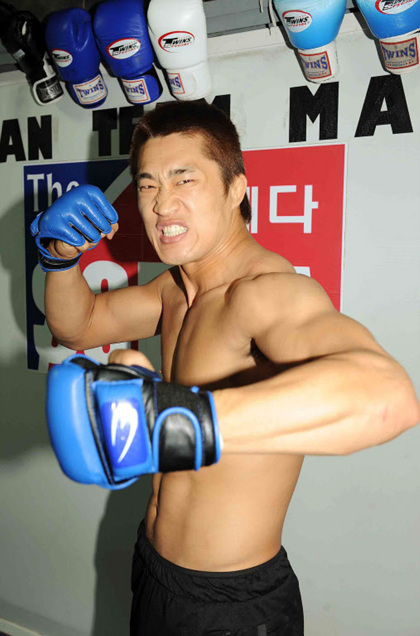 In other Korean sports news, this amusing (and NSFW-ish) picture had the Chosun Ilbo quipping that former New York Met and Yankee Karim Garcia "seems to have made a good choice in returning to Korean baseball".