Archive for the 'Society' Category
March 28th, 2014 · Education and ESL, Society · 0 comments
Reader Peter Daley requested a translation of this article warning of the three cults that put the most effort into recruiting Korean university students.
A minister at the undergraduate division of a large church in Seoul had a dilemma. Was it possible to hold an effective undergraduate lecture on the subject of cults? It would be like a vaccination against cults. Just one lecture could have a big effect. Students who simply attend an anti-cult lecture would be that much more vigilant against them.
On the other hand, it is not easy to return after falling under the sway of a cult. Coming out to discussions on cults would mean having to endure bone-cutting torment. Simply having the discussion would mean the blossoming of mistrust with one's family and a breach of credibility between one and one's family. So, from the beginning it is very important to prevent people from falling in with a cult. 30 minutes on a Sunday would be good. Young and student pastors can obtain very good results just by reading the materials below and showing photos, then offering simple explanations.
Three Cults Easily Heard of On University Campuses
Shincheonji Church of Jesus the Temple of the Tabernacle of the Testimony (Shincheonji, Founded by Lee Man-hui)
Shincheonji was founded on March 14, 1984 by Lee Man-hui (84), who had come from the Evangelism Center of Park Tae-seon. It is the goal of Shincheonji that adherents believe the 84-year old laborer named Lee Man-hui to be the savior of our age and an immortal leader and that the church he founded is the only place to achieve salvation. It may be a fantastical, narrow-minded, closed-off place, but despite this there is a simple reason young people can easily fall in with it.
It is because their way of luring people in is nothing like the widespread prevalence of common-sense ideas about how people are approached by cults. Shincheonji followers disguise themselves in a totally different way from the typical approach and come up to you, so unwary followers of traditional religions wind up being betrayed. They approach these young people with a cultural code that attracts their interest, including doing surveys. They also form a club for Shincheonji followers on campus.
Or, at a blind date one meets a member of the opposite sex who is actually a Shincheonji follower. They could be an older student or mentor who offers help with a problem. They could disguise themselves as a minister or missionary. They could approach as a mindreading minister with direct revelations from God (you must be careful not to fall for a Shincheonji fortunetelling team).
Shincheonji was classified as a cult by the General Assembly of the Presbyterian Church of Korea in 1995, being named at the time as a "group that deserves no theologically valuable analysis," and re-classified as a cult in 2007 by the Presbyterian Church of Korea (Hapdong). It has also been classified as a cult by Korea Evangelical Holiness Church (1999), the Korean Presbyterian Church (1999). the Presbyterian Church of Korea (Koshin) (2005), and the Presbyterian Church of Korea (Daeshin) (2008).
JMS (Jeong Myeong-seok) – Christian Gospel Mission
When one refers to the "Big 3" cults, that usually means Shincheonji, the Salvation Church, and the Ahn Sang-hong Witness Church. But there is a small difference as to the Big 3 to worry about on university campuses. It seems more appropriate to replace the Ahn Sang-hong Witness Church with Jeong Myeong-seok. This is because JMS actively pursues new followers, targeting first-year university students. JMS started as Jeong Myeong-seok (70 years old), who once was a teacher in the Unification Church, and founded the Ae-cheon Church in Namgajwa-dong, Seoul in 1980.
They have expanded their congregations by targeting young adults and university students. They also changed their names frequently, and their past names include World Youth University Students MS Federation, East-West Christian Uniton, and International Christian Union, and now they are called Christian Gospel Mission.
JMS claims that Christ reincarnated in a human body to be born in 1945 in Korea (JMS himself was born in 1945). He also claims that people who read, believe, and follow the book titled "Word of Salvation," written by JMS, will be saved. He argues that good and evil and depravity are sexual depravity, and the modern day is the 'Lover's Era' among the different 'eras' of salvation.
It helps to distinguish him if you can remember JMS's unique style of fonts. If there is a building or an organization using the same style of fonts as shown in the above photo, you can assume that building or organization is related to JMS. That is because that very style of fonts is the unique one used by JMS himself. The name of the institution is usually Christian Gospel Mission, and the name of denomination is often Methodist Jesus Church of Korea.
If you attend a Bible study because someone asked; if you see the unusual number of female pastors, usually taller than 168cm, teaching the Bible in the organization; if they hang a picture of Jesus titled 'Astral Body of Jesus' in the organization; if they have a headquarters in Weolmyeong-dong in Daejeon and call their leader the 'governor'; and if that governor happens to have read the Bible more than 2,000 times, you can surely assume they are members of JMS, Christian Gospel Mission.
Recently in JMS, 'female leadership' has made a sudden rise. Jeong Jo-eun, a young woman, is called an apostle and she herself preaches. JMS has been classified as an anti-Christian cult by the Presbyterian Church of Korea (Koshin) in its 41st assembly in 1991, the General Assembly of the Presbyterian Church of Korea in its 87th assembly in 2002, and the Presbyterian Church of Korea (Hapdong) in its 93rd assembly in 2008.
Salvation Church (Park Ock-Soo Faction) International Youth Fellowship (IYF)
There are three factions in the Salvation Church. They are the Kwon Shin-chan (deceased)-Yoo Byeong-Eon faction, the Lee Yo-han faction, and the Park Ock-soo faction. All of them have been officially classified as cults by the main denominations of Korean churches. These denominations include the Presbyterian Church of Korea (Hapdong) (2008/93rd assembly/cult), the General Assembly of the Presbyterian Church (1992/77th assembly/cult), the Presbyterian Church of Korea (Koshin) (1991/41st assembly/cult), the Korea Evangelical Holiness Church (1985, 40th assembly/false religion cult) and so forth.
And Park Ock-soo has stirred controversy as he preached on July 7, 2009, thatf "I can live as a little Jesus and every single one of you are Jesus as well". This is problematic because he is not saying that he is a 'little Jesus' as he follows Jesus, but rather that one actually becomes a little Jesus when he accepts Jesus in his heart, which seems to be deification theology.
Young university students must be extra cautious as IYF seeks both believers in Christianity and non-Christians usingvarious social and cultural approaches including English Speaking Competitions, Invited Lectures of Celebrities, International Volunteering (Good News Co), Return Conferences, Global Camps, Culture (International Culture Exhibition), musicals, local volunteering, concerts, and photo/drawing exhibitions.
You should also be cautious when you encounter △an organization that promotes dropping out of school and running away from home by extremely emphasizing the end of the world△an exclusive mission organization that prohibits attending local churches and considers only themselves as the disciples of Christ △university campus Bible lectures by pastors whose denomination or theology cannot be seen as transparent and sound △unverified sermons found in Internet sources including YouTube. This is for the same reason you do not want to try unsanitary food out of curiosity or try drugs by mistake.
Jin Yong-sik, President of Korea Christian Cult Counseling Center Institute expressed his view that an organization can be considered as a cult or a problematic religious organization if it teaches below concepts. Below is the list of concepts taught by cults.
Figurative Bible
Rather than analyzing by reading the context and the flow of sentences in the Bible, the cults argue that Bible must be read as a figurative speech, and mix and match specific passages from both Testaments.
Secretive Teaching
Gospel is nothing to be ashamed of or hidden, but the cults teach the Bible and tell you that you should not talk about this to your pastors and parents.
Different Saviors for Different Eras
Although Jesus is the Savior of all, past, present, and forever, the cults do not teach that but rather claim that there are different saviors for different eras, arguing that Noah, Moses, and Abraham were saviors, Jesus was the Savior in the New Testament era, but now we are to believe in a different savior in the end of the world.
Scriptures Other than the Bible
The Bible is the one and only Word of God, but the cults call the Bible out of date, bring their own new book and call it the truth of the new era.
Extreme Criticisms of the Church
When a church suffers a wound, they should help by praying and suffering together, but the cults rather emphasize and criticize the fallen state of the church, calling it a hypocritical religious organization. It sounds as if they are saying that the church has lost the truth and one should follow a new way of truth and salvation. They attack pastors of traditional churches as Pharisees and false shepherds.
Eschatology with Timing
The Bible clearly spoke of the day and time of Jesus' coming, but the cults emphasize the exact date of the end and the Advent, and force blind obedience. Also, they lie with the idea of a conditional end of the world, saying the quota of 144,000 believers will be reached within 2-3 years for example.
Argument that the 'East' refers to Korea
The 'East' in the Bible refers to the Palestine region, which is east of Israel, but the cults interpret it as Korea and pose an unreasonable logic by matching the scriptures with specific places or incidents of specific organizations in Korea.
Direct Revelations
The cults exaggerate that their leaders have direct revelations from God, and the new revelations are the first in the 2,000 years since Jesus. And they claim that their leader has heard the voice of God, and they stir fear in people that they will be cursed if they do not listen to their leader.
Extreme Exclusiveness
The cults claim that there is no salvation in any other churches, and that their organization is the only one with salvation, denying salvation and truth by existing traditional churches.
January 3rd, 2014 · Society, Surveys and Studies · 0 comments
Original article in Korean is at this link..
A survey has found that just two in ten Koreans believe they can trust strangers.
On the 1st, the National Statistical Office (통계청) published its 2013 study on social trends in Korea (titled 한국의 사회동향 2013), according to which the rate of Koreans saying that they feel positive about interpersonal trust was 22.3% in 2010.
The question asked in the survey was "how much do you expect that other people will use you or treat with good will without harming you?" In response to the question "do you think that you can generally rely on other people, or that you have to be careful?" the rate of the answers "generally trust" and "always trust" fell.
In other surveys on the same question, the top country for interpersonal trust in the OECD was Norway at 60%, followed by Denmark and Sweden at 50%. Korean was 10% below the 22-country OECD average of 32.0%, putting it in 14th place.
Korea also had low trust in public agencies. In 2011 the level of trust in the National Assembly was 31%, and trust in the central government was 56.1%.
However, trust in educational agencies and large businesses stood at 70.9% and 69.0% respectively, considerably high levels.
Regarding law and order and respect for the law, 26.4% believe that others do not properly follow the law, while 2.9% report the same about themselves, showing that people generally believe that they respect the law but others do not.
Regarding public order, other than for properly handling memorial rites (58.0%), no category received 50% approval, from security (31.9%) to banning smoking in public places (30.6%), keeping streets clean (26.0%), and managing traffic (26.0%).
December 12th, 2012 · Accidents, Crimes and Scandals, Society · 0 comments
Original article in Korean is at this link.
One in eight of our citizens has an addiction to alcohol, gambling, the internet, or illegal drugs to a degree that interferes with daily life, a study has found.
According to statistics presented at the "Multidisciplinary Research Network Forum for a World Without Addiction" on the 11th, in our country there are 1.55 million alcoholics, 2.2 million gambling addicts, 2.33 million internet addicts, and 100,000 drug addicts, adding up to 6.18 million people.
The Forum's head, Shin Yeong-cheol, Seoul National University professors of medicine Lee Jin-seok and Shin Min-seop, Yonsei University professor of neurology Kim Jeong-hun, and over 100 other experts from around the country attended. Forum member Lee Hae-guk said that "even excluding cases of moderate addiction, there are a minimum of six million people who have one of those four addictions."
Societal costs due to those four addictions, including the costs of medical treatment, crime, and lost productivity, were calculated to be roughly one-third of the national budget of 300 trillion won.
Choi Sam-wook, professor of addiction studies at Eulji University, said that "our society presents an environment where alcohol is quite cheap and the economy has been poor for an extended period, so people seeking a means of escape are rapidly falling into addiction."
November 13th, 2012 · Society · 0 comments
Original article in Korean is at this link.
The National Human Rights Commission held a press conference at 8 pm on October 29th in Seoul to screen the film "Juvenile Offender" (범죄소년).
"Juvenile Offender" was produced by the NHRC. The term refers to teenagers who commit crimes between the ages of 14 and 19.
Actor-director Kang Yi-gwan spent three to four months conducting research at the Seoul youth rehabilitation center in preparation for the film, which is based on the discrimination that occurs against people with criminal records.
The press conference was attended by officials from the Ministry of Justice who had aided in the production of the film, as well as directors Park Chan-wook and Jeong Jae-eun, who helped lead the human rights film project with the NHRC.
The NHRC held further press conferences at 10 am in the Seoul youth rehabilitation center and 2 pm at the Seoul Probation and Parole Office on the 30th.
On November 11th the film premiered at the Toronto International Film Festival and the Tokoyo International Film Festival.
October 25th, 2012 · Society · 0 comments
At the Hyeondeok-sa temple in Gangneung, nestled under the Baekdudaegan mountain range, monks are roasting coffee beans for visitors. Although it may be a break with the tradition of consuming green tea, the monks say that Buddha himself likely drank coffee.
October 1st, 2012 · Accidents, Crimes and Scandals, Society · 0 comments
Original article in Korean is at this link.
A study has found that more than 8 in 10 of the over 4,300 people arrested for drug crimes in the first half of this year have been charged with crimes involving psychotropic drugs such as methamphetamine (pilopon).
On the 1st the Supreme Prosecutors' Office announced that 4,392 people were arrested on drug charges in the first half of this year.
In 2010 there 9,732 such arrests, and in 2011 there were 9,174, and the number is expected to remain below 10,000 again this year.
84.5%, or 3,710, of the arrests involved psychotropic drugs such as methamphetamine, LSD, and ketamine, 491, or 11.2%, involved marijuana or hashish, and 191, or 4.3%, involved other drugs such as opium, morphine, heroin, or cocaine.
The psychotropic drugs category has risen from 69.6% of arrests in 2010 to 78.7% in 2011 and 84.5% in the first half of 2012, a rapid rise.
The reason for the predominance of these drugs is the availability via the internet of synthetic drugs such as JWH-018, the study concluded.
September 17th, 2012 · Society · 0 comments
Original article in Korean is at this link.
#1. 39-year-old office worker Han Ju-yeol (not his real name) and 35-year-old insurance saleswoman Lee Su-yeong (not her real name) are an "unofficial married couple." They have lived together for the past four years but have no marriage certificate. The two each have experienced a failed marriage, Mr. Han's marriage ended over personal differences, and Ms. Lee's ended over her husband's unfaithfulness. They do not have a marriage certificate due to their intensely negative experiences, but live as if they were married. The two "had two many wounds from getting divorced… if they healed we could get legally married, but we like the way things are," they say. The two have a son who has Mr. Han's family name.
#2. 27-year old Kim Seong-jin (not his real name) and 23-year old Park Jae-hui (not her real name), are a campus couple who had a baby together in March of this year. They lived together for two years since moving to Seoul when they suddenly got pregnant. Ms. Park said that "when the pregnancy test came up positive we thought of getting an abortion… I couldn't bear the idea." Their healthy daughter is currently being looked after by Mr. Kim's parents. Mindful of social prejudices, they said they will get a marriage certificate after obtaining employment.
An increasing number of male-female couples are living without marriage certificates. According to the National Statistical Office last month, the number of children born out of wedlock rose 3.3% last year, or 320 children, to 9,959. That is the highest number since figures began being kept in 1981. Since 2001 there has been an increasing trend, which if it continues will see over 10,000 out-of-wedlock births this year. In 1997 such births comprised 0.6% (4,196) of the total birth rate, which rose 2.1% (9,959) in 2011. Kim  Yeong-cheol, a research leader at the Korea Development Institute, said that "it appears from the statistics that if this trend towards out-of-wedlock births is not interrupted, there will be a large increase in them among cohabitating couples, not just the unmarried, and among de facto marriages… the traditional, conservative institution of marriage is weakening."
According to the NSO, in 2010 there were 17,359,333 household nationwide, of which 12.1%, or 2,096,651, fell into the "other" category, which excludes all married couples with children and also grandparents raising grandchildren. There were 4,142,165 one-person households, and 479,120 "secret friend" households. Unmarried couples with or without children, cohabiting couples, and those in de facto marriages are classified as either "other", "single-person", or "secret friend". Perspectives on these relationships are changing with little consideration of their legal effects. In 2010 the NSO found that 53.3% of teenagers aged 15 to 24 agreed with the statement "men and women can live together even if they are not married." In April the internet polling company Dooit Survey published a study in which 2,513 adults were asked "is it good to cohabitate before getting married?" 60% said yes. Lee Mi-Jeong, a research leader at the Korea Women's Development Institute, said that "with the marriage age increasing and sexual freedom expanding, cohabitation has become natural… with an increasing number of people seeing marriage as a choice and being accepting of individual sexual customs, the number of out-of-wedlock births will continue to increase."
The NSO has also studied unmarried mothers raising children born out of wedlock. In August the KWDI published a study (미혼모 자녀양육 및 자립지원을 위한 정책과제) according to which the number of single mothers who raise their children went from 7.2% in 1998 to 66.4% in 2009.
With the increasing economic ability of women and an increasing respect for life, the traditional route of oversea adoption is also crumbling, the KWDI found. Byeon Hwa-sun, head of the Family Life Research Institute, said that "in the past marriage and pregnancy were absolutely equated… now, more and more women believe they can raise a child by themselves, without a man."
Experts say that it is important that these "new families" be able to create a heathy and happy social environment. Although are various systems for them, such as the Single-Parent Family Support Act (한부모가족지원법), the Domestic Relations Act (가족관계법), the Medical Insurance Act (의료보험법), and the Act on Special Cases Concerning Adoption (입양특례법), there are still benefits denied to couples who are not legally married. Kang Hak-jung, head of the research institute Home 21, said that "we must create a society in which children can be raised healthily… it is a long-term social problem that social benefits are denied to those in de facto marriages, to cohabiting couples, and to homosexual couples."
August 7th, 2012 · Economy and Worklife, Society · 0 comments
Anti-dog meat protests have been increasing in Korea in the past two weeks or so. They seem to have been prompted by a photo of dogs crammed into tiny cages in the bed of a pick-up truck driving them to slaughter, which caused a storm of controversy on the internet. The most recent protest was held on the 7th in Gwanghwamun, Seoul.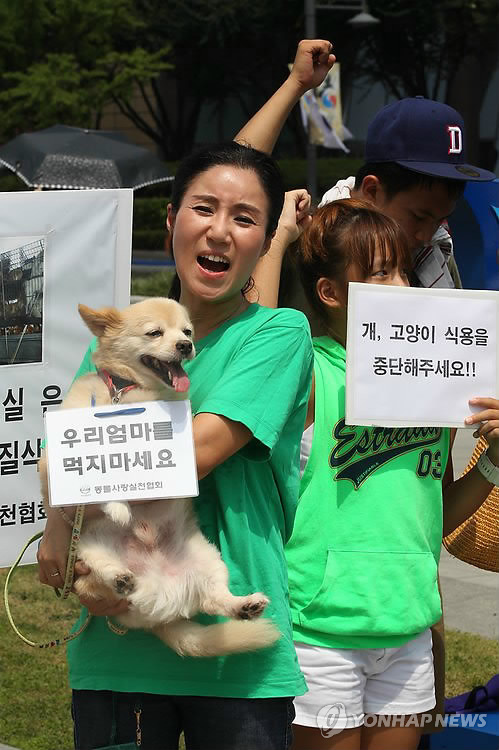 May 25th, 2012 · LGBT Korea, Politics, Society · 0 comments
Original article in Korean is at this link.
Debate is growing after American President Barack Obama revealed his support for gay marriage. In some European countries it is already legal, but in Korea gay marriage has been brought up carefully.
The pink scarf-clad Lee Ji-yeong (not her real name), a 33-year old civil servant, and Kim Ji-yeon (not her real name), a 25-year old college student with bobbed hair, frequently laughed and looked at each other during their interview with the Kyunghyang Shinmun on the 23d. For nearly a year they have lived together, as a couple, in the same apartment and same bedroom. They both said that "we are two people in love."
They were recently photographed for a special photo exhibition for sexual minorities. When asked why, they answered that "we wanted to show that sexual minorities also have the right to be families."
They met four years ago at a swing dance club, and at the end of 2010 they happened to become tango partners and then fell in love. Ms. Lee said "I really like you. Did you know that?" and their relationship began.
Love gave them the power to go see the world again. Ms. Kim said that "before I met Ji-yeong I was consumed with the thought that the world would never accept me and so I couldn't accept the world… But by loving someone I realized I had the power to love the world." They told their parents and were accepted. Ms. Lee's mother even encouraged them to "live with courage".
They live much the same as any couple. Ms. Kim can't stand it if their home isn't neat and tidy, while Ms. Lee hates to see dust on the floor. Because of this Ms. Kim cleans the floor while Ms. Lee keeps everything tidily organized. Ms. Kim said that "we don't divide up the housework that clearly, we just have a tacit agreement to each do what we can." Ms. Lee said that "because Ji-yeon is a vegetarian I've changed my diet… we work at understanding each other."
However, the world does not recognize their relationship. They were rejected from buying an apartment together, about which Ms. Lee said that "we are newlyweds, too, but it couldn't work out" and appeared to still feel bitter about it. Two years ago  Ms. Lee had a thyroid operation and received outpatient care. She said that "I had to be admitted again but I couldn't designate Ji-yeon as my guardian." Ms. Kim said that "when I tried to sign the real estate contract instead of Ji-yeong because she was too busy at work, I had no choice but to pretend that she was my husband."
Other major problems for them will be raising a child and their inheritance rights. Ms. Lee said that "a single person can adopt, but then one of us will have no legal relationship with our child… the world doesn't recognize a home with two mothers."
Their goal of the legalization of gay marriage is not insurmountable. Ms. Kim, a law student who dreams of being a lawyer, said that "I plan to work for a constitutional amendment to legalize gay marriage… however, eventually we need a society that recognizes that sexual minorities have the right to be a family."
May 24th, 2012 · Society, Surveys and Studies, Women in Korea · 0 comments
Original article in Korean is at this link.
A study has found that among adults living in Seoul, women are less satisfied with their marriages than are men.
The Seoul city government has placed on its homepage the results of a study titled "Hopeful Seoul Social Index" (희망 서울 생활지표). The study found that 73.4% of the male respondents were satisfied with their wives, but only 64.9% of wives were satisfied with their husbands.
The rate of spousal satisfaction was 8.5% higher for husbands than wives, while the dissatisfaction rate was 4.1% lower.
Also, 44.7% of husbands and 41.7% of wives said that "in our relationship we share values in how we live our lives."
14.2% of husbands and 16.6% of wives said that they do not, however, showing at least a slight difference between husbands' and wives' perceptions.
Older couples were somewhat less likely to perceive that they share common values, and the gender gap in that perception increased.
The study was conducted as part of the Seoul Survey to collect data on how Seoul citizens feel about their lives.
The study was placed online at http://socialindex.seoul.go.kr on the 22nd.
Respondents were surveyed on 15 topics with 300 questions.