Archive for the 'LGBT Korea' Category
December 8th, 2012 · Accidents, Crimes and Scandals, Education and ESL, LGBT Korea · 0 comments
Original article in Korean is at this link.
A study has found that half of sexual-minority students feel that they are discriminated against at school because of their sexual identities.
The survey of 221 sexual-minority teenagers under the age of 20, conducted online from July 31st to August 12th, found that 120, or 54.3%, answered "serious" or "very serious" to the question "what is the level of discrimination you experience at school due to your sexual preference (homosexual, etc.) or sexual identity (transgender, etc)?" Just eight students, or 3.6%, said "none".
Regarding the types of harassment the sexual-minority teenagers experience at school, 136, or 61.5%, said "degrading language and bias from students for being a sexual minority", while another 88, or 39.8%, said "degrading language and bias from teachers for being a sexual minority". Sixty-five, or 29.4%, of the students said they had been "outed" at school against their wishes. Twelve, or 5.4%, of the students reported being harassed or groped against their will.
Sexual-minority teenagers also feel it is difficult for them to receive help from school counselors. Just 83, or 37.6%, of the students answered "yes" to the question "is there a school counselor you can go to for advice when you have problems at school related to your sexual identity?" 133, or 62%, of the students said "no". An overwhelming 184, or 83.3%, of them said "no" to the question "is there a doctor you can go to if there is not a teacher?" Just 28, or 12.7%, said there was.
Experts say that there is an urgent need for teachers to receive human rights training because discrimination against sexual-minority teenagers at school is widespread. There is nearly no requirement for teachers to be trained regarding the rights of sexual minorities. There may be a need for every teacher to be required to receive such training. Kang Byeong-cheol, professor of health and social affairs at 삼육보건복지대, said that "there are many cases where teachers see sexual minorities being discriminated against by other students, and then laugh at them or make the situation worse. Teachers need to be trained in the human rights of sexual minorities.
There is also a need for programs to prevent sexual-minority students from being bullied and ostracized. In the United Kingdom there is a legal requirement in the "safe schools campaign" for responses to bullying of gay students, and schools must set up corresponding policies. In Ireland the law specifies that there must be policies to deal with anti-gay bullying and emphasizing respect for differences and diversity. Finland has distributed to its schools a program to combat anti-gay bullying. Countries with laws and systems have been found to be very successful in reducing anti-gay bullying.
May 25th, 2012 · LGBT Korea, Politics, Society · 0 comments
Original article in Korean is at this link.
Debate is growing after American President Barack Obama revealed his support for gay marriage. In some European countries it is already legal, but in Korea gay marriage has been brought up carefully.
The pink scarf-clad Lee Ji-yeong (not her real name), a 33-year old civil servant, and Kim Ji-yeon (not her real name), a 25-year old college student with bobbed hair, frequently laughed and looked at each other during their interview with the Kyunghyang Shinmun on the 23d. For nearly a year they have lived together, as a couple, in the same apartment and same bedroom. They both said that "we are two people in love."
They were recently photographed for a special photo exhibition for sexual minorities. When asked why, they answered that "we wanted to show that sexual minorities also have the right to be families."
They met four years ago at a swing dance club, and at the end of 2010 they happened to become tango partners and then fell in love. Ms. Lee said "I really like you. Did you know that?" and their relationship began.
Love gave them the power to go see the world again. Ms. Kim said that "before I met Ji-yeong I was consumed with the thought that the world would never accept me and so I couldn't accept the world… But by loving someone I realized I had the power to love the world." They told their parents and were accepted. Ms. Lee's mother even encouraged them to "live with courage".
They live much the same as any couple. Ms. Kim can't stand it if their home isn't neat and tidy, while Ms. Lee hates to see dust on the floor. Because of this Ms. Kim cleans the floor while Ms. Lee keeps everything tidily organized. Ms. Kim said that "we don't divide up the housework that clearly, we just have a tacit agreement to each do what we can." Ms. Lee said that "because Ji-yeon is a vegetarian I've changed my diet… we work at understanding each other."
However, the world does not recognize their relationship. They were rejected from buying an apartment together, about which Ms. Lee said that "we are newlyweds, too, but it couldn't work out" and appeared to still feel bitter about it. Two years ago  Ms. Lee had a thyroid operation and received outpatient care. She said that "I had to be admitted again but I couldn't designate Ji-yeon as my guardian." Ms. Kim said that "when I tried to sign the real estate contract instead of Ji-yeong because she was too busy at work, I had no choice but to pretend that she was my husband."
Other major problems for them will be raising a child and their inheritance rights. Ms. Lee said that "a single person can adopt, but then one of us will have no legal relationship with our child… the world doesn't recognize a home with two mothers."
Their goal of the legalization of gay marriage is not insurmountable. Ms. Kim, a law student who dreams of being a lawyer, said that "I plan to work for a constitutional amendment to legalize gay marriage… however, eventually we need a society that recognizes that sexual minorities have the right to be a family."
December 7th, 2011 · Education and ESL, LGBT Korea · 0 comments
Original article in Korean is at this link.
Controversy is growing after a senior design student at Seoul National University produced a work expressing anti-homosexual sentiment. Some criticize it for saying homosexuals should have no rights, while others defend the artists' right to freedom of expression.
Mr. A, a visual design major, has a piece in the university's current exhibit of work by students nearing graduation.  The piece is titled "Campaign for the Rights of Heterosexuals". It consists of works created by Mr. A during the semester, including a stamp for placing sentences questioning homosexuality onto the posters for the school's homosexual students' club and a t-shirt with the phrase "children are created by a male father and a female mother".
The student included a brief essay saying "recent in popular movies, comic books, and novels small steps towards a campaign for positive views of homosexuality has begun to emerge… All life comes from a male and a female, so heterosexuality is proper."
However, on the 3rd and 4th on Twitter and SNU Life, the internet discussion forum for SNU students, others responded by writing "this work is a human rights violation." One Twitter user wrote that "this art student is using the pretext of art to impose homophobia."
The controversy started in October when the homosexual students organization put up posters saying "what's it like to be gay?" and "what's it like to be lez?" The sentence "how could your life be created?" then appeared on them. Mr. A said, "I put that sentence on these posters, which made homosexuality look like it was no problem at all. I wanted to show that not everyone agrees." One professor of visual arts who is participating as a judge said that "because we have freedom of expression there were no restrictions. There was no controversy during the judging."
However, one member of the homosexual students' organization wrote on SNU Life that "this goes beyond personal feelings into discrimination against our rights… It is not an acceptable use of one's freedom of expression to denigrate minorities and deface the means others have used for their expressions to promote one's own."
Lee Jong-geol, head of Chingusai, the largest homosexual organization in Korea, said that "according to United Nations charters on human rights, discriminatory expressions causing discrimination, hostility, or violence are not entitled to the protection of the freedom of expression… The freedom of expression is not unrestricted."
Lee Sun-jong, chair of the arts department at SNU, said that "the professors will decide how to deal with this after viewing the piece and judging whether it presents any ethical or social issue."
November 11th, 2011 · Accidents, Crimes and Scandals, LGBT Korea · 0 comments
According to reports on Twitter there seems to be a group of men in Jongro assaulting gay men at night.
Original article in Korean is at this link.
"I was brutally beaten because of homophobia. It happened because I was out with my (homosexual) partner and we were acting like lovers."
Mr. A wrote on the nation's largest homosexual community website that he was beaten by a group on the street in Jongro, Seoul, on the 4th of this month for being homosexual. Mr. A wrote that "I was walking with my partner in an alley in Jongro when suddenly three men came over and called us gays and fags and hit us… I have bruises over my entire face from the beating."
Recently on domestic websites for the homosexual community and on Twitter, incidents of attacks on homosexals in the early morning hours in Jongro are being reported. The Nakwon-dong area of Jongro-gu is a gathering place for many homosexuals. On Twitter there have been an increasing number of warning that there are homophobic lynch mob-style attacks in Jongro.
Another victim, Mr. B, was with his partner in Jongro5-ga at approximately 1:20am on the 29th of last month when three men came from across the street to assault them. One of them wore a mesh mask and the others were at least six feet tall, and beat them mercilessly. Mr. B said that "even now when I drink my left ribs hurt… I hope my attackers are caught." Late that same night another homosexual in his 20s was attacked by two men.
However, only one incident has been reported to police. The Jongro Police Station received a report that a homosexual man had been attacked by three men in front of a noraebang [karaoke room] in Jongro at midnight on the 5th, and is investigating security camera recordings. The reason for there being so few reports to police, according to Ji Hyeong-tae (a pseudonym), the operator of a Twitter feed dedicated to h0mosexuals' rights, is that "most of the victims are college students in their 20s who live with their parents or men in their 40s who have families… They have to keep their sexual identity secret and so they don't got to the police."
A member of the police said that "on the weekend there are often incidents of harassment and assaults of homosexuals across the country, but most avoid the investigation to avoid ther homosexuality becoming known… Those have not come out are much less likely to make a report to police."
October 20th, 2011 · Education and ESL, LGBT Korea · 0 comments
Original article in Korean is at this link.
The Seoul Office of Education committee on the students' bill of rights (학생인권조례) has begun a controversy by considering whether it should allow "homosexuality". The committee said that "we must respect fundamental rights regarding sexual identity" but most parents and teachers are perplexed that "we are going to encourage homosexuality."
On the 19th the Office of Education received from the committee, which is chaired by Kunkuk University professor Han Sang-hui, proposed changes to the students' bill of rights. The committee, which on the 7th of last month first considered allowing candlelight vigils at school and loosening restrictions on hair and clothing regulations, added article 7, clause 1, to eliminate discrimination on the basis of sexual orientation.
This means that discriminating against students for appearing to be homosexual would be banned. Progressive groups have criticized this for "encouraging homosexuality".
However, the committee believes that "there are in fact students confused about their sexual identity and cannot conceal this fact at school" and therefore included the clause. Moreover, the proposed revision would delete article 3, clause 3 stating that "students' rights may be restricted in school regulations, with student participation, in order to achieve necessary educational goals." If there are problems with unusual rules such as allowing candlelight vigils, freedom in hair styles and clothing, and homosexuality, then the school restrict student activities by amending school order regulations.
The committee said that "the students' bill of rights is not a law, so restricting students' rights would be a constitutional violation, so the clause on school regulations was deleted." Chair Han Sang-hui said that "in our current educational system students who are known to be homosexual are discarded… this is in the context of allowing those students to take part in regular activities and is not a judgment on the value of homosexuality." Lim Jeong-hun, a lawyer for the Korean Teachers & Education Workers' Union, said that "there are teachers who treat homosexual students like medical patients… this is a positive proposal to safeguard students from being ostracized when their sexual orientation becomes known."
On the other side, Choi Mu-suk, a representative of an organization of parents (학교를사랑하는학부모모임), said that "during the teenage years the line between liking someone and loving someone can become confused… if this proposal is accepted then we worry that there could be problems." Park Beom-deo, principal of Eonnam High School and chair of the Seoul association of middle and high schools (서울중등교장협의회), said that "allowing candlelight vigils and homosexuality in schools is something we are not ready for… ordinary students could have different thoughts and be encouraged to become homosexual."
Within the committee there was debate over the clause on homosexuality. One member, who requested anonymity, said that "there were opinions against the inclusion of the clause on homosexuality… Personally, I think there could be problems at school if students make their sexual identity clear at school."
As the debate grows, those within the Office of Education are focusing on the issue. The Office is in the process of considering the differents points of view and the law, and will present a final decision to the Seoul City Council in early November.
May 19th, 2010 · LGBT Korea, Photos · 0 comments
Spotted by the Chosun Ilbo in Insa-dong on the 15th, the gay rights group Chingusai has been offering "Free Gay Hugs".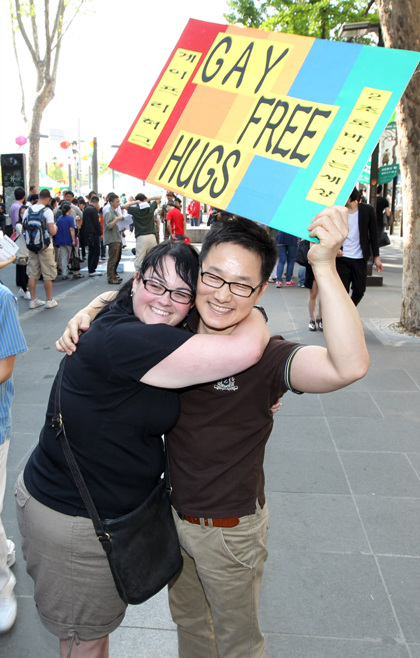 March 16th, 2010 · Economy and Worklife, LGBT Korea · 0 comments
Original article from OhMyNews.
"No girl(boy)friend? Why don't you get married?" For gays and lesbians, those questions are light jokes. At work or anywhere else, for sexual minorities they are a torment. They may laugh outwardly for their co-workers, but inwardly they are wounded.
At 7 pm on March 5 a "Sexual Minorities and the Workforce" press conference was held at Women's Plaza, and brought up several types of workplace discrimination that heterosexuals are unaware of. Solidarity for LGBT Human Rights of Korea (동성애자인권연대) and other organizations for sexual minorities publicized the results of interviews conducted last December with five lesbians and five gay men.
All have them worried that if they made their sexual orientations known at work they would be badly disadvantaged. Ms. L, a lesbian in her early 30s, said, "I just don't whether I would receive threats or be asked to leave the company, so I've never even thought about coming out." Mr. K, a gay man in his mid-30s who came out to two of his co-workers, worries about being harassed while competing economically.
But it is not easy to hide one's sexual identity. The most upsetting situation is any discussion of marriage and significant others. Sexual minorities receive a lot of stress from co-workers who say thing like, "you should break up with a (boyfriend/girlfriend) who doesn't talk about marriage" or "why haven't you ever talked about who you're in love with?"
Because of this sexual minorities will tell lies such as "I'm not interested in sex" and "I have someone but we're not thinking about marriage," and pretend that their partners are heterosexual. When they write on sexual minority internet communities about such situations they write, "I'm like an alien" or "I'm always afraid of being found out by my co-workers."
The unmarried are discriminated against in promotions. The company may not officially ask about spouses, but without one it isn't easy to increase one's paycheck. One gay man said, "I've completely given up on being promoted, so until I retire I'll have to satisfy myself with being a department head."
There is also discrimination against sexual minorities in finances.
Ms. J, a lesbian in her early 30s who works in a bank, cannot qualify for a W90 million apartment security deposit because she is "single". She and her same-sex partner live together in a W60 million apartment.
Ms. P, a lesbian in her late 20s, pays W4,00 per month for a mutual aid society membership but receives no benefits. That is because all benefits large and small, from marriage benefits and spousal hospital bills to family death benefits, are for "normal families" only.
One gay man who works for an airline company said, "we can get free or discounted tickets for spouses and their parents, so I want to get the same benefits for the person I live with."
Ms. S, a lesbian in her early 30s who works in government, said, "I get W300,000 in special benefits, but if I had a spouse I would get another W300,000."
Lega (a pseudonym), an activist with the Democratic Party's committee on sexual minorities, said, "at work we have been fired for our sexual identities and always subject to the fear of being outed, but we receive no protection from the law."
But can a labor union really help sexual minorities much? Mr. K, a gay man involved in labor activism and currently on strike, said, "labor unions take no notice of sexual minorities, so working with them isn't going to be perfect." So, he said, "when something really bad does happen the union doesn't offer any protection, I think."
Lee Gyeong, the Solidarity activist who publicized the results of the interviews, said, "we are not even approaching a discussion of the rights of sexual minorities, there must be better education at young ages." Fortunately the Democratic Party is growing more likely to include the labor rights of sexual minorities in its party platform.
The study did not include any transgendered people. But at the press conference there was an activist named Kim Il-ran from the group 성적소수문화환경을 위한 모임 who said, "while looking for a job sex-change patients cannot produce their ID cards, limiting them to small companies where they can have sit-down interviews."
In the end, most transgendered people wind up as irregular workers at low pay. Naturally it is difficult to pay for the surgeries, and without the surgery they cannot change their legal sex. Because of this their job search is more difficult and they stay poor. Kim Il-ran said, "transgendered people are raising their voices in protest against these continuing problems."
January 4th, 2010 · Foreigners, Legal news, LGBT Korea · 0 comments
The Supreme Court of Korea recently granted refugee status to a Pakistani man on account of his status as a homosexual, finding that he has a well-founded fear of persecution on that basis. You can read summaries of the Court's ruling in English and Korean.
December 8th, 2009 · Accidents, Crimes and Scandals, Entertainment, LGBT Korea · 0 comments
If you can't find a better hobby than harassing people on the internet…. but I'm still not a fan of the restrictive defamation laws in Korea. Why not just deal with this by asking Cyworld or whatever to block abusive users?
After three years a netizen has been caught for repeatedly libeling celebrity Ha Ri-su on the internet.
On Dec. 8 the Hongdeok Police Station in Cheongju announced it had arrested without detention 27-year old Ms. Lee, who resides in Gaya-dong in Busan, on charges of defamation for accessing Ha Ri-su's personal homepage and leaving libelous comments.
According to police, Ms. Lee is accused of leaving insulting comments on Ha Ri-su's homepage such as "you mentally ill child" and "let's make all transgenders disappear forever" on nine occassions from Dec. 8, 2006 through Jan. 24 of this year.
Police caught Ms. Lee by analyzing several IP addresses after obtaining a search warrant. They say Ms. Lee confessed to all the charges are being arrested.
October 18th, 2009 · Legal news, LGBT Korea · 0 comments
Maybe. The Constitutional Court has said you can't punish or discharge soldiers for consensual homosexual sex, but the law apparently remains in effect:
Some are calling for the provisions on the military law prohibiting homosexuality in barracks to be removed.
The clauses at issue have been ruled unconstitutional by the Constitutional Court (헌법재판소), attracting attention to them.
On the 15th Song Mun-ho, professor at the Chonbuk University School of Law, said of the "military and soldiers' human rights issue" that, "it is proper to remove article 92 of the military law, which violates the right to personal autonomy."
Clause 92 of the military law specifies that, "sodomy (sexual acts between males) is punishable by up to one year in prison."
But, Prof. Song explained, of the 28 member nations of NATO, 24 allow homosexuals to serve and only a few nations including the US, Turkey, Russia, and Poland forbid homosexuals to serve.
Relatedly, Prof. Song said, "the criminal law does not criminalize homosexual activity, but the military law does send people to prison in violation of their right to personal autonomy."
Article 56 of the military law includes "perverted sexual orientations" among those things which make a person unfit for active duty, and if a person is judged to be homosexual it calls for transferral.
Prof. Song said, "if article 92 must continue to exist, the word 'sodomy' should be removed and changed to 'acts which pose a serious risk to military discipline by indecent acts committed against a barracksmate."
That would allow the free exercise of personal autonomy outside of the barracks while punishing only those acts committed against barracksmates. Prof. Song oresenteed his proposal last weekend at the Korean Criminal Law Association's (한국형사법학회) fall symposium.
Last August a military court recommended to the Constitutional Court that article 92 be held unconstitutional.
The Court announced, "the status is excessive in that it punishes by prison time indecent acts between members of the same sex without regard to whether there was coercion… In Article 92 it is unclear whether 'acts of sodomy' refers to coercion, or indecent acts between women or members of opposite sexes."
According to the military court, from 2004 to 2007 there 176 cases of violations of article 92, of which four did not involve coercion.