Archive for the 'Politics' Category
August 30th, 2013 · Photos, Politics · 0 comments
In Seoul, protestors burned effigies of "traitorous" politicians Lee Seok-gi and Lee Jeong-hui. Lee Seok-gi has been accused of North Korean sympathies and made some controvesial comments on the South Korean national anthem last year.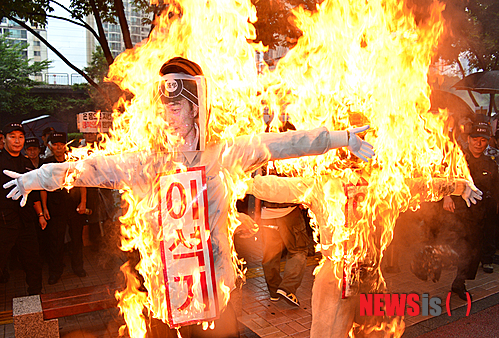 May 9th, 2013 · Legal news, Politics · 0 comments
Original article in Korean is at this link.
The Supreme Court has ruled that the government must pay compensation to women who were forced to remove their underwear in a jail after being detained during a candlelight vigil in 2008.
The second division of the Supreme Court (under Justice Lee Sang-hun) affirmed the ruling of the trial court, which had heard the lawsuit against the government brought by four women, including a Ms. Kim, ruling that "the government must pay 1.5 million each to Ms. Kim and the others".
Ms. Kim and the others had attended a candlelight vigil protest against the importation of American beef in August of 2008 when police detained them on suspicion of violation the Law on Assembly and Demonstration (집회및시위에관한법률), and ordered them to remove their brassieres during a body search, and they later brought suit asking for 60 million won in compensation and asserting that "this was a violation of our personal rights."
Both the trial and appeals courts had found that this was an illegal act that caused them compensable mental suffering, writing that "body searches in prison may be carried only in limited circumstances to prevent suicide and must be conducted so as not to wrongfully infringe on fundamental rights such as honor and dignity… in all other cases it is illegal if not related to a possibility of suicide or the consent of the inmates."
February 2nd, 2013 · Foreigners, Photos, Politics · 0 comments
In South Korea on the 31st of January, Burmese democracy activist Aung San Suu Kyi visited the memorial for the victims of the Gwangju Massacre.
January 15th, 2013 · Politics · 0 comments
Members of the Democratic United Party, including its Assembly Leader Park Gi-chun, gathered in Seoul to apologize to voters by bowing three times. The DUP is the main opposition party following wins by the conservative Saenuri Party.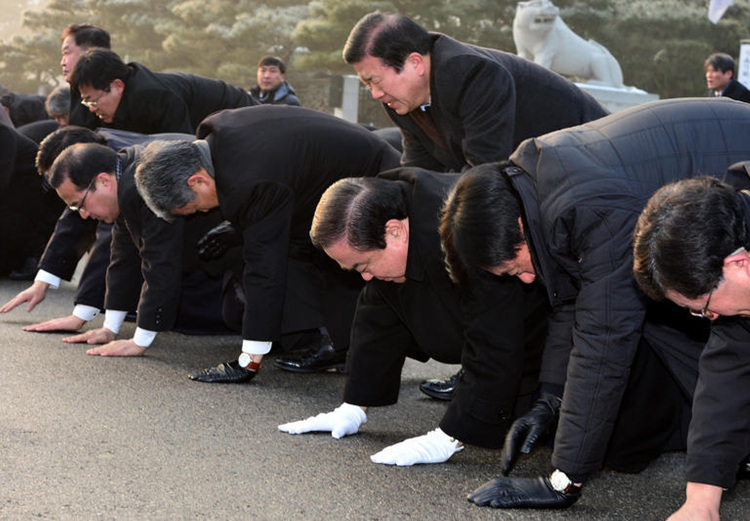 December 29th, 2012 · Politics · 0 comments
In Seoul on the morning of the 27th, members of Solidarity for the Peace and Reunification of Korea (평화와통일을여) gathered in front of the American Embassy to protest South Korea's possible purchase of Global Hawk drones from the United States.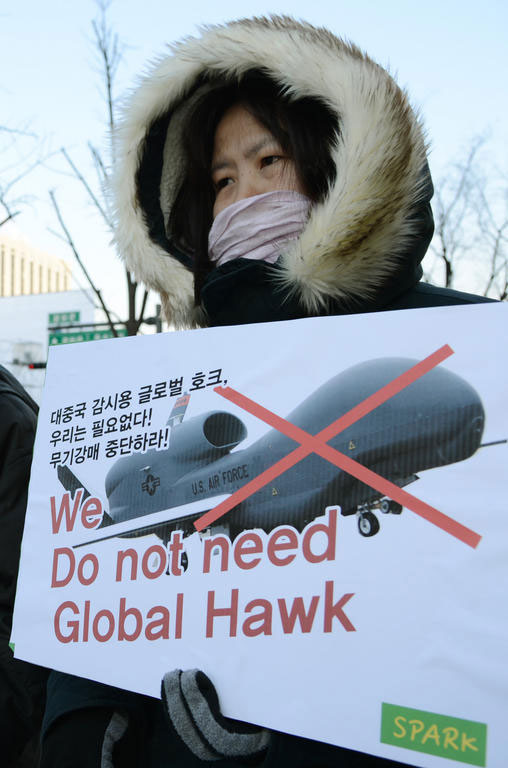 December 20th, 2012 · Politics · 0 comments
In the 18th South Korean presidential election, conservative Park Geun-hye of the Saenuri (New Frontier)  Party has defeated liberal Moon Jae-in of the Democratic United Party. Vote tabulation is nearly finished, so here are some balloting statistics according to Naver:
Park will take approximately 51.6% of the vote against Moon's 48%, giving her 15,722,982 votes versus his 14,638,613 as of the time of this post. Independent candidate Kang Ji-won received 0.2%, or 53,078 votes. Daejeon split 49.8% for each candidate while Seoul went for Moon 51.8% to 47.8%, and Busan swung for Park 55.8% to 43.9%. Daegu went an overwhelming 80.1% for Park, while Gwangju went a stupendous 92% for Moon. Park also received  majorities in Ulsan (handily), Sejong, Gyeonggi-do (barely), Kangwon-do (handily), Chunghcheongbuk-do and Chungcheongnam-do (both comfortably). Park won women 51.1% to 47.9%, while Moon won men 49.8% to 49.1%. Moon was more popular among young people as he carried voters aged 20 to 49, while Park carried voters 50 and older. Voters in their 40s were the  only age group not to break at least 60% either way, indicating a huge political generation gap.
Total voter participation is currently 75.9%, significantly higher than recent elections.
December 19th, 2012 · Politics · 0 comments
On the 18th, one day before South Korea's 18th presidential election, Saenuri Party candidate Park Geun-hye took to the Seoul Subway to urge voters to choose her. Moon Jae-in of the Democratic United Party spent the morning in Seoul and the afternoon in Busan.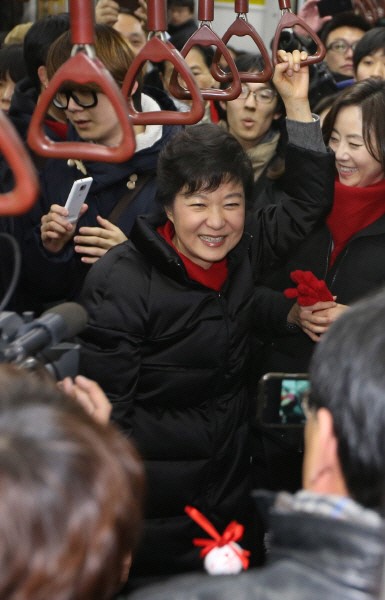 December 17th, 2012 · Accidents, Crimes and Scandals, Politics · 0 comments
The fight over whether or not a National Intelligence Service employee did or didn't, or should or shouldn't have, tried to influence the election through online postings is entering the legal system. Original article in Korean is at this link.
A conservative organization has asked prosecutors to indict Professor Jo Guk of Seoul National University School of Law.
On the 14th the Young's Liberty Union (자유청년연합) asked the Supreme Prosecutor's Office to indict Prof. Jo for defamation using telecommunications.
The YLU complained that "Prof. Jo spread false information through Twitter, having no factual basis or evidence… serious slander was committed against the National Intelligence Service and the female employee involved."
On the 11th Prof. Jo published, on Twitter, the address, real name, and mother's address of the female NIS employee, who has not left her officetel.
Although prosecutors could reach a different conclusion, police say they believe there is no basis for criminal charges.
November 29th, 2012 · Politics · 0 comments
Original article in Korean is at this link.
The Ministry of Public Administration and Security announced on the 28th that for the first time there have one million absentee voter applications in the 18th presidential election on December 19th. The record-setting total stands at 1,086,687.
In greater detail, there have been 973,434 applications for absentee ballot for ordinary reasons such as being in the military or police, being an election worker, or being unable to go to a polling place on election day; 106,193 applications for reasons of residence in a home or medical facility; and another 7,060 for being provisionally registered.
Absentee voting will be on December 13th and 14th, and voting for those in the provisional category will be from the 11th to 14th.
An official with the Ministry said that "absentee voters may receive their ballots and then vote from anywhere in the country… residence-based voters may place their ballots in a self-addressed stamped envelope and mail it to their local elections commission before 6 pm on election day."
Unfortunately many people in the third category don't have the means to comply with regulation to get properly registered. Nearly a majority are in Busan.
November 24th, 2012 · North Korea, Politics · 0 comments
With the American election complete and the South Korean elections just weeks away, the Hankyoreh21's Lee Jae-hun examined what the Korean election may mean for relations with North Korea.
Original article in Korean is at this link.
The second Barack Obama administration has, fortunately, met with trouble. The American president's first administration met disappointment with the results of its "strategic patience" approach to policy on the Korean Peninsula, and doesn't know what to do. However, since he is not the neocon-surrounded Mitt Romney, the crucial moment for peace on the peninsula is still ahead. In China, Xi Jinping was elevated at the 18th Politburo of the Chinese Communist Party, held November 8th to 14th. China's Korean Peninsula policy under Xi Jinping is known as "peace and stability on the Korean Peninsula," maintaining the country's key goal of ensuring political stability in North Korea.
Northeast Asia is today being engulfed by a new Cold War. First, the China-US relationships is growing tense. The United Kingdom, known as the G-2 nation, has pledged cooperation but China, which is seeking to expand its influence by growing its economy, has been clashing with the US over its desire to "return throughout Asia" and maintain its dominant profits, while the US seeks to maintain the economic siege of China. Externally this is a competition over land, but at root it is about colonialism and cracks in the third-world mentality, and this creates obstacles in the US-China relationship. Second, with the fifth and final year of the Lee Myung-bak government the relationship between North and South Korea has regressed to Cold War-era levels.
This is the new Cold War era that the Korean Peninsula and Northeast Asia are entering. From 1998 to 2000, the partnership between Kim Dae-jung and Bill Clinton saw the balmy winds of peace and reconciliation sweep over the Korean Peninsula, ending the isolation of the Cold War. In 1998, North Korea's provocative first missile launch was wrapped up by the Perry Process (DJ Process), followed by the first North-South summit, the adoption of the North Korea-US joint declaration, and the North Korea-US summit. Had Al Gore been elected president in 2001 rather than George W. Bush, the situation on the Korean Peninsula today would be qualitatively different.
In the volatile year of 2005, the September 19 Joint Statement intended to be a blueprint for the post-Cold War era in Northeast Asia was primarily guided by Korea and China. The partnership between Roh Moo-hun and Hu Jintao, rather than weakening neocon influence, led to President Bush and Chairman Kim Jong-il engaging in persuasion and pressure. The active cooperation of South Korea and China, which had carried arms against each other in the Korean War, gave rise to the saying that there are no eternal enemies or eternal allies. The examples of the partnerships between Kim Dae-jung and Bill Clinton and between Roh Moo-hyun and Hu Jintao demonstrated that historial fact that the Korea-US and Korea-China relationships are both necessary for peace on the Korean Peninsula.
In sum, this is the choice we face. Korea is a relatively weak nation surrounded by the US, China, Japan, and Russia. Where is Korea's diplomatic power? To put it simply, that power is based on influence over North Korea. In Northeast Asia, the freedm and leadership of a successful Korean diplomatic policy will be proportionate to influence over North Korea. Influence on North Korea can be created only through deepened interdependence in which mistrust is turned into  mutual confidence and the two nations communicate and cooperate rather than regarding each other as enemies. Between the cooperation and conflict of the US-China relationship, someone must be able to step in and build a three-way partnership with Barack Obama and Xi Jinping to bring peace to the Korean Peninsula.
Whoever it is must set goals of solving the North Korean nuclear problem, normalizing relations between North Korea and the US/Japan, building peace on the Korean Peninsula, and establishing multilateral agreements among the Northeast Asian nations. Since December of 2008 the six-party talks have been suspended, and they must be resumed. However, to accomplish this there must be considerable improvement in the North-South relationship. Who can start the virtuous cycle of peace and coexistence? In the presidential election on  December 19th we must select a candidate with such vision and ability. That is the historic meaning the election holds for all Koreans living in a divided land.