Archive for the 'North Korea' Category
June 11th, 2013 · North Korea · 0 comments
Original link in Korean is at this link.
Following the case in which the government of Laos repatriated a group of teenage North Korean defectors, worry is growing that the route for defectors to pass through northern Laos will be cut off.
According to statements of North Korean defector groups on June 4th, since the forcible repatriation of nine teenage North Korean defectors on the 27th of last month no North Korean defector has passed through northern Laos.
Neither has there been even a single case of a North Korean defector entering Laos and successfully entering the South Korean Embassy in the capital, Vientiane.
Accordingly, there has been a large increase in the importance of the escape route through northern Thailand, say observers, creating a straightened situation where the Thai route is the only one available to defectors. Currently about 90% of North Korean defectors use northern Thailand while 5 %to 6% use Laos, say defector groups.
The groups say that after the repatriation of the teenagers, North Korean defectors attempting to come to South Korea via Laos from China are being advised to quickly change their route.
One media outlet in Laos reported that in the aftermath of the Laotian government repatriation case, it has observed that the defection route has already been subject to huge changes.
The Laotian route is 10% to 20% more expensive than other defection routes but has advantages such as safehouses and other facilities, making it the preferred defection route.
However, some aid groups are optimistic that after the recent deportation case fades, the Laotian route will be restored.
December 14th, 2012 · North Korea · 0 comments
Following this week's launch of a missile that made it all the Philippines, North Korean leader Kim Jong-un looked to be in good spirits.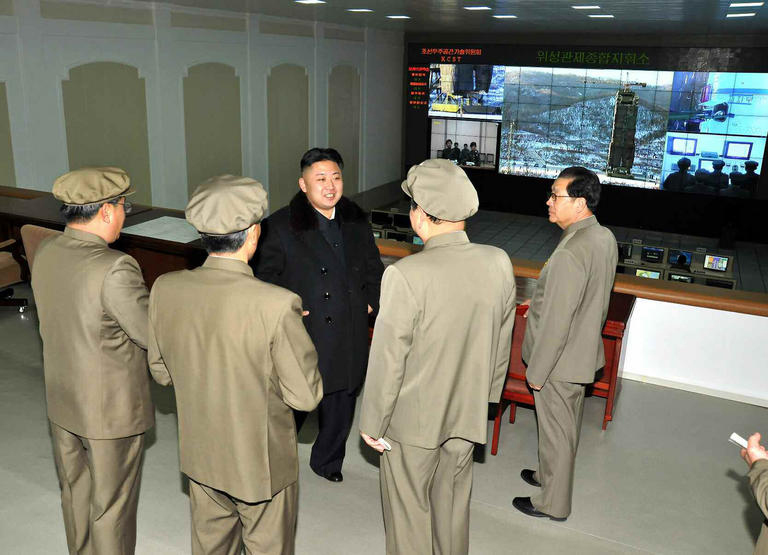 December 11th, 2012 · Education and ESL, North Korea, Surveys and Studies · 0 comments
Original article in Korean is at this link.
6 in 10 university students in South Korea fear that an attack from North Korea is likely, a survey has found.
The survey found that the attack the students believed to be most likely was a direct denial of service (DDoS) attack.
On the 7th Yu Jae-du, a professor at Mokwon University, announced the findings of his research at the Digital Forensic Center of the Supreme Prosecutor's Office in Seoul. The research, which was conducted in partnership with the Korean Association for Terrorism Studies and the agency for public security within the SPO, was published on the 9th under the title 'How University Students Perceive North Korean Terrorism'.
According to the survey, out of 236 university students asked about the likelihood of North Korean terror attacks, 57% agreed they were likely.
53% agreed there was a danger of attack, with 59% believing the most likely attack was cyberterror, followed by a bomb attack (53%), a chemical or biological attack (47%), a nuclear attack (43%), and an attack on airplane (11%).
However, just 13% had a positive view of government responses to attacks, with 47% having had a negative view.
Asked about the credibility of terrorism policies, 48% had a negative view, quadruple the 12% with a positive view.
Prof. Yu said that "university students have grown up with and been familiar with computers from a young age, so they see cyberterror such as a direct denial of service attack as the greatest risk from North Korea."
Also, Brandon M. Howe, a professor at Ewha Women's University, published a separate paper analyzing modern terrorism and concluding that traditional state safety mechanisms are insufficient to explain modern terrorism.
Yun Hae-seong, a researcher at the Korea Institute of Criminology, discussed anti-terrorism laws in major countries such as the United States and the roles played by their investigative agencies, and their implications for anti-terrorism laws in our country.
The KATS and the SPO began their partnership in 2010, and the most recent event was attended by terrorism experts from National Intelligence Service, the Ministry of Foreign Affairs and Trade, the National Police Agency, the Defense Security Command, and elsewhere.
November 24th, 2012 · North Korea, Politics · 0 comments
With the American election complete and the South Korean elections just weeks away, the Hankyoreh21's Lee Jae-hun examined what the Korean election may mean for relations with North Korea.
Original article in Korean is at this link.
The second Barack Obama administration has, fortunately, met with trouble. The American president's first administration met disappointment with the results of its "strategic patience" approach to policy on the Korean Peninsula, and doesn't know what to do. However, since he is not the neocon-surrounded Mitt Romney, the crucial moment for peace on the peninsula is still ahead. In China, Xi Jinping was elevated at the 18th Politburo of the Chinese Communist Party, held November 8th to 14th. China's Korean Peninsula policy under Xi Jinping is known as "peace and stability on the Korean Peninsula," maintaining the country's key goal of ensuring political stability in North Korea.
Northeast Asia is today being engulfed by a new Cold War. First, the China-US relationships is growing tense. The United Kingdom, known as the G-2 nation, has pledged cooperation but China, which is seeking to expand its influence by growing its economy, has been clashing with the US over its desire to "return throughout Asia" and maintain its dominant profits, while the US seeks to maintain the economic siege of China. Externally this is a competition over land, but at root it is about colonialism and cracks in the third-world mentality, and this creates obstacles in the US-China relationship. Second, with the fifth and final year of the Lee Myung-bak government the relationship between North and South Korea has regressed to Cold War-era levels.
This is the new Cold War era that the Korean Peninsula and Northeast Asia are entering. From 1998 to 2000, the partnership between Kim Dae-jung and Bill Clinton saw the balmy winds of peace and reconciliation sweep over the Korean Peninsula, ending the isolation of the Cold War. In 1998, North Korea's provocative first missile launch was wrapped up by the Perry Process (DJ Process), followed by the first North-South summit, the adoption of the North Korea-US joint declaration, and the North Korea-US summit. Had Al Gore been elected president in 2001 rather than George W. Bush, the situation on the Korean Peninsula today would be qualitatively different.
In the volatile year of 2005, the September 19 Joint Statement intended to be a blueprint for the post-Cold War era in Northeast Asia was primarily guided by Korea and China. The partnership between Roh Moo-hun and Hu Jintao, rather than weakening neocon influence, led to President Bush and Chairman Kim Jong-il engaging in persuasion and pressure. The active cooperation of South Korea and China, which had carried arms against each other in the Korean War, gave rise to the saying that there are no eternal enemies or eternal allies. The examples of the partnerships between Kim Dae-jung and Bill Clinton and between Roh Moo-hyun and Hu Jintao demonstrated that historial fact that the Korea-US and Korea-China relationships are both necessary for peace on the Korean Peninsula.
In sum, this is the choice we face. Korea is a relatively weak nation surrounded by the US, China, Japan, and Russia. Where is Korea's diplomatic power? To put it simply, that power is based on influence over North Korea. In Northeast Asia, the freedm and leadership of a successful Korean diplomatic policy will be proportionate to influence over North Korea. Influence on North Korea can be created only through deepened interdependence in which mistrust is turned into  mutual confidence and the two nations communicate and cooperate rather than regarding each other as enemies. Between the cooperation and conflict of the US-China relationship, someone must be able to step in and build a three-way partnership with Barack Obama and Xi Jinping to bring peace to the Korean Peninsula.
Whoever it is must set goals of solving the North Korean nuclear problem, normalizing relations between North Korea and the US/Japan, building peace on the Korean Peninsula, and establishing multilateral agreements among the Northeast Asian nations. Since December of 2008 the six-party talks have been suspended, and they must be resumed. However, to accomplish this there must be considerable improvement in the North-South relationship. Who can start the virtuous cycle of peace and coexistence? In the presidential election on  December 19th we must select a candidate with such vision and ability. That is the historic meaning the election holds for all Koreans living in a divided land.
November 14th, 2012 · North Korea · 0 comments
Researchers at Johns Hopkins University believe the satellite photos below show that North Korea has been testing rockets, possibly in preparation for a new ICBM test.
October 8th, 2012 · North Korea · 0 comments
Original article in Korean is at this link.
As of September there were 83 pro-North Korea websites operating overseas after being blocked because the government judged them to be in violation of the National Security Law.
On the 8th the Ministry of Unification confirmed that statistic, originally provided by the Korea Communications Commission, in a report to the overseas communications committee of the National Assembly.
The blocked sites include the Rodong Shinmun and the Korean Central News Agency, which have their servers located directly in North Korea. However, a large number of the sites have servers located in third countries such as China, Japan, and the United States.
The Ministry also said that North Korea is continuing to try to influence the presidential election, as North Korean media have mentioned the election and criticized the candidates at rates three times greater than during the 17th presidential election in 2007.
In 2007 there were an average of 52 mentions per month, which has increased to 143 per month since the general elections in April of this year.
August 10th, 2012 · Accidents, Crimes and Scandals, North Korea · 0 comments
Original article in Korean is at this link.
The Wonmi Police Station in Bucheon, Gyeonggi-do, announced on the 10th it is seeking an arrest warrant for two teenage North Korean refugees, including 20-year old Mr. A, on charges of fraudulently earning 11 million won by pretending to sell new smartphones at low prices.
Mr. A and his partner are accused of using the internet beginning in March to advertise that they could sell recent, used smartphoens for 150,000 to 300,000 won, earning 11 million by defrauding 41 victims up to recently.
Investigators found that they met as they were both young people struggling to adapt to South Korean society and formed their criminal plan, and spent their money on prostitutes.
July 21st, 2012 · North Korea · 0 comments
Original article in Korean is at this link.
49-year old North Korea human rights activist Kim Yeong-hwan and three others who were detained in China for violating that country's national security (國家安全危害罪) returned to South Korea through Incheon International Airport on the afternoon of the 20th. They had been in detention for 114 days. The Chinese government sent them back as deportees.
That afternoon, Mr. Kim's group, whose extradition was received by the South Korean government at 5:15 pm, arrived from Shenyang on a Korean Air flight. At 7:28 pm Mr. Kim's group arrived at Incheon International Airport and left the airport without saying much to reporters.
Mr. Kim's group plans to return home after going through a simple physical examination and an investigation of the circumstances of their detentiona and whether or not they violated any domestic laws. The Chinese government had suddenly communicated its wish to deport them just one day before.
June 28th, 2012 · North Korea · 0 comments
Original article in Korean is at this link.
On the 25th prosecutors in Incheon indicted 49-year-old Mr. A, a taxi driver, on charges of writing internet posts praising and sympathizing with North Korea in violation of the National Security Law.
According to prosecutors, at the end of 2010 Mr. A began writing over 60 internet posts praising North Korea's three-generation system, its Juche ideology, and its military-first policy, writing such things as "in Chosun [North Korea], do you know they have the system of 2-3 generation loyalty to the people and the motherland? The succession is pro-revolutionary and promotes the development of the people and the motherland."
In over 50 posts Mr. A also propagandized on the memoirs of Kim Jong-un, photos of the Juche Pagoda, the superiority of North Korean society, and the leadership abilities of Kim Il-sung and Kim Jong-il, and praised the Juche ideology and military-first policy, and called for a federal-style reunification, the withdrawal of the United States military, and praised North Korean communism.
Mr. A blindly praised reunification by any means including war, writing that "the US military must withdraw, after which North Korea, which maintains the traditional Korean culture, must unify our people by leading a war… Kim Jong-un is a man of drive and determination with the ability to focus on the goal without any shock over compromise or anger."
Mr. A continued to write such things even during the investiation, and unlike most cyber-criminals he plans to visit other prisoners indicted for the same crime.
An official with the Incheon prosecutor's office said that "it is his first crime, and it seems that as a middle-aged man with no formal schooling he went online and found web sites with false information about the North Korean system and got sucked into writing in praise of North Korea… prosecutors will continue to closely watch internet activities against national security and act swiftly against them."
May 28th, 2012 · North Korea, Photos · 0 comments
The Chosun Ilbo has put up a gallery of Kim Jong-un making the sort of factory visits that his late father often went. The picture would have been a good entry for Kim Jong-il looking at things: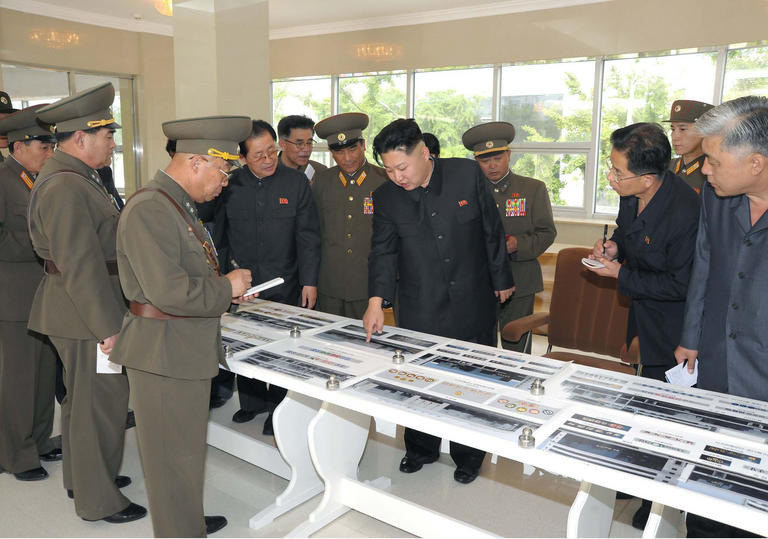 For more photos of North Korea, you can try the Chosun's collection of North Korea-related galleries.