Archive for the 'Nightlife' Category
April 16th, 2008 · Foreigners, Nightlife · 82 comments
The Weekly Chosun recently took a prurient look at the seamy side of Itaewon — which, let's face it, is nearly every side of Itaewon anyway — with the writer going undercover to work in a foreigners-only bar. From these pictures it shouldn't be hard to figure out where it is.
"Sunny, a customer came in. Get in here!"

As soon as the westerner, stomach bulging, came into the shop the manager called out the order. The man turned to my chair. Gracelessly, he called me over with, "hey baby, come on." My face turned white. "Oh my god!" Taking a deep breath, I followed the manager's directions and introduced myself. She started to explain the rules of this "foreigners-only bar", where I began working today and which is currently thriving near Itaewon.

On March 19th, I searched on a jobs website for "foreigners-only bar" (외국인 전용바). A five to six month-old ad turned up. One said, "you can learn English while having free talking with the customers." Another said, "we're looking for people who have studied abroad in the UK or US and want to talk in English with native speakers. And we can help out people who haven't mastered English yet. Those who speak English well can make four to six million won a month and beginners can make from 1.5 to three million."

At 8 pm the same day I called the bar. "I'm calling in reponse to your ad," I said, asking what kind of work is involved and how much I could make. A woman whom I guessed to be in her 30s said, "it's difficult to give a long explanation so just come see it for yourself." I hung up and easily found the bar near Itaewon Station. In front of the entrance on the second floor was a red sign that said, "Foreigners-only bar, must be at least 19 to enter."

The bar was cozy and made of wood, making for a relaxing atmosphere. Around the C-shaped counter there were 10 seats and plenty of whiskey and beer. There was a pool table and five other tables and sofas. After a moment a woman in tight jeans and straight hair came out. It was the manager I had spoken with on the phone.

She made a brief greeting and asked my name and age. She wrote everything down before the next question. "What did school did you go to and what was your major?" I answered, "I graduated in February from Z Women's University and am planning to go to graduate school in the UK. I'm here because I want to improve my English ability." Then the manager told me about what wasn't in the ad.

"The people who come to my bar have a high ability. You have to be able to talk about lots of things in English. Z Women's University is good enough. The basic salary is 600,000 won and you make more every time a customer buys you a drink. So you can make a lot of money."

"For example, a Jack and Coke costs 20,000 won so if you get 10 of them you make 100,000 won, and the other 100,000 is the bar's. Customers can touch you lightly but just laugh and turn them down. It's not good to get too stuck to one customer. Ha ha." She hired me on the spot to start in April.

I went into the bar at 8:30 in April. First the manager decided to give me the nickname Sunny. She had me go through some small doors at the counter and change my clothes. The tiny 1-pyeong room was full of shoes, clothes, and makeup and hair stuff. I hurriedly put on stockings and a blue dress that my father had given me for graduation.

I was looking good when a short woman in a black dress came ine. "Tonight's your first time? Me too… nice to meet you." She smiled and was really pretty. I wanted to be friends with her so I said, "hope to see you a lot," and she ran to her seat. Ah, too bad. I worried that someone here would recognize me.

Wearing the dress I came out into the hall where seven or eight women on a sofa like in a waiting room. I sat with them.

The distinctively featured A walked in knowingly with her creamy breasts in a tube top. Sitting next to her was 33-year old B, who said, "last night I felt like I'd have to go to the emergency room. I got so drunk and hadn't eaten and had some inflammation."

She is 21. Currently taking a break from her university in Seoul, she started working at the bar last summer. Seeing my obviously oblivious face, she asked, "are you getting ready for school, too? There are lots of us like that here, huh?" and I nodded.

"At first I started because I wanted to learn more English too, but I just speak meeting words so I haven't gotten any better. Don't expect to learn English here. Foreign assholes, Korean assholes, they're all men, they get drunk and grope you and stumble around, what can you talk about with them?"

"If you're not learning English why have you been here almost a year," I asked. She said, "I'm too used to the money, I can't quit." She pointed to another woman in a red dress, C. "See her? The tall one with the perm. She sometimes makes seven million a night. Split with the bar thats 3.5, right. She's the most famous one here." By 'famous' she meant that she is known by the customers and very popular.

C is 23 and stands over 170 centimeters, with a nice body like a model. Her face has prominent cheekbones and is a typical northern beauty. She sent me lots of messages. To be popular you need relationships with regular customers.

"Agh, why hasn't Kevin been coming lately? He came three straight weeks, maybe he has no more money? Last friday it was three million and a few days ago seven million… just come today! Shit! I know you can spend four (million)."

While smoking a cigarette C said, "these days Kevin is using his head. He said to me, 'I really love you but are you just using me?' and didn't smile." 24-year old D who was chatting with C said, "I just want to quit and live with my husband."
10 pm. The first customer has come. An almost totally bald white man and a muscular black man. The manager called me and said, "go up and introduce yourself and tell them this is a 'Lady Bar' so they have to buy you a drink." I nodded my head, but my feet felt heavy. Catlike, 25-year old E was sitting next to the white man. He was E's regular. Just like that, the black man had become mine.

"H-hi. My n-na.. name is Su.. Sunny."

I had studied abroad for over nine months and gotten used to foreign things so I thought I would have no problem in English, but my heart fluttered and it was tough just to say my own name. My partner, the black man, seemed to be sizing me up when he asked, "are you new here?" In skimpy clothes little better than being stark naked, E was getting along great with her partner, and compared to her I was a nun. It was my first time and I felt dry. He didn't seem to look at me in the eye at all. There didn't seem any way to make a good atmosphere.

My face turned red as a new girl got between us. It was the one I had met in the dressing room. She introduced herself as "Jennifer" and said she was 27. Stroking my shoulder, she said, "I know how you feel." A moment later a slender man in glasses came in and sat at the bar. The manager called Jennifer over. Her shy appearance disappeared as she greeted him with excitement. They moved to a sofa a second later.

An hour after after Jennifer's party moved to the sofa, B told me she was angry. "You don't know anything and now you're on the sofa! Are you just going to have a beer and stay there?" Then 30-year old F who was sitting next to me got angry at B. "Don't you know it's her first night? At first people don't understand… on my first night some guy tried to feel me up so I put on a halter neck. Ha ha."

Seeing my uncomprehending face, F explained, "you have to have a drink every 15 minutes." And, "if you're at the bar you can have like a beer or a Jack and Coke, or anyway something that costs 20,000, but on the sofa you have to have cognac or wine." Cognac and wine cost 40,000 per glass. One bottle of wine is 600,000 up to over one million.

In the end new girl Jennifer couldn't sell more than one beer over an hour and a half. So she made just 10,000 over that time. Even so she did better than me. I asked her, "what did you talk about?"

"That guy, he said he's a teacher in a hagwon. I told him I'm planning to study in America and he said he would teach me English. A ten-minute lesson? Then suddenly he wrapped himself around my shoulder and whispered, 'if I tip you will you kiss me?' Shit." She cried and said, "this is so, so different from what the manager told me in the interview." A ring glittered on the fourth finger of her left hand. It looked like a couples' ring.

"Does your boyfriend know you work here?" I asked. "Of course he doesn't know," she said. She used to perform on TV and had decided the month before that she would study in America. "Since I'm not that young anymore I don't want to go to a language school, I want to go straight to graduate school." After quitting her job she went to a hagwon every day but her conversation ability failed to improve. "So finally I came to this foreigners-only bar. If I keep getting treated like this I don't know if I can keep it up."

While Jennifer and I complained together an unshaven guy with glasses came over. C, who was playing pool, came over too. This was Kevin, the "7 million won guy" she'd been anxiously awaiting. C sat on his knee, kissed and drank with him. that night C was wearing three articles of clothing. There was a soft red chiffon dress, a revealing white skirt, and something black that looked like lingerie. One of the other girls said, "why is she always changing her outfit… looks like she can make a lot of money by making Kevin satisfied," and winked and went over to him.

It was past midnight so I was feeling drowsy. And the other eight girls were all smoking, making me close my eyes. Fortunately just then a big-bellied foreigner came in. The manager called me over. He seemed pretty drunk already and was dancing as if nobody was watching. I didn't know what to do and just stood around, and then he took me by the hand, saying, "hey baby, come on, come on."

After exchanging names I explained, "if you buy me a drink I can talk with you." He ordered a beer and said, "I'm not buying alcohol, I'm buying you." He broke into a nauseating smile. He put his hand on my waist and took my hand made me dance with him. The manager was watching and threw dagger with her eyes, saying, "you can't dance, what are you doing?" A moment later my partner said "your teeth are really sexy," and suddenly tried to kiss me. I was barely able to slip away from his body but he was out of control. I hurried back to my seat, not knowing what to do.

His face was all red. I just wanted to run away but I stayed calm and sat down on the waiting room sofa. 26-year old G didn't have any customers at the moment and was reading the English-language magazine Time. She is an economics major at a university in Seoul.

"Sunny, don't be so surprised. It's always like this in the beginning. On my first day I really hated it and didn't think I could do it… but I have a few drinks and learn English and make money, pretty good part-time job, no? If those guy want to grope or kiss you just squeeze your eyes shut and let them…" I didn't know what to say.

Food sanitation law doesn't have provisions for foreigners-only bars. They are called as a "BAR" with only foreign customers to differentiate them from regular drinking establishments. In entertainment bars (유흥주점) the girls are allowed to drink, sing, and dance with customers to get them feeling good. But because bars are classified with regular restaurants, they can't do that. So it's illegal for the foreigners-only bars in Itaewon to do so.

A spokesman from the Yongsan-gu Office of Health and Sanitation said, "because foreigners-only bars are not licensed entertainment bars it's difficult to accurately count them." I asked him, "can they use entertaining girls?" The reply was, "our team inspects the whole Yongsan-gu area daily from 8 o'clock at night to 1 o'clock in the morning but has never found anything wrong at a foreigners-only bar even once." They are able to be openly illegal, but the authorities don't know the true situation. Currently, if you do a search on one jobs site for "foreigners-only bar" 10 locations come up, and all of them are in Itaewon.
Update: If you found this article interesting, be sure to give a read to our previous translation on the secret lives of room salon girls if you haven't already.
Further update: Michael Hurt, the Metropolicitian, did an interview with a girl who works in one of these bars in Itaewon. You can download it through this link.
April 9th, 2008 · Accidents, Crimes and Scandals, Nightlife · 0 comments
The recent article about room salon girls' salaries mentioned daeddalbangs, rooms where customers go to jerk off. I hadn't heard of them before so I dug up this Korean blog post about getting work in them.
Owners of jerk-off rooms usually advertise in newspapers, fliers, and on the internet promising young women having trouble at home or who need tuition money that "there is no prostitution involved. There's not much difference between rookies and veterans. You can make a guaranteed income of four to five million won each month."

The owners first teach the new girls how to move their bodies to help the male customers come.

The company introduces the man to the girl and puts them in an enclosed room, with the customer wearing a sweatshirt and shorts provided by the business and the girl in a bikini or her underwear or anyway eventually in just her panties.

The girl is put into an enclosed room with a nude male customer and quickly applies "aroma oil" to his whole body, then rubs him down with a hot towel.

After that the girl applies lotion to the customer's private parts and moves her hands up and down until everything is finished.

If the girl does everything taught to her but the male customer still can't finish, or a paying customer demands a sexual relationship, or isn't sexually satisfied, he might insult the girl, demand his money back or act violently.

Women go to work in these daeddalbangs after reading the ads but if they try to leave because they can't stand the headaches and contempt they receive from the customers the business will use force and threats to make them afraid to do so.
April 7th, 2008 · Nightlife · 11 comments
The Hankook Ilbo's weekly magazine investigated the salaries and spending habits of Seoul's vaunted room salon girls.
The number of people earning over 100 million a year is increasing. This is happening not just among executives in large companies but also among professionals and entertainers.

To ordinary folk that much money seems like a dream. There is always interest in their fortunes and lavish spending. The media are always full of stories about the astronomical salaries of this or that performer, businessman, or broker, helping give rise to all that interest.

The careers of one of this class are often gossiped about but their 100-million won salaries are widely known while their actual salaries are veiled and out of sight. We're talking about those who work in the sex industry. The so-called "singing girls" — room salon girls — who work in this industry have never seen their salaries revealed even once.

Their consumption of sports cars and brand-name goods surpasses anyone. What do they do and how much do they consume? Let's take a peek into their books.

Women in the sex industry used to be considered considered shameful and limited by their youth. But now things are different. Regular women seek out the work themselves because they can enjoy an income and life that outstrips those of ordinary drudges.

Even so, not just anyone can be the flower of the industry.

These days being pretty and good-looking is not enough. Well, not really, but so-called "ace" women do make a lot more than others. In that world women judged to be aces become more famous and wealthy than average office workers can even imagine.

So more and more women are knocking on the industry's door. Some of them wanted to go into show business but didn't like having their faces so recognizable and being in the spotlight, preferring to make money more freely and have a nicer life.

It is usually said that the sex industry is full of moneylenders. It's not because of indebted customers. It's because there are so many women who work there who need to take care of their credit card and loan debts to pay for luxury goods, food and drink and entertaining bills.

Women enter the industry not only because they can easily make a lot of money but also in order to take care of debts.

"While they work here they handle a lot of money and they spend a lot, too, and regular people look down on them. So in the end they quit, saying 'all I learned is robbery', and walk out, but also a lot of them come back or were just always stuck to these places."

Those are the words of our source at one such business.

That may sound like an exaggeration but if you listen to what the people in the industry have to say, that is undeniably the true situation. The reason that women choose to work there is simple. They believe it to be the one place they can make a lot of money in a short time. By breaking down their income you can immediately understand why they think so.

In the case of high-quality, though not top 10%, room salons, suppose that one woman works there for three months meeting customers. She will make about 200,000 won per day. That's the minimum she can expect on average not counting expenses like makeup, hair, clothing, and skin massages or letting customers keep a tab.

If she works four days a week she will make 3.2 million won that month. The midpoint for higher salaries is seven to eight million won. Of course that figure doesn't include the bills for the open secret of the so-called "second round", and women at top 10% room salons are thought to make up to 20 million won per month.

A source at room salong G in Gangnam said, "if the girls who work here were being paid 3.2 million none of them would stay. Girls at good Gangnam room salons make at least 10 million a month.

"Of course there are those who can't make more than that. They have more off days than working days. So their salary goes down to 8 million won." Girls who work in the so-called Bukchang-dong style "hardcore" room salons make around 5 million won, and girls who work in jerk-off rooms (daeddalbangs) make around 3.5 million won.
Before going to work, girls at high-class room salons in Gangnam drop by the beauty salon. They may spend from 60,000 to 80,000 won each day on their hair and makeup. Most of them will sign a contract with the salon for two million won each month and receive some free services. That is as much as office workers make in a month, but they think of it as an investment.

Their living costs are not small. The greatest number of them live in Gangnam. They live in old one-room apartments in Yeoksam, Nonhyeon, Cheongdam, and Samseong-dong. Many of them live with a friend or two in a one-room or an officetel, with a monthly rent of from one million to 3.5 million won, not including security deposit.

Also, because they don't cook their own food they order delivery or go out to eat, and those costs total one million to 1.5 million won each month.

Transportation costs are also not inconsiderable. They tend to use call taxis rather than driving themselves. It can cost 20,000 to 30,000 won per day for those taxis, or 700,000 to 800,000 won a month. Their biggest expenses are clothing and handbags. They can spend two million a won a month on such brand-name goods and some spend tens of millions.

There is also their expenses for entertainment and leisure time. Spending time in host bars and other expensive drinking establishments stacks up their costs without limit. Bills for plastic surgery, leisure, makeup, and sundry others totaled up can easily cross 3 million won a month. When everything is put together the figure reaches an average of 8 to 9 million won per month and can reach 10 million.

People in the pleasure quarters sometimes say this. "The result of spending ten years in this life is having plenty of bags, underwear, silicone, and sighs."

One room salon fan noted sardonically, "Regular, thrifty women with office jobs make two million a month and five years later they live in 18-pyeong apartments near Seoul. But the women who work in room salons make several times that much money and yet years later they still live in the same little one-room apartment. If you look at how much they spend you can clearly understand."
All four comments left at the Hankook Ilbo's site, by the way, are spam ads for arranging sex parties online.
March 14th, 2008 · Economy and Worklife, Nightlife · 5 comments
Noraebangs — karaoke rooms to the unitiated — have long been popular and many make extra profits illegally selling alcohol and sex along with the songs (or in the case of room salons, selling songs along with the alcohol and sex). But it seems that now the trend is for men to play video golf games rather than sing offkey Abba songs before getting their drink and poke on.
We are in a video golf restaurant in Seoul on the 6th.

In the room at the back of the hall the video golf is in full swing.

Other than having a video golf machine instead of a noraebang, this place looks like any other room salon.

The miniskirt-clad girls who work here watch the customers hit the ball and high-five them. "Oppa, nice shot!" They operate the machine, make the drinks on the table, down them with the customers and play golf, too. They wear name tags saying Manager on them, but in fact they're just like the doumi girls in room salons.

A manager in her late 20s who introduces herself as a former caddy said, "we keep a membership system so when customers call ahead before coming to play we prepare enough doumi girls for the size of their group. If the partners agree they can go out and have a bottle of soju." She means they can go to the second round.

According to the industry, at the end of 2007 there 2,500 video golf rooms across the country. An industry representative said, "the number doubles every year. We expect there will be 3,000 this coming March."

Video golf games have systems to evaluate your swing and measure the distance traveled by the ball. Recent machines produce three-dimensional simulations of world-famous golf courses. It costs 25,000 won per round per person, a tenth of what it would cost to play for real.

The number of players across the country is 200,000 on an average day, about five times the roughly 30,000 who play on real courses. 37-year old office worker Park said, "I gave it a try on a rainy day once but they were totally booked from people leaving the golf course behind."

The machines cost 30 million won each. To set up a room with four machines will cost 200 million won, I was told. The good news is that in one month a business could bring in 50 million won.

Like pool halls, people can order jajangmyeon and other foods and eat them while betting and playing all night, and the number of people doing so is increasing. So now many golf places are staying open all night. And wine bars and other high-class establishments are putting in golf games, too.

39-year old office worker Baek said, "after a company dinner young people like to go to a golf bar rather than a noraebang especially since they can bet there." Just as bars can set up pool tables and dartboards, it is not illegal to install golf games since they have restaurant licenses. But the problem is that some businesses offer doumi and operate like room salons.

There are not yet many golf rooms which resemble room salons. But as the market becomes saturated the trend is to become more like them. Park, who is making a sexy bar in Gangnam with a video golf machine, said, "I started in Ansan, Anyang, and Suwon but I heard that business in Seoul is good so I'm here to try it."

But as there is no law governing them there is no way they can be arrested, because while it would be a problem for them to sell alcohol if registered as places for exercise, they are bars with extra equipment so police can do nothing. And since a large business with over 10 machines would have to register as a place for exercise, they register as noraebangs instead. Businesses registered as places for exercise are selling cans of beer, which is a problem. It shows that there must be policies enacted because there is a danger of an accident.
November 29th, 2007 · Nightlife · 10 comments
Over the summer the Hankyoreh examined the key difference between ads for beer and ads for soju.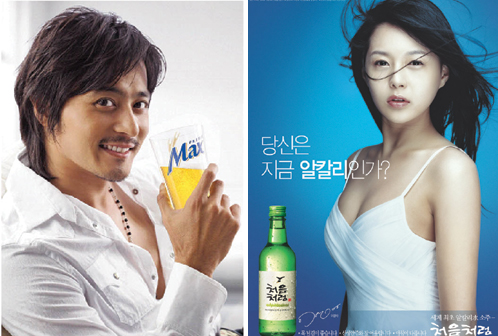 The sculpted good looks and bright smile of leading man Jang Dong-gun are selling "Delicious Beer." The charming innocence and fashy dance of female actor Gu Hye-seon are enticing people to try "Soft Soju."

Already people have made the connection in their minds that "beer = handsome men, soju = beautiful women."

The "wordless competition" in the world of soju busines is fierce. They often use female models to emphasize soju's gentle taste despite being hard liquor. The use of beautiful women in soju ads started in 1998 with the launch of Chamisul, which created a buzz for featuring top star Lee Yeong-ae.

Through Lee Yeong-ae came the common wisdom that "soju  model = pretty star." Hwang su-jeong, Park Ju-mi, Kim Jeong-eun, Kim Tae-hui, and Seong Yu-ri all did a  turn in Chamisul ads.

With the most recent soju model, Nam Sang-mi, the goal is the same — appeal to men with a clean and cute image.

So why do soju ads feature these beautiful stars?

A representative from Jinro explained, "it's because the nature of soju is that it's consumed much more often, 70% more, by men.

"With stars who started out as models, they're well-known by 20-year old college students and men in their early thirties. They show up on PC screens, downloads, and posters."

For the same reason, Doosan hired Lee Yeong-ah to be the model in the first ads for 처음처럼.

Doosan said, "we chose Lee Yeong-ah as the model who can make our brand a big one."

On the other hand beer ads select pretty boys, because many women prefer beer for its lower alcohol content.

Hite's selection of Jang Dong-gun as the model for Prime Max sent the hearts of his many female fans fluttering.

Lee Hyeong-jeong of Hite's PR team said, "Jang Dong-gun got every woman in the Republic of Korea to try out Prime Max. He's a 훈남, a guy with a kind face that makes you feel good to see him again, and that carries over to the product." In fact when people drink Max they tend to think of it as "Jang Dong-gun's beer."

OB used Jo In-seong, popular with women in the 20 – 39 age bracket, as the model for Cass Ice Light. His cute little dance in the ads sent the beer flowing into women's hearts.

OB recently hired Ju Jin-mo to be its model for Cass Red. Ju  was selected to bring in female fans and present Cass Red to them as a full-flavored, high-alcohol drink.

Other 훈남s slated to be in beer ads are heartthrobs Park Ji-sung, Kang Dong-won, and Lee Wan.
August 26th, 2007 · Nightlife · 2 comments
A couple of months ago we had a report that the liquor market was getting stonger. Now the Hankyoreh reports that while the soju market continues to chug along at a record pace, the beer and whiskey markets show signs of recovering from their 5-year long doldrums. It would be a completely unremarkable article — if not for the casual way in which the Hani links the drop in sales to crackdowns on prostitution.
The market for beer and whiskey, stagnant in the wake of the economic slump and various regulations following the 2002 World Cup, is showing signs of recovery this year based on taxes collected.

This year there has been a relatively huge jump in sales taxes collected from beer and whiskey sales, and soju sales are also rising steadily and is expected to surpass last year's market, which was the best in history.

According to the Korea Alcohol & Liquor Industry Association's data on sales, from the start of this year until July beer shipped from domestic warehouses totaled 118,620,000 boxes (each with 20 500-ml bottles), an increase of 6.8% over the same period last year.

The domestic beer market recorded 255,500,000 boxes in the World Cup year of 2002, 198,020,000 in 2003, 219,000,000 in 2004, 193,300,000 in 2005, 195,770,000 in 2006, fluctuating within a narrow range as the market stagnated.

Whiskey, too, from the start of this year through July 14,410,000 boxes were sold (18 500-ml bottles per box), a 7.8% increase over the same period last year.

Whiskey sales were 3,409,000 boxes in 2002, but then due to the requirement of real names used when entertaining clients and the Special Law on Prostitution they dropped to 3,202,000 in 2003 and 2,628,000 in 2004, then increased just 2% to 2,677,000 in 2005 and 2,732,000 in 2006.

From January through July soju sales went up 8,396,000 boxes (30 360-ml bottles per box), a 1.8% increase over the same period last year.

This could be just a relative fluctuation but if a similar rate of increase continues to the end of the year, the rapid introduction of new products and the fierce competition between firms would lead to sales surpassing last year's record of 108,481,000 boxes.

One businessperson said, "after the 2002 World Cup, the effects of the economic downturn and the Special Law on Prostitution seemed to cause a slump in the liquor market but this year there are indications of a revival and the bullish securities market points to a recovery."
July 16th, 2007 · Nightlife · 2 comments
This article takes a look at one franchise in the Garten Bier chain, known for their gimmicky chilled cupholders. Personally I think they only keep the beer there as cold as they do to mask how watered down it is. Well, enjoy this review and keep your eyes peeled for the restaurant, bar, and movie reviews we'll be having in the future.
"Whether a bar succeeds or fails depends on whether it can draw in women. The trick to drawing women customers is to have a unique free service menu following the regular menu."

Lim Gyeong-jae (37), operator of a franchise on Picasso Street in Hongdae of the beerhouse chain Garten Bier, is using a 'girl-catching' strategy to establish her success.

She's teaching her workers 'kindness education' along with the basics of food service. The principle they need to learn is that even before the customer calls the server, the server should have already followed them and be ready immediately.

The service menu is also a link in the chain of pulling in women customers. Following the regular menu they order from, the service menu should be presented in a way that satisfies the diverse tastes and preferences of women.

She started operating her current business at the start of October of last year. Before running a Garten Bier she managed a coffee shop for six months and though she wasn't the owner, for the "kindness and service" proponent the road to business success wasn't hard.

"The shapes of our unique chilled tables and glasses draw people's eyes in. We took the likes and dislikes of young people into careful consideration."

Garten Bier's chilled tables are a patented invention. The tables are fitted with cup holders chilled to 10 degrees Celsius, and a glass of beer put in will be chilled to the ideal drinking temperature of 4 degrees. The glasses' unique shapes are also popular. To reduce contact between the sides of the beer glass and the air they're made with curved shapes and the final part is small with an 'S-line' shape. This is to control the oxidation process that occurs when the yeast and microbes in the beer mix with the air.

Lim's business is on the third floor. Recently as she gets more control over advertising and after the business opened, flyers were distributed and at the first floor entrance free samples were handed out, drawing in customers. Lots of people walked by and tried the samples leading to big business and secured plenty of regular customers.

She says, "Even though young people can feel that there's a space just for them, I still think you have to prepare different kinds of service and events."

Garten Bier's Hongdae Picasso Street location takes in an average of W10,000,000 [~$11,000] per day, about 30% of which is net profit.
July 9th, 2007 · Nightlife · 0 comments
As we saw in this article on the price of soju, the price of alcohol is going up. Today we see that hasn't made any dent in the amount of alcohol actually being consumed.
In the first half consumption of western liquor increased 8.6%.

Beer consumption also increased 4%.

According to businesses and the meeting of alcohol manufacturers on the sixth, from January through June nearly 1.5 million cases (each case containing 18 bottles) were shipped, an increase of 8.6% from last year's 1.34 million.

Though it is still marks a decline in domestic sales compared to the 2002 mark, the last 5 years have been a recovery.

The standard level (aged 6 – 8 years) sold 19,286 cases, a 4.1% drop from the year previous, but the premium level (aged 12 years) shipped 1.05 million cases, a 7.2% rise, and the super premium level (aged 15 years or more) saw a 13.3% rise to 381,548 cases.

As far as market share, Jinro-Ballantine nabbed 36.6% to surpass competitor Diageo Korea (34.4%) for the top spot, with Lotte (17.4%), High Scot (4.5%), and J&B (4.1%) making up the rest.

On the other side, beer sales surpassed 85.3 million cases (each case having 20 bottles), an increase of 4% from last year's 82.07 million cases.

Hite Beer shipped 5.121 million cases, an increase of 2.7%, and OB shipped 3.412 million, a 6% rise.

With beer and liquor consumption increasing side by side there is evidence for explaining the frenzy of activity in exports and the resuscitation of the market.

In particular the primary factors in the rise in beer consumption compared to last year can be assessed as being due to higher temperatures this year, less rain, and the general climate.
June 9th, 2007 · Nightlife · 1 comment
One of the fun things about life in Korea is the ease with which you can find at least a decent bar. The sheer number and variety of drinking establishments is a testament to the important place drinking holds in modern Korean society. Nearly as ubiquitous as the bars — and, of course, usually pretty close by — are the brothels. Naturally the two industries tend to combine in various ways, some more licit than others — there is actually a chain of bars called Sexy Girl and bars of that ilk are known as sexy bars, which are basically bars where the waitresses wear bikinis.


I never went to one as the prices are steep, but apparently some of them could be getting in trouble soon. Perhaps you should go while there's still time!
If women servers wear extremely skimpy outfits in regular restaurants, could they become the target of regulation due to a breakdown in public morals?

All eyes are on whether he prosecution will file charges against a 'bikini bar' the police cracked down on for creating problems for public order.

The Gunsan Police Department is waiting for a decision by the prosecution on whether to file charges against Mr. Park (43), owner of a 'bikini bar' in Gunsan City's Miryong-dong where female servers in revealing outfits entertain guests, on suspicion of violation of public morals in food safety regulations.

In case the prosecution decides to indict this business without detention or more heavily, the police plan to pursue a vigorous investigation of bikini bars in the province. This is the first time in the country for an autonomous police force to regulate bikini bars. The police are looking at this decision as a test case for charging bikini bars with public morals offences.

It was announced that there are 3 or 4 such bikini bars in the province, and it appears that from the day that prosecution is decided in this matter any business classified as a normal restaurant and having servers in revealing costume will be the target of regulation.

One member of the police force emphasized that "regular restaurants that sell food with excessively-exposed servers entertaining guests are clearly going to be the target of regulation."

However business owner Park retorted the investigation by asking "Is that level of exposure in business disallowed in society's usual sense of morality?"

In other news, on the 11th the Daegu District Court ruled about a prosecuted bikini bar that "When women workers wait tables while clad in underwear there are two things — exceeding the bounds of lewdness to attract customers' gaze, and obscene actions" and gave a bikini bar which fell into that category an administrative punishment of a 2-month suspension of business.
May 15th, 2007 · Nightlife · 2 comments
The article translated here is on a subject no doubt near and dear to many of our readers' hearts — the price of alcohol. Readers without experience of the intoxicating cheapness of Korean spirits may be surprised at the positively Marxist indignation given to a lousy 3-penny rise in their prices, but we think once you try them you'll see it's imperative that they be as cheap as can be.
Thanks go once again to the Munhwa Ilbo.
In line with those of natural gas, transportation, and oil, the prices of beer and soju are going up.

With the cost of living rising with them as if in a competition, the shoulders of the common people, afflicted by the severe economic hardship of these times, are increasingly weighed down.

On the third, following business circles, the domestic beer market leader Hite Beer raised production of all of its brands by 1.9% starting today. Following this, the price of Hite bottles (500 ml) has gone up from 923.65 won to 941.2 won. The prices of black beer Hite Stout (1,034.75 to 1,054.41 won) and 330 ml-sized Exfeel (767.42 to 782.00 won) also went up. Regular shops will raise prices by approximately 50 won. Following Hite Beer's presentation of factory costs OB Beer, second in market share, is expected to follow suit.

A Hite Beer representative said "Due to the recent sharp increase in the price of domestic barley and the multiplying costs of other raw materials, production costs are increasing and so is the cost of beer."

The representative 'common man's drink', soju, is also showing signs of a price increase. Jinro, leader in the soju market, announced that its factory costs will eventually increase by 30 won per 800-ml bottle. This is due to a rise in the cost of its basic ingredient ethanol. A Jinro representative said "It's not definite yet" but that "The truth is that because for the last three years the price of soju has not gone up even in the face of greatly increased raw materials costs, well, that's the reason." Jinro manager Yun Jong-woong also said at a press conference that he couldn't deny the possibility of a price hike.

The rise of soju prices began around the end of last year. It was then that Doosan, seeking to defray the cost of the rise in ethanol prices, raised the retail price of 처음처럼 from 730 to 770 won.