Archive for the 'Korean Wave' Category
August 3rd, 2011 · Foreigners, Korean Wave, Sports · 0 comments
Original article in Korean is at this link.
It's the 7th of last month in Dulles Airport in Washington, D.C. Just before the doors of the plane, which left Incheon 13 hours ago, open, there is a cry of "wow!" from the cabin. "Just now Pyeongchang was awarded the 2018 Winter Olympics," was the announcement, and the hundreds of passengers cheered.
59-year old Jeffrey Jones, a "blue-eyed Korean" and a lawyer at Kim & Chang, told the news from a crew member. As soon as the plane had arrived he had used his cellphone to read the news and told the crewmember. Mr. Jones said that "at that moment the inside of the plane was like the 2002 World Cup."
He had reason to celebrate "Pyeongchang!" At the beginning of last May an official from the Ministry of Culture, Sports, and Tourism (문화체육관광부) sought him out. "We are in need of your help because of a legal matter involving  the Italian architect Pino Giopini, who is designing the Gangneung Speedskating Rink," he said. There was a complicated contractual dispute and Mr. Giopini hired the lawyer and explained that there were "unexpected demands" related to his fees.
Mr. Jones went to Milan several days later to meet with Mr. Giopini's lawyer and began negotiations, and in early June an agreement had been sketched out. However, on July 1st Mr. Giopini's side made a 'threat' that "we cannot accept an agreement without the guarantee of a bank… if this is not concluded then the speed skating arena will be left out of the presentation." Officials working to bring the Winter Olympics to Pyeongchang had already left for Durban.
Because of the time difference he stayed up like a night owl and began nerve-wracking work on a new agreement. He stayed in touch with Milan mainly by telephone and e-mail, and achieved an agreement in the Durban foreign investment office. The marathon agreement was reached just five days before the presentation. Instead of a bank guarantee, illegal under Korean law, Kim and Chang gave Giopini its own promise of guarantee. Mr. Jones said that "if not for this last-minute agreement the speed skating rink would have had to be left out of the presentation in Durban, which might not have been successful."
Mr. Jones received not one penny for his consulting fee, airfare, and hotel bills over two months. When asked "why did you work for free?" he said that "I did it for my country. All of the citizens wanted it… I am an American citizen but after my son was born and I spent over 30 years in Korea I consider it also my mother country."
He was a missionary in Korea for two years while in university, after which he joined Kim and Chang in 1980 and has lived in Korea ever since. From 1998 to 2002 he was head of the American Chamber of Commerce in Korea, was awarded the Bronze Tower of Industrial Merit for helping bring in foreign investment, and wrote the book "I am Afraid of Korea", which examined Korea's latent potential.
I'm pretty sure that quote in the second-to-last paragraph is inaccurate because Mr. Jones is, as far as I know, a naturalized Korean citizen.
July 7th, 2011 · Korean Wave, Sports · 0 comments
Congratulations are in order to the city of Pyeongchang, which has won the bidding for the 2018 Winter Olympics. The event I'll be looking forward to the most will be ice hockey, where the national team will get to play in the Olympics for the first time ever. The closest I've ever come to seeing the Korean national hockey team was when Electronic Arts featured international play in the Playstation version of NHL '98… but still didn't include them.
I kid, of course. No doubt everyone will be looking forward to seeing Kim Yu-na compete, and it's hard to image what could prevent her from getting on the ice in her home country. SBS caught her on camera crying joyfully as the news was announced.
February 23rd, 2011 · Korean Wave · 0 comments
Singer Kim Jang-hoon helped fund the advertisement below, which ran on a full page in the New York Times. Almost needless to say, it is worthless and was clearly created without the input of anyone who knows anything about American tourists. Or the input of a good graphic designer. Even the font in the logo is stupid.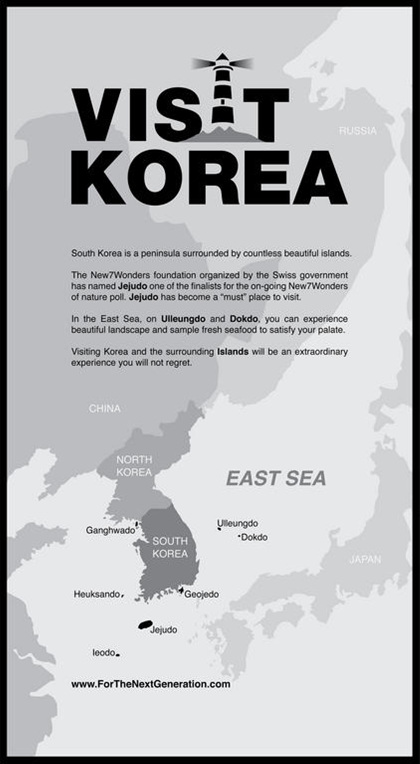 Most of the time, dumb Korean tourism ads don't really bother me. I shake my head and chuckle at their inanity, sure. But this one is so inept and such a waste of money that I find it offensive.
Update: Rather than responding in the comments, I'm going to clear up a few things here. First, I am well aware of the Dokdo and East Sea issues. I don't think there is anything wrong with Koreans taking out ads to tout Korean ownership of Dokdo, although I think doing so is not productive.
As to this ad, I don't believe it is a political ad. It has the words Dokdo and East Sea, yes, but that is because it uses a Korean map. This is clearly a pro-tourism ad. My only problem with it is that it was clearly made with little or no consideration for how it would be received by its target audience and without the input of a good graphic designer. At least $140,000 was spent on this ad. Do you really think it shows?
I also did not fail to notice the URL towards the bottom of the ad, but its placement only shows again how inept the ad is. There is no indication of what the URL is, and it is placed far away from all the other text, totally robbing it of effectiveness.
October 14th, 2008 · Entertainment, Korean Wave · 6 comments
Last month Korea Beat reported that the number of foreign tourists in Korea is disproportionately low in comparison to its Asian counterparts. Well, tourism chiefs evidently believe that Korean wave icon Bae Yong-jun is just the man to spearhead a new tourism campaign, as reported here. Somehow, I feel as though we have seen this all before. The Metropolitician certainly agrees.
After being appointed the Ambassador for Korean Tourism, Korean wave star Bae Yong-jun said, 'I will try my best to promote Korean flavour and style.'

On the 14th October at 10.30 am Bae Yong-jun was appointed Ambassador for Korean Tourism at the Lotte Hotel in So-gong dong which was hosting the 35th Tourism Day event, and the '2010-2012 –Year to Visit Korea' promotional function.

He added, 'as the ambassador for Korean tourism I feel I great deal of responsibility, and I will try my best to promote Korean flavour and style in this role.'

This function was sponsored by the Ministry of Culture, Sports and Tourism, the Korean Tourism Association, and the Year to Visit Korea Committee.

Bae Yong-jun is currently writing a travel book introducing the beauty of Korea.
September 16th, 2008 · Entertainment, Foreigners, Korean Wave · 1 comment
Three years ago Chinese state television launched a channel dedicated exclusively to Korean dramas, which were then at perhaps the height of their popularity. Today, the Hankyoreh reports, an increasing number of Chinese seem to be wanting something else.
Signs are becoming visible in China that there is rising criticism of Korean dramas, which have come there as part of the Korean Wave.
The controversy over why only Korean dramas are broadcast began with a September 10th broadcast on  the program 現代快報 (현대쾌보) CCTV, the national Chinese television channel, on which one viewer called for an end to the broadcast of Korean dramas.
The complaint is that CCTV channel 8's "Overseas Theatre" (海外劇場) channel repeatedly shows three to four Korean dramas — 'Jewel in the Palace', 'Men at the Bath House' 'Mermaid Princess' 'Can't Take My Eyes Off You' and 'Yellow Handkerchief' — to the point of being too much.
The Workers' Daily (工人日報) published a similar report on the 13th. It pointed out that in the beginning Korean dramas were fun and drew many viewers, but those viewers are growing tired of CCTV-8's broadcasting of nothing but Korean dramas.
The newspaper wrote that viewers all have different economic backgrounds, education, and living environments and want to have similarly diverse cultural products and dramas.
Also, some portal sites are holding votes on whether the broadcast of Korean dramas should be allowed or barred, with debate both for and against.
As the voting heats up and racial feelings swell, there are concerns over what the results will be if negative feelings in some parts of China continue to grow.
September 3rd, 2008 · Economy and Worklife, Foreigners, Korean Wave · 36 comments
There is concern that despite government efforts, foreign tourists are continuing to snub Korea in favor of other countries in the region.
– In 2007 the number of foreign tourists to Korea increased by a rate of 4.8%

– This does not even reach the figure for world tourism which was 6.6%

– In the Asia-Pacific region there was a 10.4% increase in international tourism.

Despite various government efforts to increase the number of foreign visitors to Korea its popularity remains low when compared to other Asia-Pacific countries.

According to a Ministry of Culture Sports and Tourism (문화체육관광부) publication released on the 27th entitled 'Annual Report on Tourism Trends' the number of foreign tourists who visited Korea last year increased to around six and a half million – a 4.8% increase on the previous year.

On the other hand, other Asian-pacific countries attracted over 184 million tourists, representing an increase of 10.4% on the preceding year. This compares well with the US which saw a 4.9% increase, and Europe which saw a 4.8% increase in foreign tourists. Last year, even excepting Asia, the world figure stood at 6.6%, and other regions like the Middle-east and Africa saw a huge increase in the number of tourists – 16.4% and 7.4% respectively.

Last year foreign tourists spent almost 6 billion dollars in Korea, a slight decrease of 0.2% on the year before, while Korean tourists spent almost 16 billion dollars abroad, representing an increase of 10.8% -a record spend, and at the same time a massive deficit of around 10 billion dollars.

Last year, in a bid to make improvements, the government officially launched the 'Korea Sparkling' tourism campaign. The budget for the related publicity campaign and advertisements was over 20 billion won – a huge increase on 2006, which saw just over 7 billion won earmarked for the promotion of tourism. In addition, the government launched an initiative to promote the south, west and east coasts, Confucian culture in North-Gyongsan Province, Jiri Mountain, the DMZ and the general border area, as well as the six metropolitan cities.

The government also pumped almost 100 billion won into Flower Land in Daejon and 115 other similar projects. Over 13 billion won was spent on the development of eco-tourism at Tab-Jeong Lake (탑정호), and the Green Eco-tourism Development Enterprise (생태녹색관광 개발사업). Other projects the government has advanced include: the Development of Resources for Tourism Program (관광자원 개발 프로그램), the Tourist Travel Voucher Scheme, and various other initiatives.
May 28th, 2008 · Foreigners, Korean Wave · 13 comments
There's an article here about how the Korean Church Association is offended by the recently installed 2 metre statues on the 2nd floor of Incheon International Airport made in the form of the 12 animals from Buddhist mythology. Quick translation of a few parts of the article (not the whole thing):
The animals including the snake, dragon, mouse and so on have the face of an animal and the body of a human. According to the article some have described them as 'eerie'.

The association's bureau chief sent a message to the airport on May 26th saying that it was "thoughtless to propagate this under the guise of 'traditional culture' in a public space with public funds," and that they requested they be removed.

Response from the airport was that they installed the statues on the 18th to introduce Korean traditional culture to people visiting the country, and that they were undergoing a cultural airport project in order to make the airport into a hub of transportation. In the boarding area are places to experience Korean culture and exhibits of relics. The statues were made through the cooperation of the National Museum of Korea, and cost a total of $70,000 to make.
My opinion? They're not eerie at all, they're worth the cost and the Church Association is completely unfounded here. Korea fails to understand that sometimes people like eerie, that people often to come Asia to experience a bit of this mysticism, and are often disappointed by the bland fare (fried meat and soju-drenched nightlife just to raise one example) they are presented with. Jeju-do is perhaps the only place that understands that eerie is good:
The names of some of the people from the Church Association and the airport are in the original article, and I think it might be a good idea to send off a few emails to the airport to let them know that the statues are really cool. Or maybe letting them know in person the next time you go there. It would be a shame if they were somehow pressured to take them down.
April 20th, 2008 · Korean Wave, Photos · 9 comments
A "Korean Wave Concert" was held in Seoul on the 11th to celebrate 15 years of Korea-China friendship. And what a concert it was!
December 31st, 2007 · Korean Wave · 9 comments
While Korean singer Ivy was recently rapped on the knuckles for copying a Japanese video, a Chinese singer seems to have nabbed an entire act from Korean singer Rain, according the Ilgan Sports. What goes around, and all that.
Chinese singer and actor Hwang Shao-ming (黃曉明) has been accused of plagiarizing Rain (real name Jeong Ji-hun; pictured on left).

On December 1st Hwang released his debut album, which became the most popular in China, but it is being criticized for its excessively similarity to "Rain's World", the fourth album from Rain.

Hwang wore a military look similar to the one Rain wore in "I'm coming", and his song "I'm Mining" is similar to Rain's "It's Raining".

Hwang strongly denies the accusations. In an interview with the Chinese press Hwang said, "there's nothing for me to feel guilty about. For this album we just used a lot of elements from Korean culture that have been popular in China. Most of the tracks were inspired by Korean songs."

Hwang's song "It's Mining", he revealed, was inspired by Lee Hyo-ri's track "톡톡톡", and choreography was taught by Popin Hyeon-joon.

On the suspicions of plagiarism by Hwang, Rain's representative,  J.Tune Entertainment, announced, "we are still deciding how to respond."

In other news Rain is in currently in Los Angeles to promote his records.
December 14th, 2007 · Korean Wave, Photos · 0 comments
Popular Korean internet portal Media Daum maintains a section where users can post their photos of hangul signs found in other countries. Most of it is as boring as can be, but here is my favorite example (from Tokyo).
Yes, the Korean is as bad as the English. I couldn't say about the Chinese but I don't have high hopes for it. For another example of hangul abroad see this post about baseball star Prince Fielder's Korean tattoo.