Archive for the 'Foreigners' Category
December 26th, 2013 · Education and ESL, Foreigners · 0 comments
Original article in Korean is at this link.
The "Immigrant Language Instructor Training Program", which trains married immigrant women in the provinces to teach foreign languages, has graduated its first 40 trainees.
Hannam University announced on the 24th that 40 women from China, Japan, Vietnam, and Mongolia received their certificates for passing the 600-hour course that began in April. The ceremony was held in the 1956 Memorial Hall on campus.
The university was selected at the beginning of this year to be a multicultural education space by the Daejeon Metropolitan Office of Education, and opened a center for training married immigrant women as Korean language instructors.
The trainees attended courses in curriculum planning, teaching plan creation, simulated classes, teaching practice, and method of teaching Korean to multicultural families, and will teach the languages and cultures of their home countries in elementary schools and pre-schools.
May 26th, 2013 · Entertainment, Foreigners, Photos · 0 comments
I guess this was inevitable.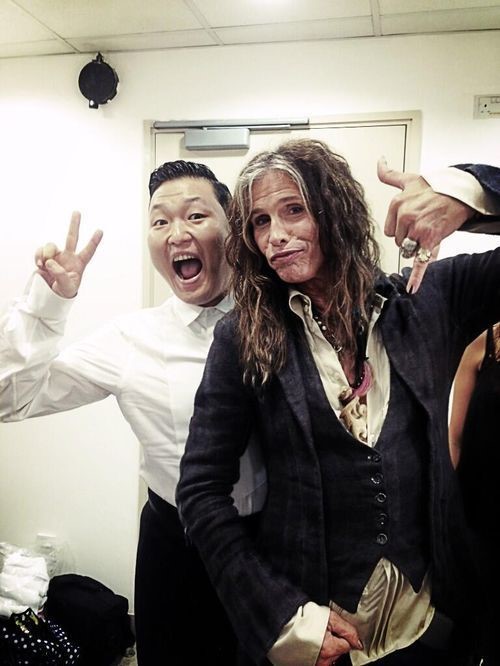 April 26th, 2013 · Foreigners, Miscellaneous · 2 comments
Original article in Korean is at this link.
A study has found that there are over 4,700 family names in our country. The longest family name has 11 letters, and there are various rarities such as "Gyul," "Kkang," "Ddeong," and "Maen."
On the 25th Representative Kim Jae-gyeong of the New Frontier Party released statistics of the Ministry of Security and Public Administration, according to which there were 4,706 family names recorded in the government's national identity registration system as of April 12. Among them, Kim was recorded 10,970,706 times, or 21.5%, making it the most-used surname among the citizens. That means one in five of our country's citizens is named Kim.
There are 7.51 million people named Lee (14.5%), 4.3 million named Park (8.4%), 2.47 million named Jeong (4.8%), and 2.4 million named Choi (4.7%).
There are 11 family names with over one million registrants, including 1.49 million people named Jo and 1.3 million named Kang. The others include Jang, Yun, Lim, and Shin.
There are 4,332 minority names with ten or fewer registrants, including Maen, Bun, and Sok. There are 3,025 with just one registrant, such as Gom, Gud, and Gilran. The increase in minority names is believed to be due to foreigners taking Korean citizenship and choosing names which are similar to the pronunciations of their original names.
The longest name has 11 letters: "Peuraiindeurotaejjujaendaen" (프라이인드로테쭈젠덴), the study found. Another has 10: "Allaeksandeokeullaibeudaehan" (알렉산더클라이브대한).
Particularly eye-catching are rare names such as "Gyul," "Kkang," Ddeong," "Huin," and "Kimnaegauriduim" which cannot be found just anywhere.
Rep. Kim said that "family names are a living part of our history and culture… in the identity registration system names are registered in hangul without separate hanja registrations, but we must reform the system to solve the problem of non-hanja names being separated."
April 23rd, 2013 · Accidents, Crimes and Scandals, Foreigners, Legal news · 0 comments
Original article in Korean is at this link.
The Seoul Bar Association (chairman Na Seung-cheol) announced on the 19th that on the 16th it complained to the Seoul Central District Prosecutor's Office that four foreign attorneys had violated the Attorneys-at-Law Act (변호사법) and the Foreign Legal Consultant Act (외국법자문사법) by advertising themselves as "international lawyers."
The SBA said that "although there is no such qualification as 'international lawyer,' using this term could create the misunderstanding that the person is a licensed attorney in every country in the world… Article 113 of the Attorneys-at-Law Act specifies that advertising using the expression 'international lawyer' is punishable by up to one year in prison or a fine of up to ten million won."
The SBA added that "it is criminally punishable to advertise oneself as an 'international lawyer' when one is not a registered as a foreign legal consultant… Since February we have asked them to cease the use of the phrase 'international lawyer' when introducing themselves in the media as foreign attorneys, and began seeking legal enforcement this month only after allowing a one-month period of time for correction."
February 2nd, 2013 · Foreigners, Photos, Politics · 0 comments
In South Korea on the 31st of January, Burmese democracy activist Aung San Suu Kyi visited the memorial for the victims of the Gwangju Massacre.
January 30th, 2013 · Accidents, Crimes and Scandals, Foreigners · 0 comments
Apparently Seoul police want to crack down on people putting on musical performances in subway stations, because two days ago they arrested a 49-year old Frenchman and his 46-year old Korean wife, who were putting on a saxophone performance in a train on line 2.
The couple scuffled with police and have been charged with assault. According to police, who announced the arrests today, the wife was the first to get physical, as she punched an officer in the chest and clawed his face. As she said later, she just wanted to create a happy atmosphere on the subway, where people usually don't have a good time.
No word on whether police will crack down on the beggars and salesmen who also contribute to the subway atmosphere.
January 2nd, 2013 · Accidents, Crimes and Scandals, Foreigners · 0 comments
Original article in Korean is at this link.
On the 1st the 27th criminal division (Judge Kim Hwan-su) of the Seoul Central District Courts acquitted 25-year-old Korean-American soldier Mr. A of charges of sexually assaulting a woman he had met at a nightclub while she was intoxicated. He had been indicted on the charge of quasi-rape (준강간죄).
The court said that "it is difficult to see the situation in which the victim had sexual relations with Mr. A as one in which she was unable to resist or could not protest… simply because the victim does not remember what occured does not enable the court to determine her intention or judge her unable to have resisted."
Quasi-rape is when a person sexually assaults a victim who is unable to resist.
Mr. A met the victim Ms. B, a woman in her 30s, at a nightclub in Seoul where she worked as a waitress, then played games and drank with her before going to a nearby motel where they had sex.
Mr. A left Ms. B asleep in the motel and returned to the club, and 30 minutes later Ms. B woke up and called Mr. A, then went to the club.
The court said that it had reached its conclusion in considerations of its findings that Mr. A had not forced Ms. B to drink, and that Ms. B was quite normal in her ability to walk and in her expressions and facial appearance and was therefore not intoxicated. Prosecutors have filed an appeal against those findings.
December 14th, 2012 · Foreigners, Photos · 0 comments
In town for the "Hyundai Card Culture Project 09 Tim Burton", the the director went out for some traditional Korean food and drink. No word on whether his next film will feature a bowl of bibimbap.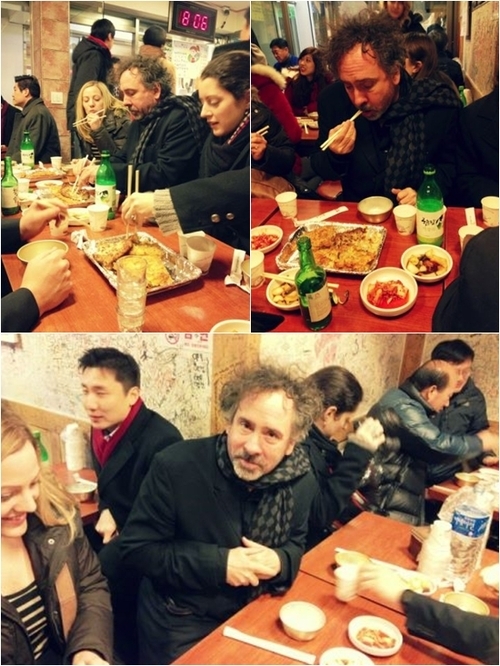 December 10th, 2012 · Foreigners, Legal news · 0 comments
Original article in Korean is at this link.
Korean police will now be able to complete a basic investigation of US soldiers arrested at the scene of a crime before handing them over to US authorities. The National Police Agency announced on the 9th that such rules will be in a "revised manual regarding incidents under the Status of Forces Agreement (SOFA)" to be distributed to each provincial police agency and their front-line stations.
According to the revised manual, while in the past our police had to hand over a US soldier caught at the scene of a crime in cases not involving major offenses such as murder and rape, they will now have the right to complete their initial investigations first. In cases of murder and rape, our police can extend detention of suspects, and in 12 other crimes US authorities can be requested to refrain from an immediate turnover request. The rights of US government representatives and attorneys to participate in the investigatory process will be guaranteed.
Korean and US authorities have pledged to work together for further specific rules related to legal processes other than those involving military police. In July there was an incident in which US military police placed handcuffs on three of our citizens on the street in the Sinjang-dong district of Pyeongtaek near the Osan Airbase, giving rise to debate over the authority of US military police on offbase patrols. An official with the NPA said that "these revisions are aimed at preventing wrong acts by US military police and protecting our citizens' human rights by clarifying certain things."
November 8th, 2012 · Foreigners, Legal news · 0 comments
Original article in Korean is at this link.
On the 8th the Seoul Administrative Courts' 12th division (chief judge Park Tae-jun) overturned the decision of the trial  in the lawsuit of Mr. K, who is from Baluchistan (a region in the southwest of Pakistan), seeking to order the Immigration Service to recognize his status as a refugee. This is first time a court has recognized the refugee status of a person from Baluchistan.
The court wrote that "Mr. K established that he has a well-founded fear of persecution on the basis of ethnicity or political viewpoint." The court continued, "it must be concluded that there is a likelihood of persecution in Pakistan."
Mr. K has been active in the independence group Baloch National Movement since 1995, was shot by secret police in 2007, and entered Korea using a passport with a false name in order to escape the government's watchful eyes. Mr. K was caught with the false passport and placed in immigration detention in Yeosu, where he filed the lawsuit for refugee status.
The court said of his entering the country under an assumed name that "since he arrived owing to the fears of persecution, such as torure and murder, arising from his independence activism, he did so to ensure his safety in leaving Pakistan."
The Baluchistan region, which has a high population of Baluchistanis, a minority group originally from Iran, has seen an independence movement for nearly over 60 years, and in the summer of 2008 over 100 people were killed while over 250 disappeared and another 20,000 were forcibly relocated. Mr. K and his family were forcibly relocated to Karachi, which borders Baluchistan, in 1993.
According to the Ministry of Justice, through September of this year 4,835 people had, like Mr. K, sought refugee status in Korea to avoid persecution in their home countries. There were 43 such cases in 2000 and just 423 in 2010 and 1,011 last year. There had been 909 cases this year through September. Following the arrival of the "era of one million foreign laborers" it appears that Korea is becoming a nation where refugees may arrive. Shin Hye-in, a public information officer in Korea for the United Nations High Commissioner for Refugees, said that "the increasing number of applications for refugee status appears to be due to increased global troubles in war-stricken areas and so on… Korea is generally a transit country rather than a final destination, so increases are occurring in more than just Korea."
In contrast to the increasing number of refugee applications, cases in which they are granted remain low. Through September of this year just 6.1%, or 299, of the applications  had been granted by either the Ministry of Justice or the Seoul Administrative Courts. Of the greatly increased number of 1,011 applications last year, just 4.1%, or 42, were granted. The low rate may be due to fears that migrant workers may abuse the process.