Archive for the 'Economy and Worklife' Category
February 16th, 2014 · Economy and Worklife, Legal news · 0 comments
Original article in Korean is at this link.
The Gyeonggi-do provincial government is opposed to the introduction of a bankruptcy process for local public entities (지방자치단체).
The province annouonced that, "a system of bankruptcy for local public entities would give the central government considerable power over local finances, violating fiscal autonomy and destroying the foundation for local entities, so it is unacceptable."
The province argued that there should be first discussions over reforms to the current 8-to-2 ratio of national and local taxes. It suggested the 6-to-4 ratio found in advanced countries such as the United States and Japan.
The province also expressed the opinon that the introduction of a bankrupcty system is inappropriate considering the current situation in which the government is placing additional burdens on provinces to pay for social services, worsening the state of local finances.
This year Gyeonggi-do's expected budget for social services is 5.5267 trillion won, 34.5% of its total budget of 15.9906 trillion won.
A member of the Gyeonggi-do Office of Planning and Coordination said that "the government has already begun instituting its pre-warning system for local entities' finances, so it's difficult to see any need for this additional bankruptcy system… what is needed is pre-emptive financial management that enlarges local finances."
Today the Ministry of Security and Public Administration reported to President Park Geun-hye its 2014 Business Promotion Plan (2014년 업무추진계획), which contains the substance of the bankruptcy system for local public entities.
MSPA head Yu Jeong-bok said that "a bankruptcy system for local public entities is not intended to implement restrictions of last resort when an elected official commits financial mismanagment rather than shift the responsibility for a bankruptcy onto the citizens… this will lead to a return to sound financial management."
The bankruptcy system for local public entities is intended to have the government or high-grade agencies intervene to promote the financial recovery of local public entities which have defaulted on loans or committed other acts that make it difficult to recover financially.
It is different from the bankruptcy system for businesses, which involves the dispersal or liquidation of legal persons. It is similar to the work-out system in which a business that still has value is saved through a restructuring.
February 12th, 2014 · Economy and Worklife, Legal news · 0 comments
Original article in Korean is at this link.
<Anchor comment>
The number of "red days," public holidays on which there is no work, total 67 this year.
You may think that you would receive extra holiday pay if you go into work on a holiday, but there many times that is not true.
On Seollal, Chuseok, and other holidays as well as national holidays and Christmas, you might not receive holiday pay even if you work.
This is because of the holiday clauses in the Labor Standards Act (근로기준법상).
Ha Song-yeon reports.
<Reporter>
Ms. Mo, who has worked in a supermarket for over ten years, worked for three days over the most recent Seollal holiday.
She worked from ten in the morning to ten at night but was not given holiday pay.
<Tape recording> Supermarket employee (voice disguised): "I never like going in on a holiday. I want to spend time with my family… I feel like exploited which is making me depressed. That's why I'm speaking so frankly."
The Labor Standards Act specifies that workers are to be paid 1.5 times their regular pay, or receive extra holiday time, for working on what would otherwise be a paid holidays.
However, current law specifies that only one day a week, in addition to the May 1st Labor Day, are to be considered paid holidays.
Public holidays on which many citizens work are "official holidays," that is, days when citizens don't have to work because public servants don't.
Whether an off day is to to be treated as a paid holiday is determined by a collective bargaining agreement.
That means that at 20% of businesses with at least 100 employees and the majority of small and medium enterprises do not give holiday pay because they have no such agreement.
The result is that not a few companies include compulsory annual vacation days with official holidays.
<Interview> Shin In-su (Attorney): "There is an urgent need for the Labor Standards Act to be reformed so that ordinary workers' vacation time is treated the same as those in government service when it comes to legal holidays."
 The government has so far declined to play the role of labor negotiator, so the complaints from workers in small businesses are only increasing.
This is Ha Song-yeon for KBS News.
December 24th, 2012 · Economy and Worklife, Women in Korea · 0 comments
Original article in Korean is at this link.
A study has found that in our country last year women's income was 50% that of men's. Further, 70% of female workers last year earned less than 20 million won.
On the 23rd Statistics Korea (통계청), the Bank of Korea (한국은행), and the Financial Supervisory Service (금융감독원) released the results of the "2012 Analysis of Household Finances and Welfare", finding that last year men earned an average of 36.38 million won. Women averaged just under half that, 45.9%, or 16.69 million won. In the study, "regular workers" were considered to be those who spent more time working than looking for work, from among those who worked or looked for work for at least six months out of the year.
With regard to income, female regular employees, who make up the majority of those earning labor income (wage income), earned 23.34 million won, 56.7% less than male regular employees, who earned 42.1 million. The overall female average was higher, but the male-female wage gap (based on 2009) was triple the 15.8% average of the OECD nations as published at the beginning of this month. According to the statistics, the male-female wage gap in our country is 39.8%, the highest among the OECD nations. Female irregular employees had particularly low incomes, averaging 9.75 million won among temporary and daily workers, and made up 58.4% of the total female workforce.
The male-female wage gap becomes clearer when broken down by occupation. The average income of female employees in the agriculture, forestry, and fishing industries was 2.15 million won, not even one-tenth of the average 23.3 million won among men in those industries. Further, female workers in simple labor and sales positions, which have many irregular workers, averaged 9.34 million and 15.55 million won, respectively. Accordingly, 69.9% of women earned less than 20 million won last year and just 5% earned at least 50 million won. 28.3% of men earned less than 20 million won while 22.7% earned at least 50 million won. 18.3% of women are in poverty, greater than the 14.6% of men.
A social welfare statistician with Statistics Korea said that "of workers with a college degree, 65% are men and 35% are women, while of those who have been working for at least ten years, 68% are men and 32% are women. Further, the male-female wage gap at large and medium-size companies having at least 300 employees was 73% and 27%, respectively, leaving women little opportunity to earn the same income as men."
December 18th, 2012 · Economy and Worklife · 0 comments
Original article in Korean is at this link.
On the 17th an association of internet cafe owners slammed what it called "Microsoft Korea's reign of tyranny".
The association, which has over 500 member businesses throughout the country (police estimate), held a press conference in Yongsan-gu, Seoul, to accuse Microsoft Korea of forcing them to buy Windows 8 and of selective enforcement.
Lim Sun-hui, head of the group's Incheon chapter, said that "Microsoft Korea has threatened us that it is illegal not to purchase Windows 8 for our internet cafes. They say Windows XP is now illegal… they say it is illegal now for consumers to purchase. They get their lawyers together and send us these things, what business can do that?
"Microsoft Korea wields their monopoly as a weapon to at least double their prices for internet cafes in the last two years and they have the nerve to say they could increase them further still."
Microsoft Korea says that isn't true.
A Microsoft Korea employee said that "as long as they are genuine products, we don't mind if they continue to use Windows 7 or Windows XP. When an official message comes out promoting the use of genuine products, you know, just throw it away."
"Some internet cafe owners have been found using illegally copied software, that's all we enforce."
Regarding allegation of price hikes since 2010, the employee said that "to promote the use of genuine products in internet cafes since 2010, we have had special promotions with incredible prices compared to normal. Compared to the promotional prices, they still want something better, the internet cafe owners are the unreasonable ones."
August 7th, 2012 · Economy and Worklife, Society · 0 comments
Anti-dog meat protests have been increasing in Korea in the past two weeks or so. They seem to have been prompted by a photo of dogs crammed into tiny cages in the bed of a pick-up truck driving them to slaughter, which caused a storm of controversy on the internet. The most recent protest was held on the 7th in Gwanghwamun, Seoul.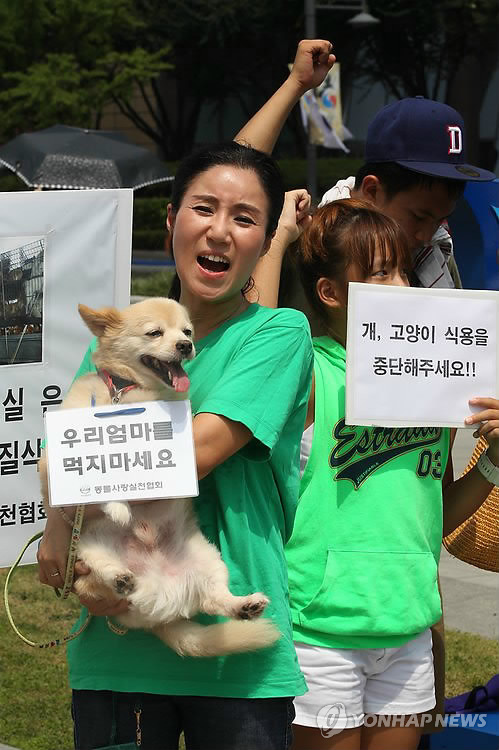 August 6th, 2012 · Economy and Worklife · 0 comments
Original article in Korean is at this link.
A study has found that the stress index among unemployed men in their 20s in our country is rapidly increasing.
On the 22d the National Health Insurance Corporation (국민건강보험공단) published the results of its analysis of last year's health insurance receipts data, finding that the number of male patients in their 20s being treated for symptoms stemming from serious stress had increased to 6,562, up from 5,034 in 2007.
Notably, out of every 10,000 unemployed men in their 20s, 227 are being treated for stress, a 47.4% increase from the figure of 154 recorded five years ago. Their female peers saw only a 13.9% increase over the same time period. 29-year old Mr. Lee, who has been unable to find work in the two years since he graduated from college, is constantly depressed and has seen a personality change towards anxiety. Mr. Lee studies in a goshiwon and has begun pulling out his hair, so that there is now a 100-won coin-sized hole. His physical and mental pain are mixed.
Shin Yeong-cheol, professor of psychology at Kangbuk Samsung Hospital, said that "unemployed men in their 20s are facing the crisis of long-term unemployment even as women become more competitive in the job market… with their future prospects so cloudy, they are under intensifying spiritual and psychological stress."
August 2nd, 2012 · Economy and Worklife, Surveys and Studies · 0 comments
Original article in Korean is at this link.
Ostracism can happen anywhere. One in three office workers says "I have experienced being ostracized/bullied at the office."
On the 31st of July the jobs website Saramin published the results of its survey of 3,035 office workers, finding that 30.4% reported having been ostracized or bullied at work.
The study that more women (34.1%) than men (27.6%) complained of having experienced such treatment.
When asked what happened in those situations, 57.2% said that "co-workers had secret conversations about me", 34.7% said that "I was the only person not informed of company dinners and other gatherings", 25.6% said that "people ignored me when I greeted them", and 20.8% said that "i was given trivial work such as running errands."
The average time period of the episodes was seven months, the study found. 43.2% of the episodes were instigated by superiors, followed by senior co-workers, same-level co-workers, and junior co-workers.
33.5% of office workers said that they had quit jobs because of stress over being ostracized or bullied. 8.6% sought mental counselling.
March 13th, 2012 · Economy and Worklife, Education and ESL · 0 comments
Original article in Korean is at this link.
With its privatization being debated, Paju English Village in Gyeonggi-do is riding the "Korean Wave" and picking up more foreign students.
On the 12th the Gyeonggi-do Provincial Council and the English Village announced that the Paju English Village Camp, after beginning international marketing three years ago, brought in 72 foreign students in 2009, 192 in 2010, and 613 last year. This year it has plans to seek over 1,500 foreign students from Japan, Russia, China, Thailand, and other countries.
Park Won-jun, head of the Paju Camp, announced that "the increasing number of Japanese students who come to Korea on school trips because of the Korean Wave, and others, love our program for foreign students…we are expanding out sister school relations between middle and high schools in Gyeonggi-do and in other countries, and creating exchange programs between teachers and university students, we plan to create a 'two-headed rabbit' that raises our revenue and our contribution to the public good."
Foreign students pay up to 500,000 won for three-night, four-day stay, and the Paju Camp has increased its rate of fiscal self-reliance to 81% (1.9 billion won), its highest level ever.
However, the Paju Camp's privatization remains a controversy. An education official with the province said that "we believe that privatization would improve the program and its services, improve its finances, and serve the public through free education." Last month the Provincial Council passed a privatization bill, after considering it since last year.
Gyeonggi-do Provincial Council Representative Lee Sang-seong of the Unified Progressive Party said that "to bring it out of the red, the Paju Camp's operations may be privatized and if so, the focus would be on profit rather than the public good… even if its finances improve it needs to remain a public institution dedicated to helping poor and multicultural children." The Paju Camp was changed into a foundation in 2006, with an endowment  of 99 billion won.
February 2nd, 2012 · Economy and Worklife, Surveys and Studies · 0 comments
Original article in Korean is at this link.
Four in 10 office workers say they have experienced sexual harassment, a survey has found.
Jobs portal site Career surveyd 405 office workers, finding that 40.5% had experienced sexual harassment at work. 72.6% of women had versus 27.4% of men.
The perpetrators were mainly superiors (78.7%), followed by owners (13.4%), and co-workers (7.9%).
44.5% of the incidents occurred at office dinner parties, followed by work hours (31.7%), drinking outside of office parties (15.9%), and during workshops or other office events (7.9%).
The forms of harassment included excessive touching (59.8%), sexual jokes (45.7%), comments on physical appearance (33.5%), excessive staring (24.4%), making demands (7.9%), and demands for sex (5.5%).
The responses made included just putting up with it (78%), quitting the job (12.8%), demanding an apology (5.5%), notifying the union (2.4%), and doing the same thing back (1.3%).
Just 17.8% said their offices had policies in place to deal with sexual harassment.
To combat sexual harassment at work, 47.4% said that the top priority should be for workplaces to have prevention policies, while 35.3% chose harsher punishments, 11.4% chose a better system of reporting and advice, and 5.7% chose punishing owners of firms.
December 13th, 2011 · Economy and Worklife · 0 comments
Original article in Korean is at this link.
Four anti-FTA protestors were arrested on the 10th for assaulting a police officer.
The Yeongdeunpo Police Station in Seoul announced on the 11th it had arrested 42-year-old Mr. Choi, a labor union member. Police also arrested 33-year old Mr. Kim, a Democratic Labor Party member, and 38-year old Mr. Park.
According to police, Mr. Choi and the others were at an anti-FTA rally in Yeouido when they assaulted 32-year old Seoul police officer Mr. Jeon, stomping him with their feet repeatedly. The scene was recorded and uploaded to the internet, causing a firestorm and leading to the arrests.
An official with the police said that "these four were arrested but we believe there may be two others… They will be severely punished for assaulting police officers who were upholding the law at a candlelight vigil."
This has been the third week of protests against the implementation of the FTA and calling for the ouster of the ruling Grand National Party. Over 10,000 people attended the candlelight vigils without incident until the 11th.