Archive for the 'Accidents, Crimes and Scandals' Category
April 18th, 2014 · Accidents, Crimes and Scandals, Legal news · 0 comments
Original article in Korean is at this link.
[Anchor]
A case in which a stepdaughter was abused and beaten to death is the second such case recently.
Yet the difference in the prison sentences in the two cases is a full five years.
The reason?
Our reporter Jang Dong-woo went looking for answers.
[Reporter]
Courts in Ulsan and Chilgok that recently considered defendants accused of beating their stepdaughters to death handed down sentences of 15 and 10 years.
Both defendants were accused of homicide resulting from bodily injury.
The charge of homicide resulting from bodily injury carries a sentence ranging from three to five years, but if the crime is committed against a family member the maximum increases to seven years and if committed against a family member a second time then the maximum increases by half and can reach 10 years and six months.
Factor weighing in favor of a heavy punishment are if the crime is committed more than once, if the victim is a family member or ancestor, or if the crime is particularly heinous.
The Daegu District Court that handled the case of the stepmother in Chilgok found that the standard for the maximum sentence was met, and the Ulsan District Court found that the standard was greatly exceeded.
In the case of the Ulsan stepmother, the sentence was enhanced because the death of the child, just two hours after the assault, was quite cruel and she had three prior arrests for injurious assault.
In the Chilgok case the indictment was for a violation of the Child Welfar Law, not for assault, so sentence enhancments did not apply.
< Lee Jong-gil / Daegu District Court Judge> "Under the sentencing guidelines, the sentence in this case of homicide by bodily injury could range from four year to 10 years and six months and in this case, I believe a sentence of 10 years was appropriate."
However, legal experts say that had the Chilgok case been brought for assault, which would have made it eligible for sentence enhancement, it would have been eligible for sentence enhancement the same as the Ulsan case.
 This is Jang Dong-woo for News Y.
For more on the Ulsan case, see this article in Korean (warning: disturbing X-ray photo at top of page).
December 24th, 2013 · Accidents, Crimes and Scandals, Education and ESL, Legal news · 0 comments
There are many ways to get ahead in law school. Hacking a professor's computer to get the tests isn't one of them. Original article in Korean is at this link.
A 24-year old first-year law student at Yonsei Law School was permanently expelled after being referred to a disciplinary committee for being caught hacking a professor's research room computer in order to steal a test.
On the 23rd the Law School announced that the committee, composed of seven people including Dean Shin Hyeon-yun, convened at 1:00 PM that afternoon and decided the above punishment for the student, known as "A".
The permanent expulsion is the harshest available punishment, which could have been a warning, placement on academic probation, or suspension. Accordingly, "A's" school record will be erased and he will be barred from re-admission.
In addition to "A" receiving an F in every course in the previous semester, his merit-based scholarship this semester was revoked and his certificate of merit nullified.
"A" wrote in a statement to the disciplinary commitee that on the night of the 10th he entered the professor's room and installed a hacking program, amd had done so several times in the previous semester.
The law school had discovered the installation of the hacking programs on the processor's PC following a joint investigation with its IT department.
The disciplinary committee issued the highest possible punishment with the approval of the dean following a two-week period to consider "A's" punishment.
The law school said that the possibility of pursuing criminal charges is being discussed with the school's professors.
Dean Shin Hyeon-yun said that "after confirming the truth, this punishment was issued with all proper procedures… in the future, our school will be strictly applying a policy of zero tolerance to even the most minor infractions."
On the 16th at the law school student community website Lawinus (로이너스), there were numerous posts discussing the rumors that "A" had been caught entering the research room to install a remote-control hacking program in order to steal the test questions for the semester's final exam.
"A", who graduated as the salutatorian from Seoul National University with a degree in management, had a perfect 4.3 GPA in the previous semester.
As soon as the truth came to light and there were rumors inside and outside of the school regarding whether the same method had been used on other exams in the past, the school referred "A" to the disciplinary committee immediately.
July 10th, 2013 · Accidents, Crimes and Scandals, Photos · 0 comments
The photo below shows the tattooed back of a man from Changwon who was caught trying to shake down somone else who was dealing in stolen goods.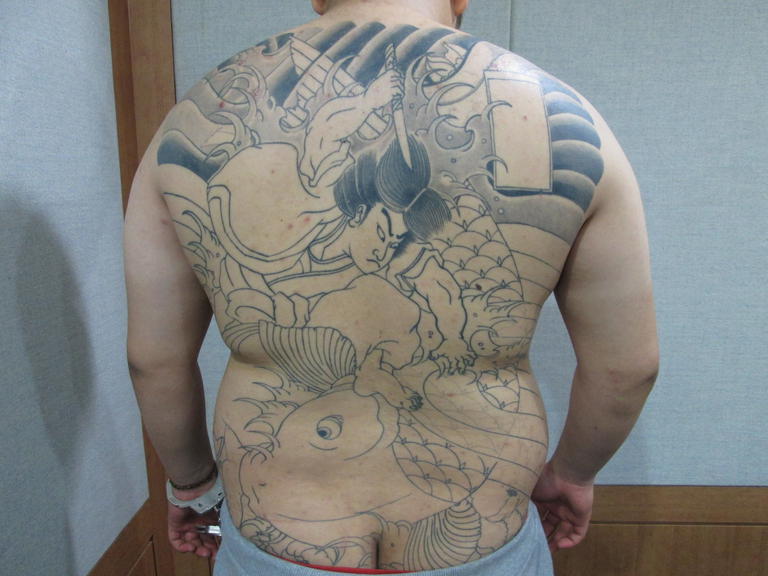 June 17th, 2013 · Accidents, Crimes and Scandals, Education and ESL · 0 comments
Original article in Korean is at this link.
A study has found that the number of reports of physical violence reported to the 117 call center for school violence reports increased 9.2% and reports of verbal and psychological violence increased 6.3%.
According to the Ministry of Education, Science, and Technology and the National Police Administration on the 17th, one year after the implementation of the 117 call center a total of 111,576 reports were received, an average of 9,298 per month and 305 per day. In April of this year alone there were 12,203 reports, the highest month ever.
Last year there were an average of 219.5 reports per day, which has increased 37.5% to 201.8 per day through May of this year.
95.3% of students are aware of the 117 call center as are 50% of parents, increased rates which account for the increased reports. Last year 65.8% of reports came from students involved in the reported cases, which increased to 68.8% this year. Last year 25% of reports came from parents against 20.9% this year.
29.1% of cases this year involved assaults, 23% involved verbal abuse, 9.7% involved threats and intimidation, and 5.9% involved ostracism. That order is the same as last year although this year violence increased 9.2% and verbal abuse 6.3%.
The authors of the report see this as being due to students engaging in more hidden verbal abuse due to large-scale government efforts to reduce school violence, and because in the past verbal abuse was not recognized as school violence and not actively reported.
Of the victims, 56.5% were elementary school students, an increase from 49.9% last year, while violence among middle school (27.7%) and high school (11.6%) abated.
86% of cases last year ended in outcomes such as advice or simple reports, but with tougher monitoring and the nationwide establishment of school violence police units and counselling centers the number of cases referred to police quickly doubled from 2.9% to 5.8%.
The government plans to establish counselling centers for victims and offenders nationwide, provide third-party communication and customized one-stop counselling services, and establish unified training for all members of relevant agencies who will provide counselling.
April 23rd, 2013 · Accidents, Crimes and Scandals, Foreigners, Legal news · 0 comments
Original article in Korean is at this link.
The Seoul Bar Association (chairman Na Seung-cheol) announced on the 19th that on the 16th it complained to the Seoul Central District Prosecutor's Office that four foreign attorneys had violated the Attorneys-at-Law Act (변호사법) and the Foreign Legal Consultant Act (외국법자문사법) by advertising themselves as "international lawyers."
The SBA said that "although there is no such qualification as 'international lawyer,' using this term could create the misunderstanding that the person is a licensed attorney in every country in the world… Article 113 of the Attorneys-at-Law Act specifies that advertising using the expression 'international lawyer' is punishable by up to one year in prison or a fine of up to ten million won."
The SBA added that "it is criminally punishable to advertise oneself as an 'international lawyer' when one is not a registered as a foreign legal consultant… Since February we have asked them to cease the use of the phrase 'international lawyer' when introducing themselves in the media as foreign attorneys, and began seeking legal enforcement this month only after allowing a one-month period of time for correction."
January 30th, 2013 · Accidents, Crimes and Scandals, Foreigners · 0 comments
Apparently Seoul police want to crack down on people putting on musical performances in subway stations, because two days ago they arrested a 49-year old Frenchman and his 46-year old Korean wife, who were putting on a saxophone performance in a train on line 2.
The couple scuffled with police and have been charged with assault. According to police, who announced the arrests today, the wife was the first to get physical, as she punched an officer in the chest and clawed his face. As she said later, she just wanted to create a happy atmosphere on the subway, where people usually don't have a good time.
No word on whether police will crack down on the beggars and salesmen who also contribute to the subway atmosphere.
January 25th, 2013 · Accidents, Crimes and Scandals, Legal news · 0 comments
The Korean experiment with jury trials continues; source article in Korean is at this link.
The man who seriously wounded four people by stabbing them on a street in Yeouido has received a prison sentence from a jury.
On the 25th in the 11th criminal division of the Seoul Southern District Courts, under Judge Kim Ki-yeong, 31-year-old Mr. Kim, who was indicted for attempted murder and other charges for stabbing two former co-workers and two other passersby, was sentenced to 14 years in prison and 10 years of supervised release via an ankle monitoring bracelet.
Mr. Kim was held in prison following his indictment on charges of stabbing four people in the street near the Lexington Hotel in Yeouido, Seoul, at approximately 7.16am on August 20th.
The jury explained that "Mr. Kim attempted to murder the victims, his former co-workers, and seriously wounded them before fleeing, and while fleeing he stabbed two other people… the jury has considered the facts that he planned the crime in advance and seriously wounded passersby he did not even know."
"The victims have suffered psychological harm and expect the defendant to be punished… the jury has considered the possibility of recidivism and the need for the defendant to be isolated from society for a long time."
In this decision rendered by a jury, it was found unanimously that Mr. Kim had not been bullied by his former co-workers; Mr. Kim was not mentally unsound at the time of the crime; there was evidence of the crime; and that Mr. Kim presents a risk of recidivism.
January 13th, 2013 · Accidents, Crimes and Scandals · 0 comments
Source article in Korean is at this link.
A study has found that the number of "emigrant draft dodgers", who avoid military service on the pretext of overseas travel or study, has been increasing every year. There were 62 in 2007, and 149 in 2012.
According to the Military Manpower Administration on the 12th, the number of men who go overseas for travel or study and then never return in order to not enter military service has reached a total of 915 as of the end of last year. There are new draft dodgers every year, as there were 62 in 2007, 85 in 2008, 89 in 2009, 72 in 2010, 99 in 2011, and 149 in 2012.
The reasons for the increase in the number of draft dodgers going overseas were listed as the increased freedom to go overseas, and the shuttering of various programs to ensure that men complete their military service.
In 2007 the government ended the "overseas travel permission system" for men 24 and under who had not yet completed their military service, on grounds that it was overly restrictive. However, it was maintained for such men over the age of 25. That is, men 24 and under who have not yet served in the military may travel overseas without obtaining permission, and so some leave and never return in order to avoid military service. Also in 2007, the "guaranteed return system" for men who have not yet served, under which a relative or similar would serve as a guarantor that the traveler would return to Korea, was changed into the "military service return guarantee insurance system".
The MMA said that of reasons the 915 men are able to avoid military service, 523 (57%) are studying abroad, 276 (305) are on short trips, 33 have been living with their parents for five or more years, and 83 are visiting friends, in language study programs, or using other reasons.
758 (83%) of them are in the United States, 27 are in Canada, 26 are in Australia, 15 are in Japan, 10 are in China, and four are in Germany. 62 are in other countries.
The MMA has asked police to take action against overseas draft dodgers. Of the 915 men, 729 are under indictment, and another 162 may be indicted. Even if indicted they cannot be punished unless they return to this country, so some of the indictments have been suspended. If the cause of the suspension is lifted (such as if the accused returns and enlists), the investigation may be re-commenced.
Overseas draft dodgers can be sentenced to three years in prison when they return to this country.
January 10th, 2013 · Accidents, Crimes and Scandals, Education and ESL · 0 comments
Source article in Korean is at this link.
The Gyeonggi Provincial Police Agency has prepared a "2013 School Violence Response Guideline" which involves school visit days and increased responsiveness to reports of school violence.
According to the guideline prepared by the Agency, police officers assigned to schools, honorary teachers, and "mother police" will each visit schools once a month to promote an anti-school violence campaign and increase joint patrols.
Also, education authorities, local governments, and civic groups will create school violence prevention councils to work together with local communities.
Promotional materials will be placed on the websites of local governments and cooperative agencies, and also on subway advertisements, to promote the 117 hotline. Activities will also tyake place in elementary, middle, and high schools and even in kindergartens.
Accordingly, each police station will operate guidance programs for students, and the program considered to be best will become the template for others.