Archive for September, 2013
September 9th, 2013 · Health and Environment, Photos · 0 comments
In Jeju last week, a rough-toothed dolphin (pictured below) washed up on the beach and was found by some folks out for a stroll. It was about 130 centimeters long and weighed some 130 kilograms.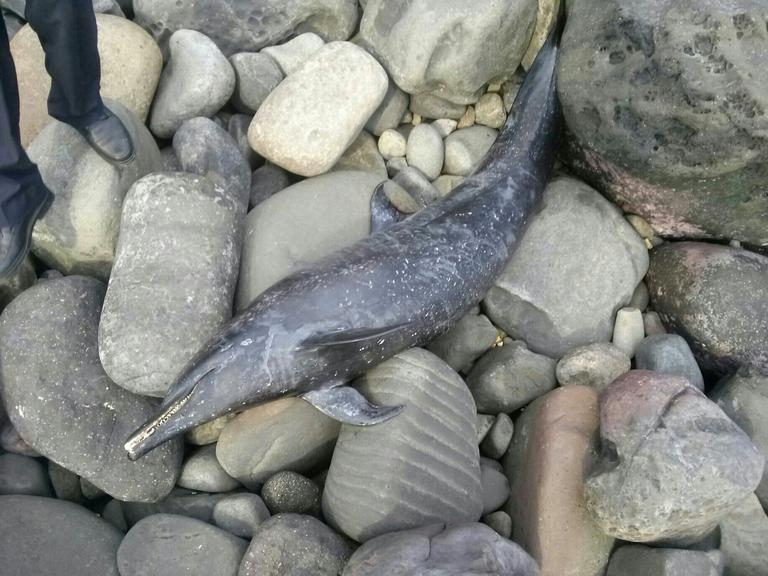 September 8th, 2013 · Stories of the Day/Week/Year · 0 comments
1. An anonymous tip led to the arrest of a man suspected of breaking into a dormitory and sexually assaulting a woman there.
2. In Busan, some idiot was arrested on charges of blocking an ambulance's progress with his imported BMW.
3. 1  in 5 young people in their early 20s have no particular inclination to get married.
4. A  look at how an increasing number of Koreans are going back to school to try and advance their careers as fewer than ever are able to spend their careers at one company or in one industry.
5. In Daegu, three Sri Lankan workers are accused of sexually assaulting a woman as she walked home at night. One of them has a prior conviction for sexually assaulting a college student who was in such shock afterwards that she ran onto a highway and was killed by a truck.
6. Overturning what normally would have been a 60-40 split of responsibility under Korean auto insurance law, a court found a driver 100% responsible for an accident caused when he cut off another car, which had to swerve to avoid him and hit a third car.
7. More on #1.
8. A man has been charged with assault for beating and seriously injuring a man he says was sexually assaulting his (the arrestee's) sister.
9. Prosecutors in Busan are charging a doctor with issuing false diagnoses to Yoon Gil-ja, the flour company owner's wife who had a college student murdered in the mistaken belief she was having an affair with her husband. The diagnoses were instrumental in getting Mrs. Yoon moved from prison to a hospital for a more comfortable life sentence.
10. The average monthly pension benefit receive by a retired government worker is 2.19 million won, or 2.6 times the average 844,000 won received by other retirees.
September 6th, 2013 · Health and Environment, Surveys and Studies · 0 comments
Original article in Korean is at this link.
An epidemiological study based on health insurance "big data" has made findings related to excessive alcohol consumption.
The study, which will be presented by Yonsei University professor Ji Seon-ha at an international alcohol policy conference at COEX on October 8, involved the use of a database on a 1.3-million person cohort from 1992 to 2011, a period of 19 years, to study the influence of alcohol on health and medical expenditures.
Prof. Ji plans to present an analysis of the health benefits and detriments of alcohol on Koreans, medical expenses, the health benefits of not drinking, and reductions in medical bills.
The study's findings are that, as with big data research on smoking, the data provide a foundation for various alcohol policies intended to reduce harm from alcohol such as lawsuits brought by victims against drinking culture, additional health fees levied on alcohol manufacturers, and legislation to create a system to provide funds relief of harm caused by alcohol.
Prof. Ji already published research on the same cohort with regard to smoking, relying on only overseas research, for the largest such Asian study. That research involved Koreans' health outcomes and medical bills.
As with smoking, drinking was found to be a cause of psychiatric disorders, cardiovascular disease, liver, colon, esophogeal, and liver cancer, and other problems, but no study on the scale of the current had been performed in Korea before.
The WHO stated in a 2010 report that excessive alcohol consumptin is responsible for 2.5 million deaths worldwide per year, with 3.5% of all death and disability having alcohol as a cause, greater than the 3.7% of death and disability which is due to smoking.
Moreover, in Korea harm caused due to alcohol is quite heavy, and some are calling for a paradigm shift in alcohol policy.
The National Health Insurance Corporation announced that in the 2009 expenditures 6.1 trillion won was spent for direct and indirect treatment due to alcohol, and that amount has increased every year since.
Domestic "big data" on health insurance, which is the world's largest, is promoting research under the government 3.0 policy trend of the Park Guen-hye administration, and it is expected that other business data will be involved in other research.
The NHIC holds a "big data" database containing 81.36 million data points on the hospital usage, medication, medical treatment,  check-up results, income and wealth, and family relations of all citizens.
September 1st, 2013 · Stories of the Day/Week/Year · 0 comments
1. A look at the many dangers of plastic surgery intended to make patients taller.
2. Oh Seon-hwa, a naturalized Japanese citizen and far-right politician who stirred controversy with idiotic statements about how hangul prevents Koreans from developing the brain power necessary to win a Nobel Prize, actually owns land in Jeju-do.
3. A brief look at the current proposal in labor negotiations at Hyundai Automotive.
4. In Seoul, there seems to be a lack of housing for university students, and ordinary dorm-style buildings have been converting into studio apartments and goshiwons.
5. Some cyberthieves are stealing people's personal information and using it to regularly withdraw small sums from their bank accounts, which frequently adds up to large amounts. For example, one woman thought the 16,500-won withdrawals simply had to do with cellphone fees.
6. A second-year middle school student died of injuries suffered when attacked by a classmate and friend while a group of at least 10 other kids looked on but did nothing.
7. In Busan it was found that a local school has a statue of Ahn Yong-baek, who was a bureacrat in the Japanese colonial government but later an ROK education administrator and National Assembly member who was acquitted of election fraud. This discovery follows criticism of a statue of him in Gwangju from folks who see him as a Japanese collaborator.
8. A look at how women may criticize other women for seeking more maternity leave.
9. Okay, 'fess up. Which of you left a 12-million won hunk of gold in an Incheon International Airport bathroom?
10. An appeals court affirmed the conviction of a teacher for having sex with a female student.