Archive for August, 2013
August 30th, 2013 · Photos, Politics · 0 comments
In Seoul, protestors burned effigies of "traitorous" politicians Lee Seok-gi and Lee Jeong-hui. Lee Seok-gi has been accused of North Korean sympathies and made some controvesial comments on the South Korean national anthem last year.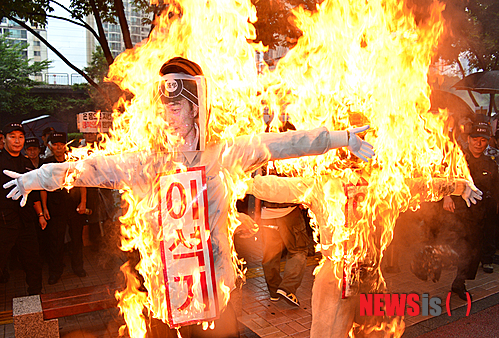 August 26th, 2013 · Stories of the Day/Week/Year · 0 comments
Top 10 in society for August 25.
1. The animal protection group CARE stirred anger online by finding a person in Busan selling cats bound up in onion bags, as photographed bya female foreigner: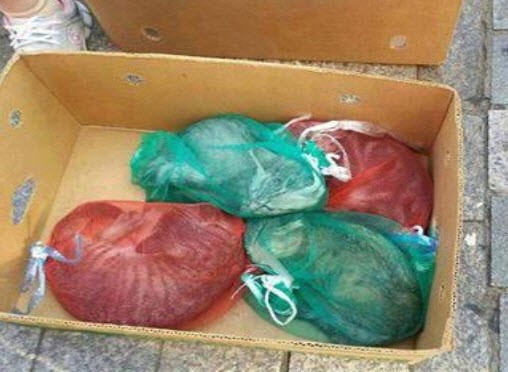 2. The transcipt of a TV report on #1.
3. For some top users of Auction didn't like the site's recent promotion featuring the members of Crayon Pop, and are supposedly upset enough to be quitting the site.
4. Attempting to commit suicide, a woman leaped from a department store walkway and landed on an 11-year old, who suffered head and knee injuries but is not in critical condition.
5. Deepening controversy over the treatment of irregular workers, a woman committed suicide after developing serious ailments after 13 years of work as an irregular employee in the science classroom of an elementary school.
6. The KFDA is investigating after someone reported discovering a frog corpse in a jar of infant formula.
7. The fifth entry in a Hankook Ilbo series on Korean military culture.
8. In Incheon, a middle-aged woman disappeared with her son, who is in 30s.
9. An increasing number of Korean parents who can afford it are turning to professional babysitting services amid fears of child abuse committed in daycare centers.
10. Police are attempting to verify online reports of a man nicknamed the "Monster of Yeonshinnae" has been slashing people's hands with a box cutter, sometimes as they wait at bus stops.
Top 10 in society for August 18.
1. A police officer on patrol, afraid that an elderly woman selling cookies was going to collapse from the heat, bought everything she was selling. Somone took a picture of him doing so and put it on Facebook.
2. Angry over having had a hard time finding a customer's address, a McDonald's delivery boy texted the customer that he had spat in his burgers.
3. A journalist, following a tip from an animal shelter, investigated the existence of puppy snatchers (강아지 퍽치기).
4. The first article in a Hankook Ilbo series on military culture in South Korea.
5. On National Liberation Day, progressives turned out to protest the Park Geun-hye administration. Police responded to physical altercations by using water cannons for the first time under her presidency.
6. Parents spend three times as much when their sons get married as when their daughters do.
7. A police station in Seoul left prisoners sweltering without air conditioning.
8. Water quality in the Han River is very low.
9. Police in Yeongju are searching for a man suspected of murder.
10. A look at "room cafes", which are establishments with tiny partitioned-off spaces for couples to get frisky for less money than a love hotel.
Top 10 in society for August 11.
1. In Incheon a teen girl was murdered, apparently by her tutors.
2. Korean medicine saw the first death of someone who contracted an overseas strain of melioidosis.
3. More on #1.
4. A longish look at #1.
5. Many are wondering what the punishment will be for a driver who stopped suddenly on a highway, causing a multiple-fatality accident.
6. More on #1.
7. A Chinese organized crime boss was found to have been living secretly in Seoul the past two years.
8. More on #1.
9. Women at a bathhouse in Suwon complained that a man had come in, but police found the person was a post-op transgender. Unsure what to do, since the person was legally male, they wound up charging her with trespass rather than a sex crime.
10. More on #4.
August 10th, 2013 · Japan · 0 comments
Well, that's embarassing.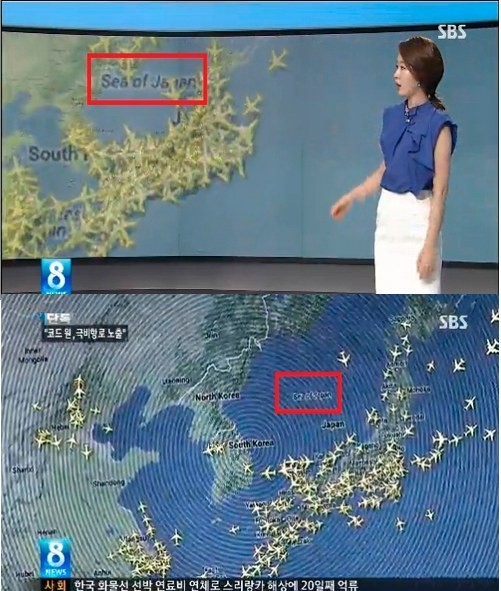 August 6th, 2013 · Stories of the Day/Week/Year · 0 comments
1. A woman opened a very successful fruit ddeok shop in Myeongdong, seeing long lines of customers after being featured on TV. But she soon ran into trouble involving a broken contract. She learned the art of producing fruit ddeok in Osaka.
2. Kim Hyeon-chul, the son-in-law of Yun Gil-ja, the wife of the chairman of the YoungNam Flour Mills company who arranged the murder of a young woman she thought he was dating, spoke to the media for the first time about the case.
3. A section of Banghwa Grand Bridge collapsed, killing two people.
4. A right-wing Japanese woman of Korean birth stirred controversy by saying that hangul is the reason Korea will never produce a Nobel prize-winner. She believes that this is because unlike hanja, which expresses meaning as ideographs, hangul is an alphabet which does not, so hangul does not develop the brain. No word on why other alphabets have had so many prize-winners.
5. A look at the increasing use of pre-divorce counseling intended to help couples resolve their problems or gain the skills necessary to continue their marriages.
6. In some kind of deeply misguided publicity stunt, a member of the group "Men's Solidarity" (남성연대) had himself filmed jumping off a bridge and was later found dead.
7. Morea on #3.
8. A police officer suspected in the disappearance of a woman in Gunsan was found to have known her and they had planned to meet.
9. A student at Korea University is accused of sexually assaulting or molesting 19 female classmates, frequently videotaping himself in the act.
10. A report of the death of the man in #6.