Archive for July, 2013
July 28th, 2013 · Stories of the Day/Week/Year · 0 comments
1. An article on the deaths of students who drowned at a private camp two weeks ago.
2. Workers who have gotten salary increases since last year may be unhappy when they how much more is deducted from their paychecks for national health insurance this month.
3. The campus of a university in Chunghcheongbuk-do seems to have been taken over by gangsters.
4. A group of smugglers were caught at Incheon International Airport with a ludicrous amount of gold stuffed in their anuses.
5. Not only do convenience store owners continue to pay less than minimum wage to many workers, some of them are giving workers left-over food instead of money.
6. A look at the Atlanta house which used to be home to Chun Doo-hwan's second son.
7. Parents are spending more to seek treatment when their children suffer from depression over being ostracized or bullied at school.
8. More on #1.
9. More on #1.
10. One of those who died in the Asiana crash was killed by being run over by a fire truck after exiting the plane.
July 21st, 2013 · Stories of the Day/Week/Year · 0 comments
1. A "monster fish" pulled out of a lake near Yeosu turned out to be a scalloped ribbonfish (홍투라치).
2. Artist Nickolay Lamm created a realistically-proportioned version of the Barbie doll.
3. During training at a private camp, a group of 90 students were ordered into the sea with just two instructors to oversee them with few wearing lifejackets. 5 drowned and 18 had to be rescued.
4. More on #3.
5. More on #3.
6. More on #3.
7. A 31-year old former pro basketball player is denying that he murdered his wife's sister and has taken a polygraph test.
8. A 57-year old man was sentenced to 7 years in prison for sexually assaulting and molesting his daughter over a period of three years, claiming to be teaching her sex education.
9. More on #3.
10. A "mystery shopper" style report on Samsung Electronics stores.
July 14th, 2013 · Stories of the Day/Week/Year · 0 comments
1. An Asiana 777 crashed while attempting to land in San Francisco, injuring scores of passengers and causing the deaths of three.
2. A look at the heroic performance by flight attendants after the Asiana crash in San Francisco.
3. Following the crash, when flight attendants had to rescue passengers while wearing high heels and pencil skirts, there are calls for them to wear pantsuits for greater mobility.
4. More on the flight attendants.
5. An early report on the investigation into the crash.
6. The Korean government concurred with US reports that the plane crashed when its tail struck a breakwater.
7. Morea on the flight attendants.
8. The National Transportation Safety Board was unhappy that Asiana held its own press conference after the crash and warned it to only do so in consultation with the NTSB.
9. A transcript of the discussion about the crash on a talk show.
10. When some Korean gangsters were rounded up by police, photos were taken of their heavily tattooed backs.
July 10th, 2013 · Accidents, Crimes and Scandals, Photos · 0 comments
The photo below shows the tattooed back of a man from Changwon who was caught trying to shake down somone else who was dealing in stolen goods.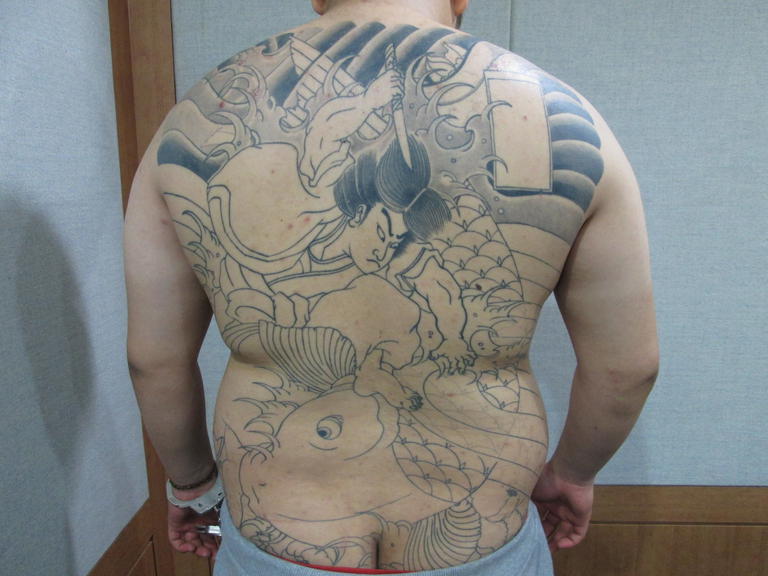 July 8th, 2013 · Stories of the Day/Week/Year · 1 comment
1. The wife of the chairman of the YoungNam Flour Mills Company was living a comfy life in a hospital despite being convicted of arranging the murder of a  lawstudent she thought was her husband's mistress.
2. Lee Jeong-ryeol, the judge who got in somewhat hot water a couple of times with satirical posts on Facebook about politics, has resigned due to a police investigation over a fight with his downstairs neighbors about noise.
3. After the reporting of #1, netizens were further angered after it came to light that the chairman of the  company tried to prevent a popular news program from reporting on the story.
4. The pizza shop owner who has convicted of raping an employee who later committed suicide appealed his conviction and won a reduction from nine years in prison to seven. The appeals court believed that he was not responsible for the girl's suicide despite raping her, photographing her naked afterwards, and threatening to murder her.
5. There are accusations that four male students at a middle school molested a female classmate, yet the school took no action.
6. A group of conmen were nabbed by police for allegedly forging 10 billion won checks.
7. It seems to be becoming a thing to be able to hire someone to protect your kid from bullies, presumably by roughing up the bullies.
8. Employees of a well-known department store are accused of stealing some one billion won from over 300 customers.
9. Almost immediately after reforms to the sex crimes laws, a man has been charged with the new crime of constructive rape (유사강간).
10. A sculptor wants o create a Dokdo education campaign featuring the character Robot Taekwon V. Some are criticizing this since the character, although popular, was heavily influenced by Japanese characters.
July 4th, 2013 · Legal news · 1 comment
Original article in Korean is at this link.
Beginning now, those who commit sex crimes will be punished even if there is no report from the victim and even if they reach an agreement with the victim.
The number of sex crimes to which statutes of limitations do not apply is increasing. Those who commit forcible molestation, rape, or murder of children and teenagers up to 13 years old may be pursued and punished to the end, without regard to the passage of time after the crime.
The Ministry of Justice and the Ministry of Gender Equality and Family announced on the 17th that beginning on the 19th, over 150 changes and reforms will be made to six statutes related to sex offenses as described above. The core of the reforms is changes related to sex offenders, improved post-release monitoring, and better protection of victims.
The laws at issue are the Criminal Code, the Special Law on the Punishment of Crimes of Sexual Violence, the Act on the Protection of Children and Juveniles from Sexual Violence, the Prevention of Sexual Violence and Victim Protection Act, the Electronic Anklet Law, and the Sexual Impulse Medication Treatment Act.
Over 60 years after the enactment of the Criminal Code in September 1953, its provision making sex offenses prosecutable only subject to complaint (친고죄) will be struck.
The two types of crimes are those which are subject to complaint, meaning that there are pre-conditions before an indictment can be pursued, and those which are not. Crimes subject to complaint must be reported by a victim or complainant, while crimes not subject to complaint may be prosecuted regardless of the victim's opposition.
Now, every provision of the Special Law classifying a sex crime, such as rape, forcible molestation, molestation in public, and lewd acts using communications media, as either subject or not subject to complaint will be eliminated.
There will also be reforms to provisions allowing prison sentences to be reduced if the offender was intoxicated by drugs or alcohol. The majority of sexually violent crimes will now be punished without reference to such provisions.
Punishments will be stiffened for so-called "lolita" pornography of children and adolescents.
Life sentences will be possible for the rape of children and adolescents and for producing, distributing, or exporting pornography of children or adolescents, and punishments will be increased for buying sex from children or adolescents.
The crime of constructive rape will be established, consisting of placing one's sex organs into a body cavity such as the mouth or anus, or placing a body part such as one's fingers, or a tool, into the anus.
Also, the word "woman" will be replaced by "person" in the crime of rape, making it possible to punish the rape of a man.
There will be a new crime of "entering a public place with sexual intention", such as entering a public restroom or sauna, or refusing to leave, in order to satisfy a sexual urge.
Also, all victims of sex crimes will be able to receive support from public defender attorneys, and victims who have difficulty expressing themselves, namely the disabled and those 13 or under, will receive aid when testifying.
Sex offender management programs will be strengthened to prevent recidivism.