Archive for June, 2013
June 30th, 2013 · Stories of the Day/Week/Year · 1 comment
1. A brave teen intervened to prevent an attempted murder.
2. Someone posted onto Facebook a video of a man and woman fighting in public in Daegu. Police believe this was illegal.
3. Some idiot in Seoul decided to block the sidewalk by his house and force pedestrians to pay go through. Local government didn't do anything about it for over 10 days.
4. A list of events in Korean history that occurred on June 27.
5. A man in his 50s died after being struck while trying to intervene when he saw a man beating up a woman in public.
6. Police fired a type of tear gas at high school students participating in a candlelight protest in Gwanghwamun to call for a legal ban on the National Intelligence Service attempting to influence elections, as it was accused of doing last year.
7. Five apartment complexes in the capital region have been hit with infestations of booklice just one year after opening, leaving residents with some sort of skin problem.
8. A look at the minimum wage, which is now too low to even allow one to purchase a hamburger combo at a fast food restaurant.
9. The head of a traditional Korean music school was indicted on charges of sexuallt assaulting a young girl who had come to study music.
10. More on the candlelight protests.
June 25th, 2013 · Stories of the Day/Week/Year · 1 comment
1. Prosecutors are investigating Jeong Dae-sae, who plays for the Samsung Blue Wings, for possibly violating the National Security Law by telling foreign media about his admiration for Kim Jong-il and patriotism for North Korea. He is originally from North Korea.
2. An aspiring doctor prevailed in her lawsuit against an online retailer who broke a promise to obscure her face in underwear modelling photos.
3. An interview with a mother who says her son's middle school failed to act against the severe bullying he was suffering, including beatings and being forced to eat garbage.
4. One woman's life was turned upside down when it turned out her husband had been paying for the family by taking bribes at work. One of the uses of the money was a new home for her parents.
5. Fugitive Lee Dae-woo was finally nabbed.
6. A government employee committed suicide in a hotel.
7. A look at the TV program "I Want to Know About That"
8. A child was bitten by a poisonous snake at a waterpark in Daegu.
9. A man was arrested in Busan for allegedly contorting his body to steal dolls from a claw crane game on a sidewalk.
10. Conservative Seoul National University students are continuing to protest for a complete investigation of allegations that the National Intelligence Service tried to influence the presidential election in December.
June 17th, 2013 · Accidents, Crimes and Scandals, Education and ESL · 0 comments
Original article in Korean is at this link.
A study has found that the number of reports of physical violence reported to the 117 call center for school violence reports increased 9.2% and reports of verbal and psychological violence increased 6.3%.
According to the Ministry of Education, Science, and Technology and the National Police Administration on the 17th, one year after the implementation of the 117 call center a total of 111,576 reports were received, an average of 9,298 per month and 305 per day. In April of this year alone there were 12,203 reports, the highest month ever.
Last year there were an average of 219.5 reports per day, which has increased 37.5% to 201.8 per day through May of this year.
95.3% of students are aware of the 117 call center as are 50% of parents, increased rates which account for the increased reports. Last year 65.8% of reports came from students involved in the reported cases, which increased to 68.8% this year. Last year 25% of reports came from parents against 20.9% this year.
29.1% of cases this year involved assaults, 23% involved verbal abuse, 9.7% involved threats and intimidation, and 5.9% involved ostracism. That order is the same as last year although this year violence increased 9.2% and verbal abuse 6.3%.
The authors of the report see this as being due to students engaging in more hidden verbal abuse due to large-scale government efforts to reduce school violence, and because in the past verbal abuse was not recognized as school violence and not actively reported.
Of the victims, 56.5% were elementary school students, an increase from 49.9% last year, while violence among middle school (27.7%) and high school (11.6%) abated.
86% of cases last year ended in outcomes such as advice or simple reports, but with tougher monitoring and the nationwide establishment of school violence police units and counselling centers the number of cases referred to police quickly doubled from 2.9% to 5.8%.
The government plans to establish counselling centers for victims and offenders nationwide, provide third-party communication and customized one-stop counselling services, and establish unified training for all members of relevant agencies who will provide counselling.
June 16th, 2013 · Stories of the Day/Week/Year · 1 comment
1. Netizens discussed a video shot in Daegu, showing a teenager picking up a watermelon and kicking it like a football.
2. Korean Air vice-president Jo Hyeon-ah went to Hawaii to give birth so that her kids would have US citizenship. Following vociferous comments about her on the internet, she is seeking to have police arrest three netizens for criminal insult.
3. After being accused of kidnapping and robbing a female college student in Suncheon, a 24-year old man committed suicide and left behind a note proclaiming his innocence.
4. A Korean-American woman was convicted of adultery, which she didn't realize was a crime in South Korea, after giving birth to two children by a Korean man who promised her he was getting divorced.
5. A look at the dowry issues that come up when families want their daughters to marry a "사" (의사, 판사, 검사, 변호사…).
6. A bunch of idiots were arrested in Busan for racing their Bentleys, Audis, and Lamborghinis at speeds up to 320 kilometers per hour, way over the limit.
7. Amid increasing controversy over investigations of the assets of former dictator Chun Doo-hwan, who claims to be nearly penniless, it's been found that hi wife has been granted special membership in golf club owned by the Kumho Asian Group. Membership normally costs 330 million won.
8. A female college student was fined three million won after being found guilty of negligent injury for striking a male student in the groin during a self-defense class, rupturing his left testicle. The judge took into consideration that the male student had also been negligent.
9. A wild boar got into a bloody fight with a jindo dog in Dongducheon.
10. After seven years and over 200,000 tips and leads, police continue to investigate the disappearance of a college student in 2006.
June 11th, 2013 · North Korea · 0 comments
Original link in Korean is at this link.
Following the case in which the government of Laos repatriated a group of teenage North Korean defectors, worry is growing that the route for defectors to pass through northern Laos will be cut off.
According to statements of North Korean defector groups on June 4th, since the forcible repatriation of nine teenage North Korean defectors on the 27th of last month no North Korean defector has passed through northern Laos.
Neither has there been even a single case of a North Korean defector entering Laos and successfully entering the South Korean Embassy in the capital, Vientiane.
Accordingly, there has been a large increase in the importance of the escape route through northern Thailand, say observers, creating a straightened situation where the Thai route is the only one available to defectors. Currently about 90% of North Korean defectors use northern Thailand while 5 %to 6% use Laos, say defector groups.
The groups say that after the repatriation of the teenagers, North Korean defectors attempting to come to South Korea via Laos from China are being advised to quickly change their route.
One media outlet in Laos reported that in the aftermath of the Laotian government repatriation case, it has observed that the defection route has already been subject to huge changes.
The Laotian route is 10% to 20% more expensive than other defection routes but has advantages such as safehouses and other facilities, making it the preferred defection route.
However, some aid groups are optimistic that after the recent deportation case fades, the Laotian route will be restored.
June 9th, 2013 · Stories of the Day/Week/Year · 0 comments
1. Police arrested the taxi driver suspected of murdering a university student in Daegu. He denied involvement.
2. A few days later police arrested another suspect, an employee of the city government. A convicted sex offender, he had taken the victim into the taxi driven by the man in #1.
3. A look at confusion that complicated the police investigation of the Daegu murder.
4. Police are still searching for Lee Dae-woo, the fugitive from Jeonju.
5. A longer look at the police investigation of the Daegu murder.
6. More on the Daegu murder.
7. More on the Daegu murder.
8. Same story as #7.
9. Netizens reacted to the arrest in #2.
10. More on the Daegu murder.
June 2nd, 2013 · Stories of the Day/Week/Year · 0 comments
1. The Korea Military Academy is dealing with a sexual assault scandal among cadets, the first such public scandal in the Academy's history.
2. A restaurant that caters to college students is being criticized for being too racy, with servers in miniskirts and hot pants and a "Gangnam nightclub-style" atmosphere.
3. A man serving in the Coast Guard is accused of attempting to sexually assault a woman in an elevator.
4. Police are seeking a taxi driver in the murder of a high school student in Daegu.
5. Following up on #4, police published a blog post on how people can avoid being the victims of crimes by taxi drivers. One piece of advice is not to drink anything that a driver offers you.
6. More on #4.
7. More on #4.
8. Samsung Electronics chairman Lee Jae-yeong had to issue a public apology after questions were raised about how his son got admission to an international middle school.
9. A high school student who uploaded a video showing two elderly women being taunted and harassed says she did so to draw attention to the need for volunteers for the elderly.
10. Police are searching for a man named Lee Dae-woo, who escaped from custody after being interrogated for burglary.
And as a bonus this week, here is a silly Naver dictionary sentence:
That was a delicious meal up to the knocker.
더할 나위 없이 맛있는 식사였다.
June 2nd, 2013 · Miscellaneous · 0 comments
Original article in Korean is at this link.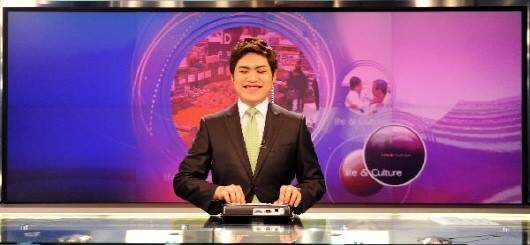 28-year old Lee Chang-hun, whose goal was to be the first blind news anchor, now has no position at KBS. This is because of the hiring of 26-year old Ms. Hong Seo-yun, who is disabled, on the 18th of March.
The anchor had previously had a five-minute segment titled "Daily Life News with Lee Chang-hun" which aired at 12:35 pm on weekdays. However, when Ms. Hong arrived, he had to hand over the "Daily Life News" segment.
This is because Mr. Lee was a contract employee. Mr. Lee began on the "Daily Life News" segment in November 2011 following about three months of training after winning a competition against 500 other anchor hopefuls the previous July. At the time, KBS widely promoted the news that it had hired a blind anchor, saying that "throughout the world it is hard to find an example of a blind news anchor with a regular segment."
Mr. Lee completed his contract period last November but signed an extension through this spring. It was expected that a second disabled anchor would be hired and he would then step back. A KBS employee said that "currently Mr. Lee is in the process of helping Ms. Hong make a smooth transition."
Organizations for the disabled which heard this news were skeptical. The Korea Blind Union (한국시각장애인연합회) released a statement saying that "it is difficult to escape the conclusion that Mr. Lee was hired not to be an expert anchor but rather to improve KBS' image, as if he were a model."
A KBS employee said that "the situation is that we cannot continually expand the number of positions for disabled anchors, so we hire on a contract basis in order to expand the number of opportunities for the disabled… Lee Chang-hun is currently handling the 'Daily Life News' segment and afte he leaves we will work to find him a job."
One netizen wrote of this that "when I saw the report that there would be a second disabled anchor I was proud that there would be a successor to Mr. Lee, I was shocked… there must be a way for a disabled anchor to take the role of a full reporter… when I look at Mr. Lee reporting the news while reading braille with his hands I am overjoyed and want to continue seeing him."