Archive for May, 2013
May 26th, 2013 · Stories of the Day/Week/Year · 0 comments
1. A university instructor is accused of assaulting and sexually harassing her male students.
2. After being convicted of carrying on a sexual relationship with a child, an elementary school teacher was sentenced to eight years in prison, 80 hours of sex offender treatment, and 10 years of criminal registration. The teacher claimed that he and the child were in love with each other.
3. The Hankyoreh investigated the case of an abusive husband accused of murdering his wife by strangling after she had taken sleeping pills, and says the case is more complicated than it appears.
4. A profile of a family that collapsed after the murder of its oldest son. Two siblings committed suicide and two other relatives are missing.
5. A profile of a survivor of an arson that killed three children.
6. A young man was arrested on defamation charges after exhibiting images of Roh Moo-hyun as a chicken.
7. Prosecutors are trying to locate hidden assets of former dictator Chun Doo-hwan before October, when they can no longer be seized. He still owes a considerable amount of the over hundred billion won in fines from his 2004 conviction for human rights abuses.
8. A doctor at a plastic surgery and dermatology clinic in Gangnam is accused of groping anaesthetized patients.
9. A government employee in Gangwan-do has accused her boss of offering her a promotion in exchange for sex.
10. A massage therapist, who was pregnant and told by doctors that she was at high risk of premature birth, was denied unpaid leave by her company. She wound up working right up until her water broke (at her workplace). The child, born two months early, is in an incubator.
May 26th, 2013 · Entertainment, Foreigners, Photos · 0 comments
I guess this was inevitable.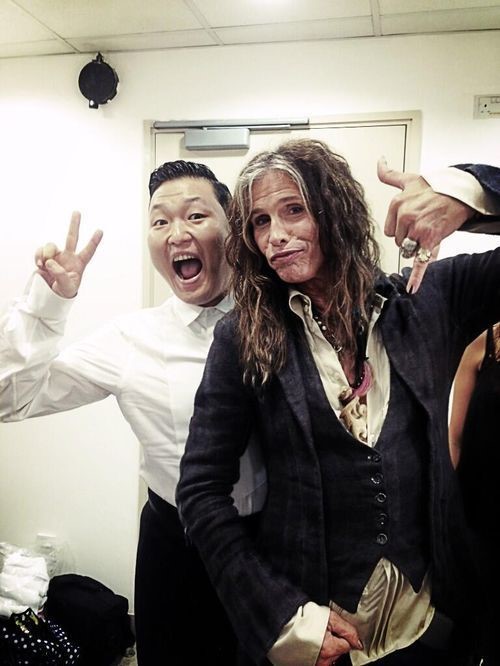 May 13th, 2013 · Stories of the Day/Week/Year · 0 comments
1. Namyang Dairy Products Co. was forced to place a public apology on its homepage after a recording was leaked of a verbally abusive exchange between an employee and a customer.
2. Police investigating a construction company for having paid for clients to be sexually entertained have obtained video of a former Ministry of Justice vice-minister being so entertained. After arresting a businessman in the construction company, police are expanding the investigation following a confession that one of the clients, a "well-known media figure," sexually assaulted one of the women brought in to entertain him
3. When a 19-year old attempted to intervene in his drunken father's with his mother, the father stabbed him. On Parents' Day.
4. A look at how owners of daycare centers and hagwons keep blacklists of Korean teachers who blow the whistle on their illegal acts.
5. Police have sought a preliminary arrest warrant for reporter Joo Jin-woo on charges of spreading false information related to the murder of Park Geun-hye's nephew.
6. A man who had worked at the Kaesong Industrial Complex until the recent expulsion of South Koreans committed suicide. Sources say he was depressed and suffering from feelings of guilt over flaws in a machine he had designed, and also had high blood pressure.
7. A 22-year old, who graduated from high school at 14, passed the bar exam. She is now getting ready to study in America and wants to be an international trade lawyer. So basically the ultimate 엄친딸.
8. More on story #2.
9. Two teachers were arrested on charges of beating a high school student badly enough that she had suffered a detached retina, causing her nearly to lose all sight in that eye. She has already had two surgeries and is expected to undergo another.
10. A look at a possible criminal case over corruption and irregularities in contracts for apartment complex management.
May 9th, 2013 · Legal news, Politics · 0 comments
Original article in Korean is at this link.
The Supreme Court has ruled that the government must pay compensation to women who were forced to remove their underwear in a jail after being detained during a candlelight vigil in 2008.
The second division of the Supreme Court (under Justice Lee Sang-hun) affirmed the ruling of the trial court, which had heard the lawsuit against the government brought by four women, including a Ms. Kim, ruling that "the government must pay 1.5 million each to Ms. Kim and the others".
Ms. Kim and the others had attended a candlelight vigil protest against the importation of American beef in August of 2008 when police detained them on suspicion of violation the Law on Assembly and Demonstration (집회및시위에관한법률), and ordered them to remove their brassieres during a body search, and they later brought suit asking for 60 million won in compensation and asserting that "this was a violation of our personal rights."
Both the trial and appeals courts had found that this was an illegal act that caused them compensable mental suffering, writing that "body searches in prison may be carried only in limited circumstances to prevent suicide and must be conducted so as not to wrongfully infringe on fundamental rights such as honor and dignity… in all other cases it is illegal if not related to a possibility of suicide or the consent of the inmates."
May 5th, 2013 · Stories of the Day/Week/Year · 1 comment
1. The story of how a judge helped a young girl turn her life around after appearing in her courtroom for stealing a motorcycle.
2. A hotel is closing after its chairman assaulted its manager.
3. Novelist Lee Oesoo reached an "amicable" settlement over a lawsuit for child support from him for a son fathered out of wedlock.
4. A look at social changes affecting the business of selling junk food, which President Lee has listed as one of the "four evils" along with sexual violence, school violence, and domestic violence.
5. More on #1, tying it in with story #6.
6. The chairman of Prime Bakery is accused of assaulting a doorman.
7. A high school student is accused of sexually assaulting a female student waiting for a bus.
8. A man in Seoul hanged himself in his adopted daughter's room after becoming mired in debt, due to the free spending of his new Filipina wife.
9. A middle-aged man was arrested on charges of sexually assaulting his daughter.
10. A college student in Daegu donated 72% of her liver to her father, who has cancer.