Archive for January, 2013
January 30th, 2013 · Accidents, Crimes and Scandals, Foreigners · 0 comments
Apparently Seoul police want to crack down on people putting on musical performances in subway stations, because two days ago they arrested a 49-year old Frenchman and his 46-year old Korean wife, who were putting on a saxophone performance in a train on line 2.
The couple scuffled with police and have been charged with assault. According to police, who announced the arrests today, the wife was the first to get physical, as she punched an officer in the chest and clawed his face. As she said later, she just wanted to create a happy atmosphere on the subway, where people usually don't have a good time.
No word on whether police will crack down on the beggars and salesmen who also contribute to the subway atmosphere.
January 27th, 2013 · Stories of the Day/Week/Year · 0 comments
Original list in Korean is at this link.
Top 10 in society.
1. Actresses Lee Seung-yeon and Jang Mi-inae were called in for questioning regarding charges of selling drugs.
2. Economic competition is leading Chinese restaurants to cease delivery, leading their drivers to switch to delivering pizza or fried chicken.
3.  Seven teenagers in Taean are accused of sexually assaulting a female student.
4. Apparently Samsung Group vice-chairman Lee Jae-yong got his son admitted to Younghoon International Middle School under the "social consideration system", which is supposed to be reserved for kids from low-income families.
5. A woman in Incheon was tricked by internet grifters into handing over very large sums of money.
6. Somebody set fire to some city buses parked in a garage, possibly an unhappy driver.
7. A college student was commended by police for rescuing a woman who had been kidnapped.
8. A man who had been running a mutual assistance society among small business owners for over a decade disappeared with tens of millions of won donated by the members.
9. Two Seoul city employees, both North Korean refugees, are accused of having repeatedly traveled to North Korea to relay information on defectors living in the South.
10. The government is considering raising the current retirement age of 60 to 68 by the year 2034, for social insurance payments.
January 26th, 2013 · Education and ESL, Surveys and Studies · 0 comments
Source article in Korean is at this link.
"My home is far away, how am I supposed to change my clothes and come back. Is it alright if I just go home?"
Last year at high school "A" in the Jungnang-gu area of Seoul, arguments erupted between teachers and students every morning. Teachers would catch students coming to school without wearing their school uniforms. However, enforcement was in name only, with teachers unable to do anything more pointed than issue demerites. It was also difficult for them to take away students' cellphones even if they used them during class.
With the execution of the students' rights ordinance in an atmosphere in which teachers have greater difficulty offering guidance to students, students have come to completely ignore their teachers. One principal said that "even the ordinance says that students have to wear uniforms, but students don't even think of it. All last year it appeared to have had a big effect on students, who seemed influenced to think that 'regulations have weakened'."
The Seoul students' rights ordinance will have been in effect for one full year as of the 26th, and a study has found that nearly every teacher in the Seoul area thinks it should be either amended or overturned. This is because the ordinance, teachers say, has placed every Seoul-area school into a situation to that at high school "A".
On the 21st and 22nd the Dong-A Ilbo and the Korean Federation of Teacher's Associations surveyed 705 teachers in the Seoul area, finding that 87.2% believe the ordinance has worsened conditions at their schools. Over half, 55.7%, say the situation is "considerably worse" and 31.5% say it is "worse". 9.8% believe things are "unchanged", while 1.6% and 0.3%, respectively, believe things are either "better" or "considerably better".
Similarly, the view of teachers that there has been a very negative effect leads in to the view that the job of guiding students has gotten tougher as well. Asked about what has been "the largest change since the ordinance", 73.8% said that "guiding students has become difficult and the number of problem students has increased". 1.1% said that "the structure of the educational environment has become more respectful of human rights" and 3.5% said that "students' rights and obligations have expanded", illustrating the low number of positive responses.
Asked about what has been the greatest difficulty in guiding students, 38.7% said "disruptions in class", 32.9% said "the absence of control methods due to the ban on corporal punishment". Also, 87.0% of teachers said that, due to the ordinance, they have either directly experienced, or heard from other teachers, that students no longer listen to correct guidance.
Accordingly, 58.9% of respondents said that "the ordinance must be amended or altered" and 40.0% said that "the ordinance must be overturned".
Kim Dong-seok, spokesman for the KFTA, said of the survey findings that "many teachers feel that the ordinance has had negative effects on student guidance that have been greater than its proper function of developing students' rights and responsibilities."
With critical voices growing louder, it appears that debate will continue to engulf the ordinance.
Currently, the Ministry of Science, Education, and Technology is pursuing, to the Supreme Court, litigation for affirmation of nullity over the Seoul students' rights ordinance. The reason is the violation of school's freedoms. Last October Lee  Dae-yeong, former acting superintendent of education in Seoul,  sent an official notice to certain schools advising them that they should amend their school regulation in accordance with the Elementary and Secondary Education Act rather than the ordinance.
Mun Yong-rin, who was elected superintendent of education last year after pledging to amend the ordinance, recently said that "because of the students' rights ordinance there have been an increasing number of cases of teachers having difficulty guiding students. I will send the city council proposed amendments after determining precisely which clauses of the ordinance are problematic."
January 25th, 2013 · Accidents, Crimes and Scandals, Legal news · 0 comments
The Korean experiment with jury trials continues; source article in Korean is at this link.
The man who seriously wounded four people by stabbing them on a street in Yeouido has received a prison sentence from a jury.
On the 25th in the 11th criminal division of the Seoul Southern District Courts, under Judge Kim Ki-yeong, 31-year-old Mr. Kim, who was indicted for attempted murder and other charges for stabbing two former co-workers and two other passersby, was sentenced to 14 years in prison and 10 years of supervised release via an ankle monitoring bracelet.
Mr. Kim was held in prison following his indictment on charges of stabbing four people in the street near the Lexington Hotel in Yeouido, Seoul, at approximately 7.16am on August 20th.
The jury explained that "Mr. Kim attempted to murder the victims, his former co-workers, and seriously wounded them before fleeing, and while fleeing he stabbed two other people… the jury has considered the facts that he planned the crime in advance and seriously wounded passersby he did not even know."
"The victims have suffered psychological harm and expect the defendant to be punished… the jury has considered the possibility of recidivism and the need for the defendant to be isolated from society for a long time."
In this decision rendered by a jury, it was found unanimously that Mr. Kim had not been bullied by his former co-workers; Mr. Kim was not mentally unsound at the time of the crime; there was evidence of the crime; and that Mr. Kim presents a risk of recidivism.
January 21st, 2013 · Education and ESL · 0 comments
Source article in Korean is at this link.
Is it enough to be admitted to a domestic university? With the results of regular admissions coming out following the end of non-regular admissions for the 2013 school year, increasing numbers of parents and students have their eyes on overseas universities. Students who graduated in the third and fourth levels in high school can easily meet frustration if attempting to enter a top-10 university or a university in Seoul. However, in America (based on complete rankings) a student who graduates from the second through sixth levels can enter a university ranked from 30th to 150th. Chosun Education, an educational foundation created by Cambridge Korea and the Chosun Ilbo,  is making its Korean debut in the 16-year history of Cambridge International Special Admissions with a focus on the 30th to 150th ranked American universities. Beginning with 455 American universities, plus 170 in the United Kingdom, 45 in Canada, and 40 in Australia, there are 1,881 universities in 239 countries which have received A or AS levels of recognition by Cambridge International Examinations. Selected students study English and liberal arts courses in English, preparing them for easy adaptation to American university life.
January 20th, 2013 · Stories of the Day/Week/Year · 0 comments
1. The most-viewed story of the week was about an ice-fishing festival.
2. Noh Yeong-dae, who escaped from a police station while being held over sexual assault allegations, was re-arrested after five days.
3. A police officer in Ulsan used the popular IM program KakaoTalk to prevent two people from committing suicide.
4.  Supposedly a clear image of a UFO was captured on camera.
5. MBC fired reporter Lee Sang-ho over issues stemming from an interview with Kim Jong-nam, the son of Kim Jong-il who was once thought to be the heir apparent.
6. A principal in Gangnam illegally hired relatives as teachers.
7. A deaf person, who supposedly caused a ruckus, was forced to get off of a train and then fell onto the tracks and died when attempting to re-board.
8. 4Four in 10 people in their twenties are out of work, the highest unemployment rate among that age group in nearly 30 years.
9. With tigers and leopards being extinct in the wild in Korea, martens have been enjoying life free of major predators, reaching record weights.
10. A 42-year-old Mr. Park exploded in anger when an appeals court declined to overturn his 13-year sentence for murder, which he called "a joke".
January 17th, 2013 · Education and ESL · 0 comments
Source article in Korean is at this link.
A study has found that three out of ten households in Gangnam-gu earn an average of five million won ($4,730) per month or more, and spend an average of 1.14 million won ($1,080) per month on private education.
Also, about 8% of the area's households have a child who has studied abroad, at a cost of 50 million won per child.
Those statistics come from the local government's 2011 statistics, published today. The statistics are compiled from 174 indicators in ten categories, including population, families, residences, education, and finances.
It was found that 27.5% of Gangnam households earn an average of five million won per month or more. 19.3% earn three to four million won, 18% earn two to three million won, and 17.6% earn four to five million won. 10.7% earn one to two million won, and 6.9% earn less than one million won.
78% of the population think of themselves as "at least middle class" in terms of political, economic, and social positions.
The average expenditure on private education is 1.14 million won per month. Households earning less than two million spend 710,000 won, while those earning at least ten million won spend 1.6 million won, showing that spending on education tends to rise with income. [But ponder those percentages. –KB]
Households with children in high school spend an average of 1.07 million won per month on private education. College graduates spend 1.08 million won, slightly more than high school graduates (1.03 million).
7.6% of households said they had had their children study overseas, at an average per-child cost of 48.577 million won. College students spend an average of 21.4 months studying abroad, middle school students 19.3 months, high school students 19.1 months, pre-schoolers 12.9 months, and elementary school students 11.6 months.
There were 1,965 recorded cram schools (hagwons), 7.1% higher than the 1,834 in 2010. That makes 3.5 cram schools per 1,000 Gangnam residents, 2.7 times higher than the figure of 1.3 for all of Seoul.
In 2010 30% of households were single-person, higher than the 24% figures for Seoul and nationwide. Half of female single-person households are unmarried women.
78% of residents are of economic age (15 – 64), slightly higher than the 76% for all of Seoul. 6.7% of the population was elderly, nearly twice the 3.5% nationwide figure.
There are 17 students per teacher, significantly lower than the nationwide (20.6) and Seoul (23.7) figures.
In Gangnam hospitals there were 24,535 foreign patients, 28% higher than the previous year, and there were 1.032665 million foreign guests, a 40% increase.
January 15th, 2013 · Politics · 0 comments
Members of the Democratic United Party, including its Assembly Leader Park Gi-chun, gathered in Seoul to apologize to voters by bowing three times. The DUP is the main opposition party following wins by the conservative Saenuri Party.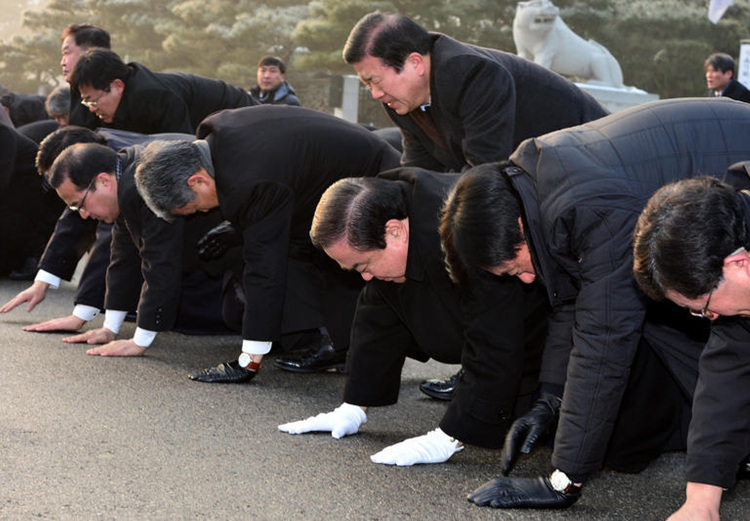 January 14th, 2013 · Stories of the Day/Week/Year · 0 comments
1. Notorious but retired gangster Kim Tae-chon died in a hospital in Seoul of heart failure.
2. A look at the trends towards increasing age of first marriage.
3. More on #1.
4. More on #1.
5. More on #1.
6. More on #1.
7. An elderly middle school security guard was arrested on charges of repeatedly sexually abusing a female student.
8. More on #1.
9. More on #1.
10. Seven people committed suicide in a single night in Busan, suggesting they were inspired by the suicide of Cho Sung-min, former husband of Choi Jin-sil. Yonhap News considered the possibility of this being an example of the Werther effect.