Archive for December, 2012
December 30th, 2012 · Stories of the Day/Week/Year · 0 comments
1. Beginning January 1st, pet owners must register their pets with a local animal organization.
2. One couple was created out of the Battle of the Solos, aka the world's saddest flashmob.
3. A sex offender who escaped from prison in Ilsan, barefoot, went shopping for sneakers in Ansan after checking into a hotel.
4. Starbucks Korea ran a Christmas promotion in which purchases of drinks earned stickers, which could eventually be redeemed for free drinks or a diary. People soon began trading in the stickers at work and online, where one sticker could go for up to 3,000 won.
5. The mother of the Daegu student who committed suicide last year over intense bullying at school is featured in a new documentary about the bullying problem.
6. Story #3 ended in the guy being caught again.
7. A look at how economic circumstances and work stress causes young people to delay marriage.
8. The Korean Professional Photographers Association is looking back at the year's best photos taken by members, and one was of a seal grabbing a fish. Other photos can be seen here.
9. More on #3.
10. Some special forces soldiers got into a raucous argument in a drinking establishment.
December 29th, 2012 · Politics · 0 comments
In Seoul on the morning of the 27th, members of Solidarity for the Peace and Reunification of Korea (평화와통일을여) gathered in front of the American Embassy to protest South Korea's possible purchase of Global Hawk drones from the United States.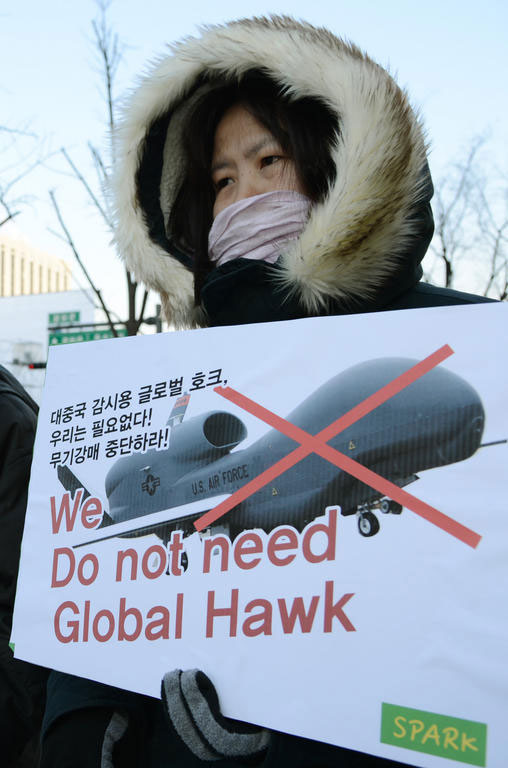 December 27th, 2012 · Health and Environment · 0 comments
Yonhap News found an unusual way to look back at the past year.
A study has found that, including North Korea and the seas, our country experienced twice as many earthquakes this year as in the past.
According to the Korea Meterological Association on the 27th, there were 56 earthquakes on the Korean Peninsula this year through last month, twice the average since record-keeping began in 1978. The highest number, 60, was recorded in 2009.
It's also over ten more than the average of 43.6 recorded each year since digitial detection methods were begun in 1999.
There were nine which reached at least 3.0 on the Richter scale and four which were strong enough to be felt by people.
Other than in the seas the largest number, 11, were in the Daegu and Gyeongsangbuk-do area, followed by four in Jeollabuk-do and two each in Busan, Ulsan, and Gyeongsangnam-do.
In North Korea seven earthquakes were recorded, and there were none in the capital region of Seoul, Gyeonggi-do, and Incheon.
There were 12 in the West Sea, nine in the Sea of Japan (East Sea), and seven in the South Sea.
The strongest earthquake of the year so far occurred on May 11th at 12:46 pm, five kilometers east-northeast of Muju-gun in Jeollabuk-do, registering a 3.9 on the Richter scale.
Houses and windows shook in Muju and Namwon, at an intensity level of IV. In Daegu and Daejeon the intensity was of level II but there was no damage.
The increased number of earthquakes in recent years is likely due to the effects of the Great East Japan Earthquake of 2010, the KMA said.
In this country there were 42 earthquakes in 2010, 52 last year, and 56 as of Christmas of this year.
Kim Yeong-shin of the KMA said that "around the world in recent years there has been an increasing number of earthquakes… since the Great East Japan Earthquake there has been a slight decrease as energy levels seem to have been adjusted."
December 24th, 2012 · Economy and Worklife, Women in Korea · 0 comments
Original article in Korean is at this link.
A study has found that in our country last year women's income was 50% that of men's. Further, 70% of female workers last year earned less than 20 million won.
On the 23rd Statistics Korea (통계청), the Bank of Korea (한국은행), and the Financial Supervisory Service (금융감독원) released the results of the "2012 Analysis of Household Finances and Welfare", finding that last year men earned an average of 36.38 million won. Women averaged just under half that, 45.9%, or 16.69 million won. In the study, "regular workers" were considered to be those who spent more time working than looking for work, from among those who worked or looked for work for at least six months out of the year.
With regard to income, female regular employees, who make up the majority of those earning labor income (wage income), earned 23.34 million won, 56.7% less than male regular employees, who earned 42.1 million. The overall female average was higher, but the male-female wage gap (based on 2009) was triple the 15.8% average of the OECD nations as published at the beginning of this month. According to the statistics, the male-female wage gap in our country is 39.8%, the highest among the OECD nations. Female irregular employees had particularly low incomes, averaging 9.75 million won among temporary and daily workers, and made up 58.4% of the total female workforce.
The male-female wage gap becomes clearer when broken down by occupation. The average income of female employees in the agriculture, forestry, and fishing industries was 2.15 million won, not even one-tenth of the average 23.3 million won among men in those industries. Further, female workers in simple labor and sales positions, which have many irregular workers, averaged 9.34 million and 15.55 million won, respectively. Accordingly, 69.9% of women earned less than 20 million won last year and just 5% earned at least 50 million won. 28.3% of men earned less than 20 million won while 22.7% earned at least 50 million won. 18.3% of women are in poverty, greater than the 14.6% of men.
A social welfare statistician with Statistics Korea said that "of workers with a college degree, 65% are men and 35% are women, while of those who have been working for at least ten years, 68% are men and 32% are women. Further, the male-female wage gap at large and medium-size companies having at least 300 employees was 73% and 27%, respectively, leaving women little opportunity to earn the same income as men."
December 23rd, 2012 · Stories of the Day/Week/Year · 0 comments
1. Independent presidential candidate Kim So-yeon says she was punched in the face by a police officer while campaigning, and some photos may prove it.
2. MBC News, already being criticized for some inaccurate statements, made another by referring to a candidate by the wrong party, although they do have similar names.
3. Reports of sex crimes on the Seoul subway, such as groping passed-out young women, have doubled in the past two years. People are increasingly using their smartphone cameras to record the crimes.
4. A look at the increasing rates of intermarriage with women from Southeast Asia, which is enough that two percent of children born in Korea last year had a Vietnamese mother.
5. A female police officer was photographed taking off her jacket for a child who was cold.
6. More on #5.
7. In Sejong City, a man in his 50s died attempting to rescue his wife from their burning home. Both perished.
8. Speaking at a large rally in Gwanghwamun on the 15th, Moon Jae-in pledged no negative attacks for the rest of the presidential campaign.
9. The sordid scandal of a prosecutor seeking sexual bribes from a defendant continued with the leak of photos of her.
10. A brief look at how goshiwons can be hurt by midnight runs in which residents leave without paying bills that they don't have the money to pay.
December 20th, 2012 · Politics · 0 comments
In the 18th South Korean presidential election, conservative Park Geun-hye of the Saenuri (New Frontier)  Party has defeated liberal Moon Jae-in of the Democratic United Party. Vote tabulation is nearly finished, so here are some balloting statistics according to Naver:
Park will take approximately 51.6% of the vote against Moon's 48%, giving her 15,722,982 votes versus his 14,638,613 as of the time of this post. Independent candidate Kang Ji-won received 0.2%, or 53,078 votes. Daejeon split 49.8% for each candidate while Seoul went for Moon 51.8% to 47.8%, and Busan swung for Park 55.8% to 43.9%. Daegu went an overwhelming 80.1% for Park, while Gwangju went a stupendous 92% for Moon. Park also received  majorities in Ulsan (handily), Sejong, Gyeonggi-do (barely), Kangwon-do (handily), Chunghcheongbuk-do and Chungcheongnam-do (both comfortably). Park won women 51.1% to 47.9%, while Moon won men 49.8% to 49.1%. Moon was more popular among young people as he carried voters aged 20 to 49, while Park carried voters 50 and older. Voters in their 40s were the  only age group not to break at least 60% either way, indicating a huge political generation gap.
Total voter participation is currently 75.9%, significantly higher than recent elections.
December 19th, 2012 · Politics · 0 comments
On the 18th, one day before South Korea's 18th presidential election, Saenuri Party candidate Park Geun-hye took to the Seoul Subway to urge voters to choose her. Moon Jae-in of the Democratic United Party spent the morning in Seoul and the afternoon in Busan.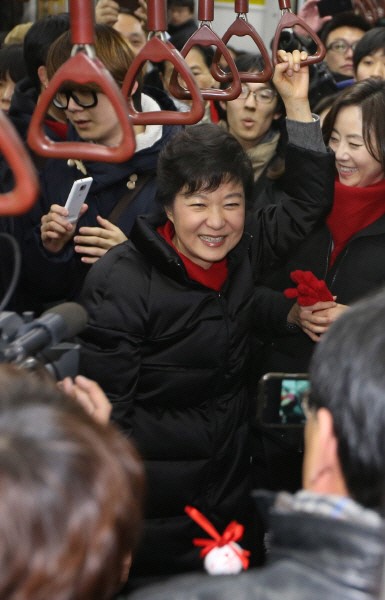 December 18th, 2012 · Economy and Worklife · 0 comments
Original article in Korean is at this link.
On the 17th an association of internet cafe owners slammed what it called "Microsoft Korea's reign of tyranny".
The association, which has over 500 member businesses throughout the country (police estimate), held a press conference in Yongsan-gu, Seoul, to accuse Microsoft Korea of forcing them to buy Windows 8 and of selective enforcement.
Lim Sun-hui, head of the group's Incheon chapter, said that "Microsoft Korea has threatened us that it is illegal not to purchase Windows 8 for our internet cafes. They say Windows XP is now illegal… they say it is illegal now for consumers to purchase. They get their lawyers together and send us these things, what business can do that?
"Microsoft Korea wields their monopoly as a weapon to at least double their prices for internet cafes in the last two years and they have the nerve to say they could increase them further still."
Microsoft Korea says that isn't true.
A Microsoft Korea employee said that "as long as they are genuine products, we don't mind if they continue to use Windows 7 or Windows XP. When an official message comes out promoting the use of genuine products, you know, just throw it away."
"Some internet cafe owners have been found using illegally copied software, that's all we enforce."
Regarding allegation of price hikes since 2010, the employee said that "to promote the use of genuine products in internet cafes since 2010, we have had special promotions with incredible prices compared to normal. Compared to the promotional prices, they still want something better, the internet cafe owners are the unreasonable ones."
December 17th, 2012 · Accidents, Crimes and Scandals, Politics · 0 comments
The fight over whether or not a National Intelligence Service employee did or didn't, or should or shouldn't have, tried to influence the election through online postings is entering the legal system. Original article in Korean is at this link.
A conservative organization has asked prosecutors to indict Professor Jo Guk of Seoul National University School of Law.
On the 14th the Young's Liberty Union (자유청년연합) asked the Supreme Prosecutor's Office to indict Prof. Jo for defamation using telecommunications.
The YLU complained that "Prof. Jo spread false information through Twitter, having no factual basis or evidence… serious slander was committed against the National Intelligence Service and the female employee involved."
On the 11th Prof. Jo published, on Twitter, the address, real name, and mother's address of the female NIS employee, who has not left her officetel.
Although prosecutors could reach a different conclusion, police say they believe there is no basis for criminal charges.
December 16th, 2012 · Stories of the Day/Week/Year · 0 comments
1. Prosecutors are investigating whether Yonsei and Korea Universities may have broken the law with their quick hires of new managers for their baseball teams.
2. On appeal, the so-called "Benz Prosecutor" accused of taking bribes in criminal cases was acquitted.
3. Jeollanam-do provincial police are investigating after a woman wrote on the internet that her older brother had molested and sexually assaulted her, but local police didn't believe her.
4. Authorities refused to grant permission for a gathering of single people on Christmas Eve in Yeouido Park.
5. In Suwon, an international marriage broker was found liable in a lawsuit alleging the company provided false information.
6. KBS television producer Lee Young-don was acquitted of defamation over an episode that investigated a makeup company's products.
7. A woman in Busan died at home and was not found for seven months.
8. A woman who was a volleyball star in the 70s was found dead in her home.
9.  A look at the results of efforts to cut tuition at universities.
10. A teacher was arrested on charges of having a sexual relationship with a 12-year-old student.