Archive for October, 2012
October 30th, 2012 · Accidents, Crimes and Scandals · 0 comments
Original article in Korean is at this link.
While on holiday in Greece, one of our citizens says that he suffered anattack in which local police officers beat him and told him "Korean, Go Home" and used racist expressions. Our media have since overflowed with anger and outrage towards Greece.
On the 24th one of our citizens logged on to a famous internet portal site and posted the outrageous story of his trip to Greece on the 14th, where he suffered a beating delivered by multiple police officers because he, fearing that they might be imposters, had asked to see their identification after they had stopped him to ask about his travel bag. He wrote that hefirmly intends to stay in Greece until the officers who attacked him, and their superiors, are punished.
This is the story as he told it. At approximately 7 pm on the 16th (local time) he was on a street in Athens when he suddenly heard a man telling him to stop, and thought it might be a merchant or a swindler. The man was actually a local plainclothes police officer. The plainclothes officer was with other officers, who demanded to see the man's identification. However, he thought they might be imposters attempting to con him. He asked to see their badges.
"I thoought they might have been conmen wearing police clothes, they had t-shirts saying 'Police' in English," he wrote. However, the actions of the police were totally unpredictable. One of the officers whom he had requested identification  from punched him in the head. "I thought something was wrong with this  situation," he wrote. He cried for help.
But the other two officers also beat him on his face, stomach, and side with their fists and feet, then took his wallet as he lay on the ground. He said to them "why did you hit me?" and "I didn't know you were police. I'm sorry", but each time the officers beat him again. He wrote in the internet post that "while they were beating me I saw their guns and even thought that if I made a mistake they would shoot and kill me."
The attack continued in the police station. Unable to hear well for a time, he was released after learning the address of the police. But when he asked other officers in the station where the exit was as he was leaving, they told him "Korean go home" and used racist expressions. He wrote that "actually the worst thing of all, worse than the beating, was when they used those racist words. It was extremely deep racism."
He went to the police with members of our Embassy on the 22nd in order to protest the unmotivated attack, but the police there refused to talk, evaded the questions of our Embassy employees, and then left, he said.
He wrote that "if I  cannot track down those two police officers I will not leave Greece until their superiors are punished. Employees of our consulate said they had never experienced a difficult situation such as this one. I want our government to protest as well."
As soon as he uploaded his story the media grabbed hold of it. His post received over 30,000 views in the first 12 hours after he posted it on the night of the 23rd, with 570 upvotes and over 230 replies. Many others posted their own stories of terrible experiences traveling in other countries.
Our netizens heaped abuse on Greece, known recently for its economic woes and social unrest. One wrote that "Greece is in chaos now. In Korea if such a thing happened the President would come out and apologize, it would be that big of a thing, the Greek police should do the same." Another wrote that "Greece promotes itself to the world for tourism and then its police use violence and racist language. This country should be forgotten about it."
An official with the Ministry of Foreign Affairs and Trade said that "we are aware of the incident and are investigating the circumstances."
October 28th, 2012 · Stories of the Day/Week/Year · 0 comments
1. A survey of human resources directors found that 83 percent of companies keep a "blacklist" of employees who they wish would quit.
2. A story has been circulating on the internet of a dog who escaped from a boshintang restaurant, gave birth to a litter of puppies, but was caught and returned to the restaurant. The story racked up 10,000 hits in the first 24 hours after it was posted by a person seeking people willing to help.
3. A junior at Sookmyung Women's University was announced as the newest SBS anchor.
4. A dentist is accused of attacking an elderly patient after they argued about treatment.
5. A man was caught on video hitting a young boy who wouldn't give up his seat at a bus stop.
6. The mother of a young woman who was murdered wept bitterly when the killer received just seven years in prison.
7. Amid the ongoing plans to crack down on child and teen pornography, the government is proposing to filter the internet to block such sites.
8. Economics professors carried out an experiment by sending a variety of resumes to apply for jobs at Hyundai, attaching the same photo to all of them, to test what "specs" companies look for in applicants. This may have been somewhat illegal, however.
9. A group of Koreans on tour in Greece were beaten by police and told "Korean, go home."
10. A woman was not charged by prosecutors since she acted in self-defense when she bit a man's tongue as he attempted to forcibly kiss her. Police initially arrested her for assault.
October 25th, 2012 · Society · 0 comments
At the Hyeondeok-sa temple in Gangneung, nestled under the Baekdudaegan mountain range, monks are roasting coffee beans for visitors. Although it may be a break with the tradition of consuming green tea, the monks say that Buddha himself likely drank coffee.
October 25th, 2012 · Accidents, Crimes and Scandals, Foreigners · 0 comments
Original article in Korean is at this link.
Police in Changwon, Gyeongsangnam-do, are seeking arrest warrants for 36-year old Mr. A, of Uzbekistan, who stole items left on seats at a women's clothing store on the 25th.
At approximately 3:05 pm on 21st, police say, Mr. A was in a women's clothing store in the Uichang-gu area of Changwon and stole a handbag containing 240,000 won which had been left on a chair by a shopper, 43-year old Ms. B. He is accused of two other thefts, bringing the total to 2.94 million won.
Police are continuing to investigate the precise activities of Mr. A.
October 22nd, 2012 · Accidents, Crimes and Scandals, Education and ESL · 0 comments
Original article in Korean is at this link.
Controversy has arisen in Busan over a high school principal who repeatedly assaulted students but received little punishment from the school's foundation. The head of the foundation is the principal's father, and protected him, leading to accusations of nepotistic favoritism.
Mr. A, the principal of the private high school in Busan, assaulted 16-year-old B, a male student who was engaged in night-time free studies, at 8pm on the 26th of last month for playing music through his mobile phone. He struck the boy on his cheeks over 10 times in the classroom and hallway, and then grabbed his hair and threw him against the wall. The boy has symptoms of a concussion and tinnitis which are expected to last three weeks.
B's parents complained to the school, but Mr. A explained to them that "I never hit him hard enough to be called serious… B told lies and had a rebellious attitude, so I punished him from an educational perspective." B's parents then went to the police to accuse Mr. A of assault. Police verified the security-camera footage and requested an interview with Mr. A but were refused.
Students and teachers at the school delivered to the Busan City Metropolitan Office of Education on the 10th a letter saying that the principal had repeatedly assaulted them. Mr. A, they said, assaulted not only students but also teachers. The Office plans to investigate the situation and refer a request for punishment to the appropriate school authority.
October 21st, 2012 · Stories of the Day/Week/Year · 0 comments
1. Singer Kim Seong-su's ex-wife was stabbed to death in Gangnam.
2. It's blue crab season.
3. A group of high school students videotaped themselves beating up another student, then posted the video online.
4. A principal in Busan was habitually beating students and being protected by his father.
5. An article about concerns over the amount of caffeine in the energy drinks used by middle and high school students to stay awake.
6. The top job that kids want to be when they grow up is an elementary school teacher. Being a doctor came in second.
7. Chinese fishing vessels illegally entering South Korean waters are now being fired on with American-made 40mm rubber bullets. One fisherman was killed by the bullets.
8. A look at the push for a crackdown on child and teen pornography, and criticism of the lack of standards that could lead to convictions for possession of material not involving children.
9. An early report of #1.
10. Another stabbing in Gangnam ended a stalking case that had lasted over a year.
October 17th, 2012 · Legal news · 0 comments
Original article in Korean is at this link.
69-year old Ham Yun-shik, who was a security guard for deceased President Kim Dae-jung during the Yushin era, has filed a lawsuit against the government for the time he spent in prison during the Chun Doo-hwan era.
On the 17th, Mr. Ham and four family members filed the lawsuit in the Seoul Central District Courts' 15th civil division (chief judge Lee Chang-hyeong) against former President Chun Doo-hwan and the head of investigations of the Martial Law Enforcement Headquarters (계엄사령부), asking for the government to compensate them in the amount of over 45 million won.
However, the claims against former President Chun and former head of the MLEH Lee Hak-bong were dismissed.
Mr. Ham recently had has convictions for spreading false rumors, for which he served prison time, overturned by an appeals court.
In filing the lawsuit, Mr. Ham said that "I served time in prison after being indicted for spreading false facts… during that time, I and my family suffered psychological injuries for which we should be compensated."
Mr. Ham has also said that he will write a book criticizing former President Chun, to be titled "24 Hours in Donggyo-dong".
October 14th, 2012 · Stories of the Day/Week/Year · 0 comments
1. An 18-year old boy who had gotten in trouble for uploading a video of himself threatening to kill his mother wound up committing suicide.
2. With police and prosecutors tackling what appears to be a rising number of sex crimes against children, both want to crack down on child and teen pornography. This is raising fears that, with the law lacking clear standards, nearly everyone in the country could be convictable, as one college student was nearly arrested for downloading photos of adult women in high school uniforms.
3. A look at the upheaval in college rankings, with Seoul National University falling to fourth place, from third place last year. KAIST retained the top spot.
4. Seoul mayor Park Won-su supported PSY's attempt to hold a free concert, leading to a flood of criticism that the concert will cause traffic problems and so on, and that the city has denied such permissions to other musical groups.
5. A look at baseball-ticket scalpers.
6. A 26-year old Chinese was arrested and accused of murdering someone sitting next to him in a restaurant, supposedly for staring at him.
7. Singer Tablo is suing the operators of an internet site which accuses him of fabricating his school records.
8. OhMyNews, working with some progressive groups, is running a series on the difficulties of renting in Seoul.
9. Seoul city employees who wanted to become regular, rather than contract, workers are saying they were asked for bribes that included sexual favors.
1o. Recently some people have been ingesting "human-flesh capsules" (인육캡슐) from China in the belief that they are good for stamina (likely in bed). Tests show that many of them are infected with hepatitis B.
October 12th, 2012 · Photos · 0 comments
Following Japanese Prime Minister Noda Yoshihiko's recent statements on the comfort women issue, Koreans took to the streets to protest so vigorously that some wound up brawling with police.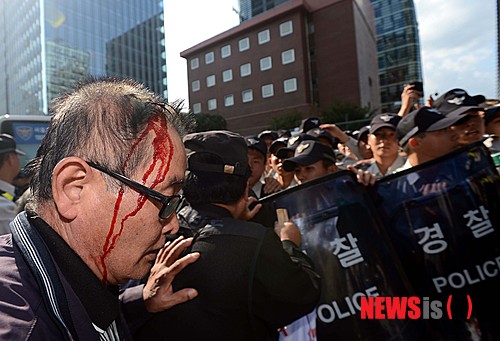 October 10th, 2012 · Accidents, Crimes and Scandals, Foreigners · 0 comments
Original report in Korean is at this link.
<Anchor>
A number of men who habitually beat their foreign wives have been arrested. Their anger over tight finances focused on their young wives and resulted in violence.
KNN's Ju Woo-jin reports.
<Report>
This is the story of how 28-year old Mrs. Lee of Vietnam wound up in the hospital.
Her 44-year old husband Mr. Lee punched her in the nose, breaking it.
Not just her face but also her entire body is covered in bruises.
Seol Jin-kwae, head of the international crime division, Gyeongsangnam-do Provincial Police Agency: "The husband lost his job and the wife began picking up some money for expenses, but his debts deepened and he lied to her, she said."
33-year old Mrs. Kim of The Philippines also had to take care of expenses by herself.
She worked as an English teacher to earn money in place of her unemployed husband.
But her husband was violent towards her.
Victimized woman from The Philippines: He was always drinking… he told me to cook for him, he said I couldn't cook Korean food… (he hit me).
The GPPA has arrested 15 husbands who similarly beat their foreign wives.
The husbands are all at least 40 years old, while the wives are on average 16 younger.
The husbands, suspicious of their wives, prevented them from joining groups of women from the same country.
Seung Hae-gyeong, Head of Gyeongsangnam-do Multicutural Center: The fact is these women are young, so they don't know what the responsibilities of a couple are or what their rights are, and the husbands often think only of their rights and not their responsibilities."
Police have arrested without detention the 15 men on charges of assault, including a 44-year old Mr. Kim, and are continuing to investigate with the help of women's shelters.