Archive for August, 2012
August 28th, 2012 · Stories of the Day/Week/Year · 0 comments
1. A man in Yeouido stabbed four people in a 14-minute violent outburst triggered by losing his job. A 50-year old martial arts professor took him down.
2. The design of a fountain outside Hwajeong Station in Goyang stirred some controversy by inadvertantly resembling the rising sun flag under which Japan colonized Korea.
3. More on #1.
4. Netizens uncovered the identity of a pizza shop manager who allegedly drove a young woman to commit suicide after sexually assaulting and threatening her, raising fears about privacy in the digital age. He has been arrested and apparently tried to erase damaging evidence from his phone.
5. More on #4.
6. More on #1.
7. A look at how the family and friends of the young woman from #4 have reacted. The pizza shop was at one point mobbed with people demanding to see the accused.
8. There was another stabbing incident in Uijeongbu.
9. A group of Korean residents were assaulted by locals in Mongolia and called their embassy for help, only to find that the phone line was blocked.
10. Someone living in the Hillstate apartment building in Seoul secretly delivered bundles of 50,000-won notes to residents for an unknown reason.
August 22nd, 2012 · Accidents, Crimes and Scandals, Foreigners · 0 comments
According to this CBS News report, and this thread on Waygook.org, the Shinchonji cult has put together a group called Mannam to recruit members via seemingly ordinary activities.
This translation is a request from reader Peter D.
Are you aware of the volunteering group Mannam?
This group is a front for for the Shinchonji cult…Yesterday, August 15th, their true nature was revealed during Liberation Day celebrations.
Goh Seok-pyo reports.
The true nature of Mannam was revealed after it had previously been known only as a group with some relationship to Shinchonji.
Mannam hosted a Liberation Day celebration at which Lee Man-hui, the religious leader of Shinchonji, was given the title of honorary chairman.
Mr. Lee arranged the Liberation Day event and Kim Nam-hui, representative of Mannam, appeared to take orders from him.
As soon as Mr. Lee took the podium, there was an enthusiastic reaction from Shinchonji followers.
Mannam is clearly a Shinchonji group itself.
However, the event hosted by Mannam did not outwardly appear religious at all.
The volunteer group Mannam has organized celebrations of national holidays such as Memorial Day and National Liberation Day since 2009.
At the events they raise a Korean flag featuring a large thumbprint, and participants wear shirts featuring the yin-yang symbol of the flag for their parades and performances.
They look like a performance by an honor guard or an arts group.
But that is a trick.
Outwardly it appears to be a sincere organization that holds patriotic events and conveys a message of peace, but in reality it uses its events to create Shinchonji's ideal world.
[In August, 2009 Lee Man-hui said that] "We are not just distributing a chunk of dirt. The Republic of Korea is one… it is not only the government. We will swallow up all regions."
The yin-yang symbol they use represents the meeting of heaven and earth under Shinchonji, and the stamps on the faces and arms of the event participants is a means of evengelism.
The seriousness of the problem is that a great many of the event participants register for volunteer activities while unaware of the true nature of Mannam.
Shinchonji uses national celebrations to fill its own treasury, making ordinary citizens into its targets as they are unaware of how Shinchonji pays for its parties.
August 21st, 2012 · Foreigners · 0 comments
Original article in Korean is at this link.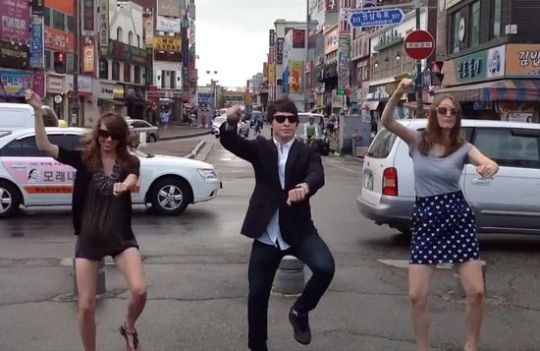 "Oppa has Jeonju style!"
"Jeonju Style", a parody of singer Psy's hit "Gangnam Style", is gaining popularity.
On the 12th a group of American students participating in a program uploaded a video titled "Jeonju Style" to Youtube. The video surpassed 20,000 views by the 20th, and is rising in the ranks on Naver.
The video was created by American students studying in Jeonju for eight weeks, as part of the Critical Language Scholarship Program of the US State Department, to remember the time they spent in Korea and Jeonju.
The video was created by John McEwen, of North Dakota, Margarethe McDonald, of Indiana, and Molly Resnick, of Connecticut.
The video shows them dancing the same dance popularized by Psy in various places around Jeonju and on the Jeonju University campus while using regional slang such as "워메" and "아따".
Lee Yae-eun, a Jeonju University junior majoring in music who helped make the video, said that "my American friends having cultural experiences and studying Korean thought that Gangnam Style was fun, and we agreed that we wanted to remember our time in Korea… we are really surprised and happy that the video we made to remember our great times together has been so popular."
August 20th, 2012 · Stories of the Day/Week/Year · 0 comments
1. An MBC reporter maybe disciplined for wearing this hat on-air: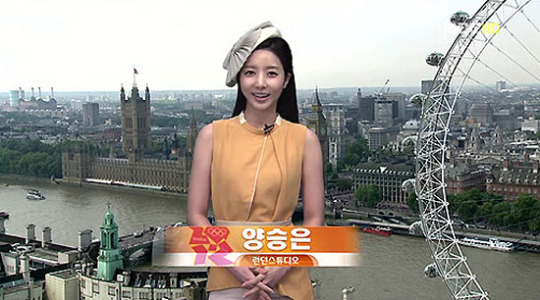 2. In a repeat from last week, someone in the entertainment industry was accused of murdering his sons while suffering from major depression.
3. KBS broadcast a celebration of the returning Olympic athletes.
4. A woman in Anyang is accused of murdering her three sons after a fight with her husband.
5. A high-ranking executive at LG U+ committed suicide by jumping from his apartment building.
6. There is a daycare that uses just one chicken to make samgyetang for 90 children.
7. A high school girl committed suicide after being bullied via a popular instant messaging service.
8. Sungkyunkwan University is investigating allegations that a recently-admittted student was convicted of sexually assaulting a disabled girl in high school.
9. Forensic examination of the skull of democracy activist Chang Chun-ha is intensifying belief that he was murdered by agents of Park Chun-hee.
10. A growing number of Koreans are unemployed despite earning advanced degrees overseas.
August 16th, 2012 · Accidents, Crimes and Scandals, Japan, Politics · 0 comments
In Japan on August 15, which is commemorated in South Korea as Liberation Day, one Korean man took a Korean flag near the infamous Yasukuni Shrine in Japan to protest the shrine's role in the ongoing disputes over the two country's shared history that continue to prevent them from having a normal relationship. Video of Japanese police forcing him away has been making the rounds on the Korean internet.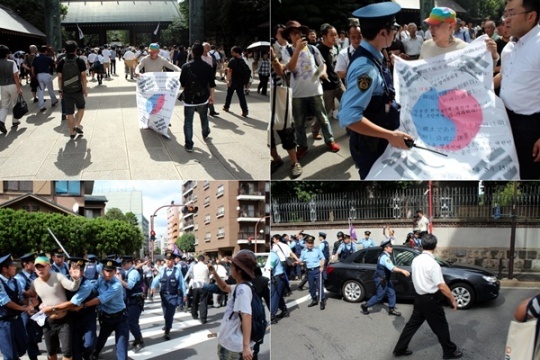 August 14th, 2012 · Stories of the Day/Week/Year · 0 comments
1. A photo of an elderly man practicing typing on a keyboard while dipping his feet into a cool stream.
2. Police are searching for Kim Hong-il, who is accused of murdering two sisters in Ulsan on the 18th.
3. A man in the entertainment industry is accused of murdering his three sons while suffering from major depression.
4. An apartment building in Daechi-dong has forbidden deliverymen from using its elevators, claiming that they are causing them to work improperly and inconveniencing residents.
5. Beginning next year the warning labels on cigarette packs will be significantly strengthened and will be required to disclose the ingredients in the cigarettes.
6. 140 people had to be rescued from a strong current at the Haeundae Beach.
7. There was controversy within the MBC union when MBC department head Shim Won-taek spiked a story on potential future politician Ahn Cheol-su.
8. A father drowned while trying to save his son and daughter from drowning as the three were playing in the water. All three died.
9. More on #2.
10. Since 2009 Korean workers have seen a marked increase in the amount of overtime which they are required to put in, often in violation of the law. This creates a huge amount of stress and has caused suicides.
August 10th, 2012 · Accidents, Crimes and Scandals, North Korea · 0 comments
Original article in Korean is at this link.
The Wonmi Police Station in Bucheon, Gyeonggi-do, announced on the 10th it is seeking an arrest warrant for two teenage North Korean refugees, including 20-year old Mr. A, on charges of fraudulently earning 11 million won by pretending to sell new smartphones at low prices.
Mr. A and his partner are accused of using the internet beginning in March to advertise that they could sell recent, used smartphoens for 150,000 to 300,000 won, earning 11 million by defrauding 41 victims up to recently.
Investigators found that they met as they were both young people struggling to adapt to South Korean society and formed their criminal plan, and spent their money on prostitutes.
August 7th, 2012 · Economy and Worklife, Society · 0 comments
Anti-dog meat protests have been increasing in Korea in the past two weeks or so. They seem to have been prompted by a photo of dogs crammed into tiny cages in the bed of a pick-up truck driving them to slaughter, which caused a storm of controversy on the internet. The most recent protest was held on the 7th in Gwanghwamun, Seoul.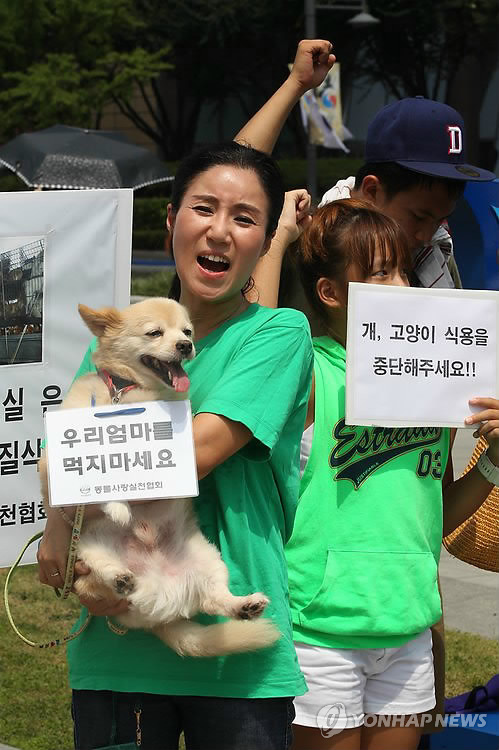 August 6th, 2012 · Stories of the Day/Week/Year · 0 comments
1. A group of progressive politicians is investigating charges of violence being employed against striking workers.
2. A group of teenagers beat a man to death in front of his 6-year old son after he berated them for being too loud in public.
3. More on #2.
4. Two students who disappeared were found dead.
5. Supposedly a growing number of men are complaining that parents and kids are afraid to be alone near them because of the recent murders in Jeju and Tongyeong.
6. A man in Seoul is accused of illegally raising snakes.
7. An article about anger over the poor officiating that cost Korea a medal in women's fencing.
8. An Ethiopian refugee lived a real-life version of the Steven Spielburg movie "The Terminal" when his application for refugee status in Korea was denied but Ethiopia refused to take him back. He wound up living in detention at Incheon International Airport for 18 months.
9. More on #6.
10. The killer of a female tourist in Jeju confessed that the murder occurred as part of an attempted sexual assault.
August 6th, 2012 · Economy and Worklife · 0 comments
Original article in Korean is at this link.
A study has found that the stress index among unemployed men in their 20s in our country is rapidly increasing.
On the 22d the National Health Insurance Corporation (국민건강보험공단) published the results of its analysis of last year's health insurance receipts data, finding that the number of male patients in their 20s being treated for symptoms stemming from serious stress had increased to 6,562, up from 5,034 in 2007.
Notably, out of every 10,000 unemployed men in their 20s, 227 are being treated for stress, a 47.4% increase from the figure of 154 recorded five years ago. Their female peers saw only a 13.9% increase over the same time period. 29-year old Mr. Lee, who has been unable to find work in the two years since he graduated from college, is constantly depressed and has seen a personality change towards anxiety. Mr. Lee studies in a goshiwon and has begun pulling out his hair, so that there is now a 100-won coin-sized hole. His physical and mental pain are mixed.
Shin Yeong-cheol, professor of psychology at Kangbuk Samsung Hospital, said that "unemployed men in their 20s are facing the crisis of long-term unemployment even as women become more competitive in the job market… with their future prospects so cloudy, they are under intensifying spiritual and psychological stress."