Archive for June, 2012
June 30th, 2012 · Accidents, Crimes and Scandals, Women in Korea · 0 comments
Original article in Korean is at this link.
The prison sentences handed down to the Korea University medical students who were convicted of molesting a female classmate while she was drunk have been affirmed on appeal.
On the 28th the Supreme Court's second petty bench, led by Justice Jeon Su-ahn, affirmed the prison sentences of 1.5 and 2.5 years, respectively, given to 24-year old Mr. Park and 26-year old Mr. Bae after their convictions for special forcible molestation.
Mr. Park and the others were indicted for removing the underwear of their drunken 24-year old classmate Ms. A and groping her body at a rented house in the Yongchu Valley in Gapyeong in the province of Gyeonggi-do in May of last year.
June 28th, 2012 · North Korea · 0 comments
Original article in Korean is at this link.
On the 25th prosecutors in Incheon indicted 49-year-old Mr. A, a taxi driver, on charges of writing internet posts praising and sympathizing with North Korea in violation of the National Security Law.
According to prosecutors, at the end of 2010 Mr. A began writing over 60 internet posts praising North Korea's three-generation system, its Juche ideology, and its military-first policy, writing such things as "in Chosun [North Korea], do you know they have the system of 2-3 generation loyalty to the people and the motherland? The succession is pro-revolutionary and promotes the development of the people and the motherland."
In over 50 posts Mr. A also propagandized on the memoirs of Kim Jong-un, photos of the Juche Pagoda, the superiority of North Korean society, and the leadership abilities of Kim Il-sung and Kim Jong-il, and praised the Juche ideology and military-first policy, and called for a federal-style reunification, the withdrawal of the United States military, and praised North Korean communism.
Mr. A blindly praised reunification by any means including war, writing that "the US military must withdraw, after which North Korea, which maintains the traditional Korean culture, must unify our people by leading a war… Kim Jong-un is a man of drive and determination with the ability to focus on the goal without any shock over compromise or anger."
Mr. A continued to write such things even during the investiation, and unlike most cyber-criminals he plans to visit other prisoners indicted for the same crime.
An official with the Incheon prosecutor's office said that "it is his first crime, and it seems that as a middle-aged man with no formal schooling he went online and found web sites with false information about the North Korean system and got sucked into writing in praise of North Korea… prosecutors will continue to closely watch internet activities against national security and act swiftly against them."
June 26th, 2012 · Health and Environment · 0 comments
A group of environmentally concerned citizens in Busan recently spent several days photographing the Nakdong River from above to reveal the extent of what they say is pollution. The River is an important source of drinking water for South Korea's second-largest city. I believe the picture below shows an algae bloom.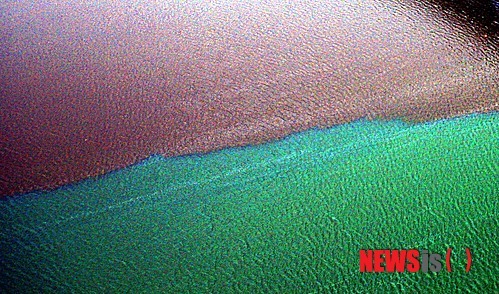 June 25th, 2012 · Accidents, Crimes and Scandals · 0 comments
Original article in Korean is at this link.
The Korean Food and Drug Administration announced on the 22d that it is investigating the discovery of a metallic object in a bottle of Children's Gummy Vites. The thin and roughly eight-centimeter long object was found lodged in a vitamin.
The KFDA plans to investigate how the object entered the product by taking data from the importing company on the manufacturing process and foreign object-removal process. The agency has requested a temporary halt to the distribution and sale of the product and has warned consumers about them.
"Children's Gummy Vites" are jelly-like vitamins for children at least two years old. They come in orange, cherry, strawberry, lemon, grape, and tropical fruit flavors evenly distributed in each bottle and are quite popular with children.
June 24th, 2012 · Stories of the Day/Week/Year · 0 comments
1. 2014 World cup matches with Kazakhstan and Lebanon were the country's most-watched programs last week.
2. A man in Gwangju was arrested on charges of fondling his stepdaughter.
3. A video of a car crash stirred controversy afetr being uploaded to Youtube.
4. Ten percent of Korean prostitutes work overseas, mainly in Japan and the United States.
5. A taekwondo instructor is accused of sexually assaulting female students.
6. A man accused of filming nurses with a hidden camera died during the investigation.
7. Choi Seung-ho, the well-known producer of the TV show "PD Notebook," was fired by MBC. He joins the growing ranks of MBC producers who have been fired in the company's ugly labor dispute.
8. A look at how even after marriage, many Korean young people must continue to get financial support from their parents.
9. Continuing its series on the Korean culture of excessive drinking, the Chosun Ilbo says nearly one-third of female office works and university students have been sexually molested or assaulted while drinking.
10. Koreans are debating the death penalty in the wake of the conviction and death sentence of Oh Won-chun.
June 23rd, 2012 · Accidents, Crimes and Scandals, Education and ESL · 0 comments
Original article in Korean is at this link. When I see cases like this I can't help but wonder how long it will be until every judge in Korea takes sex crimes more seriously.
The Seoul High Court has overturned the 36-month prison sentence of a 47-year old, Mr. Song, convicted of molesting a female student. He will instead serve four years of probation.
He will also be subject to three years of sex offender registration and 80 hours of treatment for sex offenders.
The court sentenced him to the three years of sex offender registration because it found that his crimes, which consisted of forcibly fondling the young victim's body on 12 occasions, were reprehensible and it cannot be said that the would not re-offend.
However, the court believed probation was appropriate because he recognized his crimes, regretted them deeply, and reached a monetary settlement with the victim.
Mr. Song was indicted for molesting the girl, a first-grader, 12 times when he was working as an at-home math tutor last year. The trial judge sentenced him to 42 months in prison.
June 22nd, 2012 · Accidents, Crimes and Scandals, Women in Korea · 0 comments
Original article in Korean is at this link.
[Anchor]
What were you doing today (the 11th)? This is JTBC News 10 for Wednesday, June 11. A woman who had been sexually assaulted had her case investigated by police, but then a second investigation was conducted. This is because police and prosecutors do not work together.
Yun Seol-yeong and Lee Ju-chan report.
[Reporter]
On the 18th of last month Ms. A, a woman in her twenties, says she was attacked and raped by her ex-boyfriend, then went to the Seodaemun Police Station, which is near her home in Seoul.
She reported the alleged attack, in which she sustained four injuries, and the investigation took one hour.
[Ms. A, sexual assault victim: I thought I was going to die. He strangled me and strangled me until I was nearly dead, and I have so many bruises and my lip burst… my face was severely battered.]
However, two weeks later no progress had been made by investigators.
Investigators had not contacted the man Ms. A says attacked her.
Prosecutors had transferred the case to the Bucheon Police Station in Geyonggi-do, which had jurisdiction over the suspect's residence, and since the Seodaemun Police Station had already interviewed the victim it requested a meeting while it continued its own investigation.
Ms. A, meanwhile, was living in fear of encountering her attacker on the street.
[Ms. A, sexual assault victim: Spending that time there (the police station) was so difficult. And when I was interviewed. I was so sad and the injuries… it was difficult… they already interviewed me, so I can't understand why they haven't moved to my attacker.]
June 19th, 2012 · Education and ESL · 0 comments
Original article in Korean is at this link.
It has been 25 years since the first stones were laid in the foundation of Korean democracy. What are the memories held by the children of 1987, born into a new world of high hopes, of the June Democracy Movement? And to what degree has society been democratized?
To answer these questions, the Korea Democracy Foundation (민주화운동기념사업회) held a 25th anniversary commemoration of the June Democracy Movement in which children of 1987 participated. It was their first experience of learning about the Movement, which is now included in modern history in the seventh Korean history curriculum. 25-year old Lee Ji-hye said that "when I learned about the Movement and the death of Park Jong-chul, which the government incredibly said was due to dying of shock from a desk being hit hard, I was so shocked."
They generally agreed that "our society is still not fully democratized." 25-year old Kang Da-hye said that "through the Movement we gained the right to elect the president, but since then many elections have been dominated by regionalism and it seems that the real meaning of that hard-fought victory has been hostility." Lee Ji-hye said that "our society is still carrying a heavy burden during debates." Ms. Lee listened to the case of the rejection of Jo Yong-hwan's nomination to the Constitutional Court. She said that "Mr. Jo was asked whether the Cheonan had been sunk by North Korea and he replied that because he had not personally witnessed it it would be improper for him to say it had been North Korea's doing. I think his subsequent rejection shows that our society is still not able to freely accept differing voices."
This incomplete democratization is evident in the ever-authoritarian university culture. 26-year old Lee Jae-yeong said that "many traditional classes in medical school are still organized in a top-down fashion from professors to the student body… even at student team-building sessions there are many times when the collecting of opinions is just a formality and even during discussions it is difficult for students to get a chance to speak."
The current problem, they say, is that student society is fragmenting, so that while schools take a unilateral approach the students do little about it. Ms. Kang said that "everybody is upset about high tuition but it's hard to get students interested in doing something instead of worrying about getting a job… even if the student government has a vote on tuition the school doesn't care and easily overturns it." Democraticization on campus has a long way to go.
Unbearably high tuition, terrible student living conditions, and classes which are clearly aimed solely at improving a student's 'specs' for the job market are all complaints that students have. Many say that student governments, which are supposed to press for improvement, actually accomplish very little. Lee Jae-yeong said that "recently our student government was silenced over issues it should have discussed, such as corruption, and focused instead on what entertainers to bring to festivals." 25-year old Roh Goh-eun said that "in the provinces, where finding a job is toughest, students have no expectations of their student governments and few vote in the elections for them."
So what is the properly democratized society which these students desire? "It would best to have a society where anyone may feel both positive and negative around them, but feel no burden to work to improve the negative." "What can we do to achieve a complete democratization, where there is an environment of thoughtfulness for strangers despite your own problems?"
This translation was a request from reader Chris Robinson. For more on less-democratic aspects of South Korean society, check out Ask A Korean!'s take on the Korean media industry.
June 18th, 2012 · Foreigners, Politics · 0 comments
Original article in Korean is at this link.
A study has found that the Republic of Korea is stingy in recognizing refugee status.
According to statistics published by the United Nations High Commissioner for Refugees on the 18th, by the end of 2011 over 3,900 people had applied for refugee status in the Republic of Korea but a mere 401 have been successful so far in gaining recognition as refugees or permission to stay for humanitarian reasons.
In fact, the number granted refugee or humanitarian residence status has shrunk each year.
The UNHCR said on the 18th that in 2011 the number of forced migrants increased considerably to reach the largest number since the year 2000.
The UNHCR published all this in its "Global Trends Report". According to the Report, in 20111 there were 800,000 new refugees worldwide.
According to the Report, in 2011 4.3 million people left their homes due to civil wars and other reasons, and 800,000 of them left their hometowns and became refugees.
By the end of last year 15.42 million out of 42.5 million of people had been given refugee status and another 26.4 million had left their homes, 895,000 of whom are currently applying for refugee status.
June 17th, 2012 · Stories of the Day/Week/Year · 0 comments
1. Kim Tae-ho, a producer at the MBC TV show Infinite Challenge, might be fired and the show outsourced.
2. A girl who had run away from home returned only to be abused by her mother's boyfriend.
3. The prime suspect in a Daegu bullying-suicide case has checked into a hospital, possibly to delay the investigation.
4. MBC's Kim Mi-hwa said on Twitter that she had been visited by prosecutors in relation to a story she did in 2009 on government ethics.
5. Thirty-four more names were added to the list of MBC employees who may be punished in the company's ongoing labor dispute. There are now 69 names on the "waiting list".
6. Chamiseul and Choum Chorum, which are the two top-selling soju brands, are also the world's first- and third-highest selling brands of liquor. Smirnoff Vodka is second. This is according to a study by Drinks International.
7. A look at the "still-incomplete" process of democraticization in South Korea, now 25 years on.
8. A cleaning lady at Seoul National University says she was sexually assaulted on campus and believes the administration is doing nothing about it.
9. The Chosun Ilbo profiled a 22-year old mental patient who is still unable to overcome the trauma of having been severely bullied and ostracized beginning in sixth grade.
10. The Incheon teacher who severely injured a student in April while driving through the school's exercise grounds has not reached a monetary settlement with the victim and will likely go to trial.