Archive for April, 2012
April 29th, 2012 · Stories of the Day/Week/Year · 0 comments
1. A Chosun-jok (Chinese-Korean) man is accused of stabbing a convenience store worker. This story's popularity is in keeping with the recent unfortunate media trend.
2. A high school student was injured after being struck by a car driving on the school exercise grounds. The video captured by the car's "block box" aroused  netizen ire.
3. A man who had fled murder charges and lived on an island for a while turned himself in after becoming desperately hungry and cold.
4. More on #1.
5. There was much outrage after a man accidentally (he says) dragged a dog to death behind his Equus car, and will apparently face no charges.
6. A man who built a tiny home out of panels from shipping containers came home one day to find it completely gone.
7. An article about the last living grandchild of the royal family
8. A man is accused of secretly photographing more than 300 women's bottoms at a bus station in Seoul.
9. You may or may not be surprised to learn that not all hagwon bus drivers should really be hagwon bus drivers.
10. Police had to help out an elderly woman after she tossed her 100,000,000-won life savings into a junk shop.
April 27th, 2012 · Accidents, Crimes and Scandals, Foreigners · 0 comments
I'm not sure who decides to get a tattoo as they're visiting a brothel, but police in Seoul say they've rounded up a gang that ran three illegal tattoo parlors and brothels. The group allegedly targeted Japanese and other foreign tourists in Myeongdong for "massages with no limit". Some 65 people have been arrested in the operation, which apparently netted over 1,400 customers per day.
April 25th, 2012 · Humor, Photos · 0 comments
Scientists in Japan have used very precise lasers to cut flower patterns into the seaweed sheets used to roll kimbap.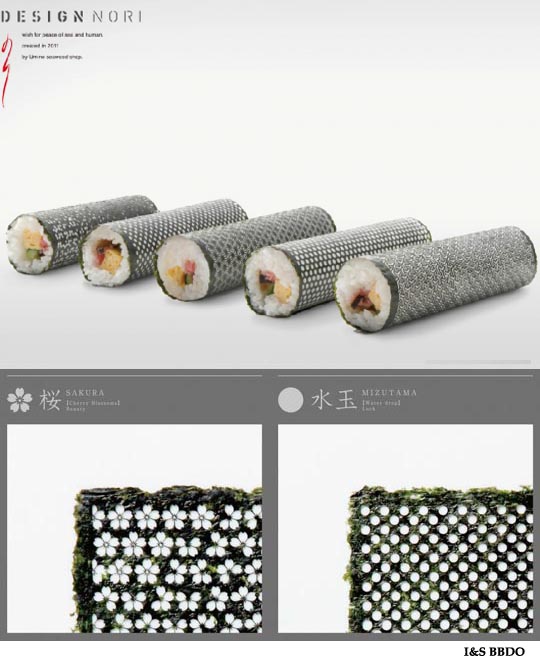 April 24th, 2012 · Accidents, Crimes and Scandals, Foreigners · 0 comments
After the Japanese tsunami disaster the Korean media spent the next year reporting every earthquake in the country, no matter how minor, after paying basically zero attention to earthquakes before.
Similarly, following the brutal rape-murder of a young woman in Suwon by Oh Won-chun, an ethnic Korean but a member of the outsider Chosun-jok from China, the media are now paying more attention to crimes by Chosun-jok both large and small. Today's example is a man accused of stabbing a convenience store employee; the first sentence reads "A Chosun-jok has been caught by police after stabbing a female convenience store employee in the forehead."
April 24th, 2012 · Accidents, Crimes and Scandals · 0 comments
Original article in Korean is at this link.
A study has found that suicide is the leading cause of death among teenagers in our country. In the past five years 101 elementary, middle, and high school students have taken their own lives, or about two deaths per month.
On the 24th the Center for Freedom of Information and Transparent Society (투명사회를위한정보공개센터) published its analysis of statistics it requested from the National Statistical Office (통계청), finding that from 2007 through 2009 suicide was the leading cause of death among those aged 15 to 24.
The suicide rate in that age group was 13.2 per 10,000 in 2007, 13.5 in 2008, and 15.3 in 2009, increasing yearly. After suicide the top causes of death were auto accidents, which accounted for 9.7 deaths per 10,000 in 2007, 9.2 in 2008, and 8.4 in 2009. In contrast to the increasing suicide rate, deaths from auto accidents fell each year.
The study found that suicide deaths increased with school age.
Kim Hyeong-tae, a member of the education committee in the Seoul City Council, says that statistics of the Seoul Metropolitan Office of Education show that  101  students committed suicide from 2008 through March of this year. That figure includes one elementary student, 27 middle school students, and 73 high school students.
There were 24 youth suicides in the city 2008 and 2009, 27 in 2010, and 18 last year. There have been eight suicides through March of this year, an average of 1.98 per month.
Although the two cities are of course very different, just for comparisons' sake the statistics appear to be twice as high in New York City.
April 23rd, 2012 · Stories of the Day/Week/Year · 0 comments
1. A picture posted on Twitter apparently shows a bus driver making a kneeling apology to a young woman. Supposedly the bus broke down while driving from Busan to Seoul and passengers were stranded for three hours, and the enraged woman demanded the grovelling apology.
2. The number of missing persons cases involving adult women has been increasing each year recently, going from 18,601 in 2007 to 23,507 last year. 436 of those women remain missing, and of those, 157 are being re-opened for possible connections to Suwon killer Oh Won-chun.
3. An article about "circle of violence" that leads bullied kids to commit suicide.
4. A police officer is accused of harassing and sexually molesting two sisters he met while responding to a fight at a convenience store.
5. At a middle school in Yeongju, students apparently set up some sort of lunchtime fight club in the sports grounds. Teachers never put a stop to it and on the 16th a student committed suicide over being forced to participate.
6. A Japanese college student who went missing in Myeongdong last September and was presumed to have been kidnapped reportedly turned up in Japan. It seems she decided to vanish, even cutting off contact with her family, for reasons that may have included breaking up with her boyfriend.
7. The investigation of an Open World Entertainment exec accused of forcing aspiring talent to have sex with him is growing to encompass other women whose careers have already launched.
8. More on #1.
9. A man in Siheung is accused of murdering his wife of 30 years, then cutting up her body and putting it into their apartment building's dumpster in six bags.
10. A father in Incheon was woken up in the early morning by the sounds of a struggle in his 18-year-old daughter's room and interrupted her attacker, who ran out the door. The man gave chase and wound up in a fight with a man he believed to be the suspect, which caused him to have a heart attack. In Daejeon a man in his 60s was arrested for kidnapping a woman from a parking lot. Both cases are feeding into public discontent with ineffective police which has been blowing up since the Oh Won-chun arrest.
April 20th, 2012 · Foreigners, Society, Surveys and Studies · 0 comments
Original article in Korean is at this link.
A study has found that 73.4% of multicultural children consider themselves "Korean".
On the 18th the National Youth Policy Institute (한국청소년정책연구원) published the results of its study of childrens' and teenagers' health. It was formally presented the next day.
From August to October of last year the Institute surveyed 1,502 multicultural teenagers in the fourth grade of elementary school in 16 cities and provinces nationwide, finding that 73.4% consider themselves to be "Koreans".
Just 3% said they consider themselves "of the country where my foreign parent was born" and 21.5% consider themselves "both Korean and foreign".
Further, 80% of them are proud of having a foreign-born parent.
The study also found that their psychological development is harmed by their families' low economic status, but when that economic status improves then their ambition, self-esteem, and school performance also improve.
Their psychological development level, resilience, and adaptation to school life were found to be lower than other vulnerable populations and their school performance was extremely low.
The Institute said that "unlike the image of them in Korean society, multicultural teenagers see themselves as Korean… this study shows that the monolithic, inadequate image of them is seriously misinformed."
April 19th, 2012 · Accidents, Crimes and Scandals, Entertainment, Women in Korea · 0 comments
As you may recall from the fallout of the suicide of Jang Ja-yeon several years ago, it came out that Jang was likely forced into the sexual service to powerful men in the entertainment industry. Despite vociferous speculation and even evidence of such crimes, little came out of it legally. This week, however, has seen the return of scandals over forced sex in the entertainment industry – this time with actual arrests.
Original article in Korean is at this link.
On the 13th the Kangnam Police Station in Seoul arrested Mr. Jang, a representative of the talent agency Open World Entertainment, on charges of sexually assaulting trainees in the agency.
Ui Hyeon-seok, who is in charge of warrants at the Seoul Central Distict Court, explained the issuance of the arrest warrant. "If a crime was committed then the worry is that the evidence may be destroyed."
According to police, Mr. Jang is accused of sexually assaulting six trainees. Two of them are minors.
On the 10th police seized security camera footage from Mr. Jang's office in Cheongdam-dong as well as his cellphone and camera. They are attempting to confirm that trainees' statement that "Mr. Jang said he was going to allow the members of a boy band to also sexually assault us."
Mr. Jang's company is a large talent agency that recently signed a dance group attempting a comeback. It has recently been involved with the Korean Wave in various ways and is quite influential.
The Chosun Ilbo reports that former members of a girl group are coming out to say that they, too, were forced to have sex with Mr. Jang. The Herald Kyoungjae reports that a 38-year-old male singer has also been arrested in connection with the case.
April 17th, 2012 · Accidents, Crimes and Scandals, Foreigners, Netizen comments · 0 comments
A few naturalized Koreans have run for the National Assembly in previous years, but none succeeded until this year, when Jasmine Lee was voted in.
Original article in Korean is at this link.
In the April 11th general election, 35-year-old Filipina Jasmine Lee, a marriage immigrant, was elected from the Saenuri Party. In the wake of her victory, some netizens have written angry attacks such as "now there will be illegal immigrants doing what they want and more sham marriages."
Jasmine's election may lead to an increase in anti-foreigner sentiment and make other marriage immigrants into targets as well. On the 16th this newspaper investigated the situation and immediately found that most marriage immigrants were reluctant to speak publicly. They feared being attacked by netizens the same as Jasmine Lee. The nearly 200,000 marriage immigrants in this country are shrinking before this social problem.
Mrs. A, a marriage immigrant from Vietnam who was receiving advice at a marriage immigrants' center in the Seoul area, said that, "I thought that it would be a good thing to have Jasmine representing us in the Saenuri Party and voted for her, but I don't understand why she is being terribly insulted (by some Korean netizens)." She added that "from what I know, Korean people also take jobs in America and in America their hard work is recognized… why doe Korean people have to be so against Jasmine?" Mrs. A requested anonymity, saying that "I might be attacked the same way."
35-year-old Mrs. B, who came here nine years ago from Mongolia, said that "when I see what people are writing about Jasmine I feel heartsick… Koreans are bad. How can they such things when they don't even know much about her… before they say something like 'how can such a person be in the National Assembly' they should think about how hard it is for her to live and work hard."
36-year-old Hwang Eui-sun, the Taiwanese head of the multicultural families' organization 아름다우, said that "as marriage immigrants we can feel that Jasmine's heart is just as heavy as ours." Mrs. Hwang, who has three children from her marriage to a Korean man in 2002, is an active leader of the group and sometimes appeared on television. After those appearances netizens would say "her husband is a lawyer," "she came here to sell her body," and "multicultural families are wasting our taxes." Mrs. Hwang said that "those things always get written in internet sites for people who oppose Korean society becoming more diverse… Korean people use the phrase 'multiculturalism' a lot, but the culture appears not fully mature yet."
Mrs. C, a Vietnamese woman who lives in a medium-sized city in Gyeongsangnam-do, said that "I'm very happy that Jasmine is now representing marriage immigrants in the National Assembly, but it is really shocking to see the reactions of Korean people… recently wherever I go there are people who say multiculturalism, multiculturalism, but I didn't know there would be people insulting me and hating that there is a marriage immigrant in the National Assembly."
Mrs. Jeong, a marriage immigrant who came from Mongolia and has been married 12 years, said that "the reaction (of Koreans) to Jasmine has been getting more severe by the day, and I worry that there is no way to protect us marriage immigrants… when I look at this situation I feel that we need to be much more active in society."
Also this week, accusations of racism flew on an American Idol-type program, as top K-Pop producer JYP expressed thinly-veiled frustration at what he believes to be biased fan voting.
April 16th, 2012 · Legal news · 0 comments
The answer may not surprise you, but the sudden social commentary might.
Original article in Korean is at this link.
A survey of the 5,074 law school graduates who passed last month's inaugural bar examination has found that 61.4% live in Seoul. Of those, 27.2% live in Gangnam 3-gu, where 16.7% of all law school students live. Economic ability influences the choice of law school. An analysis of the relationship between housing costs and law school choices found that those who live in more expensive areas are more likely to attend top schools. In this world it is difficult to rise from humble circumstances.