Archive for August, 2011
August 31st, 2011 · Accidents, Crimes and Scandals, Foreigners, Netizen comments · 0 comments
Below I've translated the comments left on this article in the Chosun Ilbo, in which the American who punched a Korean man on the bus explained why he did so. In the article he says that he misunderstood the Korean word 'niga' (the familiar form of 'you' in the nominative case) for the Korean pronunciation of the English word 'nigger', which is a fairly easy mistake to make for someone not familiar with Korean.
Jang Jong-hwan (15 likes, 2 dislikes):
Seriously. Don't try to justify yourself. Don't try to guess. You call yourself an English teacher but you can't tell the difference between 'niga' and 'nigger'? Did you really think an old man would know English so well and speak in English? The ROK police laugh at your statement, and protect the rights of the criminal. We have to take firm action to prevent something like this happening again.
Kim Dae-jae:
Comment deleted for using vulgar or abusive language.
Jo Gyeong-geun:
If you watch the video he is clearly guilty of assault and can be arrested right away, but because of this unexplainable misunderstanding he wasn't, that's funny. In America this is a case where based on this circumstances you might wind up being shot.
Lee Cheol-hyeon (0 likes, 2 dislikes):
We have to look at the whole circumstance on both sides. It could have been that the victim or another passenger said nigger accidentally and made him feel racially humiliated. Isn't this a country where you can commit a crime over a slight and be treated well?
Hwang Dong-yeol:
Comment deleted for using vulgar or abusive language.
Park Chang-hyeon (1 like, 3 dislikes):
Even if you are angry you have to stay in control. Otherwise you ruin your life with violence. And if you buy the citizenship of the other the ROK will not protect you, the embassy will protect you as their citizen.
August 31st, 2011 · Foreigners · 0 comments
Original article in Korean is at this link.
Though there are 45,475 foreign permanent residents in the country, just 0.2% (97) of them are high-earners with a doctoral degree, a study has found. Six in ten are employed as irregular workers. Although the government is opening the door to immigration to deal with the low birth rate and aging population, the immigration policy aimed at producing a low-level society could lead to Europe-style social discord, the study said.
According to the Ministry of Strategy and Finance (기획재정부) and Ministry of Justice (법무부) on July 26th, at the end of last year in this country there were 45,475 foreign permanent residents from 78 countries. In 2002 the system for obtaining permanent residence was introduced and the number of permanent residents went from 6,022 in 2002 to 20,000 in 2009 and then doubled last year.
The increasing number of permanent residents are mainly ethnic Koreans from China (Chosun-jok) and marriage immigrants, nearly none of whom are the high-earner the government is seeking to attract. At the end of last year, among all permanent residents there were 19,496 overseas Koreans, 12,690 marriage immigrants and their children, and 11,560 Chinese-Koreans. Those three groups made up 96% of the total. Just 0.2%, or 97, were high earners such as investors bringing at least $50,000 or holders of doctoral degrees and other qualifications.
Most permanent residenets are irregularly or unemployed and make even less than poor Korean laborers. Their average monthly salary of 1.89 million won is 60% of the average Korean laborer's 3.08 million won.
With most permanent residents in such poor economic circumstances, they have many complaints about Korean society, the study found. On the social metrics of labor force participation, political activity, and anti-discrimination, when compared to Europe and North America, Korea comes in 21st out of 29 nations. It was 27th in the area of anti-discrimination policy. Norway, where there has been debate over multiculturalism and terrorism recently, ranked 8th overall and 16th on anti-discrimination policy, both considerably better than Korea.
Seol Dong-hun, the Chonbuk National University professor of sociology who led the study, said that "permanent residents are treated even worse than a large number of foreign laborers and are highly dissatisfied socially and economically, so there is a chance of trouble over multiculturalism… we need a comprehensive immigration policy that can deal with these troubles over multiculturalism while also attracting high earners."
August 30th, 2011 · Accidents, Crimes and Scandals, Foreigners · 0 comments
Original article in Korean is at this link.
At approximately 3pm on August 29, 68-year-old Mr. G, who is from Indonesia, was found dead in a public bath (mogyoktang) inside a recreational facility in the Naengcheon-ri area of Daegu by 30-year-old employee Mr. Yun, who notified police.
Mr. Yun said that "the man had been in the water for a long time and another customer thought it was strange, so I went in and found that he had died."
Police believe that Mr. G, who had arrived for a package tour on August 27, died of a heart attack and are focusing their investigation on that belief.
August 30th, 2011 · Accidents, Crimes and Scandals, Foreigners · 0 comments
Currently one of the top stories in Naver's society section is this story of a young African-American who was videotaped punching a Korean man in his 60s.
The internet rumors are flying fast about what happened before the punch, since that part wasn't videoed. The Chosun Ilbo reports that the man was telling him to shut up (in English) and they had a bilingual cursing match.
Others say the old man said "niga", meaning "you", which the American misunderstood as the Korean pronunciation of "nigger".
Reactions from The Marmot's Hole and The Metropolitician (with the video).
Incidentally, a Korean guy I knew once got in a little hot water over the same "niga/nigger" problem.
August 30th, 2011 · Economy and Worklife, Surveys and Studies · 0 comments
If you're looking to get hired at a Korean company, this article from June may have some advice for you.
8 in 10 companies believe that if a job candidate has excellent qualifications but will likely leave quickly they will not hire them, a study has found. The Korean Chamber of Commerce (대한상공회의소) announced on the 6th it had surveyed 406 small, medium, and large businesses, finding that 80% would not hire someone who has high qualifications but is likely to leave soon. 74.5% of large businesses, 80.3% of medium-size businesses, and 83.1% of small businesses gave that answer.
When hiring new candidates, 36.5% of companies place greatest importance on qualifications, skills, and expertise, but 63.1% place greatest importance on talent and initiative and ability to work in teams.
The study found that companies are hiring candidates even with worries over whether they will leave early, which many employees do. The rate of new employees hired in 2009 who left within one year was 13.9% at large companies, 23.6% in medium-size companies, and 39.6% in small businesses.
The reasons for leaving were unsuitability for the position (35.7%), followed by dissatisfaction with salary and benefits (21.2%), dissatisfaction with working conditions (15.0%), and inability to fit in with the company culture (11.8%).
To stem such losses, companies turn to mentoring (41.4%), higher starting salaries and better benefits (33.7%), training and education (32.8%), and team-building programs (19.2%).
In 2009 companies spent an average of 710,000 won per new hire, and an additional 1.75 million won in training, research, and other programs. Large companies spent 1.89 million won per  hire and 3.75 million in training programs, a total average of 5.64 million won per new hire.
August 29th, 2011 · Transportation and Urban Design · 0 comments
The last time I visited Korea I took my father-in-law to Gwanghwamun and we were suitably impressed by the interactive maps installed on the subway platforms there. We were also big fans of the screen doors that shield you from the noise of the approaching trains (not to mention the safety improvement).
On Thursday the high-tech upgrades continued, with Homeplus installing digital advertisements showing shelves full of products – which you can purchase by holding your smartphone up to the ad. The Chosun Ilbo says these are the world's first such interactive ads. If you want to go see them, they are in Seoulleung Station.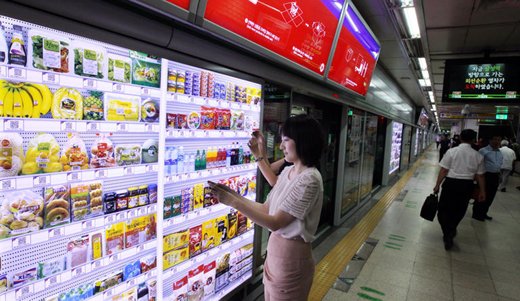 August 28th, 2011 · Stories of the Day/Week/Year · 0 comments
1. A landlord's ad seeking a female tenant became a joke on Twitter.
2. Two men were arrested and charged with attempting to stone a puppy to death on a sidewalk in Gwanghwamun. They allegedly threw over 40 rocks at the puppy, which survived and is now in a veterinary hospital.
Articles 3 – 10 were real-time updates on the August 24th balloting over the Seoul school lunches issue, with focus on the voter participation rate. Mayor Oh Se-hoon later resigned when the rate fell well short of the level he had said would be necessary for him to remain in office.
August 27th, 2011 · Education and ESL · 0 comments
Bilingual Korean reporters sometimes report on what foreign media are saying about Korea, but when they do so they typically do little more than just translate bits of the article. For example, this article is clearly unhappy with what Le Figaro recently reported about Korea, but does no reportage of its own to see if the original piece was accurate.
The French newspaper Le Figaro has reported about Korean "paparazzi hagwons" that teach how to be a paparazzi.
On August 25 (local time) Le Figaro made the accusation that "in Korea, the land of the morning calm, it is easy to accuse one's neighbor of a crime, and large profits may result," using the example of a "paparazzi hagwon" operated by a police officer in his 60s.
The newspaper said that because citizens, for the past 12 years, have been able to receive 20% of fines handed down because of their reports of illegal activity there is "encouragement" for the making of accusations and 336 types of illegal activities may be reported.
Le Figaro said that in Korea there over two thousand professional paparazzi and tens of thousands of people earning money on the side as paparazzi, and used the example of a 30-year-old housewife who made $188,000 (about two hundred million won) by lodging an accusation that a hagwon broke the law by hiring an unqualified instructor and holding lessons at night.
Accordingly, there are hagwons for paparazzi training at which students learn to attach hidden cameras and microphones to handbags, among other methods, the paper said.
A 64-year-old former police officer is proud to have established the first "paparazzi training hagwon" in the world and that it is being attended by Chinese people.
However, the paper explained, these paparazzi, disliked in Korea, mainly hide their occupation and rely on an accusation system similar to that in North Korea.
The paper said that some of these paparazzi pride themselves in taking on areas not covered by the police, but most become paparazzi for the money.
August 27th, 2011 · Economy and Worklife, Health and Environment, Surveys and Studies · 0 comments
Original article in Korean is at this link.
The number one cause of stress among office workers is uncertainty about the future, a study has found. The headhunting firm HR Korea surveyed 315 members in a study titled "The situation of stress among office workers", finding that 39.3% of respondents say that uncertainty about the future is their greatest source of stress.
That was followed by relationships with colleagues (30.4%), the amount of work they have (10.1%), and compensation (8.1%).
The choice of worries about the future as a source of stress was made because of unclear visions of the company's future (43.4%), quickly approaching retirement (26.4%), doubts about the office's current strength (17.0%), and lack of opportunities for promotion (13.2%).
Those who chose relationships with colleagues did so because of co-workers who constantly meddle in their business and distrust them (31.7%), followed by being berated by a superior (29.3%), co-workers who can't handle their work and place it on them (19.5%), and superiors who lack experience and knowledge (9.8%). Other reasons included having unclear work duties and co-workers who lack common sense.
Those who chose their work duties did so because their daily duties leave them no chance to improve their strengths (33.3%), followed by unclear work duties and lack of quick feedback (26.7%), lack of work for which they are well-suited (20.0%), team members who aren't competent at their jobs (12.3%), and lack of expert knowledge of their jobs (6.7%).
Those who chose the amount of work did so because of unexpectedly assigned duties (46.7%), followed by a team atmosphere requiring night and weekend work (33.3%), work hours exacerbated by a lack of personnel (13.3%), and frequent meetings (6.7%).
Those who chose the compensation systems did so because compensation does not depend on work quality (54.5%), followed by lack of company programs to improve personal strengths (27.3%), lower compensation than colleagues (9.1%), and monthly salary being the same as or lower than it was years ago (9.1%).
37.4% said that to reduce office stress they are thinking about changing jobs.
August 26th, 2011 · Humor · 0 comments
Of course you do, and now commenter 심연성  a new Korean humor blog just for you – Korean People Problems. It hasn't yet reached the heights of some of the incarnations of The Yangpa, but some of the entries are pretty clever. I like the entries for "no tuba players" and "television cancer".