Archive for June, 2011
June 30th, 2011 · Foreigners, Legal news · 0 comments
Following the passage of a bill by the National Assembly in April, tomorrow (July 1) is the day when the Korea Immigration Service will begin collecting the fingerprints of all foreigners who arrive and plan to stay in Korea for 91 days or more. Some 20,000 foreigners are expected to be fingerprinted by the end of this year. Next January, the Service plans to begin fingerprinting all long-term residents, regardless of when they arrived.
This represents a revival of the fingerprinting system that was disbanded in 2003, and follows the institution of similar systems in Japan and the United States.
June 30th, 2011 · North Korea, Sports · 0 comments
Employing one of the most colorful excuses for losing a sports match that I can think of, North Korean World Cup women's coach Kim Kwang-min blamed a 2-0 loss to the United States on several of his players being struck by lightning while practicing in Pyongyang.
Unfortunately I didn't find any article containing his original quote in Korean. Yonhap News had this write-up of the game, and others haven't mentioned it yet.
June 29th, 2011 · Education and ESL · 0 comments
Original article in Korean is at this link.
Sixth grade students at two elementary schools in Gumi and Uiseong-gun recently had night classes starting at 9.30pm after going home, eating dinner, and returning to school. At four elementary schools in Pohang, Andong, Seongju, and Uljin, students are stuck until 9pm. Numerous elementary schools have classes past 8pm. This July 12th the Ministry of Science, Education, and Technology (교육과학기술부) will administer the national school standards evaluation (국가수준 학업성취도 평가), which is causing the schools to have students practice for the exam until late at night and do after-school lessons.
Ahead of the evaluation, known informally as the iljaegosa (일제고사), elementary schools in the Daegu and Gyeongsangbuk-do area are in fierce competition to raise their scores. This is because the Ministry will publish the exam scores from each school, and the Daegu and Gyeongsangbuk-do Office of Education will use the results to evaluate schools and issue bonuses to teachers.
According to statistics published by the Gyeongsangbuk-do branch of the Korean Teachers' & Education Workers Union (전국교직원노동조합) on the 31st [of May], many sixth grade students in the Gyeongsangbuk-do area are going to school on Saturdays, normally a rest day, and doing exams until 4pm. There are even schools calling students in on Sundays. At some schools they do problems in Korean, English, and math, which are exam subjects, or  do problems during break times and during lunch.
One teacher at an elementary school in the Dong-gu area of Daegu lamented that "this competition to increase the score on the iljaegosa is driving schools crazy… the students who rank low on this all-important exam start to lose hope." A school supervisor in Daegu said that "the Ministry publishes the results and its sets off the competition, so schools have no choice but to be nervous."
Exam preparation time is no longer unknown in elementary schools. At 8.10am on the 30th we saw a sixth grade classroom in Daegu. The students were doing exam preparation with printed materials. The head teacher was watching a computer monitor, and some students who finished doodled on their desks or whispered to their friends. Half of the students were not concentrating on the questions. This school has had its sixth grade students doing exam preparation starting at 8.10 am since April. This is the time for iljaegosa preparation. A 12-year-old boy named Kim said, "I'm so tired of doing these questions all the time at school and at home." A 41-year-old mother named Lee said that "my daughter was doing math questions when she said 'mom, I feel like I'm going to explode' and I was so surprised… she does the questions until 11pm and then goes to school in the morning to do more of them, she is getting stressed out as much as a high school senior taking the university entrance exam."
Jo Jeong-ah, KTEWU head of policy for the Daegu area, said that "as the exam day approaches the amount of time spent on exam preparation and extra lessons increases… if the iljaegosa is not cancelled, then even elementary school students will be in a frenzied grade competition."
June 29th, 2011 · North Korea · 0 comments
The Chosun Ilbo put up a gallery of screengrabs from a North Korean TV report on performers practicing for the Arirang mass performance, officially the Grand Mass Gymnastic and Artistic Performance. To be held on August 1, this year's performance will include some nifty swords: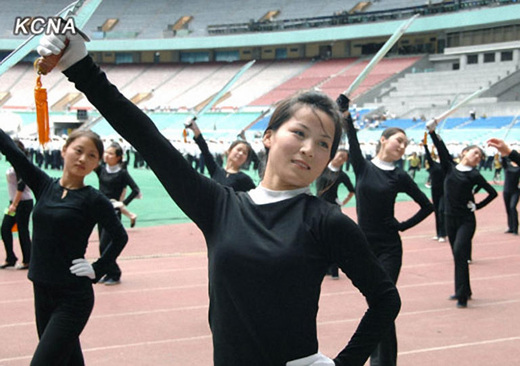 June 28th, 2011 · Health and Environment · 0 comments
Original article in Korean is at this link.
With no real ability to reduce carbon dioxide emissions and with current economic trends continuing, by the end of the 21st century the temperature in our country is expected to rise at least six degrees from a century before.
World temperature is expeced to rise 4.8 degrees on average wth rainfall increasing over 6%.
The Korean Meteorological Agency (기상청) and the National Institute for Meteorological Research (국립기상연구소) announced these results on the 28th as part of its 2100 forecast based on standard international greenhouse gas analyses and the fifth report of the IPCC, which will be published in 2013.
The report analyzed the four RCP scenarios, including the minimal RCP 4.5 scenario and the RCP 8.5 scenario, which features a lack of effective means of controlling greenhouse gasses and the continuation of current economic trends.
Its analysis found that in the RCP 8.5 scenario, by the end of the 21st century (2071 – 2100) average temperature on the area around our country will have risen six degrees from the end of the 20th century (1972 – 2000).
In the RCP 4.5 scenario temperatures would rise 3 to 3.5 degrees.
In the RCP 4.5 scenario average global temperature would increase at least 2.8 degrees, and in the RCP 8.5 scenario they would rise at least 4.8 degrees, increases of 4.5% and 6% respectively.
The increase in the area around our country would likely be higher than the global average.
Under the RCP 8.5 scenario, by the end of the 21st century the increase at the North Pole would be no less than 20 degrees, a 70% increase.
The average global temperature under the RCP 8.5 scenario in this analysis is four degrees higher than the SRES A1F1 greenhouse gas scenario, already the highest in the fourth IPCC report.
The NIMR announced that "there will be regional variations in temperature but most will see increases, and the rate of increase will vary regionally and decreases are expected… in Asia generally it will increase but in Australia, southern Europe, and central Africa we expect decreases."
Next year the KMA plans to create a more detailed scenario and use it to establish policy for the national and local governments.
The NIMR explained that in addition to the RCP 4.5 and 8.5 scenarios there will be 2.6 and 6 scenarios created by mid-2012.
The fifth IPCC report is expected to be released in 2013, and in 2007 the IPCC shared the Nobel Prize with former American Vice President Al Gore, who recognizes the need to respond to global warming.
June 28th, 2011 · Accidents, Crimes and Scandals, Legal news, Women in Korea · 0 comments
Original article in Korean is at this link.
A judge has ruled that it would be unjust to revoke the driver's license of a woman who drove while intoxicated because she faced sexual harassment by her driver and was left with no choice.
In September of last year, freelance television producer Ms K was drinking with a friend in the Seongsan-dong area of Seoul and called a driver at approximately 1 am. However, when the driver began driving, he also began speaking in a sexually harassing way and Ms K demanded that he stop the car. She and her friend calculated the bill and argued with the driver, who stopped the car at a four-way intersection in order to wait for a red light. They left the car and Ms K was suddenly alone.
Passing cars honked their horns at her car and Ms K, worried about having an accident, drove her car 30 meters to an emergency light and parked.Enraged, Ms K called the police and told them of the driver's tyrannic action, but when they arrived, they discovered that she had a blood-alcohol content of 0.151% and was arrested for drunk driving.
Judge Park Sang-hyeon of the Seoul Administrative Courts' fifth division said that "she was led into driving drunk by the very driver she had hired to avoid driving drunk originally… this must be considered as the cause of her driving drunk for 30 meters when traffic was fast and there was a serious chance of an accident." Accordingly, the Seoul Metropolitan Police Agency's revocation of Ms K's driver's license was an abuse of discretion, the judge ruled.
June 27th, 2011 · Education and ESL · 0 comments
Original article in Korean is at this link. This was one of last week's most-viewed articles on Naver.com.
A school that ordered a female student to remove her skirt while she was walking to school because it was too short offered the incredible explanation that "this is how our school normally guides our students," vastly increasing the level of criticism of this as a human rights violation.
The school even claimed that there was no problem at all since its regulations provide that a student who arrives wearing a short skirt must remove it, prompting human rights organizations, parents, and students to say "what kind of understanding of rights is this?"
According to middle school A in Incheon on the 24th, normally this school confiscates students' skirts that are too short and keeps them in the teacher's room.
Accordingly, in this incident teacher B, following the school regulations, noticed that student C's skirt was too short and ordered her to disrobe.
School principal D explained that "normally a teacher will inspect students' uniforms at the front gate and if a skirt is short then it will be confiscated… on that day, as usual, the teacher noticed that C's skirt was short and, thinking that she was wearing her gym class uniform underneath it, ordered her to take it off."
Principal D added that "teacher B is guiding other students and I have asked her whether C removed her skirt at the gate… also, when she took her skirt off C was wearing a jacket around her waist, so I believe there was no problem."
Once the skirt-removal incident became controversial, the school opened a committee on the 23rd to investigate the teacher and amend the rules on confiscating short skirts. Also, a committee was formed to consider punishing teacher B.
Parents' organizations and human rights and civic organizations are strongly raising their voices, calling it a clear human rights violation to make students remove the skirts of their school uniforms in areas where they can be seen by students walking to school.
An official with the Incheon branch of a large parents organization (참교육을 위한 전국학부모회) said that "female students consider undershorts to be underwear, so this could inflict long-lasting harm on sensitive female students… with corporal punishment fading away from school, when students do something wrong the punishment has to be implemented in steps, but in this case the student's rights were completely ignored through a shocking method."
An official with the Incheon branch of the Korean Teachers' & Education Workers Union (전국교직원노동조합) said that "this could occur in the process of student guidance, but this kind of guidance is problematic… the Office of Education must create a clear and definite policy for student guidance."
An official with the Incheon Office of Education's life guidance section said that "we are investigating the order that teacher B made at the time that 'that cannot be called a school uniform. This will be in your permanent record, bring the skirt over here'… it is more or less a moral problem, but recently it has become popular for students to wear extremely short skirts and this incident occurred while cracking down on that."
June 27th, 2011 · North Korea, Photos · 0 comments
North Korean media reported on the 26th that a few artifacts of the Goguryeo Kingdom were on display in Pyongyang.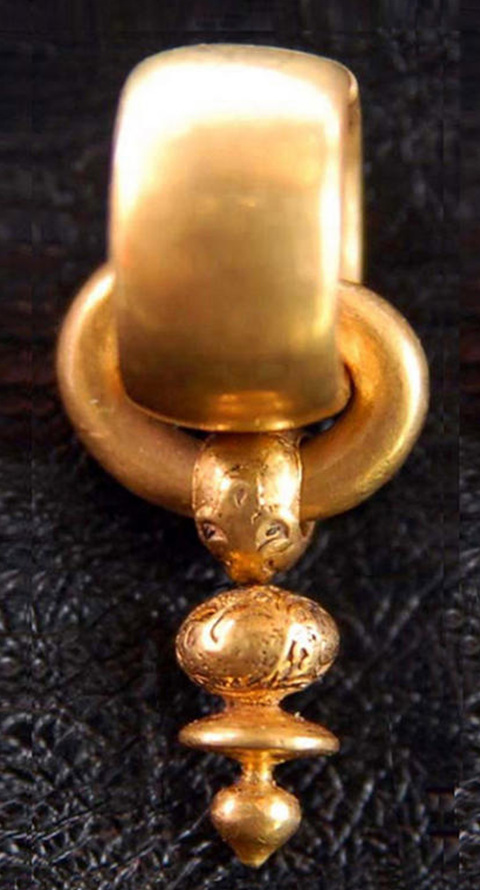 June 26th, 2011 · Stories of the Day/Week/Year · 0 comments
1. A handful of idiots were arrested in Gangnam for holding street drifting competitions. Cars involved included Corvettes, Chevrolets, and Lamborghinis.
2. A look at the history of noraebangs and notable developments in noraebang cultures.
3. Some high school students physically attacked a teacher in the classroom.
4. The Supreme Court overturned the conviction of a school security guard for molesting a young student because it did not find her story credible.
5. A teacher who forced a female student to remove her skirt because it was too shirt defended the action, saying it was "normal" at that school.
6. Teen smoking may be on the increase.
7. While searching for a lost ball, a woman playing golf fell into a pond and drowned.
8. A teen mother was arrested for abandoning her child in a subway station.
9. A large fish jumped out of the Han River and onto the sidewalk.
10. More on #8.
June 24th, 2011 · Education and ESL, Japan, North Korea, Surveys and Studies · 0 comments
Original article in Korean is at this link.
Many teenagers think that the Republic of Korea's greatest enemy is not North Korea but Japan, a study has found. The Korea Advanced Youth Association (한국청소년미래리더연합) and Teengora Media (틴고라미디어) surveyed 2,500 middle and high school students at over 400 schools nationwide, finding that although 63.5% believe that North Korea was responsible for the sinking of the Cheonan, 44.5% said that Japan is our greatest enemy, it was announced on June 23.
With regards to the cause of the sinking of the Cheonan, 20.7% (403 students) said it was uncertain, 12.0% (235) said they didn't know, 3.8% (74) said it was due to running aground on a submerged rock, and 63.5%(1,239) said it was due to an attack by North Korea, so the majority thought it was due to a North Korean attack.
As for what response our country should make if there were another attack from North Korea, 27.7% (534) said to respond diplomatically through the Sunshine Policy, 12.8% (246) said they did not know, and 59.6% (1,149) said there should be a strong response or immediate military action, making a strong response to a North Korean attack the most popular response.
Asked about enemies, 44.5% chose Japan, 22.1% chose North Korea, 19.9% chose the United States, 12.8% chose China and 0.6% chose Russia, showing that 44.5% of teenagers believe that Japan is an enemy.