Archive for February, 2011
February 28th, 2011 · Stories of the Day/Week/Year · 0 comments
1. A doctor in Busan is accused of murdering his wife.
2. Someone on the internet in Daegu accused a local day care of feeding the kids spoiled eggs.
3. The body of a woman apparently in her 20s was discovered near a rural highway. Police are investigating.
4. A man was sentenced to five years in prison for robbing and sexually assaulting women in nightclubs in Itaewon, Gangnam, and Hongdae.
5. A look at the case of a Seoul National University music professor accused of assaulting female students.
6. Parents of children who were abducted or otherwise disappeared have formed a group and are calling for intensified efforts.
7. So it turns out that in addition to "kiss rooms", there are also "hug rooms", and some of them engage in prostitution.
8. One of the top Korean internet search terms recently is "pretty EBS English instructor", and she's not very happy about being famous for her looks rather than her teaching ability.
9. A long look at dabang culture in Yongin.
10. Runaway teens were found to have ensnared in prostitution.
February 26th, 2011 · North Korea · 0 comments
Robert Park, the human rights activist who was detained for 43 days in North Korea for illegally crossing the border about a year ago, was recently interviewed by the Chosun Ilbo.
He maintains his previous allegations that the North Koreans tortured and says he suffers depression from the psychological effects of the torture, which he says included sexual torture. He returned to Seoul in September to resume his human rights work but returned to America for treatment in January, overwhelmed by his mental health issues.
He is being treated at a hospital in Arizona.
February 23rd, 2011 · Korean Wave · 0 comments
Singer Kim Jang-hoon helped fund the advertisement below, which ran on a full page in the New York Times. Almost needless to say, it is worthless and was clearly created without the input of anyone who knows anything about American tourists. Or the input of a good graphic designer. Even the font in the logo is stupid.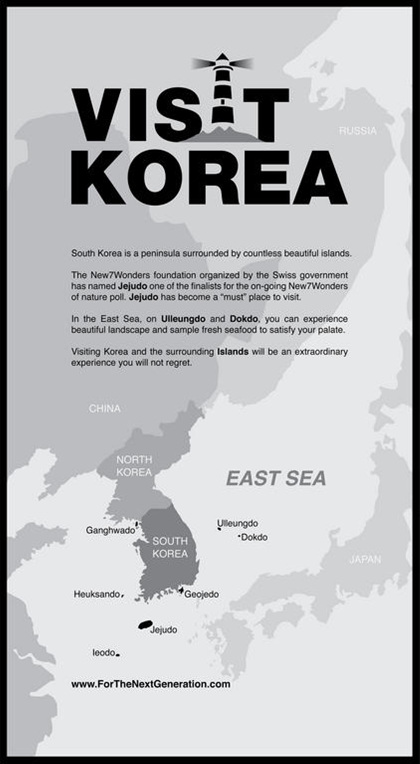 Most of the time, dumb Korean tourism ads don't really bother me. I shake my head and chuckle at their inanity, sure. But this one is so inept and such a waste of money that I find it offensive.
Update: Rather than responding in the comments, I'm going to clear up a few things here. First, I am well aware of the Dokdo and East Sea issues. I don't think there is anything wrong with Koreans taking out ads to tout Korean ownership of Dokdo, although I think doing so is not productive.
As to this ad, I don't believe it is a political ad. It has the words Dokdo and East Sea, yes, but that is because it uses a Korean map. This is clearly a pro-tourism ad. My only problem with it is that it was clearly made with little or no consideration for how it would be received by its target audience and without the input of a good graphic designer. At least $140,000 was spent on this ad. Do you really think it shows?
I also did not fail to notice the URL towards the bottom of the ad, but its placement only shows again how inept the ad is. There is no indication of what the URL is, and it is placed far away from all the other text, totally robbing it of effectiveness.
February 23rd, 2011 · Politics · 0 comments
Back in 2003 US Secretary of Defense Donald Rumsfeld sent Douglas Feith a memo. Not just any memo. A memo asking for solutions to Syria, Lebanon, Pakistan, and North Korea, and written in a hilariously non-urgent tone. I've gotten memos about neckties that sounded more serious than this thing.
February 22nd, 2011 · North Korea, Photos · 0 comments
If this image isn't Photoshopped, the answer could be no.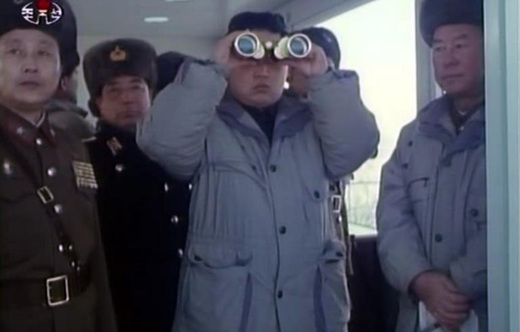 February 21st, 2011 · Foreigners · 0 comments
The infamous photo blog "Blackout Korea", which, depending on who you talk to, is either hilarious or the worst idea ever, was  noticed by the Chosun Ilbo recently. The newspaper put up a blurb about the blog on its digitial-only edition along with a few photos the site has posted. Chosun Ilbo commenter Lee jeong-suk wrote that
This kind of thing isn't something to be proud of, but isn't Korea a country with millions of people everywhere? It's nothing to worry about, there is this and that kind of person. I don't know what country the guy who runs this site is from but other than in  Muslim countries drunken people are everywhere. Russia is worse.
February 21st, 2011 · Education and ESL, Foreigners · 0 comments
Original article in Korean is at this link.
36-year-old Mr. Yu, who operates a "homestay" for foreigners in Yeonhui-dong, Seoul, recently made extraordinary requests while looking for Chinese guests. They included "speak and play with the child in Chinese for at least one hour each day," "take the child to school when the mom is busy," and "stay in Korea for one month of the two-month school vacation". The homestay is free rather than paying for dorm residence. Mr. Yu mentioned these extraordinary requests in interviews with several Chinese applicants. Zhang Lei-cheng, who is majoring in education at Yonsei University, said that "the mother's detailed requests are very burdensome, but her rent has gone up so I'm helping her out."
Homestays, which were created to accomplish cultural exchanges, are now becoming instrumentalized. The Korean host wants language lessons for his children, and the foreign guest is attracted by free or relatively low-cost accommodations.
At community sites for foreigners in Korea, many advertisements for homestays appear from Korean hosts, saying "mid-western American accent desired" or "Ph.D. holder". Foreigners' responses are hot. Because of this, Mr. Ahn, who operates a homestay out of a six-room hanok home in Pyeongchang-dong, is having trouble. Through the foreigners' community sites information about free homestays is spreading. Mr. ahn charges 50,000 won per day per person. Mr. Ahn said that "foreigners are becoming more and more oriented to substantive exchanges, so more of them are looking for free homestays."
Homestays are now both free and unfree, but foreigners from English-speaking countries have an easier time finding free homestays. Last month 34-year old Mr. Kim, who lives in Seongsan-dong, put up an internet ad looking for a similarly-aged foreign friend. He mentioned he had a room for rent. However, after several days a Canadian contacted him and said "I'm a native English speaker, so how about free rent?" Mr. kim said that "I was totally shocked."
Homestays are also for longer periods of time than before. Traditionally they lasted one or two months. Mr. Lee, a university student, said that "my parents had a Chinese student live with them for at least six months… I think student status was claimed to get lower rent."
Foreigners who don't have ability in major languages such as English or Chinese see homestays differently. Suho Ochi, president of the association of Mongolian students in Korea (재한몽골유학생협회), said that "if you're not an English- or Chinese-speaking student, you almost can't find a homestay… the Korean government should provide good, inexpensive accommodations for international students." Park Eun-seon, who works for the city's marketing department, said that "it's a problem that families, who are not in the business of looking for customers, are using homestays to get language lessons… the city has been certifying homestay programs since 2009."
February 20th, 2011 · Stories of the Day/Week/Year · 0 comments
1. Back in June a man named Kim Myeong-cheol, engaged to be married in October, disappeared without a trace after sending his fiancee a text message saying he had met another woman.
2. Police are investigating after a photo began circulating on the Internet, depicting a graduation celebration where female students cut their school uniforms and dumped flour on one another.
3. A 50-year old man was arrested and charged with a murder committed 12 years ago.
4. A court ruled that you can't get a divorce on your terms just because your wife had a relationship with another man before you even met. I translated this story earlier this week.
5. A girl who received a perfect grade in all her classes graduated from high school a semester early and was admitted to university.
6. The 8pm news on SBS will have a new anchor for the first time in six years.
7. 16 terabytes of illegal pornography, worth some 33 million won, were seized by police.
8. A court ruled that if your bank accidentally deposits someone else's money in your account, you do actually have to tell them about it as soon as you find out.
9. A 62-year old man was arrested for the murder of a 65-year old woman committed in 2001.
10. A woman committed suicide after being accused of stabbing her daughter.
February 19th, 2011 · Health and Environment, Photos · 0 comments
The Chosun Ilbo has put up a very cool NASA satellite image of the Korean peninsula, showing the extent of the snow covering the eastern coasts of both North and South Korea.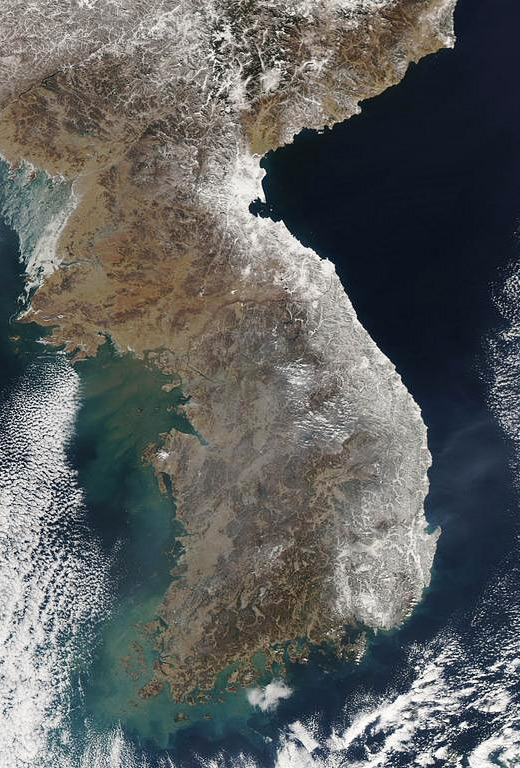 February 18th, 2011 · Accidents, Crimes and Scandals, Legal news · 0 comments
Original article in Korean is at this link. For more on the crackdown on kiss room advertising see this earlier article.
So-called "kiss rooms" (키스방) are places that allow male customers to pay a fee to enter a small space and make out with a female worker. Since 2007 they have clustered in red-light districts and university areas and mainly attract customers via the internet. At the end of last year there were only about 150 such registered "kiss rooms" operating nationwide. Kiss rooms operate in a legal gap because they are not classified as being enaged in direct or analogous sexual activities. However, as competition among them intensifies some kiss rooms are engaging in analogous sexual activities or allowing off-location prostitution, and calls are increasing for a crackdown.
The Ministry of Gender and Family concluded in November 2010 that kiss room advertising is harmful for teenagers and children, and when distributed with contact information and revealing photos of women they violate the law on the protection of teenagers and children (청소년보호법). The 20th of this month [January] saw the first-ever arrest of a kiss room operator for violating this law. 37-year old Mr. Yeo and 31 others were arrested for their advertising in Ilsan, in Gyeonggi-do. They were sentenced to up to two years in prison and fines of up to ten million won. However, they were not punished for what goes on inside the kiss rooms. A member of the Ilsan Police Department said that "we were unable to prove evidence of illegall acts." This was because they had to prove direct involvement in prostitution or similar activities.
10 am on the 24th in a kiss room located on the 3rd floor fo a buildign in Sinchon, Seoul. As soon as you open the door a man in his 40s behind the counter takes your fee. 35 minutes costs 40,000 won and one hour costs 70,000. Two men who appear to be college students come out of different rooms and appear to go outside. According to the sign under the dark lights, there are ten rooms on each side. Customers must brush their teeth in a bathroom before going into the room. The bathroom has several disposable toothbrushes. The roughly five-square meter room has a two-person sofa and a table with tissues and hand sanitizer. An employee, who said she was born in 1988, said that "I graduated from university and worked in a wedding business for a year and then came here because I wasn't making enough money."
The employees work in two teams, one from 2 pm to 11 pm and one from 11 pm to 6 am the next day. An average of five to ten customers come per day, and the employees keep half of the customer's money. The employees make from two to seven million won per month. Customers range from 20 to 70 years old. The employees said that "we don't do it, but some place do off-site prostitution."
Besides illegal activities, kiss rooms present other problems. Byeon Hye-jeong, professor at Sogang University's equal rights consultation center, said that "it is a problem that there is no law which can prevent teenagers from going to these businesses." Teens studying for their university entrance exams know that they can go to kiss rooms for a sexual experience at a non-prohibitive cost. Young women work in kiss rooms because they can easily make money using their bodies.
For now kiss rooms are subject to law enforcement for their advertising, but if they change their advertising they will escape punishment, which is a problem. Recently at a red-light district in Gangnam, instead of using advertising with photos that are severely degrading to women, an increasing number are using advertising similar to that of a restaurant and thereby escaping the law. An official with the Ministry of Gender and Family said that "when kiss rooms use these kinds of different advertising, the basis for prosecution disappears."