Archive for November, 2010
November 30th, 2010 · Politics · 0 comments
A group of people protesting for a peaceful reunification with North Korea have reached their 107th day of demonstrating (not sure if that's consecutive or not). I like the cartoon character who apparently speaks for them.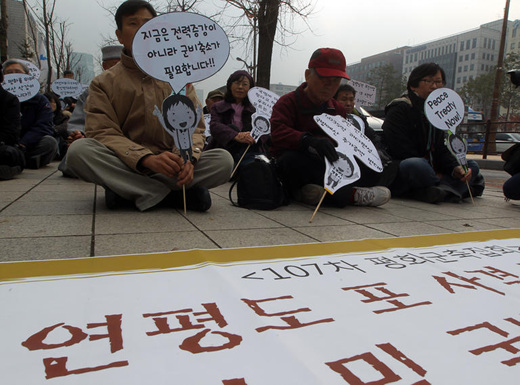 November 30th, 2010 · Education and ESL · 0 comments
Original article in Korean here. You know, 2.5:1 isn't really all that bad, considering the 5:1 overall ratio for jobs in the US right now. Still, it's probably time for universities to cut back on admissions into education programs.
This year the number of applicants for positions as elementary school teachers has increased over last year's total, leading to an increased rate of competition and breaking the previous record.
According to the Ministry of Science, Technology, and Education (교육과학기술부) on November, for the 2011 school year teacher's examination there were 2.48 applicants for every one open position, and increase from the 2.43:1 ratio last year.
4,811 people applied for the positions, an increase of 224, or 4.9 percent, from last year.
The increased competition for positions can be seen as being due to the increasing difficulty young people are having finding jobs.
The competition for elementary teacher positions stood at 1:1 in the early 2000s, when "entering a teacher's college = being hired as a teacher," but now, with the number of students decreasing, demand for teachers has also decreased and competition for positions continually increases.
In the 2007 school year the ratio was 1.9:1, in 2008 it was 1.74:1, and in 2009 it was 1.89:1 as the ratio approached 2:1, and for the 2010 school year examination last year it was 2.43:1, the first time a 2:1 ratio was reached.
The Ministry explained that this level of competition, exceeding 2:1 for graduates from education programs who expect to have careers in education, is too high.
However, the Ministry expects the trend to continue for the next three to four years.
This is because the Ministry plans to reduce entrants to two-year education schools by about 1,000, or 470 to 480 for the 2011 school year and 500 for the 2012 school year.
The Ministry plans to continue its policy of reducing entrants to the programs, having already curtailed 1,429 entrants in the four years from the 2007 through 2010 school years due to the decrease in student numbers.
A Ministry official said, "if entrants are reduced next year as well the results will show up in three to four years, and after that the competition should go back down… it would be problematic for the rate to become too low due to concerns over teacher quality, so we are aiming for a ration of 1.7:1 or 1.8:1."
November 29th, 2010 · North Korea, Photos · 0 comments
On November 26 North Korean media released new photos purporting to show Kim Jong-il taking part in various activities, such as having military men listen to him lecture about apartment buildings.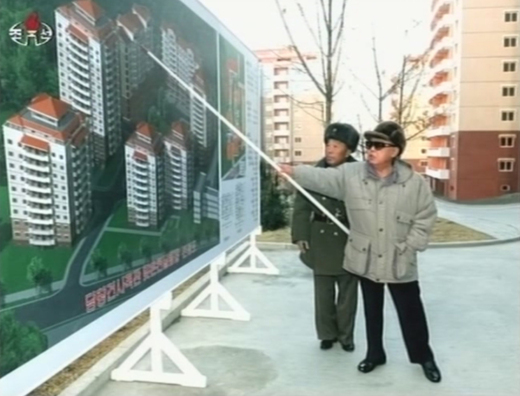 November 28th, 2010 · Stories of the Day/Week/Year · 0 comments
1. An analysis of reasons North Korean might have had for firing artillery at civilians in Yeonpyeong-do.
2. An early report of the artillery attack.
3. An interview with a lawyer who discusses food laws, including the facts that GMO foods are legal while dog meat is not.
4. Allegations of violence on the national men's bowling team.
5. More on the Yeonpyeong attack.
6. Answers to the English language portion of the university entrance exam, which were also in the top 10 last week.
7. Answers to the English language portion of the university entrance exam, which were also in the top 10 last week.
8. Someone on Twitter said the satellite photos of the Yeonpyeong attack looked like explosions in Baghdad.
9. Students discussed the results of the university entrance exams and agreed that it was very difficult this year.
10. A student got into a fistfight with his teacher after the (female) teacher slapped him.
November 26th, 2010 · Accidents, Crimes and Scandals, Netizen comments, North Korea · 0 comments
Naturally everybody wants to know what the South Korean public thinks of this week unprovoked attack from North Korea (although were it not so difficult, we'd all love to know the North Korean public's reaction at least as much). There is some polling data which you can read over at The Flying Yangban. Naver has a running collection of editorials debating what the government's reaction should be, and from that page you can find several other collections of editorials and debate pieces. It's not as easy yet to find articles about the average citizen's reaction, but there has been a vociferous debate online over people who defend North Korea and sound like they're on the North Korean payroll:
After the North Korean attack on Yeonpyeong-do, commenters on internet cafe sites began baldly praising North Korea and other users, shocked, criticized them.
On November 23 at one cafe on Naver, named 사이버민족방위사령부, a comment praising North Korea appeared, saying "the great history of a great land is perfect." [with North Korean spelling of "history" -KB]
"Hwang Gil-gyeong", the manager of the cafe site, wrote a post titled "everyone – weren't you very nervous yesterday?" It said, "Kim Jong-un is the Great General. We must all have the wisdom to be nervous and prepared."
Members agreed, writing "the Great General is at the front, he is the errorless modern representative of Chosun," "I believe that he will do great things without care for the lives of hostages," and "the great North Chosun and its admiral are ever-confident."
Some users took screen captures of those comments and uploaded them to major internet community sites, where angered users left hundreds of critical comments.
The operator of the cafe also reacted, deleting all of the critical comments existing on November 26 and blocking comments from non-members.
The cafe was started in 2002 on Daum, then shut down, then re-created in 2007 on Naver, and currently has over 6,500 members.
45-year-old Mr. Kim, a member of the cafe, was indicted on November 7 for violating the National Security Law (국가보안법) by uploading comments and videos praising North Korea, and last month he wrote that "Kim Il-sung and Kim Jong-il are great men."
The National Police Agency's security agency began an investigation and considers the cafe to be a violation of the National Security Law.
A member of the police said, "we had been watching the cafe even before North Korea's attack on Yeonpyeong-do. The cafe members have a clear goal and they can be punished for writing comments praising North Korea."
A bunch of random netizens aren't the only people arousing ire for comments supportive of North Korea — Incheon mayor Song Yeong-gil has also got people mad at him for using Twitter to seemingly blame South Korea for provoking North Korea into firing artillery at civilians. (Hat tip to One Free Korea). He wrote, "It seems that with our military preparing to carry out the Hoguk Exercise, which is another name for the Team Spirit Exercise, the North warned them not to carry out the exercise but our military began firing artillery in a direction away from the North and this prodded North Korea into focusing an attack on our military, which was lined up for assault."
November 26th, 2010 · Education and ESL · 0 comments
Following the discovery of a potentially unfair question on the English language section of the most recently administered university entrance exam, the Kyunghyang Shinmun reports that the Korean Finance Association (한국재무학회) believes that question 46 on the (Korean) language portion of the exam was fatally flawed.
The question had to do with interpreting a graph showing the prices of bonds. The correct answer was #3, 금리, but the KFA points out that 금리 has two meanings. Under the more common meaning #3 is correct, but under the other meaning there would have been no correct answer at all.
November 25th, 2010 · North Korea, Politics · 0 comments
Asked by Glenn Beck about the recent North Korean artillery attack, Sarah Palin said this:
"This speaks to a bigger picture here that certainly scares me in terms of our national security policy. But obviously, gotta stand with our North Korean allies, we're bound to by treaties."
November 25th, 2010 · North Korea, Politics · 0 comments
The original Korean TV report can be viewed here.
Citizens and civic organizations are shocked and angry over North Korea's cruel attack that even targeted civilians. They are demanding the government make a stronger response.
Jo Jae-haeng reports.
[We protest. We protest. We protest.]
Citizens United for Better Society (바른사회시민회) and over 30 other conservative groups held an emergency press conference today and rallied for a harsher response to North Korea's unprovoked attack.
[Choi Gang-shik, CUBS chairman: They fired artillery into a peaceful village of civilians, North Korea is a violent and barbaric regime.]
The ROK Marine Corps Veteran's Association (해병대전우회) is particularly furious that two marines were killed, and called for a stern response to prevent further North Korean provocations.
[Kim In-shik, president of the ROKMCVA: All of us are very upset. I believe we all feel the same, that we must put on our uniforms again and go there to do battle.
On the ROKMCVA homepage there was such an outpouring of comments from veterans that the site was inaccessible.
Liberal organizations including People Power 21 (참여연대) issued a joint statement criticizing North Korea.
They denounced the attack on civilians as reckless and emphasized the need for a renewed push for peace on the Korean peninsula.
Parents whose sons were in the military were worried.
[Bae Tae-gap, resident of Haeundae-gu in Busan: Today (the 24th) my son was to come home from the military but now my wife and I feel very uneasy.]
Citizens all believe that North Korea's attack on civilians calls for a stronger response than the government has made.
November 24th, 2010 · Photos · 0 comments
Pictured here are Sgt. Seo Jeong-woo and Pvt. Mun Gwang-wook. Both were killed by yesterday's artillery barrage from North Korea.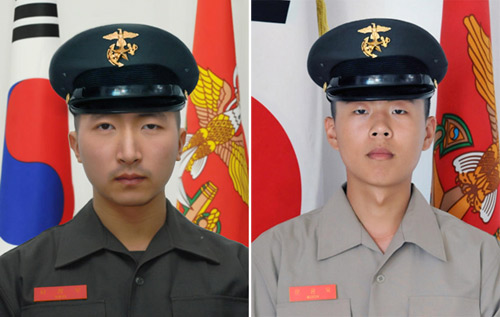 November 24th, 2010 · North Korea · 0 comments
Following yesterday's artillery exchange in Yeonpyeong-do, The Hankyoreh put together a look at the last ten-plus years of provocations from North Korea, focussing on the area around the North Limit Line.
1. 1998 July 12: Discovery of the corpse of an armed North Korean agent and underwater propeller on a beach in Mukho-dong in Donghae.
2. 1998 Nov. 20: A North Korean spy boat flees from the coast of Hwado-myeon in Ganghwa-do.
3. 1998 Dec. 17: A North Korean semi-submersible is sunk by our forces off the coast of Limpo-ri in Yeosu.
1999 Mar. 17: Corpse of a North Korean soldier is recovered
4. 1999 Mar. 15: 11 North Korean soldiers snatched military boundary landmark #0191, which was managed by the United Nations in the DMZ.
5. 1999.06.15 : Naval battle in Yeonpyeong
This naval battle in Yeonpyeong occurred after North Korean coast guard ships, claiming to be protecting fishing boats, crossed over the border and retreated between June 7th and 14th, and for 14 minutes from 9:28 to 9:42 on the 15th the ship fired and our forces returned fire.
June 7: Three North Korean coast guard ships, claiming they were protecting fishing vessels, crossed 3.5 kilometers over the Northern Limit Line, 10 kilometers from Yeonpyeong-do.
June 8: Four North Korean coast guard ships, accompanied by ten fishing vessels, crossed 9 kilometers south of the NLL. Our forces demanded they stop. But North Korea sent three more coast guard ships, making seven in total crossing the NLL. The North Korean ships continued to cross and retreat.
June 9: A North Korean coast guard ship collided with one of our ships, injuring a sailor.
June 11: One of our ships attempts to ram four of the North Korean ships in an effort to force them to retreat north of the NLL.
Jun 15, 8:45 am: The seven North Korean ships that have crossed the NLL approach our ship and attempt to ram it. Our ship evaded them and hit back in a tense exchange.
9:28 am: The North Korean ships opened fire, and our forces returned fire, and the firefight lasted 14 minutes, ending at 9:42.
In the end one North Korean ship was sunk and five were severely damaged, with many crew members injured, and they fled to the North. Our navy sustained minor damage to five ships and nine crew members were lightly injured.
6. 2002 June 9: Second naval battle of Yeonpyeong
At 10:25 am on June 29, 2002, a North Korean navy vessel (no. 684) crossed about three miles over the NLL at a spot 14 miles from Yeonpyeong-do and our navy responded by sending ship no. 357, which made a pre-emptive strike as the second naval battle of Yeonpyeong-do began.
Beginning with the guns of the North and South Korean warships, a fierce naval battle took place. The bloody battle lasted over 30 minutes. In the end six men were killed and 18 wounded, making 24 casualties, and one naval vassal (no. 357) was sunk. As for the North Korean ships, no.684 was engulfed in flames and had to be towed away by no.388, and over 30 of their men died.
To protect our fishing vessels and enforce the border, three of our ships were dispatched at 6:30 am. At the time a total of 56 of our fishing vessels were out working, and over 20 crossed the restricted line at approximately 7:30, when our ships ordered them to return, which they did by 8 am. Meanwhile in the waters north of the NLL, two North Korean ships appeared. at 9:37 ship no. 388 was traveling at over 20 knots. Further west, at 9:48 am, North Korean ship no. 684 travelled seven miles west of Yuk-do, joining no. 388.
9:54: No. 388 crossed the NLL. It was immediately ordered to return and two of our ships took action.
10:10: No. 684 crossed three miles past the NLL. Immediately two of our ships (nos. 357 and 358) took action.
10:15: Our ships approached the North Korean ships and attempted to force a retreat.
10:25: Three miles past the NLL, no. 684 opened fire. No. 357 was damaged.
10:25: Nos. 357 and 358 retaliate.
10:35: Two more of our ships enter the battle.
10:43: Two patrol boats attempt to join the battle.
10:43: No. 684 is catches fire.
10:47: The patrol boat begin firing.
10:50: No. 684 continues firing as it retreats north of the NLL.
10:51: No. 388, a North Korean ship in the vicinity, is engulfed in flames and has to be towed by no. 684.
10:56: Firing between the North and South Korea ships ceases and the situation calms.
10:59: No. 357 sinks.
7. 2009 Nov. 10: Naval battle of Daecheong
An exchange of fire takes place for two minutes near Daecheong-do, which is near the NLL in the West Sea.
The joint chiefs of staff explained that a North Korean ship, which four times had crossed 2.2 kilometers past the NLL 11.3 kilometers east of Daecheong-do at 11:27 am, was ordered to retreat, but they ignored the request and at 11:32 a South Korean ship communicated that it would fire a "warning shot" and, following regulations, at 11:36 it fired a warning shot one kilometer in front of the ship.
In response, at 11:37 the North Korean ship turned toward the South Korean ship, which was three kilometers to the south, and fired over 50 "intentional" shots, to which the South Korean ship responded with over 200 shots. The North-South firefight lasted two minutes, from 11:37 to 11:39 am, and at 11:40 the damaged North Korean ship went North and back over the NLL. The South Korean ship had been hit by 15 shells between the port bridge and the pilothouse but none of its personnel were injured or equipment damaged.
The North Korean military high command, with unusual speed, issued a "report" just four hours later, saying it was urgent "to discover the unknown purpose of crossing territorial waters," and at 11:20 said that "the purpose is known and our ship is returning" and argued that the South Korean ships "followed it and took drastic measures." North Korea demanded that South Korea "apologize" and "take responsibility" in order to prevent future incidents.