Archive for September, 2010
September 30th, 2010 · North Korea, Photos · 0 comments
Well, the Chosun Ilbo has a shot of the representatives applauding on their feet, presumably as Kim Jong-il makes some sort of announcement, such as his son becoming a general and this well on the way to being… well… just like his dad.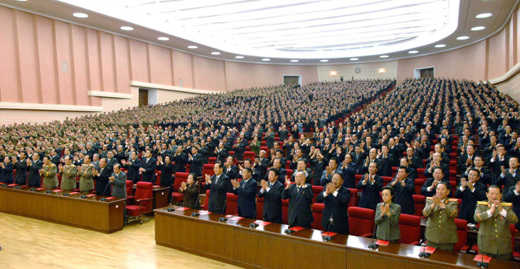 September 29th, 2010 · Education and ESL · 0 comments
Proof from The Marmot's Hole that it's not just Korean teachers making headlines for misconduct lately:
By criminal offense, 224 were booked for assault, 159 for immigration offenses and 91 for drug offenses.
Lee said credible verification procedures when hiring foreign English teachers were urgently needed to stop crime ahead of time.
September 29th, 2010 · Education and ESL · 0 comments
Original article in Korean is here.
With accusations that a professor at korea University sexually molested a graduate student, the university has confirmed that factfinding is underway.
An official at the university said on September 27 that, "in July A, a graduate student in the politics and economics school, reported to the university's gender equality center (양성평등센터) that she was in a noraebang with B, a professor and her advisor, when Prof. B sexually molested her and the center reported the allegations of sexual harassment and assault, and an investigation is ongoing." At the time, Prof. B and the advisee had been drinking and then gone into a noraebang, where the incident reportedly occurred.
The gender equality center then formed an investigatory committee, which called the involved victim-student and professor, then reported its findings to the university last month. One professor who participated in the committee said, "the results were not clear, but the victim-student and professor were in fierce disagreement… the committee will decide whether punishment is necessary based on its findings."
According to the school's articles of association, a punishment such as termination or reduction of status can be ordered by a punishment committee if there is a request. The university has cancelled the second-semester classes to be taught by the professor accused of misconduct because it made it difficult to conduct lessons.
The professor said in a telephone interview that, "there is no evidence but the student's word. Really, there is no evidence."
September 28th, 2010 · Accidents, Crimes and Scandals, Education and ESL, Legal news · 0 comments
Original article in Korean is here.
Update: You can view a TV report on the incident here.
A teacher who struck a student on the head, causing permanent hearing loss has been ordered by a judge to pay 50 million won ($43,176) in compensation to the student and his parents..
On September 24 Justice Kim Neung-hwan of the Supreme Court's first division affirmed the trial court's decision in the lawsuit filed by 16-year-old Gang and his family against Teacher Kim and Jeju Special Autonomous Province as operator of the elementary school, and ordered "Teacher Kim and the government of Jeju-do to jointly pay 49,560,000 won to Gang."
The court wrote, "we reject this appeal because the reason for the two sides' appeals is not due to any improper interpretation of the law or Constitution and is thus all the more serious."
Gang was a sixth grade student in October of 2005, when he got into an argument during class with Teacher Kim, whom he accused of lying, causing the teacher to explode in rage. Teacher Kim said "I'll hit you and retire from teaching" and then struck Gang's face with the palm of his hand several times, causing irreparable hearing loss in Gang's left ear.
Teacher Kim was indicted for causing the injury and in 2007 was sentenced by the Supreme Court to one year in prison and two years of probation, and the lawsuit then followed, with Gang seeking 120 million won from Kim and the Jeju-do government.
The trial and appeals courts recognized that, "[the defendant] is liable for compensation because at the time, it does not appear that other educational means, such as punishment other than corporal type or counseling, were impossible, nor is objective validity with respect to the method or the degree of the corporal punishment recognized, as Teacher Kim apparently slapped the student's cheeks in a fit of rage."
As the trial and appeals courts saw it, "Gang also acted improperly, which led the act of violence, and that was the main cause of the incident," and so he had to bear 30 percent of the responsibility.
September 27th, 2010 · Accidents, Crimes and Scandals, Foreigners · 0 comments
Original article in Korean is here.
The Gumi Police Department in Gyeongsangbuk-do announced on the 27th it had arrested 25-year old G, who is Chinese, on charges of killing a pedestrian in an autojmobile accident and then fleeing the scene.
According to police, at approximately 8:30 pm on the 22nd G, an illegal immigrant, fled the scene after striking seven pedestrians, killing two and injuring seven, after crossing the center line when driving a sedan in Gumi University.
Police used security cameras to determine the suspect's car, which was undamaged and had tinted windows that revealed a mobile phone number, leading police to G.
G told investigators that, "I'm an illegal immigrant and don't have any driver's license so when the accident happened I got scared and left."
September 27th, 2010 · Photos · 0 comments
The South Koreans took the championship at the FIFA U-17 Women's Championship in Trinidad and Tobago.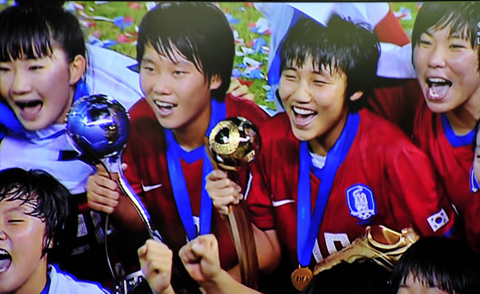 September 26th, 2010 · Stories of the Day/Week/Year · 0 comments
Here are the top 10 most read in the Naver.com society section.
1. If your husband is spending a lot of time in "kiss rooms", you may want to divorce him. OhMyNews decided to find out just what goes on in them.
2. An article looking back on the career of "living legend" (살아있는 전설) Yang Jun-hyeok, the who hit .316 with 351 homers over a 2,135-game career in the KBO.
3. A man murdered his wife and chopped up her body; the media astutely notices he "had two faces".
4. Supposedly police will be handing out fines for smoking outdoors in certain areas. We'll see.
5. A woman killed herself by drinking poison after an argument with her husband over the proper way to observe Chuseok.
6. More on story #3.
7. Another man was arrested for rape and murder.
8. More on story #3.
9. Ways to bring up your score on the university entrance exams.
10. The Seoul drainage system isn't adequate to deal with heavy rains.
September 24th, 2010 · Accidents, Crimes and Scandals, Foreigners, Transportation and Urban Design · 0 comments
Original article in Korean is here.
The Gangseo Police station in Seoul has arrested 31-year-old Mr. Kim on charges of sexually molesting a foreign woman in her 20s after following her for two hours.
Mr. Kim followed the 25-year-old English instructor, a citizen of the United Kingdom, on the night of September 12 beginning in Itaewon Station in Itaewon, Seoul, and continuing to Kkachisan Station in Hangok-dong before sexually molesting her by feeling her body and other actions.
Police investigators found that Mr. Kim has been treated for mental illness for over a decade, and last May was arrested for sexual molestation.
September 24th, 2010 · Accidents, Crimes and Scandals · 0 comments
Original korean article is here.
The West gimhae Police Station in Gyeongsangnam-do announced on September 23 it was investigating after arresting two foreign industrial trainees on charges of committing assault because someone would not drink alcohol with them.
According to police, at approximately 10.30pm on the September 22 in the living quarters for foreigners at D-Metal in Hallim-myeon, they were drinking with 25-year-old A when he refused to drink the alcohol they wanted, starting a verbal argument that led to assault with a deadly weapon.
A sustained leg and facial injuries and is being treated in hospital, where his life is not in danger.
Police are investigating two foreign industrial trainees to determine their role in the incident.
September 24th, 2010 · Accidents, Crimes and Scandals, Transportation and Urban Design · 0 comments
Somehow a train waiting at a depot or something burst into flames.