Archive for August, 2010
August 31st, 2010 · Photos · 0 comments
Yikes. This is in Tokyo, by the way.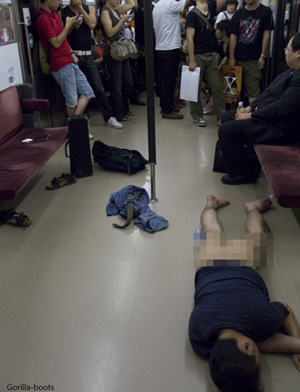 August 31st, 2010 · Education and ESL, Surveys and Studies · 0 comments
Original Korean article is here.
With controversy over the forced or voluntary expulsion from school of teenagers because they become pregnant or give birth, the National Human Rights Commission (국가인권위원회) has asked government agencies to form policies that will protect the educational rights of unmarried mothers.
An official with the Commission said, "we have asked the ministries of education, family, and social services and the various city offices of education ot form policies that will both determine the numbers of unmarried teen mothers and allow them to continue their studies."
Last year the Commission surveyed 63 unmarried teen mothers, producing a study, titled 청소년 미혼모의 교육권 보장 실태조사, according to which six of them had been persuaded to drop out of school either temporarily or permanently once their pregnancies were discovered. 45 of them dropped out before their pregnancies could be found out. A, a single teen mother living in a shelter in Seoul, said, "it wasn't just that I was pregnant,  people were insulting me and following me around the school… I want to wear a school uniform just like my friend, I want to study."
An official with on social agency said, "frankly, most schools force them to drop out to protect their own reputations while claiming it's a school regulation."
Of course, each city office of education is planning to establish alternative schools so that unmarried teen mothers can finish their educations and receive diplomas, but there are doubts it will really happen. This September Ae Ran Won, the alternative school in Seoul, will hold its first lesson, with just one unmarried mother having signed up.
An official with Ae Ran Won said, "it's very difficult because permission must be obtained from the original school, and there has been no publicity yet at all… society must pay more attention to what they are asking for after having lost their opportunity for an education."
August 30th, 2010 · Announcements, Foreigners · 0 comments
Mike Simning, a well-known figure in the Gwangju expat community, has been diagnosed with leukemia and needs transfusions of B- blood. This is a very rare blood type in Korea, so appeals are being made to the expat community. If you know you have B- blood you can really make a difference here. If you do not know your blood type you can get tested easily. Plenty of information about Michael's case and how to help is below; there is also more information at Brian's blog.
A few days ago Michael Simning – an expat in Gwangju – visited the hospital because he wasn't feeling very well.
He discovered that he has leukemia, was admitted into the hospital immediately (where he will stay for at least a month), and has started to undergo chemotherapy treatments.
As part of his treatment Michael needs to receive several blood transfusions.
Michael's blood type is B-, which is very rare, and so he, his family, and his friends are trying to find people in Korea who can donate blood to him immediately as well as periodically throughout the next couple of weeks. (O- blood won't work in this case.)
If your blood type is B-, and you are able and willing to donate, please consider contacting Tim Whitman at 011.9600.6378 or tugrocers@gmail.com. Tim will pass your name and phone number along to Michael and his family.
You can also help by passing this message along to friends of yours here in Korea too.
Many people – unfortunately – don't know their blood type. You can find out yours – and at the same time find out if you can help Michael – by visiting a hospital in your area.
The procedure is relatively painless and should only take a few minutes.
In case you're worried about communicating with the staff, you can print out and show them the following information, which explains to them why you're there and why you need this information:
친구가 백혈병에 걸려서 도움이 필요합니다.
제 친구는 Rh-B 형 입니다.
제 혈액형 검사받고 하고 싶습니다. Rh-/Rh+ 인지까지 정확히 검사 받고싶습니다.
Once you find out your blood type, and if it is B-, you can do the same as those who already know theirs: contact Tim Whitman at 011.9600.6378 or tugrocers@gmail.com.
In the meantime Michael's immune system is very weak so he isn't able to receive any visitors. He is able to communicate using the internet and telephone, however, and many friends have been wishing him well using Facebook.
And as a side note from me, a friend: Mike's sickness and rehabilitation may cause a lot of financial strain to him and his wife and daughter, so if you are in Gwangju, please consider supporting him in a very direct manner by shopping at the Underground Grocers and by eating at the First Alleyway, both of which will remain open in his absence.
Underground Grocers is open on Wednesday from 11 to 7, on Thursday and Friday from 1 to 7, and on Saturday and Sunday from 12 to 7; the First Alleway is open Wednesday to Saturday from 5 to 10ish and on Sunday from 11 to 5 for an all day breakfast.
August 29th, 2010 · Stories of the Day/Week/Year · 0 comments
Here is a list of Naver.com's Top 10 in society.
1. A family of five was arrested for not paying their room service bill in a top hotel.
2. Students and hagwons are reacting to the changes in college admissions.
3. 22 Koreans were taken hostage on a bus in Manila.
4. A look at the types of Koreans who find themselves most marriageable– the so-called 최고의 스펙.
5. More on the bus incident in Manila.
6. Five college students sexually assaulted a female middle school student.
7. The infamous PD Notebook program went on air with a controversial program about the Lee administration's "Four Rivers" project, which would build a series of canals while wrecking the environment.
8. A profile of Korean mountain climber Oh Eun-seon.
9. Same story as #8.
10. A look at the financial lengths people will go to to live in Gangnam.
August 27th, 2010 · Accidents, Crimes and Scandals, Legal news, Surveys and Studies, Women in Korea · 0 comments
The Munhwa Ilbo reports that just 1 in 9 (the reporter mistakenly writes 1 in 8) sexual assaults in Korea are reported to police.
The number of women in our country who have suffered a sexual assault is actually eight times the number reported, a study has found. Furthermore, not all assault or burglaries are reported either, the study found.
At the first annual crime research conference (전국범죄피해조사 학술대회), held by the Korean Institute of Criminology (한국형사정책연구원), the dissertation, titled 범죄 피해율과 공식범죄 발생률 간의 비교분석, was presented by researcher Hwang Ji-tae. Hwang said on the 25th that, "for every 100,000 women in 2008 there were 467.7 victimized by sexual assault or molestation, eight times the 58.3 who went to authorities."
This means there are many crimes which occurred but do not appear in official statistics. These are crimes that were not reported to investigative authorities such as the police. Accordingly, the study found that just one in eight sexually assaulted women go to the police, while the rest are not reflected in the official statistics.
It has been the general understanding that many more sexual assaults occur than are reported, but this study is the first to produce relatively concrete figures.
The study compared official statistics with the results of the researcher's own survey. The dissertation arrived at the figure of 467.7 women per 10,000 by surveying a sample of 5,559 women and finding that 26 had been sexually assaulted.
Also, 36 had suffered a forcible rape going beyond sexual molestation, 9.5 times the official figure of 3.8.
Researcher Hwang said, ".the low reporting rate for sexual assaults is due to the poor reaction society has to the crimes as well as the sense of shame felt by the victims… various policies that could significantly raise the reporting rate are needed."
August 27th, 2010 · Entertainment, Photos · 0 comments
The Miss Universe competition put together this graphic of the (from left to right) Misses Japan, Korea, and China. The Sports Chosun reports that Kim Ju-ri's fans naturally find her the most beautiful, with one netizen writing 우리나라 사람이어서 그런게 아니라 한국인이 진짜 에쁘다 ("it's not because I'm from this country, it's that Koreans really are the prettiest").
August 25th, 2010 · Education and ESL · 0 comments
Original article in Korean is here.
"Our A is so cute with such a white face, no? She tells me that what she wants to do here the most is study really hard."
On the morning of August 23, 15-year-old A, a third-year middle school student, was bashful as she introduced herself in jeans and a white t-shirt after being introduced by Lee Chan-mi, a social worker.
That was the scene in class on the first day of operation for the Narae Alternative School (나래대안학교), the first alternative educational institute for unmarried students in the entire nation. It was a time for them to see one another's faces and introduce the school members sitting with them.
The students in the first day's class included A and one other, a first-year high school student. The two attended regular schools until it was found they were pregnant. The students now receive regular lessons here, and when they graduate they will receive diplomas from their original schools.
The Seoul Office of Education (서울시교육청) chose Ae Ran Won (애란원), an organization for unmarried mothers, to be the site of the education facility, and the Narae School now operates from the same building and protects the educational rights of unmarried mothers.
On August 23 the Ministry of Science Education, and Technology (교육과학기술부) published a report, titled 학생 미혼모 실태조사 연구, according to which there are 73 unmarried mothers living in the 35 facilities for them nationwide and 85% of them are not attending school. Many of them were forced to drop out when their schools discovered their pregnancies or else put their schoolwork on hold to give birth and take care of their babies.
17-year-old B, a second-year high school student who sat in on a class at the Narae School and hopes to attend, has the same situation. In May her school forced her to drop out when it discovered she was pregnant. "The other students will be harmed," was the reason.
Due to give birth in December, B said, "I guess I would have had to study by myself and just get a GED, so I'm extremely happy there is this place where I can graduate and a diploma from my old school… my dream is to study hard and become a hair designer."
The unmarried mothers who enter the Narae School live in Ae Ran Won and study five subjects (Korean, English, math, social studies, and science) for two to three hours per day, and then take courses in preparation for parenthood and vocational licenses. Ae Ran Won contains a nursery and after givign birth the mothers can study while living with their babies. After giving birth they may go back to their original schools if their health permits and if the school accepts them.
Seoul and Incheon are the only areas with education institutes for unmarried mothers. The Ministry plans to have the 16 city and provincial offices of education each establish at least one such institute next year.
Of course there is no such facility for the miserable screw-up fathers, who are not expelled and will graduate as if nothing happened.
August 25th, 2010 · Photos · 0 comments
A North Korean soldier stationed at Panmunjeom recently found an unusual way of holding his binoculars.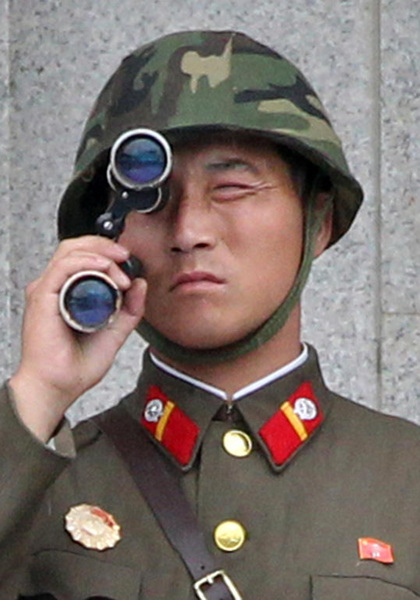 August 25th, 2010 · Accidents, Crimes and Scandals, Education and ESL · 0 comments
Original article in Korean is here.
At approximately 5.43pm on August 25 in a music hagwon in a two-story building in the Geumcheon-dong neighborhood of Cheongju, 24-year-old Ms. Baek died from smoke inhalation after a fire of uncertain origin broke out. 15-year-old Jang, a female student, is being treated in hospital.
The fire burned for over 30 minutes after consuming the musical instruments, including drums, guitars, and pianos, in the approximately 33-square meter music hagwon.
Police and fire authorities are investigating the cause of the fire and the extent of damage based on interviews with eyewitnesses.