Archive for May, 2010
May 29th, 2010 · North Korea, Politics · 0 comments
Writing in The New York Times, North Korea watcher B.R. Meyers takes a look at the South Korean public's reaction to the Cheonan saga, and says what many expats have probably been thinking.
One of the students at my university was killed in the attack that sank a South Korean naval vessel on March 26. A visual communications major, Mun Yeong-uk was only a few months from concluding his military service when a North Korean torpedo split the warship, the Cheonan, in half. His classmates loyally collected money for his family's funeral expenses, but I was struck by how few people on our campus evinced any real anger toward the regime of Kim Jong-il.
This lack of indignation is mainstream here. Most people now accept North Korea's responsibility for the sinking that killed Mr. Mun and 45 other sailors. A small but sizable minority suspect an elaborate government conspiracy of some sort. What almost all seem to share is the desire that South Korea put this unfortunate business behind it as soon as possible.
…
This urge to give the North Koreans the benefit of the doubt is in marked contrast to the public fury that erupted after the killings of two South Korean schoolgirls by an American military vehicle in 2002; it was widely claimed that the Yankees murdered them callously. During the street protests against American beef imports in the wake of a mad cow disease scare in 2008, posters of a child-poisoning Uncle Sam were all the rage. It is illuminating to compare those two anti-American frenzies with the small and geriatric protests against Pyongyang that have taken place in Seoul in recent weeks.
May 29th, 2010 · Photos, Sports · 0 comments
The "elf girl" (엘프녀), Han Jang-hui, is back as the 2010 World Cup is set to begin. You'll recall she originally became semi-famous for her supposedly elf-like appearance during the 2006 games, and is now hawking a new online photobook. She previously recorded a music video.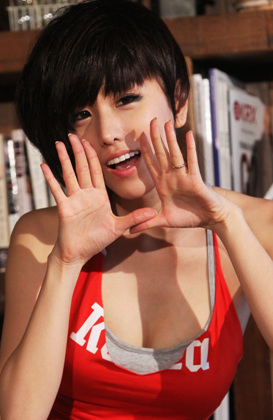 May 27th, 2010 · Accidents, Crimes and Scandals · 0 comments
Yeah. This.
A group of seven teenagers were caught by police for committing over 20 burglaries at the scenes of which they had left their cigarette butts.
The Sangdang Police Station in Cheongju announced on the May 27 it had caught seven people, including a 17-year old male named Shin, arresting two and booking another five without detention, on charges of burgling empty homes and apartments.
According to police, Shin and the others committed 24 thefts of items worth 7,500,000 won, including of sports uniforms from an elementary school in Cheongju on May 17.
Police caught them by conducting DNA tests on the cigarette butts they left behind at the scenes of their crimes.
Police said, "the accomplices were arrested after they confessed to other thefts in our station under pressure because of the DNA tests."
May 26th, 2010 · Education and ESL · 0 comments
24-year-old Yen Zi-long, a student in the communications department of The Catholic University of Daegu, was president of a student association from September of last year through February of this year. The over 400 students (from 10 countries) who attend the school created the foreign students' association. The foreign students' association runs various multicultural events such as charity Korean language education, and students attend. The university supports the foreign students' association with generous financial assistance.
Yen said, "I don't have many chances to interact with Korean students, and when I see foreign students who don't attend our events I felt bad, so we created the association… it's more about communicating with Korean students than it is about our rights." 24-year-old Zhang Chong, who in March of this year became the association's second president, said, "we will try to expand to other universities."
Foreign student numbers are growing rapidly at domestic universities, and activity to establish foreign students' associations is quickening. The universities do have organizations similar to help centers, but like the student associations they have limits to how close they can come to the students. Seoul National University has the SNU Inter-national Students Association, founded in 2007 and composed of over 1,200 foreign students, which puts on sports festivals and charitable activities every year.
Foreign students welcome foreign student associations. 22-year-old Qu Song, a Chinese student in the trade and commerce department of Kyung Hee University, said, "foreign student groups have limits, because they are just friendly groups that can't get the university to change its policies, but a foreign student association can make our voices be heard."
The lead student association at Kyung Hee University has already pledged to create a foreign students' association. There are over 3,500 foreign international students at Kyung Hee when graduate students are included. They are slightly different from basic foreign students' associations. The main student association there is an independent organization rather than an umbrealla organization or friendly group. Kyung Hee University currently has foreign student groups scattered through the main university and its component schools. The main student association plans to combine them through a vote.
To do so the student association is hiring an executive leader for the foreign student association, and has also pledged to create a foreign students' meeting room. To create a more cohesive student association, it is also considering whether to form foreign student associations for specific nationalities. 25-year-old Yu Seung-hyeon, the female head of the main student association, said, "we will support efforts to create a student organization where there is sufficient communication with foreign students." A Kyung Hee University employee said, "if a foreign student association is formed we will support it in various ways."
May 26th, 2010 · Humor, Photos · 0 comments
Original article. This translation comes from reader Christina Murphy.
Yang Pilho's "Messenger of the Sky" has been chosen as one of the best weather photographs in a competition.
The photo chosen captured false images in the Antarctic sky of what seems to be a UFO.
Yang Pilho has received appreciation for his photograph, 'Messenger of the Sky' taken in the Antarctic daytime in typical Antarctic conditions such as intensive winds. Atmospheric conditions such as this caused the appearance of UFOs in the picture.
May 25th, 2010 · Photos · 0 comments
A woman pretended to kick a poster of Kim Jong-il in Seoul on May 23.The occasion was some sort of art exhibit commemorating the Korean War.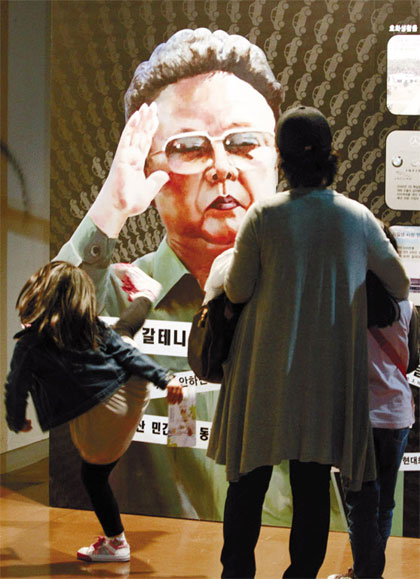 May 24th, 2010 · North Korea, Photos · 0 comments
I'm not exactly sure what he was doing there, but in this picture he seems to be gesturing at an oversized Nintendo controller. Anyway, the current body double seems to have ditched the jumpsuit for something a tad more stylish.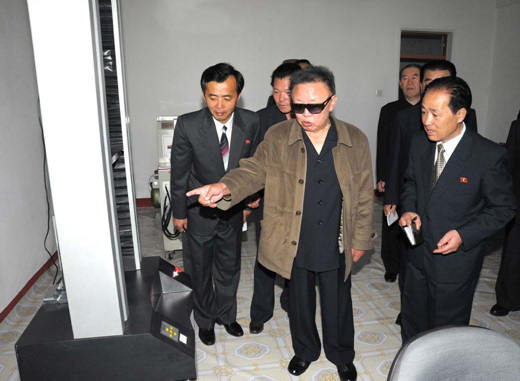 May 24th, 2010 · Legal news · 0 comments
I'm of two minds about this story (which is a little old). On the one hand, it's great to be able to open up the 인권/복지 section of Naver every day and see that human rights stories and groups are getting new headlines. On the other hand, the organizations would probably be more effective if they didn't go around touting how many relatively trivial issues they address.
At the beginning of his month Ms. Kim, who is in her 30s, suffered a humiliating episode in the Seoul police station she had been called to for an investigation.
She stepped into the investigation room's bathroom but found herself completely exposed in a unisex bathroom with a large and completely transparent glass partition on the door.
Ms. Kim asked the officer in charge if she could use an exterior bathroom but the answer was that she could not go outside, and if she did not use the interior bathroom she would just have to hold it.
Controversy began on the the over "the investigated woman who opened the bathroom door."
The bathroom, which is mainly used by men or simply for handwashing, has no lock on its door and the large glass partition allows any tall person to easily see inside.
It is now being said that it is a human rights violation for most of the investigation room bathrooms in the station to be unisex and to have large glass partitions exposing their users.
On the 22nd Yonhap News visited 31 investigation room bathrooms in Seoul, fining that just six were not unisex..
Also, in twenty of the bathrooms there were no locks, glass partitions on the doors, and door heights were installed at waist-level, all showing a lack of regard for the existence of women.
They were set up so that the inside could be viewed from above on the other side, but that creates the danger of even exposure even to those not attempting to peep. Women who need to use the bathroom during an investigation have no choice but to bear the humiliation.
Ms. Kim said, "I spoke with the person responsible but it was no use. I felt angry and ashamed while using the bathroom."
The officers who use the bathrooms while on duty feel similarly.
One officer named Lee said, "when we are busy it is difficult to accompany a woman to an exterior bathroom. It's a difficult situation, they should put in women's bathrooms that can be used anywhere."
A member of the SARANGBANG Group for Human Rights (인권운동사랑방) said, "the problem would melt away by simiply having female officers accompany the women to an external bathroom, so think about it only from the point of view of the convenience of the investigators is the cause of the issue. There need to be clear standards for human rights during investigations."
May 23rd, 2010 · Education and ESL · 0 comments
1. The parents of the student accused in the "여대생 패륜녀" scandal made an apology to the victim. Although it occurred just 10 days ago the incident already has an entry on Wikipedia. It involved a female student at Kyunghee University who insulted a member of the maintenance crew over a milk carton. Read more at Brian's blog.
2. A man was arrested after kidnapping and sexually assaulting a young girl, and people want answers why he wasn't caught earlier since it has come to light that he has repeatedly committed similar crimes.
3. More in the Kyunghee University incident.
4. Police are investigating the mysterious death of a woman in her 20s found with an oxygen mask on her face.
5. Ahn Seung-pil, a 60-year old who won a small fortune at the casino in Kangwon Land, is donating it all to KAIST. You can read more in English here.
6. More on the Kyunghee University incident.
7. A piece on the controversy over how MBC handled the firing of "Newsdesk" anchor Gwon Sun-pyo.
8. A 40-year old man was arrested for repeatedly the two daughters of a man who had taken him in after he became homeless.
9. An article about the deep thoughts of the reigning Miss France.
10. An unusually large number of wild ginseng plants are growing.
May 22nd, 2010 · Photos · 0 comments
A new baby Golden Monkey was born in the zoo at Everland recently.