Archive for December, 2009
December 31st, 2009 · Transportation and Urban Design · 0 comments
http://news.naver.com/main/hotissue/read.nhn?mid=hot&sid1=102&cid=307224&iid=145093&oid=002&aid=0001957356&ptype=011
#1. Choi Yeong-eun (a pseudonym), who suffers from brain damage, used a handicapped bathroom on line 5 of the Seoul subway in November only to have serious difficulties. Before Ms. Choi used the bathroom it had been used by a man who left in a terrible mess. Ms. Choi was unable to use the bathroom in that state. Men and women use their bathrooms in different ways, so every time Ms. Choi uses a bathroom she is left feeling angry.
#2. Bae Eun-seok (a pseudonym), who suffers from brain damage, wanted to obtain insurance for her child during her second preganncy. But the insurance company refused to insure a disabled mother. Company A requested a comprehensive medical examination, and company B flatly refused to ensure a disabled mother. Ms. Bae was eventually ensured by 아기사랑보험, providing insurance from birth until adulthood.
It has been over one year and eight months from the enactment of the law (장애인차별금지법) banning discrimination against the disabled, but discrimination on the basis of disability continues unchanged. Women with disabilities, in particular, face an increasingly difficult situation.
On the 28th in Seoul the political association for the abolishment of discrimination against disabled women (장차법 여성 장애인 차별 금지 연대 회의), composed of the groups Differently Abled Women United (한국여성장애인연합), the Disabled Women's Network (장애여성네트워크), Women with Disabilities Emparty (장애여성공감), and DDASK (장애인차별금지추진연대), held a press conference at the National Human Rights Commission (국가인권위원회) and for the past month has held many conferences to highlight instances of discrimination against disabled women. Each instance has been recorded and sent to the Commission.
The group explained the background of its campaign by saying, "the situation of discrimination against disabled women, who are numerous in our society, combines discrimination on the basis of disability and gender and is commonplace… Disabled women wish to be recognized as women and respected."
The report filed at this press conference names the Seoul Metropolitan Rapid Transit Corporation and certain insurance companies. The group named the SMRT because, "disabled women have been long requesting the SMRT to install sex-segregated bathrooms but subway stations in Seoul continue to force disabled men and women to use the same bathrooms."
The group said, "our request for sex-segregated bathrooms illustrates the fact that society fails to consider the existence of the disabled… The discrimination and prejudice experienced by disabled women is linked to the social mindset."
They pointed out that, "handicapped bathrooms separated according to sex and handicapped women's bathrooms are sometimes installed with diaper-changing facilities and cleaning tools." They added, "this is because of the social mentality that taking care of children is women's work and that disabled bathrooms are so little used they can be treated as storage closets for cleaning tools."
Kim Hyo-jin, representative of the Disabled Women's Network, said, "the bathroom issue may seem picky and insignificant, but it is a fundamental problem… Bathrooms that treat disabled women as sexless must be overhauled."
The group also reported a "serious situation of the rights of mothers" regarding discrimination by insurance companies against disabled women. They said, "one example is that of Mrs. Bae, the disabled mother of two children… But disabled women mothers cannot get insurance because of their disabilities."
The group explained, "the greater problem is that because their mothers are disabled, infants who have not yet seen the light of the world are being discriminated against by society… When she wanted to obtain insurance for her second child after being a good mother to her first child, she was absolutely refused insurance on account of her disability, an example of our society's discrimination against disabled women."
They said, "disabled women experience discrimination in every role they take in society throughout their lives, from travel to education, work, marriage, health, and sex…. The reportsour group has compiled illustrate the discrimination that disabled women face and the violations of their sexual identities and rights to travel, education, insurance, and maternal rights."
For one month, beginning November 24th, the group collected instances of discrimination against disabled women in travel, applications, education, culture, and elsewhere with the lack of proper accommodations being the most common with seven instances. There were six instances of handicapped bathrooms not having separate facilities for men and women, five instances of sexual molestation or assault of disabled women, and four instances of verbal degradation including being treated like a child, out of the 24 collected.
December 31st, 2009 · Photos · 0 comments
North Korean soldiers eye their South Korean counterparts at the Joint Security Area in Panmunjeom on the 30th.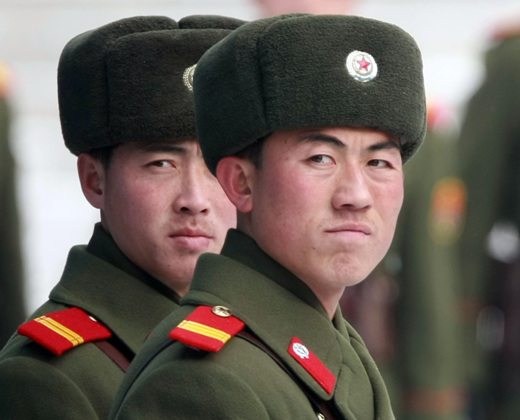 December 30th, 2009 · Photos · 0 comments
The Chosun Ilbo has up a very neat gallery of artist Kim Dong-ok at work making paintings of tigers with an unusually large brush to celebrate the coming of 2010, which will be the Year of the Tiger.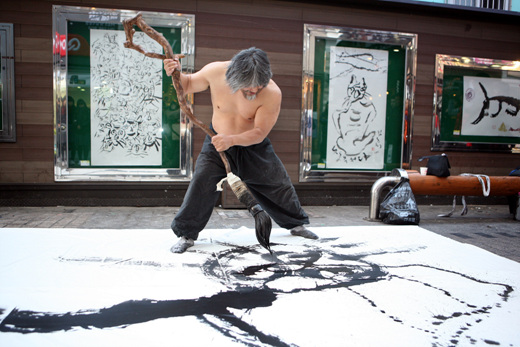 December 30th, 2009 · Humor · 0 comments
Via reader Walter F. comes this gem:
"He went into the john and did a line."
화장실에 들어가더니 뽕 한데 맞고 오더군
December 29th, 2009 · Legal news, Surveys and Studies · 0 comments
That's the finding of this study, which appears to recommend lengthening sentences.
A study has found that two in three sex offenders have committed a separate offense, including sex crimes.
According to the results of a survey of 341 people convicted of sexual assault (rape) in 1999 and 2000, conducted with the permission of the Supreme Court by Hallim University professor of psychology Jo Eun-gyeong, 64.2 percent (219) of the convicts had been convicted of other crimes, including sexual assaults.
The 219 recidivists had committed an average of 2.35 other crimes, and went an average 3 years and 5 months before being caught.
Of the 341 convicts, including the 35.8 percent who were non-recidivists, 11.1 percent (38) were convicted of a sex crime and the remaining 53.1percent (181) were convicted of a non-sex offense.
66 had records of sex offenses before the survey began, and 72.7 percent (48) of them re-offended with 28.8 percent (19) committing a new sex offense.
The study also found that re-offenders who were young and had previously served time in prison were greater re-offense risks.
Prof. Jo said, "We found that non-recidivists had received longer sentences than recidivists… This could be seen as meaning severe sentences are effective, but it could also mean that full consideration is not given to recidivism risks at the time of sentencing."
December 28th, 2009 · Accidents, Crimes and Scandals, Education and ESL · 0 comments
I'm not going to suggest this is the only way not to do it, but it would seem to be near the top of the list.
On the 26th the Jungbu Police Station in Suwon arrested 24-year old judo coach Mr. Jeong on charges of using a metal pipe to beat an elementary school-aged judo student, inflicting serious injury.
According to police, Mr. Jeong is accused of beating an 11-year-old boy named Kim, a fifth grader, dozens of times using a metal pipe as part of the judo training process in a Suwon middle school gymnasium on October 19th.
Kim received two skin grafts in a general hospital in Suwon and has not been released.
Investigators found that Mr. Jeong, a former judo competitor, had been teaching the students that day as a regular judo coach hired by the local district office.
December 28th, 2009 · Photos · 0 comments
The tigers in Everland got some good looks at one another's tonsils on the 28th.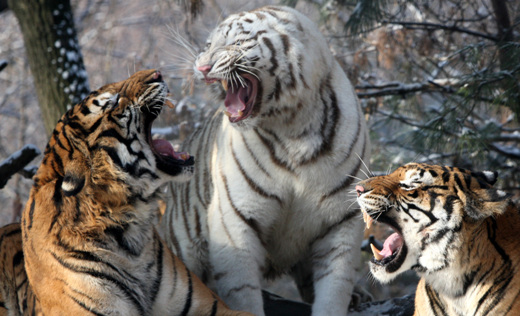 December 26th, 2009 · Accidents, Crimes and Scandals · 0 comments
A reporter with the Joongang Ilbo recently went to meet the little girl known as Na-young, and found her recovering well from the horrible crime she suffered about a year ago.
The child's double eyelid-less eyes shone playfully.When I met the child on the 16th, she hid behind a column and laughed while sticking out her head. We introduced ourselves and her face turned red. Pen and paper were produced and the child drew various pictures. A baby bird was receiving a present from its mother, and a child dressed in red, just like her, smiled brightly. Not showing her face, the child had been communicating her thoughts through pictures. The nine-year girl is the one known by the name "Na-young".
This was not the first picture drawn by Na-young that the world saw. That was a picture asking that 57-year old Jo Du-sun, the man who sexually assaulted her, be punished by being beaten in a prison full of cockroaches. The media reported the picture in her place. After the incident the child suffered from depression and disabling stress from her injuries. She portrayed her pain in her drawings. Na-young's voice and laughter had disappeared. She would become irritated by the slightest action of anyone nearby. Small noises would startle her, and she would bury her face in her hands.
The child thought the incident had been her fault. Na-young received mental health treatment for two months afterward. Yonsei University professor Shin Ui-jin, a former family doctor, said removing her self-guilt was the first goal of her mental treatment. "It is not your fault. It is the man who is bad."
After her story was reported on October 31st, the nation reached out to her. A medical equipment business adapted an adult colostomy bag to her child's body. Prof. Han Seok-ju of Severance Children's Hospital offered to perform surgery to restore her anus. If it works she can discard the colostomy bag. Na-young's father said, "the interest and kindness of strangers saved my daughter."
Na-young has changed. She said she wanted to go to school. Her parents wanted to transfer her to a different school, but she said there was no need. She began inviting her friends to their home. In September she began attending a hagwon. But the hagwon is right across the street from the scene of the crime. Her father hesitated. But Na-young said she didn't care. She said she like studying math. Her grades were nearly the same as before the incident. She scored over 90 on her latest test. She laughs and her depression has disappeared, and she has begun holding hands with people. The picture Na-young showed to this reporter was titled "change".
Though she previously wanted to be a chef, her new dream is to be a doctor. I asked her the reason. "I was sick and the doctor helped me." Prof. Shin said, "Na-young is now 70% recovered. The only thing left is to go through puberty."
Na-young sent a picture and card to Prof. Shin and attorney Lee Myeong-suk, the human rights director of the Korean Bar Association (대한변호사협회). In neat handwriting she wrote, "Teachers! Thank you for taking care of me so well." Next to her, her father smiled. "That's what Na-young is going to write to everyone who helped her and supported her."