Archive for November, 2009
November 30th, 2009 · Accidents, Crimes and Scandals, Foreigners · 0 comments
I've just received this e-mail message from Dylan P., apparently the brother of the girl who says she was nearly gang-raped in Itaewon by a group of men in a limousine. If anyone would like the contact information for Dylan, please get in touch with me.
UPDATE
Sat, Nov 28, 2009
We would like to further update you on the event and the ongoing investigation.
On the evening of Saturday, Nov 21, and the early morning of Sunday, Nov 22, the victim was enjoying an evening out with her friends in Itaewon. At approximately 3:20am she walked down to the main road of Itaewon to get a taxi home. The next thing she knew, she was being pushed into the back of a car by 2 men. Although she cannot remember the exact route, she does know that they were heading out of Itaewon in the direction of Noksapyeong Station. The exact route after that remains a mystery due to the assault. The vehicle was a car/ limo that had 3 dark colored seats facing 3 adjacent seats in the back. The windows were tinted. The backseat was not lit making it difficult to see. There were 4 or 5 men inside the car including the driver. She didn't notice a partition between the driver and the back, if there was one, it was down. There were 2 men on either side of her, 1 across from her and a driver. There may have been another man in the back facing her. The men in the back were all wearing dark suits and white shirts. They were speaking Korean to each other when she was first pushed into the car. She had no idea what was going on or where she was going and she continually asked to be let out of the car. She became very upset. Then one of the men sitting beside her reached across her and pulled up her jacket and went for her pants. She started to scream and shout. At this point 1 of the assailants began to punch her in the face repeatedly, yelling at her to "shut the f@%k up". She believes that the other men in the car also punched her during the assault. This continued for approximately 10 mins. The victim defended herself and fought off the men, resulting in them saying, "She's not worth it." Then they pushed her out of the moving car on the road that loops around Mt.Namsan (So Wol Gil) past the entrance to JJ Mahoney's near the Hyatt Hotel at 3:45am. We know this because this was when she made her first phone call. She suffered severe head and facial trauma from the assault and from being pushed from the car.
The man who did the majority of the assaulting was sitting across from her. He can be best described as short to medium height and small to medium build. He had to get out of his seat to assault her. Facially, he had a lean face/ jaw, black medium length hair down to his ears, parted on the right hand side, which fell in front of his eyes during the assault.
Please understand that some of the details might have changed or be a little hazy from the initial posting due to the severe emotional and physical trauma that she suffered from this assault.
She was immediately brought to the hospital where the authorities were contacted. The police came, took pictures and asked questions. In the last week, to the victim's knowledge, the police have been reviewing CCTV cameras around Itaewon.
Again, if anyone has any information in regards to this crime, please contact the Yongsan Police Station (Cho Ju Hyun, 016-513-6563) or email her brother. The authorities are still seeking more leads, witnesses, or anything that might lead to the apprehension of these animals.
Lastly, we would like to thank everyone for their support, well wishes and assistance over the past week. We would also like to remind everyone to be aware of your surroundings, take care and look out for one another.
November 29th, 2009 · Stories of the Day/Week/Year · 0 comments
1. The country saw its first case of someone being cured of swine flu only to contract it a second time.
2. Six foods to eat to prevent menstrual cramps.
3. Photos of a celebrity couple.
4. A look at the life of serial killer Jeong Nam-gyu, who committed suicide while on death row.
5. An article about people hoping to pass exams to get jobs with big companies such as Samsung.
6. The Constitutional Court ruled that it violates the Constitution to prosecute people for seduction.
7. An early report of Jeong Nam-gyu's suicide.
8. 244 out of 10,821 applicants passed the exam to work for a government ministry.
9. A look at debates sparked by Jeong Nam-gyu's suicide.
10. Something about one of the exam winners from story 8.
11. A look at how upper class Gangnam mothers pick their children's friends.
November 28th, 2009 · Photos · 0 comments
Yes, that is President Lee. No comment.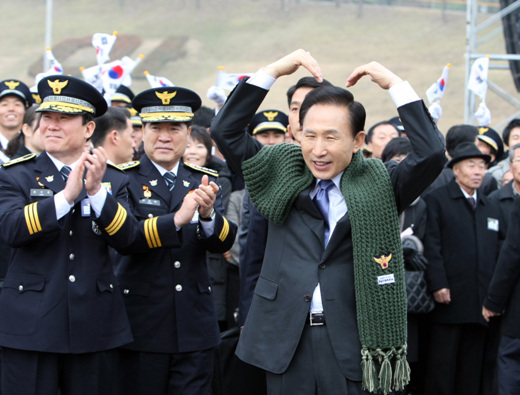 November 28th, 2009 · Accidents, Crimes and Scandals, Politics · 0 comments
Mayor of Yangsan Oh Geun-seop committed suicide on the morning of the 27th. Mourners at the memorial service were captured by Chosun Ilbo photographers.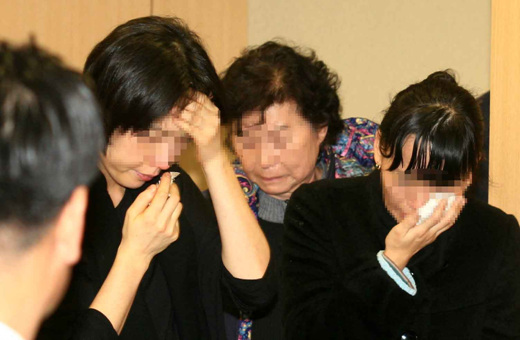 November 27th, 2009 · North Korea · 0 comments
With a big hat tip to The Marmot's Hole, and after long delay, here is an interesting article published in the Joongang Ilbo in August.
Keeping in mind the reconciliation mode that the North-South relationship has entered, we examined the current situation. Does North Korea have pornography and adult products? Numerous reports we heard said the answer is "yes". Truly, how could there not be adult products in a place where humans live.
This matches the transition to the rule of Chairman Kim Jong-il, known to be a lover of mass media and erotica, from the repressive regime of Kim Il-sung.
As soon as the transition had been made sexy magazines and books began to appear, led by '은밀한 이야기', which collected sexy stories and dirty books. In the mid-1990s '피죽도 못 먹은 것 같은' secretly filmed North Korean dancers dancing nude or in bikinis, but the unfunny truth is that that and other adult products were seized by authorities as soon as they were disseminated.
The price of renting it is just 1,000 won in our currency, but for ordinary people, not authorities, to view it that price would require them to give up eating and drinking. Even so, a person may desperately save up enough money for it beginning as a middle school student, desiring the satisfaction of basic instincts even in the face of starvation.
The North Korea-produced adult film '공화국 비화' ("The Degradation of the Republic"), depicting pretty girls and, of course, female warriors being repeatedly violated, was smuggled out and translated into Japanese by North Korean refugees hired to do so.
It was sold in Japan for 2,650 yen, but with the explanation that "this is not being sold for the arousal of interest but distributed solely as research material." Of course near the Chinese border the distribution of pornography is in the open.
North Korea is a nation where the doors of the Kaesong Industrial Park were shuttered and prison sentences handed out after the discovery that photographs showing foreign models in their underwear were being placed into packages of women's underwear. Sex crimes including rape, and normal sexual relationships, are rampant, but the lack of sex education leads to unsafe abortions performed by surgery or via pills handed free of charge by hospitals.
Ordinary people are often forced into prostitution to have enough to eat. On the outskirts of major cities, minbak guest houses are turning into red-light districts and despite the banning of prostitution a shockingly large number of women are doing it in order to eat. They charge 5,000 won in our currency per night including sleeping time.
Foreign media criticize not only the neglect of the average person but the dumbfounding taboos on sex despite the cheap availability of erotica and adult products. This is because of the cheap members-only clubs and restuarants frequented by the authorities.
Though imagining itself to be pure, North Korean sexual culture is highly depraved because of its opposition to freedom. It is easy to imagine that if reunification occurs the starving North Koreans and the culturally diverse South Koreans will be unable to get along.
Lee Eung-jun's well-received novel '국가의 사생활' ("The Life of the Nation") was the first to depict North Korea-born women as whores and authorities as pimps. But do we, as the author says, have to meet that way? We want to see the true, not the fake with subtitles. That is one reason the desire for reunification may be too much.
November 26th, 2009 · North Korea · 0 comments
"When I left for Korea I carried some pills just in case. Because in North Korea it would be better to die than be arrested."
That is part of a memoir written by a North Korean refugee who, risking his live, left North Korea and went through three countries before arriving in Korea.
His path as a refugee was beset with life-or-death moments, he said.
The 2nd Provincial Office of Gyeonggi-do (경기도2청) recently published a book collecting prizewinning literary works describing the experiences of North Korean refugees.
The collection includes 10 poems, 10 memoirs, and 10 paintings, all prizewinners candidly describing the process of fleeing North Korea, the pain of separation from parents and siblings, and stories of the process of re-settling. The use of North Korean dialects makes readers feel they are really there.
The top work in the collection, '삶을 위해 돌아온 길' ("The Road to Life"), describes the arduous travails of 19 North Koreans who travel to Korea through China, Laos, and Myanmar by bus or on foot in the dead of night.
When they crossed the Laotion border they were caught by the military and in serious danger, but were moved to a camp and granted a modicum of freedom, and left by boat for Thailand and then Myanmar, a tense journey as vivid as if it were on film.
A memoir titled '나의 한국생활' ("My Korean Life") a college student smiles bitterly at the process of adjusting to Korean life, from reading the subway timetables to negotiating a taxi fare. This piece was a prizewinner.
The understated poems '어둠 속에 밀려온 깊은 물속에/누군가 먼저 던져 넣은 슬픔 속/뼈 속까지 시리게 만드는 강물 속으로/동트기 전 고요한 새벽에 내 몸도 강물 속으로 던져집니다.' speak to the yearning for freedom.
The top poem '강' ("River") was praised by the selection committee for its depiction of ordinary North Korean life, including ggojangddeok (a rice cake enjoyed by North Koreans) and jihajok (North Korean military shoes beloved by farmers).
Most of the prizewinning poems, including '깊은 밤 흘리는 마음' ("My Heart Overcome by the Deep Night") and '할아버지의 소원' ("Grandfather's Hope"), speak of longing for hometowns and heartfelt wishes for reunification.
The over 10 paintings chosen will be exhibited at the first-floor lobby of the 2nd Provincial Office beginning on the 23rd.
One, titled '집 떠난 아빠, 엄마를 기다리며' ("Father Has Left, We Wait for Mother"), shows a young girl in front of a shaby home, and another, '중간지점' ("The Midpoint"), shows a child between a South Korean flag and a North Korean flag.
The 2nd Provincial Office surveyed 288 memoirs, poems, and paintings submitted by North Korean refugees nationwide from August 31st through the 21st of last month, selecting 10 from each category for publication.
The committee announced, "we have done our best to choose those works which, standing before their open depictions of sorrowful and painful lives, we cannot but resolve to never forget."
November 26th, 2009 · Photos · 0 comments
The bones of a 6th-century teenager, thought to have been buried alive, were excavated in Gyeongsangnam-do two years ago. Today the government unveiled its reconstruction of her possible appearance in life.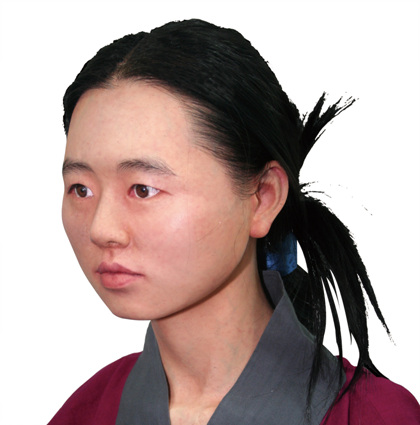 November 25th, 2009 · Legal news · 0 comments
Take note — synthetic hash is just as illegal as natural hash.
Lorazepam, Alprazolam, Zolpidem, and other so-called "party pills" are beign smuggled in rapidly increasing numbers, a study has found.
According to the Customs Service (관세청) on the 24th, discoveries of party drugs and designer drugs quadrupled in the past year to 20 incidents involving 2,598 pills.
Not one case involving party pills such as Lorazepam was uncovered last year, but 1,712 such pills were found at Incheon International Airport in international mail or special cargo.
Lorazepam was recently responsible for the overdose death of Michael Jackson and Zolpidem is used as a sleeping aid, but both have side effects including muscle pain, forgetfulness, and confusion.
These drugs have been abused as "rape drugs" in cases where men secretly placed them in the drinks of women whom they then sexually assaulted.
Besides those party pills, 347 MDMA (ecstasy) pills, 269 ketamine pills, 161 yaba pills, and 109 benzylpiperazine pills were discovered.
Nine cases involving 159 grams of synthetic hashish, which was classified as an illegal drug in July of this year.
With smuggling cases of lorazapam and 34 other designer drugs rapidly increasing, the Customers Service has identified 84 websites in the United Kingdom, New Zealand, and elsewhere which sell "party pills", and has requested the Korea Communications Standards Commission (방송통신심의위원회) to block them.
With many cases also of designer drugs being brought in international mail or special cargo disguised as plant food, Customs is increasing its searches.
When the Customs Service discovers drugs which have not been classified as illegal drugs it plans to ask the Korean Food and Drug Administration to classify them as such.
November 25th, 2009 · Accidents, Crimes and Scandals, Foreigners · 0 comments
A man named Matthew Clement has put up a Facebook page accusing four unknown Korean men in a limousine of kidnapping his sister friend's sister off the streets of Itaewon, beating her and attempting to rape her. He is asking for any eyewitnesses or other people with information to come forward. I can't vouch at all for the accuracy of the story, but if true it would seem to be extremely serious.