Archive for October, 2009
October 31st, 2009 · Humor, Photos · 0 comments
Winner gets a faaaabulous outfit.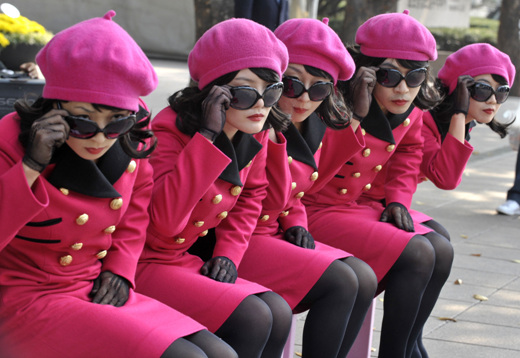 October 30th, 2009 · North Korea · 0 comments
The Christian Science Monitor just published a piece on the use of Photoshop and body doubles to make Kim Jong-il appear healthier than he really is, and speculated that Bill Clinton did not actually sit down with the real Dear Leader.
October 30th, 2009 · Health and Environment, Legal news · 0 comments
So, which foreigners-slash-North Koreans get to be the glamorous interpreters, and which get to be the litter grabbers?
—
The door is opening for permanently and temporarily resident foreigners and resettled North Koreans to obtain provincial government employment.
The Ministry of Public Administration and Security (행정안전부) announced on October 21 that it had prepared a study of the feasibility of expanding employment of foreigners and North Korean refugees in provincial public service and plans to send it to provincial organizations.
At the end of June there were over 1,106,000 resident foreigners, but just 32 (20 with permanent and 12 with temporary contracts) of them are currently working in provincial public service positions.
Of 16,513 resettled North Koreans, a mere four are working in such positions – two for Gyeonggi-do, one for Suwon, and one for Pocheon.
The Ministry said it will expand hiring of foreigners, including those from multicultural families, to work as information desk workers or interpreters in foreigners' aid centers in special areas for foreigners, or as street cleaners.
Chances to participate as National Assembly members, members of NGOs, and community volunteers will also be expanded.
In particular, there are plans for 10,000 foreign residents to be offered inducements to work in 32 cities, counties, and districts, and for the budgets for their salaries to be raised.
Resettled North Koreans will be hired not only for public positions but also in business and information desks, and will be given expanded opportunities to participate as community volunteers.
October 30th, 2009 · Entertainment, Humor, Photos · 0 comments
The Chosun Ilbo reports the internet is atwitter over B2Y singer Nara's supposedly 18-inch waist. Personally, I think it looks like this recent Photoshop oopsie. What do you think?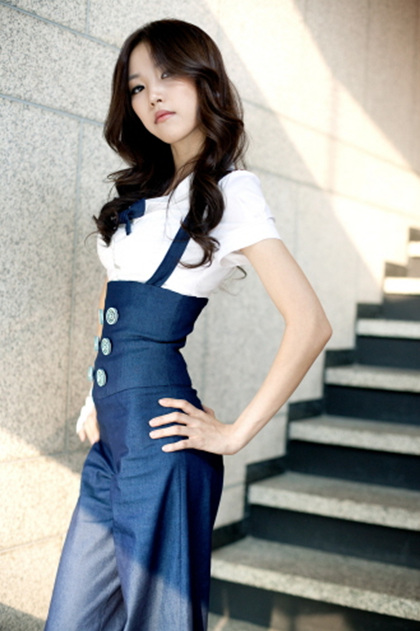 October 29th, 2009 · Foreigners · 0 comments
That was the title of this opinion piece that appeared in the Chosun Ilbo back in the early days of Korea Beat. It was written by long-time Korea resident Scott Burgeson, author of Korea Bug. At the time I got in touch with him to ask about putting a translated version up at Korea Beat.
Which is a roundabout way of introducing Scott's new book 더 발칙한 한국학, which has been getting favorable reviews. It turned out to be unnecessary for there to be a Korea Beat-ified version of the article since he'd put together an English version, an expanded version of which appears as the final chapter in the book. You can give it a read over here and then think about picking up the book. In Scott's own words:
"The point of the book is about "multiculturalism" and "globalization" in Korea, but more specifically about alternative expat culture in Korea (I also specifically am trying to introduce the word "expat" or "엑스팻" into the Korean language, in favor of "oegugin."). I'm not a fan of English linguistic neoimperialism, but in the case of "expat" Korean just doesn't have a commonly used term for this concept that is positive and without archaic or negative connotations."
October 29th, 2009 · Photos, Politics · 0 comments
Professor of Japanese at Pusan University of Foreign Studies Kim Mun-gil claimed at a conference on the 28th to have found two old maps representing Tsushima as Korean territory.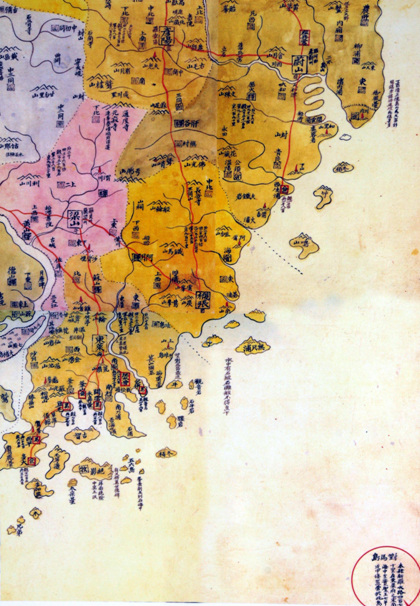 October 28th, 2009 · Accidents, Crimes and Scandals, Education and ESL · 0 comments
Obviously this is terrible if true, but molesting kids in the teacher's room? How would that even happen?
It has been belatedly revealed that an elementary school teacher has been arrested for repeatedly sexually molesting the school's students.
According to the Seosan Police Station in Chungcheongnam-do on October 27, at the end of September Mr. A, an elementary school teacher in Seosan, was arrested on charges of repeatedly sexually molesting two students of the school, beginning in March, in the teacher's room and in the classroom.
Educational authorities ended Mr. A's employment and also accepted his letter of resignation.
A member of the Seosan Office of Education explained, "after the incident occurred, education to prevent similar incidents was included in every committee meeting."
October 28th, 2009 · Society · 0 comments
Sick, sick, sick. There may be free speech issues, but something needs to be done about these "suicide cafes".
Three men and women who met through an internet suicide site attempted suicide in a hotel, and one of them died.
According to the Yeongju Police Station on October 27, at approximately 1.30pm in a guest room in a motel in Yeongju, 27-year-old Changwon resident Mr. Shin turned on a gas burner and died. 23-year old Songpa-gu resident Mr. Jo and 19-year old Jongro-gu resident Ms. Kim were discovered moaning in pain by the hotel owner, 48-year old Mr. Lee, who alerted police.
Mr. Lee said, "they hadn't come out of the room after renting it for the day, so I opened up the door and found the gas on."
At the time three gas burners were switched on and Mr. Jo and one other were imemdiately moved to hospital. Their lives are not in danger.
Police believe the three met on an internet suicide site and rented a car to drive to Yeongju to attempt suicide. Police are continuing to investigate.
October 28th, 2009 · Photos · 0 comments
Samsung Anycall players high-five after defeating SK 82-80 on a buzzer-beating fourth quarter shot.