Archive for August, 2009
August 31st, 2009 · Sports · 0 comments
I sometimes get mail from folks who mistakenly think I can help them sign a contract with a Korean sports team. They're usually basketball players, so I tell them to sign up for the foreign draft. For a while there was some noise about eliminating the draft, and now I learn there is a draft specifically for foreign players of Korean descent. I wonder if the KBL simply decided Korean-Americans would sign for less money.
August 31st, 2009 · North Korea · 0 comments
The Chosun ilbo has a small gallery of photos of the return to Sokcho of the fishermen arrested by North Korea for crossing the North Limit Line one month ago.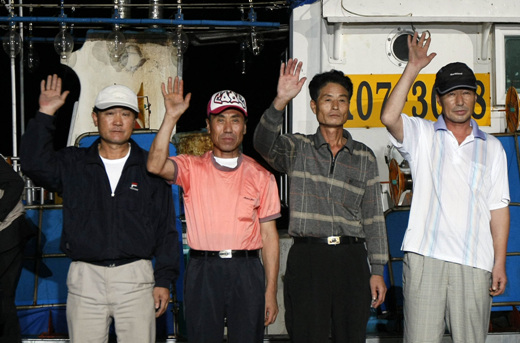 August 31st, 2009 · Legal news · 0 comments
Well, in the annals of odd-sounding judicial rulings, this is hardly the oddest. US courts have ruled that a cow is not a motor vehicle, that a hearse is a pleasure vehicle, and that a certain house in New York is haunted as a matter of law.
Multiple unregistered businesses were acquitted following a judicial decision that crane games (popularly known as doll-grabbing) are not game machines under the law.
Based on a strict interpretation by the court of the relevant law on game machines, if the judgment is confirmed by a higher court then it may need to be supplemented in the legislative process.
On the 28th Jeonju District Court Judge Lee Seong-jin pronounced not guilty 33-year old Mr. Kang, who had requested a trial after being summarily indicted for installing and operating a crane game without registering with the proper governmental authority, a violation of the law on game machines (게임산업진흥에 관한 법률).
In his decision the judge explained, "Under the game law, a game machine 'is defined as a machine or equipment which operates by a computer program using an information input system or device and includes a video component used to increase the entertainment, educational, or exercise results'. Using a switch or joystick to manipulate the pincers and lift objects, the machine has no video component and does not fall within the purview of the game law."
Mr. Kang was summarily indicted for installing and operating an unregistered crane game in front of a restaurant in the Danjin-dong area of Jeonju for a one-month period beginning on November 25th of last year, and appealed demanding a trial.
On the 11th the Jeonju District Court also pronounced not guilty 72-year old crane game business owner Ms. Lee, arrested on the same charge.
Jeonju District Court Judge Lee Jae-geun said, "The recent rash of acquittals of crane game business owners appears to be due to a properly strict interpretation of the language of the statute by judges… I have concerns that in the future there will be no punishments as acquittals continue, and there is a need for judgment from a higher court."
The current law on game machines specifies punishment of up to two years in prison and up to W20 million in fines for allowing teenagers to play games unregistered with the local government.
August 29th, 2009 · Humor · 0 comments
Can anyone guess the origin of this phrase?
We've got quite a file on our friend Calvin.
: 캘빈 이 녀석 전과가 워낙 많아서 말이야.
August 29th, 2009 · Education and ESL · 0 comments
As part of its recent batch of articles looking at the ESL industry in Korea, the Weekly Chosun published an article written by Lee Eun-ung, head of the infamous Anti-English Spectrum group, setting out his advice for Koreans and teachers.
I currently operate a website under the name "Citizens' Movement to Expel Illegal Foreigner Teachers" (cafe.naver.com/englishspectrum), which has now accumulated an Internet community of 17,000 members. Since its establishment in January, 2005, through constant surveillance activities our community has become a leader in arresting, expelling, and fining about 100 unqualified native speaker teachers, and stopping them from teaching in classrooms. We have also consistently worked hard to get health check reports and criminal background check reports included in the E-2 visa issuing process.
While doing this work, we came into contact with many unqualified native speaker teachers, but that was not all what our work was about. We also found out about the existence of innocent victims who received massive amounts of criticism due to unqualified teachers, and also found out about the existence of really well-qualified world-class teachers. I also felt I had the responsibility of actively letting people know that there are many "excellent educators" among those native speaker teachers who work in Korea. However, it is a fact that the Korean media still connects native speaker teachers to drug addiction or sex crimes, and are planting prejudiced views among Koreans to have them think that native speaker teachers = bad people.
Currently, as of 2009, the number of native speaker teachers in Korea who carry E-2 visas now reaches 20,000. This number should be much higher if we consider those who are working unofficially. 20,000 is by no means a small number, because these people have been put into schools and hagwons and are currently responsible for a part of our country's English education. As there are so many of them, it is inevitable that there would be many teachers who are unqualified and whose skills are not properly proven. Those who stir up trouble in society due to inappropriate behavior are also unqualified teachers.
The reason why Korean society has a strong negative opinion toward native speaker teachers is simple. The existence of bad teachers become known in an instant through press reports. However, the majority of good teachers who quietly go about their work hardly get any exposure. Most of those who are currently branded as unqualified teachers also did not receive that kind of evaluation from the very start. Due to the absence of communication that stemmed from cultural conflicts, they found it difficult to adjust and settle in Korea and consequently went askew without being able to properly understand Korea.
One of the reasons that has brought about these problems with native speaker teachers is the unbalance in demand and supply of teachers. Currently, the English education market in Korea is so overheated, the expression "mania" perfectly describes the state of the market. Since the supply of native speaker teachers is not able to follow the demand, extreme shortages of teachers are occurring everywhere. The reality is that whenever someone invites a native speaker teacher, the expression "모셔온다" [a highly honorific expression for invite/bring] is even being used. Education institutes such as schools and hagwons receive a certain "premium" just for the fact that they have a native speaker teacher. The competencies of Education Offices in cities and provinces are also judged based on how many native speaker teachers they are able to allot to the schools that they have jurisdiction over.
Of course, there absolutely must be proper and fair treatment toward native speaker teachers. The problem occurs when the treatment becomes excessive. There is a problem when a "greenhorn teacher" who has just graduated from college, gets the royal VIP treatment as soon as he sets foot on Korean soil, just because of the fact that he is a foreigner. In this kind of atmosphere, any teacher would find it difficult to stick to the "right path." In addition, those who work in the English education industry should also change their attitudes. Native speaker teachers are undoubtedly educators. However, there are many who work in this industry that try to interpret this job only in commercial terms. In some aspect, we are the ones who have provided the reasons for native speaker teachers to think that "Korea and Koreans can be treated without much respect."
In 2008, our community received a complaint by a native speaker teacher called "A." "A" told us that he was fired for a ridiculous reason, along with other teachers, about 11 months into his contract because the hagwon owner did not want to pay retirement allowances. When the employment contract of a native speaker teachers expires, the teacher must leave the residence that was provided by his/her employer. That means the teacher has no place to sleep. Fortunately, "A" received help from us and was able to safely receive his retirement allowance by adopting relevant legal measures.
In the case of native speaker teacher "B" who was receiving work through an employment agency located in a rural district, the agency's greed pushed "B" to go through a murderous teaching schedule which he could not continue with, and so "B" therefore turned to us for help. These kinds of cases show that there are many native speaker teachers who come to Korea with good intentions but accumulate ill will and return to their countries with bad feelings about Korea. Some of these teachers break their contracts or flee because they are unhappy with the abuses that their employer is carrying out against them. In the end, the victims are the students who are supposed to be listening to the lectures.
There are many things to point out about the attitudes of general Koreans toward native speaker teachers. There are surprisingly many people who don't think much about mistakes made by native speaker teachers who do not understand Korean sentiments/proprieties and act inappropriately. They just think "It's because they are foreigners," or "It's because foreigners are cool." Some people go past the level of just turning a blind eye, and even thoughtlessly copy the actions of these foreigners.
However, this kind of thinking is very wrong. The native speaker teachers who are legally allowed to teach here are usually from advanced nations of the West such as the U.S., the U.K., and Australia. The rules and laws in these countries are by no means more open and looser than ours, and if anything they are stricter. If someone just unconditionally turns a blind eye to a mistake made by a foreigner, a mistake that would not even be allowed in their own country, then the result of that would be the destruction of social rules and legal systems. Native speaker teachers who are not called out on their mistakes cannot ever learn Korea's rules and the order required in Korean society.
There is one thing that I absolutely must point out about the attitude of Koreans toward foreigner(s) (teachers). This would be the distorted and misguided views toward (dating) relationships between foreigners and Koreans. Of course, in regard to this issue, native speaker teachers are also responsible. Even now, cases of disorderly sexual conduct of foreigner teachers continue to keep appearing in the press. However, in this case also, we must not make the "mistake of generalization." To treat all foreigners who date Koreans as "libertines" would be a problem. We must be strict and vigilant about not practicing prejudice by taking a phenomenon occurring among a very few people and treating it like it is a problem of the whole.
Our community does not only do activities related to finding out unqualified native speaker teachers, but we also actively engage ourselves in discovering and introducing excellent native speaker teachers. In the process, we were able to get to know many great teachers. "C" who is an American English teacher gets along well with his students while also doing things like playing soccer with them, even outside of his required class times. On the weekends, he even does such good deeds as visiting nearby orphanages on a regular basis. One of his hobbies is to travel into far corners of the countryside to explore Korean history and culture.
Last May, after receiving a report, members of our community set out to track down a "native speaker teacher who habitually engaged in drug use." While conducting a stakeout for five months at one hagwon, we got to know one memorable teacher "D." Over the course of the five months we knew him, he was always consistent in cheerfully answering the questions asked by children, and made rounds among the seated children to give them friendly advice. In order to concentrate on his classes, not only did he not answer his phone during class, sitting down was not even an option for him. Then there was the teacher "E" who would give out baked goods to children during recess. Teacher "F" traveled to do voluntary work to help clean up the oil spill in the Tae-an area. There are more good foreigner teachers out there than we think, who quietly go about their work at their given jobs. It's just that they are not revealed.
It is true that Korean public opinion is not friendly toward native speaker teachers yet. However, we cannot keep "blaming others" regarding this problem. First and foremost, native speaker teachers themselves must take the initiative to change. The first thing that I would like to recommend to them would be to try to understand Korean culture and Korean society. Certain words or actions that may not mean much in their own country could create sadness or anger in Korea. Since they have made the effort to come to Korea, there is a need for them to try and make the effort to read between the lines.
August 28th, 2009 · Education and ESL, Foreigners · 0 comments
That's the title for this article, one of several the Weekly Chosun ran this one the subject of native-speaker English teachers.
"Goldongban (골동반, 骨董飯) is the hanja name for bibimbap. The food left over from New Year's Eve dinner would be made into it. The royal court would mainly eat this at New Year's Eve."
At a little after 6 pm last July 21st, the National Palace Museum of Korea (국립고궁박물관) held a cooking lessons at its royal kitchen. Lecturer Lee Jeong-suk, a specialist in royal cuisine, the country's intangible cultural asset no. 38, spoke on the history and origins of royal cuisine while over 20 students listened keenly. White people and black people, 20-year olds and 50-year olds, men and women…. seated in aprons, they transformed the space.
Today's lesson was the third put on by the Museum for native speaker teachers to learn experientially about palace culture. Starting on July 7th, the program runs every Tuesday at the dinner hour on the fifth floor. Other than today's lesson on royal cuisine, there have been lectures on making wax for the royal seal, copying the king's handwriting, wearing royal dress, and surveying Changdeok-gung.
The Museum's program for native speaker teachers began in March of this year. The idea came from Jeon Gi-seon, head of public relations. "In the United States I completed a master's degree in museum studies. I was extremely impressed that every museum I visited while studying overseas had active programs for foreigners. Education is the solution for the cultural clashes that cause conflicts between people from different cultures. Originally museum education was similar to peace education, reflecting the spirit of the time, and it was effective. Then later we wanted to create educational programs for the increasing number of native speaker teachers."
The program started with native speaker teachers working in elementary, middle, and high schools in Seoul. There were too many students to concentrate on each effectively so classes were limited to 20 registrants, and because foreigner-only classes might not go smoothly half the students would be foreigners and half would be Koreans. Volunteer docents were recruited to help out during the lessons.
Jeon set a date for the lecture and made an announcement via the Seoul Office of Education. In the beginning Jeon had many worries. "We started working but weren't sure if a lot of people would come. But the reaction was huge. There were so many volunteers that dozens had to go on the waiting list." A survey of the first group of participants (June 9th to July 4th) found them uniformly satisfied. Encouraged, the Museum then made the program a monthly fixture.
31-year old Matthew Smith, whom we met at today's lesson, said he is working as a native speaker teacher at Ansan Elementary School in Seoul. From California, he majored in international relations in college and completed an MBA program in marketing. He came to Korea four months ago. "I like kids, so I was interested in working in education. My dream is to try to be a math teacher. A good friend of mine is working as a native speaker teacher in Gwangju. He said Korea is the best country to work in and encouraged me to come. So even though I was thinking about going to Japan I came here."
A lover of travel with an inquisitive character, he seems to have already adapted well to Korean life. According to Han Ji-yeon, a co-teacher of his at Ansan Elementary School, after coming to Korea he slept one to two hours per day and taught himself hangul. "He came to Korea so he needed to know hangul," she said. His Korean friends said he needed some help understanding Korea, so he is attending the program. He was invited to today's lesson by Ms. Han. "Matthew attends every teacher training and gets along well with co-workers, he is trying hard to understand Korea. Every time we have a teachers' dinner he fits in perfectly. Do you know his favorite Korean food? Moksal." (Laughs)
30-year old Shana Rose, who works at Oryu High School in Seoul, is a "veteran teacher", having come to Korea two years and four months ago. A black person, she initially had a lot of difficulty with Korean life. "My skin and hair style are different from every Korean person, so at first it was extremely difficult to teach the lessons. More than a few times a kid would suddenly start harassing me. But now I'm used to it so I'm ok."
Her decision to come to Korea was significantly influenced by her grandfather, who fought in the Korean War. Her grandfather and grandmother very much liked Korea, and encouraged their granddaughter to visit. Her secret for overcoming the cultural gap between Korea and America was to "greet people in Korean." "If you go into a restaurant or store and speak in English, people are going to be put off but if you say 안녕하세요 it's a different story. People are much kinder then. I always thought so. If you want to understand Korea you have to know Korea's language and culture! So I work hard to attend any program through which I can learn about Korea."
Compared to working in America, the salary he receives here is considerably lower. He also experienced anger over the unclear process of obtaining an entry visa. He said, "I'm generally satisfied with life now." This is because he has a relatively simple Korean life of going to school and home, doesn't make that much money, and doesn't work quite as hard as Koreans.
Lee Jeong-suk, who helped the participants try their hands at making goldongban today, said, "I've given lectures several times, but the lessons for native speaker teachers show them to have a great attitude towards them and a lot of interest in Korea." Gwon Suk-jeong, who was a participant at the first lesson and a volunteer helper at the second, said, "the lesson wasn't an easy one, but the participants were very enthusiastic. I was impressed by the deep attitude of the native speaker teachers who were enthusiastic about this voluntary lesson and I decided to be a volunteer."
Put salt on the diagonally cut cucumbers, boil the Chinese bellflower, fry the fernbrake, season the bean sprouts…. in groups of four and five, the cooking lesson lasted until past 7:30. The final portion of the lesson was making goldongban. After placing the oiled and salted ingredients onto the rice and arranging them attractively, lecturer Lee added the "special gochujang" and mixed it all up, producing excellent bibimbap. The Museum provided clear soup to accompany it. The volunteers and the more than ten native speaker teachers emptied their bowls.
Jeon Gi-seok said, "last month over 30 native speaker teachers from schools in Dongjak visited the museum and participated in the royal culture experience program. Reaction was very positive, so we plan to offer more, and more diverse, programs to native speaker teachers."
August 28th, 2009 · Humor · 0 comments
Sigh.
He was good at mathematics in especial.
그는 유난히 수학을 잘했다.
August 27th, 2009 · Photos, Sports · 0 comments
The Lotte Giants' Karim Garcia got an earful from the umpire last night after smashing his bat over his knee in frustration (link includes much picture goodness).