Archive for July, 2009
July 31st, 2009 · Accidents, Crimes and Scandals, Foreigners, Women in Korea · 0 comments
This is an initial news report on the topic. I'm going to see about finding links to the full episodes after the come on the air.
<8 News>
Beginning on the 30th the SBS program "Family is Hope" (가족이 희망이다) will think about the problems of multicultural families, which are creating a new model for families in our society.
First, today they reported on the serious situation of violence in multicultural families.
34-year old Hoang, who came to Korea as a bride from Vietnam four years ago.
She traveled a long distance dreaming of a happy life in Korea, a rich country, but now that dream is in pieces.
Unable to deal with her husband's violence, two months ago she took her four-year old daughter and left home, and now lives hidden in a multicultural women's shelter.
[Hoang (pseudonym)/marriage immigrant: I was afraid of my husband, so I could not live in that home. He beat me so badly, so I left fearfully, and the security guard helped me.]
Hoang suffered a burst eardrum when her husband beat her after drinking nothing but alcohol, but he prevented her from leaving the home and she could not receive medical treatment.
She has still not changed her citizenship.
[Hoang (pseudonym)/marriage immigrant: I actually wanted to get divorced, but my husband kept drinking and beating me and… how was I supposed to live.]
23-year old Rose, a Filipina who married one year ago, was thrown out of her husband's home after becoming pregnant at the beginning of this year because he does not like people from The Phillippines.
She revealed her pregnancy and asked for help, but her husband assaulted her and she received a cold reception from her in-laws.
[Rose (pseudonym)/marriage immigrant: I cried a lot. I want to go to The Pillippines. My baby with no father….]
A study by the Ministry of Gender Equality and Family (여성부) found that 10% of marriage immigrants have experienced physical violence, and if verbal violence and sexual abuse are included 47.7% have experienced violence.
Another problem is that after marrying for money rather than love, they enter a dark depression at not being treated as equal human beings.
[Lee Hyeon-jeong/Vice chair of the Center for a Multicultural Korea (한국다문화센터): Because of this mindset that I gave you money so you are like my slave, the conflict grows and grows and there is no conciliation.]
Experts say there is an absolute need for a systematic education program to change this thinking of Korean husbands.
July 30th, 2009 · Education and ESL, Legal news · 0 comments
Looks like someone's got Ayn Rand on the shelf.
A court has ruled it illegal to shut down a business as punishment for violating limitations on the permissible rate of increase of lecture fees without taking into consideration the type of hagwon, its rent, teacher costs, and curriculum.
The ruling is intended to protect the constitutionally guaranteed rights of hagwon owners to property rights and freedom of business, but even though if affirmed by the Supreme Court hagwon fees will greatly increase, educational authorities are finding it difficult to find a basis for intervention.
The Seoul Administrative Court (서울행정법원) announced the decision on the 26th, deciding in favor of the plaintiff Mr. Lee, who sued the Gangnam Office of Education (강남교육청) to prevent his business, L English Hagwon in Daechi-dong, from being shut down.
The court said, "with public education not delivering educational services to a high level of satisfaction, private education is playing an important role… The imposition of a business shutdown as punishment for violating an irrational and monolithic order to restrict prices in this kind of private education market is without basis on the constitution and law."
The court also said, "lecture fees are influenced by the type of hagwon, its facilities, lesson quality, and rent, so to the degree that it is difficult to calculate rational prices take into account individual cases, it is proper and principled to let the market do so."
The court went on, "except in exceptional cases where the fees clearly exceed societal norms, educational administrators cannot easily invoke the legal power." Article 15, clause 4 of the law regarding hagwon establishment and operation and private lessons(학원의 설립·운영 및 과외교습에 관한 법률) specifies that, "lecture fees may be restricted by educational authorities when clearly excessive."
The court made a detailed critique of the educational authorities' current methods of calculating lecture fees. The judge said, "the Gangnam Office of Education does not consider the quality of facilities, rent costs, and so on when formulating a fee-reduction order, and bases it on the cost-of-living index compiled by the National Statistics Office (통계청), so the court is given no basis for calculating lecture fees."
The Gangnam Office of Education opened a lecture fee commission at the end of 2007 and restricted 249 hagwons to 4.9% increases in lecture fees in line with the cost of living index. L Hagwon was punished with a 14-day suspension of business for receiving excessive lecture fees and filed the current lawsuit. As of the end of this month the Ministry of Education, Science and Technology (교육과학기술부) and other educational authorities had promised to appeal the result and are preparing to do so.
July 30th, 2009 · Photos · 0 comments
The LG Twins' Choi Dong-su reacts after hitting a walk-off home run to cap a come-from-behind victory.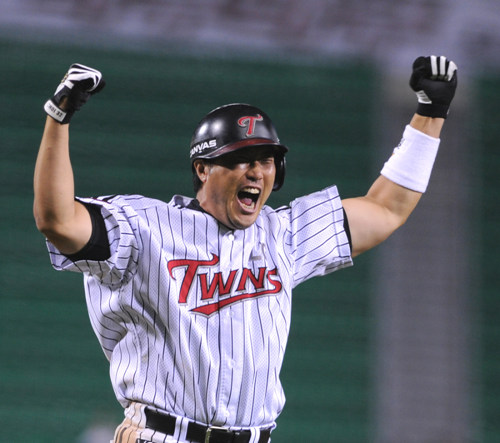 July 29th, 2009 · Economy and Worklife · 0 comments
It's not looking good down there.
"You know your dad's a commie?" "Well, your dad's a government tool."
An employee of Pyeongtaek City Hall was shocked by what students were saying outside during a lunch break several days ago. Children were fighting over the two sides their parents were on in the Ssangyong Automotive situation. The employee said, "I was so upset that this kind of thing is happening in schools and on the street." A the 68th day of the dispute, the Ssangyong Automotive siege situation has now split children as well as public organizations into two groups.
An apartment building about one kilometer from the Ssangyong factory. Almost half of its 750 households are Ssangyong employees, and after the situation began the atmosphere among them quickly grew cold. 44-year old Ms. Lee, who we met outside the building on the 28th, said, "after the situation began the atmosphere here really changed from what it was before. Nobody is open about it but everything now happens at arm's length."
They spent a long time as co-workers and neighbors, and now they are re-arranging based on their opinions. 46-year old Ms. Choi, a real estate agency owner in Chilwon-dong in Pyeongtaek, said, "now people who used to spend time together don't even talk, and if you pretend you don't know anything you can see people splitting apart. It's sad."
Fm=amily and friends are being divided into those who have been laid off and those who haven't. 43-year old Ms. Ji, who we met at an apartment complex in Chilwon-dong, said, "as the layoffs and strikes and siege go on and on, people's economic situations get worse, so there are a lot of spousal fights and families where the parents aren't getting along."
One educator we met at an elementary school some 500 meters from the Ssangyong factory said, "a lot of my friends I've known since I was a kid work at Ssangyong and so do a lot of my close friends, but this thing has split them. They see each other but don't talk, and they're cold to each other and can't listen to the other's opinion. It's terrible."
Song Myeong-ho of City Hall said, "as the Ssangyong situation has dragged on the breakdown in civil society has become serious." One teacher at an elementary school in the city said, "Pyeongtaek is in a bad situation where yesterday's friend is today's traitor. I hope that this Ssangyong situation can be resolved quickly and we can go back to the Pyeongtaek we used to have."
July 29th, 2009 · Photos · 0 comments
Choi Han-bit reacted tearfully on the 28th to being selected to the final round of competition in the 2009 Super Model Contest being held in Seoul by SBS. For more on Ms. Choi see this brief profile in the Korea Times.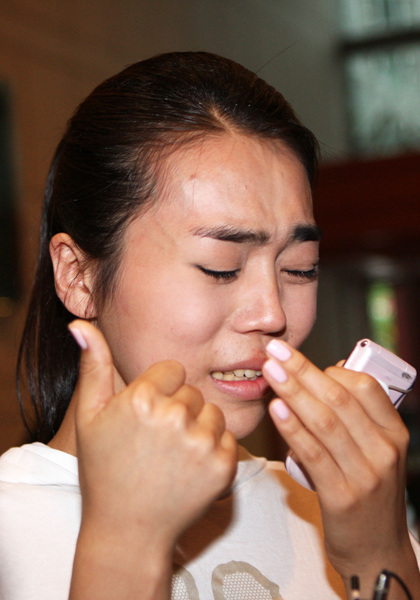 July 29th, 2009 · Entertainment, Photos · 0 comments
The Aussie model continues to enjoy popularity in South Korea, recently releasing a cellphone photo album through starwhabo.com as part of what the Chosun Ilbo calls "the Jessica Gomes effect". A couple of days ago she was on MBC giving out exercise and yoga tips.
July 28th, 2009 · Legal news, Transportation and Urban Design · 0 comments
Enforcing the law as it's written. Imagine that.
Plans are for a consideration of the merits of the police imposing fines on those who, without creating any victims, are injured after causing an accident by violating the traffic laws.
On the 28th the National Police Agency (경찰청) announced, "police in the field have been sent a guideline that a fine be imposed on those who violate traffic laws resulting in an accident which injures only the driver."
Up to now police have simply sought to handle accidents damaging only the vehicles through insurance or by an agreement of the victim and the driver at fault.
Also, when only the driver was injured after violating the law, unlike when only property was damaged, no fine was levied.
This is because police took into consideration democratic feelings that realistically, not every violation of the law can be punished, and injured drivers should not be treated too harshly.
But, after accidents in which a motorcyle driver strayed over the median and crashed into a tree and another in which the driver of a car rammed into a bus, police ended the practice of not punishing a driver who was the only injured person and issued fines in accordance with the traffic law.
The sudden change in police behavior came at the request of the Board of Audit and Inspection (감사원).
An employee of the BAI issued the guideline on traffic violations after being asked, "is it really appropriate to not punish injured drivers who are at fault, unlike those who cause only property damage?"
Police in the field have been unhappy with the new guideline regarding the punishment of accident-causing drivers who are injured without regard to the non-existence of victims.
One police officer said, "I wonder whether drivers will really understand after causing an accident where their car is injured, they call for help, the police officer comes and their injuries heal."
Another police officer said, "I think drivers who cause accidents are really going to resist this. They should have a PR campaign or reform the law so when this happens nobody will demand not to be punished."
A member of the BAI explained, "the police unofficially presented the need for punishment of injured drivers, but recognized that there could be signigicant unintended effects, so the NPA prepared the new enforcement guideline independently."
July 28th, 2009 · Education and ESL, Foreigners, Health and Environment · 0 comments
Yonhap News is reporting that three native speaker teachers at a camp in Wando were among 21 people who recently tested positive for the AH1N1 virus. The camp was shut down to contain the spread of the illness. Also, two people, students I presume, from a hagwon in Bucheon tested positive.
July 28th, 2009 · North Korea, Photos · 0 comments
That's what the Chosun Ibo says they were saying at the 대전동물원 after a rabbit was born minus a right ear.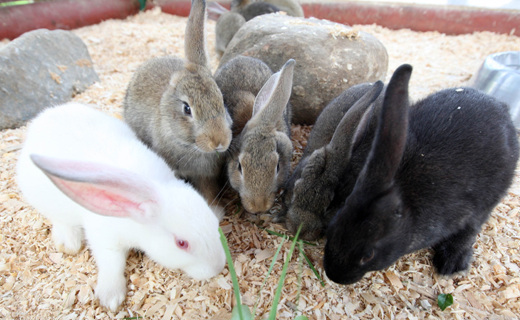 July 27th, 2009 · Photos · 0 comments
The Chosun Ilbo has a gallery of the final photos taken of mountain climber Goh Mi-yeong, who died in an accident in the Himalayas last week.