Archive for May, 2009
May 31st, 2009 · Announcements, Foreigners · 31 comments
Via this Facebook group, there is an American in Seoul apparently facing a very serious illness, with no ability to pay for treatment. Though he faces serious possibility of loss of limb or life, the hospital will not operate until he can pay. Click through to see how you can donate to help out.
May 31st, 2009 · Miscellaneous · 3 comments
If you'd like to have Korean movie theater schedules at your fingertips, but either don't read Korean or just find (as I do) some sites annoyingly over-produced, then you're in luck. Koreamovietimes.com is a (mostly) bare-bones, no-nonsense approach: just pick your city or area and you get a simple list of all theaters and times. I can't vouch for its accuracy, but you may want to give it a try.
May 30th, 2009 · Photos, Politics · 10 comments
The committee in charge of the funeral for former president Roh Moo-hyun has released 25 private photos of the man in his last months of life, relaxing at home and enjoying his retirement.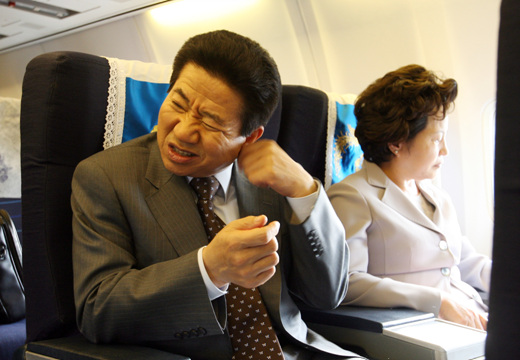 A few other recently-released photos can be seen here
May 29th, 2009 · Accidents, Crimes and Scandals, Interviews · 0 comments
The crime of voice phishing has gotten regular play in the Korean media the past few years, with blame usually falling on Chinese-Koreans. But the Joongang Ilbo recently interviewed one person purporting to be a voice phisher who tells a different story.
Voice phishing has been mainly the province of Chinese-Koreans in China, but recently it has spread to Uzbekistan and elsewhere in Central Asia.
With great difficulty, on the 13th the Joongang Ilbo was able to conduct a telephone interview with a person who conducts voice phishing against Koreans from an office in Uzbekistan.
"Now in Uzbekistan there are two or three Korean people operating voice phishing businesses along with about 10 local gypos at each one." The person said that over 20 people each day fall prey to voice phishing.
Over the past year there have been 266,000 cases of voice phishing targeting businesses, an average of 740 per day. With fake post office phone numbers, fluent Korean, and even the real names of postal employees, the scope of the problem is gradually increasing.
There are two kinds. In the first, the caller gains the person's information and then calls them claiming, in a tearful voice, that their child has been kidnapped and demands money. In the second, through various tricks the targets are led to withdraw cash from their bank accounts.
The greatest weapon against the increasingly sophisticated voice phishers is awareness of their schemes.
[Interviewee] "A post office in Junggye-dong, in Nowon-gu."
[Reporter] "What is the phone number?"
[Interviewee] "The phone number is 1588-1900." (This is actually the phone number of the postal service's finance arm.)
[Reporter] "Not in China?"
[Interviewee] "No. A post office in Junggye-dong, Nowon-gu."
[Reporter] "I thought voice phishing happens in China…"
The interviewee said the location of the call was Uzbekistan.
It has been understood that Chinese-Koreans use Chinese call centers, but recently more phishing has been taking place in Uzbekistan and Central Asia.
[Interviewee] "It's not Nowon-gu. I'm in Tashkent in Uzbekistan."
[Reporter] "There are people there to be fooled?"
[Interviewee] "Of course. A lot of people like you fall for it."
[Reporter] "How many people per day?"
[Interviewee] (Not understanding) "You mean how many people participate in voice phishing?"
[Reporter] "How many people fall for it per day?"
[Interviewee] "About 10  idiots like you every day… up to 20 idiots."
[Reporter] "How much money do you get from that?"
[Interviewee] "That's secret. If you want to know come to the post office."
The interviewee said there are two or three Koreans and over 10 gyopos in the voice phishing business he/she was operating.
[Reporter] "Are there a lot of businesses in Uzbekistan?"
[Interviewee] "The people who do voice phishing are Koreans. It's their regular job."
Those Koreans come and catch gyopos looking for work. Uzbekistan is a foreign country so Koreans must go there.
[Reporter] "How many people in one business?"
[Interviewee] "Two to three Koreans, 10 gyopos each… they come by internet. The Koreans catch us and get us into voice phishing."
The interviewee even gave advice to this reporter on how not to fall victim to telephone scams.
[Interviewee] "I call you by getting your personal information. This is a foreign country, right. It's hard to get your money by getting your card or bankbook so I get it by voice phishing. Be careful."
When asked his contact information the interviewee grew alarmed and hung up.
[Interviewee] "Contact info in Uzbekistan? No. The Korean will kill me."
May 28th, 2009 · Photos · 4 comments
Ahn Sang-gyu attempted to set a Guinness world record for being covered in bees at the 9th annual acacia festival in Gyeongsangbuk-do on the 10th.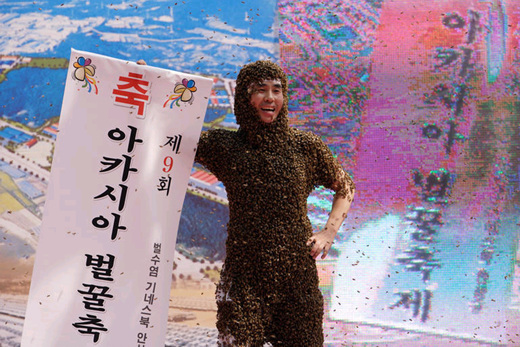 May 28th, 2009 · Accidents, Crimes and Scandals, Netizen comments, Politics · 30 comments
A few readers have requested stories on netizen reaction to the death of Roh Moo-hyun, so I have two somewhat related stories right now. First, a comparison of the spontaneous memorial ceremonies of this year with last year's faux-spontaneous candlelight vigils.
The memorial ceremonies for former president Roh Moo-hyun and last year's candlelight vigils were both the product of voluntary citizen actions. The memorial ceremony in front of Deoksugung in Seoul goes past midnight and is hundreds of meters long every day. 31-year old citizen Mr. Seo said, "I came here not as a supporter of Nosamo but just to mourn the former president's tragic death."
There was no clear sign of control by an organization. All across the country, at subway entrances, city hals, and study places citizens are making their own memorial spots. Citizens are donating their own money and making them themselves. With related information owned publicly on the internet, they take many forms, from paper airplanes to lamentary cartoons and songs.
They come without regard of male or female, old or young. The candlelight vigils began with teenagers in middle or high school — the "candle teens" — but ended with no division by age. The memorials for former president Roh have been the same, nationwide.
They come together in public spaces. The memorials began as an expression of the citizenry's thoughts following news of the sudden death. In contrast the candlelight vigils were an expression of criticism of the Lee Myung-bak administration right from the start. It began with worries over the right to health because of the agreement to import American beef, but it developed into an expression of frustration with, and then a judgment on, the government which sought to stop them.
In consideration of these points, some say if the government seeks to block them or ignores the wishes of the people it runs the risk of the memorials becoming like the candlelight vigils. Ahn Jin-gil, a team leader at People's Solidarity for Participatory Democracy (참여연대), said, "unlike the vigils, people's thoughts are  unfocussed and include various criticisms of the investigation as well as feelings of mournfulness."
Second, a brief description of one conspiracy theory floating around, with some description of the conflicting initial reports. I'm no conspiracy theorist, but that bodyguard sounds suspicious to me. (HAt tip to the Marmot's.)
It has been reported that for over 30 minutes before his death on th 23rd former president Roh Moo-hyun was alone, without any bodyguard, but many suspicions have been cast on the story.
The Gyeongsangnam-do Provincial Police Department (경남지방경찰청) conducted an investigation of the bodyguard on the 23rd, the day of the former president's death, concluding that at the time of the former president's fatal leap the bodyguard was in the vicinity but could not close the distance in time. This result has been published.
But later investigation reached a contrary result based on statements from the guard, leading to questions over what really happened.
The second investigation, published on the 25th, found that before the fatal leap the former president had gone to his parents' gravestones. Then on the 27th the GPD announced that before the leap the former president had been alone, without a bodyguard, for over 30 minutes.
"Is there a conspiracy theory over the Chosun Ilbo's graphic?"
On the afternoon of the 27th at an internet portal site, netizen attention was drawn to the top two search terms. Netizens came up with a conspiracy theory about the graphic used by the Chosun Ilbo for its coverage of the death of former president Roh Moo-hyun.
According to these netizen opinions spreading across the internet, the Chosun Ilbo graphic, which says "Memorialize the Death of Former President Roh Moo-hyun," was actually created on the 22nd, one day before the former president died.
In contrast to those netizens who are generating arguments over the Chosun Ilbo graphic, other netizens are of the opinion that, "I completely object," and "often graphics are made in advance and kept for later use."
May 28th, 2009 · Accidents, Crimes and Scandals · 7 comments
Very odd story. I get the feeling there may be a whole lot more to it than this:
Police are investigating after a laborer in his 30s who had been dispatched to Singapore was found dead.
The Dongbu Police Department in Busan announced on the 27th that 31-year old Mr. Kim, employed at company D, was found dead on the floor in front of his apartment, his body covered in wounds, at 1:45 AM Singapore time on the 23rd and that local police are investigating.
Mr. Kim's body arrived at Gimhae International Airport on the 26th and then taken to Bongseng Hospital in Busan.
Police are investigating the circumstances of the incident through statements from members of the company where the deceased Mr. Kim worked in Singapore.
May 27th, 2009 · Accidents, Crimes and Scandals, Politics · 6 comments
A moment of silence for the departed president was observed by the Mexican and Japanese teams before their match in the 2009 Seoul Open, part of the Swatch Beach Volleyball World Tour.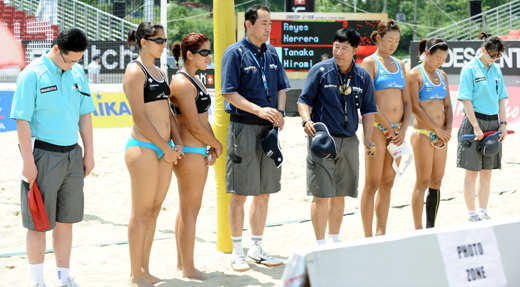 The Japanese athletes are looking a little more reflective.