Archive for January, 2009
January 31st, 2009 · Entertainment · 4 comments
It's now known as "The Uninvited" and to judge by the AV Club's review — which I always do — audiences are better off sticking with the original. Sweet poster, though still not as good as the original. Anyway, another example of sucky Hollywood remakes of Korean films.
January 31st, 2009 · Education and ESL · 14 comments
Woo Ho-gyeong, a columnist for The Hankyoreh, recently wondered why schools give "100 chances" to teachers who grope their students.
A middle school principal in Chungcheongbuk-do, after being found guilty of molesting a female teacher, was reinstated as principal of the school, which had had to suspend classes, and, after three months, as education researcher. "He conducted his special research without difficulty, and was reinstated when the suspension expired," was the shocking, clumsy excuse from local authorities. What kind of "special" research can such a person do to become an educator?
Every time I see such a report I can't help but think bitter memories of my own school days. I had many excellent teachers but there were some awful people who were just called teachers. Back then there was one male teacher who would pat our bottoms and rub our shoulders because we were "cute". One of my friends was a favorite of his, and he would rub her cheeks and tell her to sit on his lap. When I think of it now I can see it was clearly sexual harassment, and it happened every class hour.
I hated all of those teachers and their classes, but there was really nothing I could do about it, because he was a teacher, so "you can't step even on his shadow." Eventually somebody told their parents about it and it became known to the school, but nothing changed. Then he became the principal and continued to teach classes. The only thing that changed was when he felt our bottoms he would say, "oh, are you going to report this, too?"
As I got older I realized how wrong it was and got really angry. If you ask your girlfriends about their experiences in school, you will find that one of them has memories of a "pervert teacher". But it continues today. Let it slide 100 times, and perhaps the criminal can make a genuine apology, and everything that happened then can be buried. But to make that kind of person into an educator, who has to be a model for and teacher of others, is just against common sense, isn't it?. The thought that such a light punishment will bring a halt to two years' worth of sexual molestation is a joke, but I can't understand why the Chungcheonbuk-do Office of Education decided to smear ink on the faces of its teachers, who ought to be more respectable than anyone. The Office wasted no time attacking a post of mine protesting the teacher's reinstatement, calling it "defamation". Our necessary acts are someone's defamation, apparently.
Frankly, whenever I hear of someone complaining of the drunken, sexual shenanigans of foreign ESL teachers, all I can think of are falling-down drunk businessmen, massage parlors on every corner, and articles like this, and one word comes to my mind: "projection".
January 31st, 2009 · Photos, Politics · 3 comments
Outgoing Seoul police commissioner Eo Cheong-su salutes at his retirement ceremony on the 29th.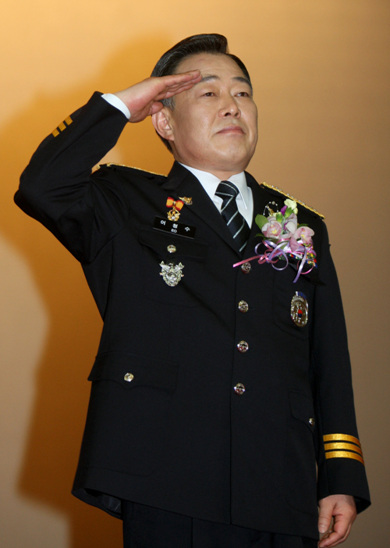 January 30th, 2009 · Accidents, Crimes and Scandals · 6 comments
And a sad story gets even uglier. This comes almost exactly one year after the murderer of two children in Anyang also turned out to be a previously-uncaught serial killer.
Kang Ho-song, the 38-year old killer of a female college student in Gunpo, has confessed to killing five women in northern Gyeonggi-do from December 2006 to January 2007, in addition to 21-year old Ms. A in Gunpo and 48-year old Mrs. Kim in Suwon.
According to the investigating team in the Gyeonggi Provincial Police Agency on the 30th, Mr. Kang is believed to be a serial killer and DNA analysis conducted by the National Institute of Forensic Investigation has confirmed the presence in his car of DNA from Mrs. Kim, who disappeared last November. Confronted with this evidence Mr. Kang decided to confess, and did so to a particular detective he requested.
Mr. Kang told police that in 2006 his ex-wife died in a fire, and ever since then, in a state of deep despair, he wandered the country for a year and every time he saw a woman he felt like killing her. After committing his first crime he could no longer control himself.
From December 2006 through last November Mr. Kang was a suspect in a series of murders of women in southwestern Gyeonggi-do because he had lived nearby, in the Dangsu-dong neighborhood of Suwon. Also, attention focused on him because from 2000 to 2002 he lived in the same area of Hwaseong where the cellphones of the serial murder victims were used.
According to the briefing by police, in January 2007 20-year old college student Ms. Yeon disappeared from a bus station in Geumgok-dong, Suwon. In December 2006 the body of 37-year old noraebang doumi Ms. Park was discovered in the same are of Ansan where the body of Ms. A was later found.
Police said today that Mr. Kang has confessed to murdering three women from December 2006 to January 2007, including 45-year old Ms. Bae, another noraebang doumi.
Mr. Kang also abducted and murdered 48-year old Mrs. Kim in Suwon on last November 9th. Police found her body in the same area of Ansan as the others.
According to police, after Mrs. Kim disappeared from a bus stop in Suwon at approximately 6:10 pm while driving home, she called her husband and said, "I'm going to come back home".
Police have confirmed that ten years ago a sundae restaurant operated by Mr. Kang in Ansan was destroyed by fire and he collected tens of millions of won in insurance. They are now investigating whether the fire was arson.
January 30th, 2009 · Photos · 0 comments
86-year old Jo Gyu-sang used a camcorder to record a celebration in Gangneung on the 27th. The festivities were in honor of the 400-year anniversary of the city. Readers of Korean can find more info on the ceremony in the Korea Economic Daily.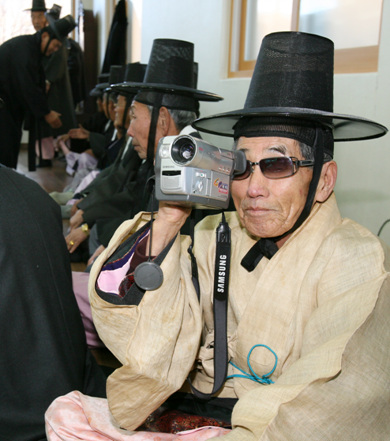 January 30th, 2009 · Accidents, Crimes and Scandals, Foreigners, Health and Environment · 7 comments
I don't really have any idea what to make of this article. Perhaps a reader can shed some light?
During the Seollal holiday a Vietnamese AIDS patient was turned out of a hospital in Ulsan.
According to the statement of a general hospital in Ulsan on the 29th, on the 26th three Vietnamese people accompanied 29-year old advanced AIDS patient Mr. L to the emergency room but were concealed.
Mr. L entered the country in November through Incheon International Airport and was admitted into the intensive care unit at that time, but had no doctor.
The hospital announced that as Mr. L had not been appointed a guardian, proper steps have been taken including communication with the local health office and the Vietnamese Embassy.
January 29th, 2009 · Legal news, Surveys and Studies · 1 comment
Perhaps inspired partly by such heavily criticized decisions as the Hebei Spirit case and the Cheongju family rapists, the Seoul Bar Association has made up a list of which judges are naughty and which are nice — and may be pushing for the bad ones to get kicked to the curb.
On the 29th the Seoul Bar Association (서울지방변호사회) published its first-ever evaluation of judges, conducted from December 24th to January 28th and evaluating 700 judges in the Seoul area on three measurements: "quality", "fairness", and "attitude towards incident management".
The SBA surveyed 491 lawyers, 7.7% of its over 6,300 members, who evaluated the 456 judges. To achieve fairness, only the 47 judges who received at least five evaluations were ranked.
They were graded from A (excellent) to E (terrible) in 17 categories, including "upholds the dignity of the office," "is impartial to both sides," and "listens well during witness examination."
The SBA has submitted to the Supreme Court the names and rankings of 47 individual judges, 10 of whom scored at least 87 on the 100-point scale and 10 of whom scored 57 or less.
The first-ranked judge was rated 93.56 and the lowest-ranked was rated 45.88. 456 were rated by just one lawyer and received an average score of 75.4.
The SBA accordingly compiled examples of both good and bad judicial decisions and sent them to the Supreme Court and the media.
SBA chairman Ha Chang-woo announced, "many lawyers feel that certain judges use impolite speech in court and issue biased opinions, so we researched examples in foreign countries and evaluated judges in Japan and elsewhere," adding, "we began this system to help fashion a high-quality and fair judiciary."
The SBA plans to take reports from its member lawyers throughout the year, consider them together, and send them to the Supreme Court before the start of the new judicial term.
January 29th, 2009 · Netizen comments, Transportation and Urban Design · 18 comments
The Joongang Ilbo recently put up this blog post about annoying stuff on the subway.
The subway, legs of the citizenry. Used by 10 million passengers on an average day. The ultra-convenient, cheap way to go from the capitol to everywhere. Without a subway we'd all be stuck in traffic jams.
But they subway isn't always comfortable, because you may meet someone who doesn't really want to be using it. When your shoulder brushes against they taken extreme offense. But when they're not there you don't even feel like it's the subway. Can't we just get rid of them once and for all? Don't be like these people. Please.
– Hawkers
"Everyone, please listen to what I have to say. Like nothing else, this product I have brought today…"
The people selling stuff are the ones I'm most sick of. There's nothing they won't use to turn the subway into their bazaar, whether rubber bands, pens, wristlets, umbrellas, raincoats, wallets, or bags. The highlight of them all is the "memorable pop songs", which they play at loud volume on the stereos they lug around and won't turn off until someone pays W10,000 for two discs. I'll rest easy once these peddlers get tossed out an open door.
– Beggers
Playing their little radios and stepping around. It's alright when there aren't many people but when it's crowded everybody else gets pushed out from around them. Then there are the ones who put photocopies on everyone. They put one on your knee and move on to the next person. It's on your knee, they beg for something, they come back. The paper says like this.
"I apologize for the inconvenience. When I was young I was in a bad accident…"
It doesn't seem like you're sorry. You have the ability to inconvenience a lot of people in a short time, maybe you just need to work harder?
-Kindergarten school trips
These days mothers are sending their kids to the subway rather than the kindergarten. The kid screams. Runs around. Like it's their personal living room. Then the kid's mom sits in the seats reserved for the elderly and says, "the seat next to mommy is open. Come sit!"
– The sacred holy land, the subway
Some time in the past they subway became hallowed grounds. As a place to meet God, Christians don't care whether there are a few or a lot of people on the subway. And when there are a lot they make their voices loud and in that narrow space it becomes impossible to relax.
"Come to the sacred world of Christianity."
The Christians all wrinkle up their eyebrows together. I'd like to tell them off but I'm afraid of going to Hell.
My thoughts on subway etiquette
First, wait for the people getting out, then go in. Pushing and shoving just makes everyone unhappy. Read your newspaper and then take it with you when you leave. Don't be one of those guys who sits with his legs spread out.
Can you sit in the reserved seats when they're empty? Some people say yes, others say no, but I towards "yes". Sit there when it's empty and when it's time to get up do so quickly. The most important thing is that when you sit there, get up when it's needed.
When the three seats are full stay away, when you see the seats for the elderly and they're full just don't even go near. Just sit there when one or two seats are open.
Small considerations
On the subway you take every day, use etiquette like me. The subway, made for the convenience of all, will be a nicer place.
January 29th, 2009 · Announcements · 1 comment
The Hub of Sparkle! is having its first Golden Klog Awards and Korea Beat is nominated in three categories (Best Korea Blog Overall, Most Current and Timely Korea Blog, and Best Post or Series in a Korea Blog). Vote early, vote often, as they say.
January 29th, 2009 · Legal news · 3 comments
25-year old Jeong Hyeon-ju (right) and 24-year old Son Hye-hyeong (left) were all smiles on the 28th after being selected the first two women guards for the Supreme Court in Seoul.