November 21st, 2008 · Economy and Worklife, Politics · 8 comments
Hizzoner Oh Se-hun is the latest Korean politician who figures he knows what foreigners want when they go looking for a hub of finance.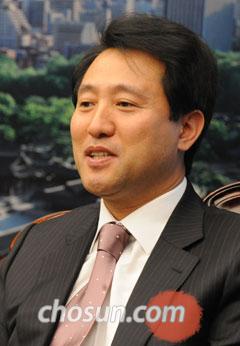 "Infrastructure-building is important for financial companies, but more important than anything is to create a good living environment for foreigners doing business. We are focusing on creating an enjoyable cultural and linguistic environment for high-level, white-collar financial workers."
Mayor of Seoul Oh Se-hun (pictured) spoke in an interview on the 12th at the Seoul International Finance Conference, announcing his plan to make Seoul a "Global Finance Hub".
The first step to creating a financial hub is "creating an environment where global businessmen can live, with hospitals and foreign schools. The city has initiated a plan to make Seoul a Global Zone for business. 15 areas including Yeoksam-dong and east Ichon-dong will become English-speaking districts, where one-stop English services will be provided to businesses and residents." The city has presented to foreign residents plans to turn spontaneously-generated foreign neighborhoods, such as the French area of Seoraemaul and the Italian area of Teoksam-dong, into those Global Zones.
Mayor Oh added, "if you look at how the chaotic financial market in the United States has affected the economic situations of other countries, you realize how even more financial businesses are now. Right now the entire world is confronted by serious challenges, but after the initial changes take effect the financial market will be re-organized." The city recently began putting together various plans to make Yeouido a "special financial region" by establishing an international finance center and specialized training programs operated by property management experts.
Write a comment
You must be logged in to post a comment.