September 1st, 2008 · Humor, Photos · 18 comments
A branch of the Lotte Department Stores got itself into hot water recently with the photo seen below. Hat tip to Brian in Jeollanam-do.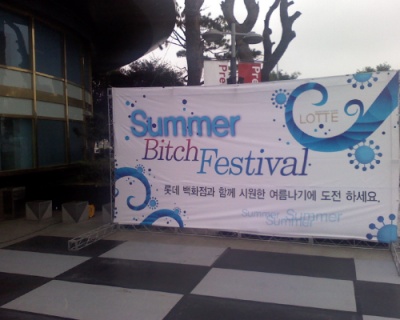 Recently an advertisement put up at a Lotte Department Store in Jeonju has gotten attention on the internet. A portal site placed this photo online and the department store's simple mistake has led to numerous humorous replies beating back the dog days of summer.
The story begins when the department store created an ad saying "Summer Bitch Festival" and it wound up being a hot topic on internet message boards.
"Bitch" is the most insulting word in English for a woman as well as a popular piece of profanity.
The store intended to write not "Bitch" but "Beach", and a representative of the company which produced the banner said, "actually the banner in question wasn't used at the festival and it just happened to be exposed during the set-up process and that's how it got on the internet and made this awkward situation."
But the many who were able to see it have said things like, "for Lotte to use the worst kind of language in the artistic city of Jeonju makes me distrustful of them", "when foreigners see that banner they will get a bad image of Korea and make it a topic overseas," and "I can't this kind of thing happened at a big company like Lotte."
A representative from Lotte Department Stores said, "we are already in communication with the company that produced the banner as well as the local store in Jeonju, and ask that everyone understand this is just a simple happening."
But many people feel that considering that such degrading language was used in a Lotte Department Store, which is a public space for consumers and especially is visited by large numbers of women, it becomes difficult to see it as just a simple happening.
Well hey, it could happen to anyone.
Write a comment
You must be logged in to post a comment.