Archive for July, 2008
July 31st, 2008 · Photos · 0 comments
The National Folk Museum of Korea (English homepage) is currently holding a neat-looking exhibition of 'first' Korean products, like this, supposedly the first Korean-made container for selling ice-cream cakes. This Chosun Ilbo gallery has several other pictures, including the first Hyundai Pony and the first Korean "cider".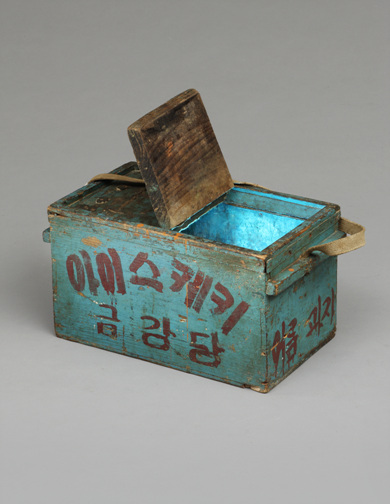 July 31st, 2008 · Politics · 0 comments
And is apparently preparing his remarks on the subject for next month's visit. Perhaps his words can mollify the protestors planning to greet him.
Update: Maybe the president really does care about the issue. The Chosun Ilbo reports that in a meeting with reporters from the Chosun Ilbo, Bangkok Post, China's People's Daily and Hong Kong's South China Morning Post in the Roosevelt Room of the White House, President Bush said that, "the Dokdo database will be returned to its previous state of seven days ago" and called for Korea and Japan to come to a peaceful resolution of the dispute. The paper says that he spoke knowledgeably on Dokdo, Ulleung-do, and Korea and Japan in general. Also, in a brief interview with the Chosun Ambassador Lee said that, "our current goal is for the name Dokdo to be used generally," rather than Liancourt Rocks.
The South Korean Embassy in the United States announced on the 30th that US President George Bush is aware of the current problems related to the Dokdo situation and has ordered the Secretary of State to look into it.
Ahead of President Bush's visit to South Korea next month he received a briefing on the Dokdo issue by the Secretary of State, according to which there is attention was paid to possibly reversing the decision of the Board of Geographic Names to list Dokdo as a "territory of undesignated nationality".
After a White House ROK-US FTA ratification meeting last month President Bush met with Lee Tae-shik, the South Korean ambassador, and told him, "I understand the Dokdo issue," adding, "Secretary of State Condoleeza Rice has been ordered to investigate the issue," according to a spokesman from the Embassy.
After listening to Ambassador Lee about the seriousness of the Dokdo issue and his demands for action, President Bush said, "it's a geographical problem, of course. I understand it," and mentioning the name of Secretary Rice, said that he expected the State Department to investigate ways to solve the matter.
Ahead of his visit to South Korea President Bush had invited Ambassador Lee and others to the ROK-US FTA ratification meeting, after which he and the ambassador had a private conversation.
According to President Bush's order to Secretary Rice to investigate the continuing Dokdo issue, the Department of State and related authorities are to seek a solution.
In particular, amid assertions that the US Board of Geographic Names cannot reverse its decision to call Dokdo an "area of undesignated nationality", there is considerable interest over whether President bush's order to investigate and deal with the issue may cause it to be overturned.
July 31st, 2008 · Accidents, Crimes and Scandals · 3 comments
Police in Chuncheon have arrested four people for holding dogfights in a factory warehouse in the mountains near the city and also booked another 18 for participating. 15 dogs, said to be worth some 2.5 million won, were seized. Bets from 50,000 up to 20 million won per match were accepted. In this photo a "lonely" dog lies in a cage as participants sit on the floor, surrounded by police.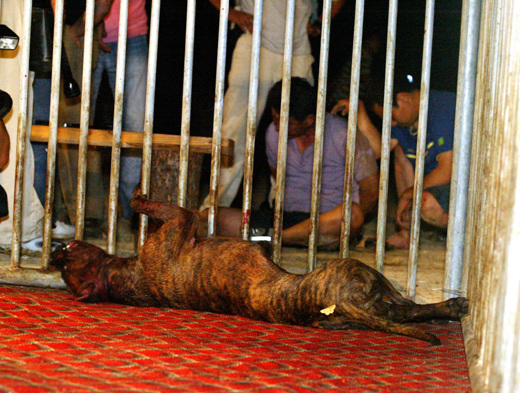 July 30th, 2008 · Accidents, Crimes and Scandals, Women in Korea · 1 comment
That's pretty sick, buddy.
On the 18th the 12th Court of Incheon sentenced a 20-year old named Lee to seven years in prison for seeking sexual gratification by slashing the inner thighs of women wearing short skirts or shorts.
In reading the verdict, the judge said, "this is the prisoner's first offense and he feels remorseful, and established compensation has been paid to the victims. But the crime of going out at night and slashing young women in short skirts or shorts is a very serious one, one which greatly frightened the citizens and caused grave physical and mental harm to the victims."
In weighing the seriousness of the crime the judge said, "the prisoner committed his crimes in order to satisfy his sexual desires, but the prisoner's distorted sexual values appear to have begun from an early age, and when one considers that he repeatedly committed the same crime in a short period of time and did so audaciously and for sexual gratification, there is a high danger of re-offending."
Mr. Lee had been arrested and indicted for six instances, from March through May, of slashing the thighs of women walking at night in the Incheon area.
July 30th, 2008 · Education and ESL, Foreigners, Legal news · 12 comments
It may nor may not surprise you.
Named victims of disbarred Halifax lawyer Srinivasen Pillay's alleged $1.3 million fraud will finally get to face him in court.
On July 23, Halifax Regional Police laid 105 criminal charges of fraud over $5,000, theft over $5,000 and breach of trust against Mr. Pillay.
Mr. Pillay, who now teaches English in South Korea, made his first appearance in Halifax provincial court on Tuesday.
Here's hoping the netizens don't get ahold of this one.
July 30th, 2008 · Politics, Women in Korea · 1 comment
That's what some women's rights activists have gotten themselves in trouble for calling Jeong Mong-jun at the wrong time. For background to this story see The Marmot's Hole.
"Is it against the law to hold a press conference criticizing a candidate for committing sexual harassment just because it's during the election season?"
Six activists from women's organizations that had held press conferences during the last election season accusing then-GNP candidate for the National Assembly Jeong Mong-jun of sexual harassment were indicted without detention by prosecutors on the 24th for violation of election laws, sparking criticism of the action.
Jeong, who ran for office from the Dongjak district of Seoul, was struck by accusations of sexual harassment by a female  journalist from MBC who claimed that he had brushed her cheeks while campaigning. Soon afterwards, on April 3rd, Son Mi-hui (44), permanent chair of activism with  Women Corea (전국여성연대), and five other activists demonstrated outside his office with signs saying "No Sexual Harassers in the National Assembly" and held a press conference.
At the time, representative Jeong recognized that his actions constituted sexual harassment and apologized to the reporter and to MBC a few days after the incident came out. The female reporter did not pursue either a lawsuit or criminal charges. However, while still a candidate, Jeong went to the National Election Commission (선거관리위원회) and filed allegations of election law violations against Son for organizing the press conference. He then filed charges with the police and on the 24th prosecutors handed down their indictment.
The third clause of the 103rd article of the current election law specifies that, "large demonstrations intended to have an effect on the election and other parties are prohibited during the election season." Lee Yeong-man, superintendent public prosecutor in Seoul, said, "though it had the form of a press conference they chanted slogans and hung up banners, making it a demonstration. In principle, prosectors file charges for election law violations."
But parties involved said, "candidate Jeong Mong-jun, who committed sexual harassment, is off scot-free while only the women who were sexually harassed are being punished." Son said, "we did not intend to influence the election, but simply intended, as a women's organization, to highligh a case of sexual harassment by a candidate. At the time sexual crimes like the murder of two schoolgirls in Anyang were coming up as societal problems, and I thought that there needed to be awareness of the lack of ethics of  a public official." Jo Yihyeonim, an official with the Korean Women's Association United (한국여성단체연합), strongly criticized the prosecution. "Representative Jeong admitted he committed sexual harassment and now prosecutors are coming down on us. This is an attempt to  pre-emptively silence criticism of public officials by the citizenry."
In the wake of this incident citizen's organizations have called for alternative solutions to the structural problems of the arrests. Lawyer Park Ju-min of the group MINBYUN-Lawyers for a Democratic Society (민주사회를 위한 변호사모임) said, "beyond the regulation of the media, the election law in our country has strong potential to restrict freedom of expression during the election season. Under the law governing demonstrations there is no clear, precise definition of a demonstration and police can arbitrarily judge and punish a press conference with signs. There needs to be a clause providing exceptions so that cultural and religous activities are not considered demonstrations."
In a phone call with the Hankyoreh representative Jeong's office said, "we have no comment at this time."
July 29th, 2008 · Legal news · 11 comments
Yes, it's true. A reporter gathered these prostitution cards from the area around the famous Haeundae beach and took this photo with a caption noting that — you may want to sit down for this — the businesses have gone unpunished despite advertising themselves so openly.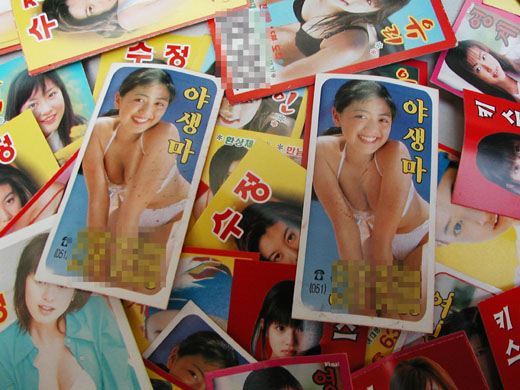 July 29th, 2008 · Photos · 1 comment
The top entries in a photo contest run by an organization called Magnum Korea (a part of the Hankyoreh Media Company) have been published in the online edition of the Hankyoreh under the title "The Republic of Korea Through Our Eyes", and many of the photos are a lot of fun. Right now the un-linkable slideshow is at the front of the Hankyoreh Photo Zone, so check it out. I'll try to come up with a perma-link for the future.
July 29th, 2008 · Accidents, Crimes and Scandals, North Korea · 2 comments
It seems some South Koreans will do anything to gain residence abroad. This article is also a good example of a phenomemon I touched on this post, where even when the subject is inter-Korean relations, South Korea is never "South Korea" but always "Korea". Thus we have "North Korean defectors who are originally from Korea".
On the 25th Radio Free Asia reported that the government of the United Kingdom is planning to deport all defectors from North Korea asking for asylum in the UK but whom fingerprint records say have been resident in South Korea.
According to the broadcast, the UK Border Agency explained that, "we are discovering that among North Korean refugees asking for asylum there are people who fraudulently claim to have come to the United Kingdom directly from North Korea. To determine who is telling the truth we have requested fingerprint records from the South Korean government."
The broadcast reported that, "based on results from fingerprints submitted to the South Korean government, the UK government will begin forcibly deporting people discovered to have made fraudulent refugee claims."
A Korean interpreter who aids North Korean refugees in the United Kingdom said, "when current migrants to the United Kingdom are interviewed, an important point will be whether or not they have lived in South Korea. Recently young housewives who say they have come from North Korea have had their refugee asylum applications turned down because they were judged to have come from South Korea and were treated as ordinary immigrants."
The background to this strong decision from the UK government is the rapidly increasing number of people asking for asylum as refugees from North Korea, the broadcast said, and the UK Home Ministry said that since 2007 applications such status have increased to 245, some 13 times the number in 2007.
In 2007 North Koreans were the ninth-most common nationality to seek asylum in the United Kingdom, the first year for them to place in the top 10. Compared to a year ago the number of North Koreans caught in various types of fraudulent applications has doubled to 180, the eight-most common nationality in that group.
Radio Free Asia reported that so far over 850 people have requested asylum in the UK by claiming to be "North Korean defectors".
July 28th, 2008 · Economy and Worklife · 1 comment
That's according to this Chosun Ilbo article. Also, you can read what one Korean blogger wrote in a post about using the services.
Recently at convenience stores and movie theaters you can see young people pulling out their cellphones when it comes time to pay. "Mobile financial technology" is increasingly being used by the young in the form of coupons and gift certificates on their cellphones.
According to SK Networks, the number of users of the mobile coupon service "OK Coupon" has recently exploded. At the end of last year there were 295,000 users, a figure which has tripled to 950,000 this year, and 65% of its users are between the ages of 15 and 25. When users present the coupons using their cellphones they can receive discounts of from hundreds to thousands of won.
SK Telecom and KTF both operate popular mobile gift certificate services: "Gif-ti-con" and "Gif-ti-show" respectively. Both offer mobile gift certificates which include significant discounts. 70% of Gif-ti-show's users are in their teens or twenties, while 62% of Gif-ti-con's users are in the same age group. The two company's services are aiming to pull in 10 billion won this year.
The big cellphone companies believe that the two services represent an awakening to "financial technology" of this young generation during an economic slump. Kim Ji-ho, a manager with SK Telecom, said, "with these mobile gift certificates they can buy gifts for their friends and sweethearts, and even if money is tight for them they can still be a 'cool, digital person'."
The big cellphone companies have plans to expand the services and tailor them to trends among the young generation, who care about both substance and style. KTF is having a "1+1" celebration until August, offering a two-for-one gift certificate purchases, and SK Telecom and SK Networks plans to offer customized coupons. Who knows where young people's financial technology will go next?