Archive for June, 2008
June 30th, 2008 · LGBT Korea · 3 comments
A new blog-cum-webzine for non-straight Koreans was launched on the 21st. It's called 너, 나, 우리 "랑" and currently has 10 articles up on the Queer Pride Parade and other parts of the gay rights movement. I'll probably be translating some articles from there in the future.
June 30th, 2008 · Photos · 3 comments
Goryeo-era artifacts were recently discovered from a shipwreck by a treasure hunter named Choi but then confiscated by the government.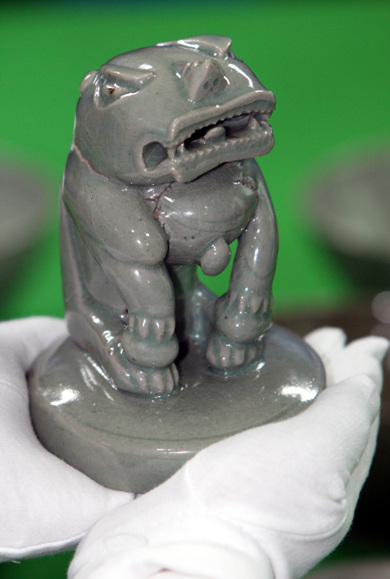 June 30th, 2008 · Photos · 3 comments
Candidates and their supporters are once again working the streets, looking to pick up as many votes as they can, usually in ways that make for good pictures, and they do seem to have fun. The Chosun Ilbo has a few galleries up.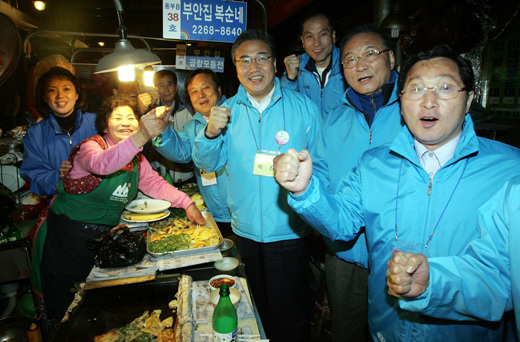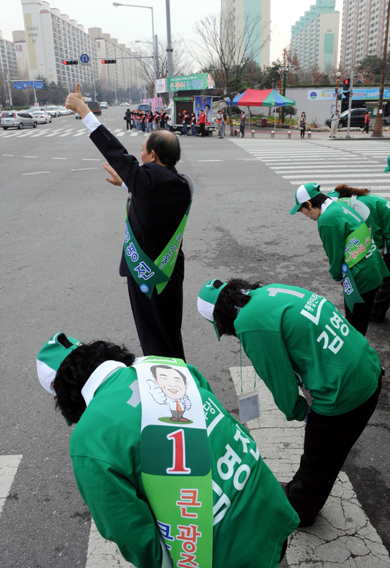 June 29th, 2008 · Stories of the Day/Week/Year · 6 comments
The original page for Naver's most popular articles this week is here.
1. A power outage at a fish farm in Jeollanam-do left 400,000 fish dead causing W1.3 billion worth of damages. The farm had failed to pay its electric bills on time, and a quarrel broke out between a farm worker and two power company employees.
2. Two people died while parking their a car in an E-Mart parking garage in Seongnam; the car went through the wall of the garage and fell four stories. E-Mart is denying responsibility but may wind up in legal trouble over this.
3. A short article, with plenty of pictures, on actor Choi Min-su reuniting with his family after deciding to spend a while living as a homeless man or something after getting into a fight with an old man in April. (Don't worry, I don't get it, either.) He's going to make things up to his kids by taking them to Toronto for summer vacation.
4. A short look at Korean women with eating disorders.
5. An article about Everland's attempted cover-up of a worker death.
6. Analysis of Park Chan-ho's recent pitching success against the Cleveland Indians.
7. Something about a giant pig in China.
8. A look at the apparently increasing trend away from co-education at the middle and high school levels, with several high schools reverting to the male-only institutions they were before the Kim Young-sam government had them go co-ed in the 1990s.
9. An article about Korean English teachers being embarassed by students who have studied abroad correcting their pronunciation or grammar. This story is actually two weeks old, so I don't know why it suddenly got popular.
10. A report on what some in the Japanese media are saying about its national soccer/football team's chances against Australia, South Korea, and North Korea.
Another popular story this week was an interview with a decidedly un-stereotypical ajumma who wound up being the most searched-for CyWorld page this week by putting up pictures of herself in a Dolce & Gabbana bikini.
June 28th, 2008 · Accidents, Crimes and Scandals, Foreigners · 4 comments
Yeah, that's a big no-no. A bigger no-no is letting him on the plane.
Questions are being raised over the effectiveness of airport security searches at Incheon Airport after a foreigner was able to pass through security and board the airplane despite carrying a gun.

According to airport security on the 24th, at approximately 8:40 am on the 19th A, bodyguard for a French cabinet minister, boarded the plane while carrying a gun and live ammunition before learning that this was prohibited and leaving the weapon with cabin crew.

Weapons are supposed to placed in sealed packages by customs or the police but as the plane had already been boarded leaving it with the captain was accepted.

A came to Korea as bodyguard for the French Minister of State for Foreign Trade, who was attending an OECD meeting, and alerted customs to the weapon upon entering the country but made no report on exiting the country and safely passed through security.
I always suspected all those metal detectors were worthless. This guy brings through a loaded gun, but when I travel to Tokyo with my then-girlfriend to propose to her, the ring sets them beeping?
June 28th, 2008 · North Korea · 0 comments
North Korea seemingly wasted no time beginning to implement its denuclearization agreement, toppling the cooling tower of the Yongbyon nuclear reactor. Naver has a large gallery of photos of the tower and its final moments. A good English write-up of the day's events is here.
Update: Video is over at Naver.
June 28th, 2008 · Economy and Worklife, Foreigners, Sports · 0 comments
Korea's first foreign baseball manager is now appearing in real estate ads in Busan.
The Lotte Giants' foreign manager Jerry Royster has become an advertising model.

Lotte announced on the 25th that manager Royster has signed an agreement with the team owner, Lotte Construction, to promote its "Lotte Castle" brand apartments in the Busan area.

Royster, the first foreign manager in the history of Korean professional baseball, is being called "the Hiddink of Busan" for his team's rising fortunes this season.

Among pro baseball coaching staffs, former MBC manager Baek In-cheon and former OB coach Yun Dong-gyun have also appeared in advertisments, but are now deceased.

Last year FC Seoul head coach Şenol Güneş appeared in ads for international phone calls.

Lotte Construction announced that it had considered tapping manager Royster to be in advertisements since the Giants signed him in April.

The ads featuring manager Royster will be published in Busan-area newspapers and fliers. Outside of Busan the company will continue to use actress Jun Ji-hyun.

Manager Royster has shot the advertisements in a studio in Seoul and is considering appearing in TV ads for Lotte Castle after the season ends.
June 27th, 2008 · Foreigners, Photos · 0 comments
An American veteran of the Korean War reflects on his fallen comrades at the war memorial in Yongsan on the 24th.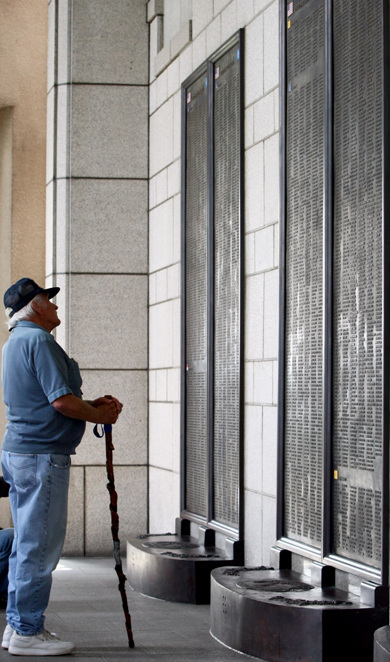 June 26th, 2008 · Health and Environment · 2 comments
American beef has received the official go-ahead to be imported again, says the English Chosun Ilbo. Money Today carries the news in Korean with a scan of the letter from the US government acknowledging the decision and thanking the Korean side for doing so.