Archive for May, 2008
May 31st, 2008 · Accidents, Crimes and Scandals · 5 comments
It seems that the people bringing drugs into South Korea are using new techniques. Well, some of them are not so new, but perhaps they are from the perspective of the Korean Customs Service.
With a crackdown on drug smuggling, techniques used by the smugglers are becoming more sophisticated.

According to a report on drug smuggling from the Korea Customs Service (관세청) on the 29th, most smuggling is now done through either hiding drugs in dried persimmons and yellow corvina fish or in body cavities (the vagina and anus) or by using fast, anonymous international mail.

Through April of this year the Customs Service had discovered 37 instances of smuggling, for a total of approximately 5 kilograms of drugs worth 10 billion won, and 49 arrests have been made. Of the arrested people, 17 (36%) were self-employed, 12 (24%) had no job, 7 (14%) were office workers, 7 (14%) were students, 5 (10%) were hagwon intructors and 1 (2%) was a postal employee.

Besides hiding drugs in bags of sugar or underwear, smugglers have been found trying new techniques including hiding them in body cavities (the vagina and anus) and swallowing them.

The drugs they brought included methamphetamine (21 instances, 3.6 kg) and marijuana (11 instances, 1.1 kg), with the methamphetamine alone being enough for 118,000 people to take a hit.

60% of drugs came in through international mail, 13% through couriered packages, 7% through sailors, and 20% through airplane passenger. By nationality the greatest amount came from China (22 instances, 59%), while there were 8 instances from the United States, 2 from Canada, and 1 each from Russia, Australia, and Thailand.
Ten people, including at least two Koreans, were arrested a few days ago for bringing in counterfeit Viagra from China.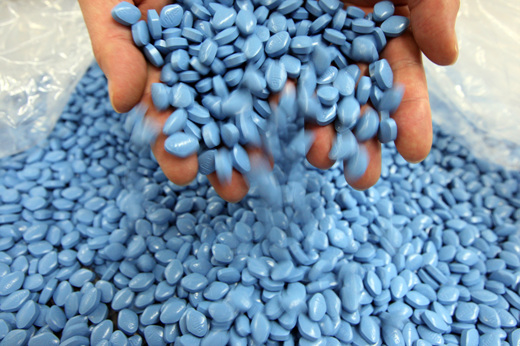 May 31st, 2008 · Health and Environment, Photos · 14 comments
Riot police dispatched to the scene of a protest in Seoul on the 29th stood impassively while protestors put bumper stickers on their shields. The stickers say 우리는 광우병 쇠고기 수입을 반대합니다! — "We oppose the importation of mad-cow diseased beef!"
"Flower Power" it ain't.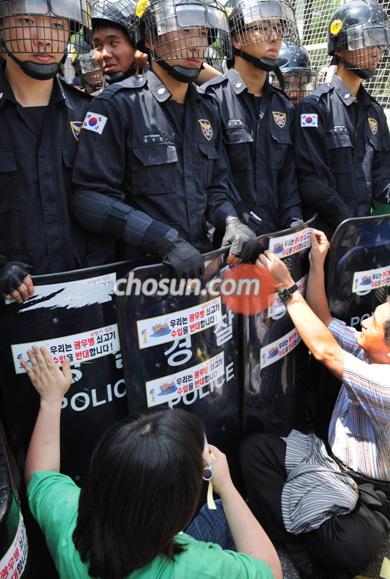 May 30th, 2008 · Accidents, Crimes and Scandals · 0 comments
Original article. Looks like the anonymous commenter who criticized me for "ignoring" this story and spread rumors that it was speculated to be murder because the driver of the other car was never found — didn't know what the hell she/he was talking about.
New Zealand authorities announced on the 18th that a young Korean man had been killed in a highway car accident. According to local police, at approximately 5 am on the 17th (local time) at highway 2 near Clive, a car being driven by 27-year old Mr. Park was struck by an oncoming car and Mr. Park died at the scene.

The 19-year old driver of the other car sustained serious torso injuries and is being treated in hospital.

Jeong Sang-cheon of the New Zealand Embassy said, "(Although the autopsy results have not yet been released) it appears that the collision occurred when the other car swerved into the wrong lane."

The Embassy is working with local police to ascertain the circumstances of the accident.
May 30th, 2008 · Fashion, Women in Korea · 19 comments
Our first article to be cross-posted to Feet Man Seoul (see here) is an E-Daily semi-advertorial on calf-reducing surgery for women who want slimmer legs. Personally this gives me the mega heebie-jeebies but then again I'm considering having Lasik surgery someday so…. yeah.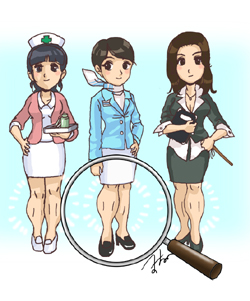 Obviously, many women want to have slim legs, but it's taking care of your calves that is especially important for women who do stand-up work. Standing all day thickens your calves, because you're constantly pumping your calf mucles. When the weather starts getting hot, short skirts and pants come into fashion — and along with them, the anguish of women who work on their feet all day long.

26-year old stewardess Lee Min-Gyeong (pseudonym) agonizes over her thick calves. She wears high heels on flights that can go over 10 hours each, standing all the time, leaving nothing she can do to prevent her calves from getting bigger, and when she looks at her thick calves she doesn't just not feel good — she has a complex over it. She feels distressed when she compares her legs to those of her co-workers', and even on her off days she avoids wearing high heels or, of course, short skirts. She heard from a co-worker that there is an easy way to solve the problem through surgery, and decided to have calf-reducing surgery. She went for a consultation to a well-known hospital and put in an application to take time off from work.

Cases of thick calves can be grouped three ways — an excessive accumulation of fat; thickening due to both fat and muscle; and finally, an excess of muscle alone. It is possible to get thick calves through too much exercise, but it also happens when you work while standing all day in high heels. Wearing such shoes and then standing for a long time creates a synergy effect in your body because that situation stimulates the production of muscle. The women's jobs which create the most stress over thick calves are stewardess, teacher, clerk, and narrator model. Because there are so many situations which can create calf thickening, normal liposuction alone cannot solve the problem, but removing muscle can. Because exercise and dieting cannot reduce thick calves, it can be seen that an operation to reduce the amount of muscle is unavoidable.

Previous methods of reducing calf size had the drawback of causing nerve damage which impeded exercise or had other side effects, including relapses and asymmetry, but new surgeries safely remove only muscle. The surgery can remove inner and outer muscle, and its semi-permanent maintenance is a strong point. Also, only local anaesthesia is required and once the swelling subsides a week or two later you can see the results immediately.

Recently, endoscopy is being used to increase the benefits of the new surgery. Jo Gil-hwan, chief of the Misou Plastic Surgery Clinic (미소유성형외과), explained, "the use of endoscopy when performing calf reduction surgery allows for a smaller incision and less scarring. Furthermore, bleeding is reduced and this allows the removal of muscle and fat without touching the nerves and the surgery can be tailored to the individual." Also, not only can the surgery be used for thick calves caused by obesity but also for those caused by naturally thick calves and those caused by walking around a lot.
May 30th, 2008 · Announcements · 2 comments
If you haven't been reading Feet Man Seoul, the "multimedia magazine" blog published bilingually by Michael Hurt (the Metropolitician), you've been missing out on some cool photography and a unique look at street fashion in Seoul.
Well starting today, Korea Beat and Feet Man Seoul will be working together. Every week you'll see an interesting fashion-related article translated and posted up to both blogs, expanding the range of content you see here and giving readers of each the chance to interact cross-blog, as it were.
Also, you guys get the chance to see just how poor my Korean writing ability is. Heh.
May 29th, 2008 · Foreigners · 10 comments
An American woman flying to New York City wound up arriving with more than she expected. Congratulations to her, and kudos to the Korean crew and doctor for a job well done.
An 8-months pregnant American woman gave birth while flying to New York City on a Korean Air flight from Incheon..

According to a statement by Incheon International Airport on the 29th, at 4:30 am Korean time, 10 hours and 30 minutes after KAL flight KE085 took off, 39-year old Jacel Brown began having stomach cramps.

Flight crew checked to see if there was a doctor on board and, luckily, Dr. Lee, the director of Konkuk University's surgery department was also a passenger.

Together with the crew, Dr. Lee attended to Mrs. Brown and 30 minutes, at 5 am, she gave birth to a son.

There were 292 passengers on the flight, which was flying over northern Edmonton at the time of the birth.

Mother and child were both in good condition and Dr. Lee, after consulting with the pilot and ground crew, determined that the flight could continue, although it had been near to an airport where a landing was possible.

The plan arrived at 9:15 this morning at New York's John F. Kennedy international Airport and mother and child were moved to the hospital by a waiting ambulance equipped with an incubator.
May 29th, 2008 · Photos · 0 comments
Kil Gun performed on the 28th in a "Light of the World showcase" at the Hongdae nightclub NB2.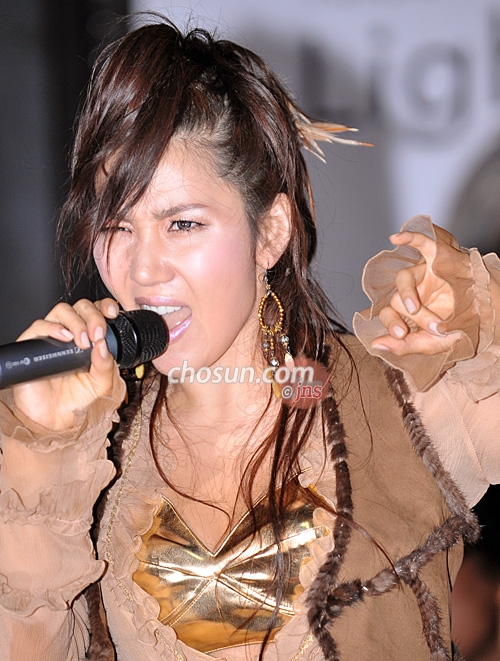 May 29th, 2008 · Accidents, Crimes and Scandals, Education and ESL · 2 comments
The Gyeonggi-do Pronvicial Office of Education recently wrapped up its investigation of Gimpo Foreign Language High School, the object of scandal at the end of last year when it was revealed that bribes had been exchanged for answers to its admissions test.
Jeon Byeong-du, chairman of the Gimpo hagwon which operates Gimpo Foreign Language High School, announced on the 22nd that, "we are in distress over a request from the provincial Office of Education that out principal and vice-principal be dismissed over problems related to accounting problems at various schools."

He continued, "sooner or later the board of directors and the punishment hearing will open, and it had already been decided that the principal would submit a voluntary resignation before the audit and the vice-principal would be demoted to the status of regular teacher and the administration chief would, at the request of the Office of Education, be fined three months' salary."

"This joint audit inquired into responsibility for the release of test answers, and I cannot get out of my mind thoughts about the Office of Education's request in March that the principal and vice-principal be relieved of their duties. The release of test answers was an individual mistake, and I think that firing them is too harsh."

On the 21st the Office of Education released the results of a nine-day investigation of Gimpo Foreign Language High School and conducted from March 31st, finding that, "many illegal acts were uncovered including illegally raising over 60 million won in funds for the school's endowment and irregularities in boarding costs." The report called for the principal, A, and vice-principal, B, to be fired and the administration chief, C, fined three months' salary.
May 29th, 2008 · Photos · 13 comments
On the 27th a fashion show was held at the Lotte Department Store in Seoul's Sogong-dong with bodypainted-models to advertise the "cool biz" style, described as "no tie, no jacket".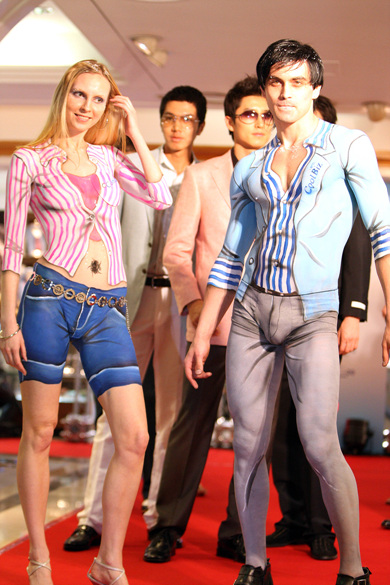 May 28th, 2008 · Foreigners, Korean Wave · 13 comments
There's an article here about how the Korean Church Association is offended by the recently installed 2 metre statues on the 2nd floor of Incheon International Airport made in the form of the 12 animals from Buddhist mythology. Quick translation of a few parts of the article (not the whole thing):
The animals including the snake, dragon, mouse and so on have the face of an animal and the body of a human. According to the article some have described them as 'eerie'.

The association's bureau chief sent a message to the airport on May 26th saying that it was "thoughtless to propagate this under the guise of 'traditional culture' in a public space with public funds," and that they requested they be removed.

Response from the airport was that they installed the statues on the 18th to introduce Korean traditional culture to people visiting the country, and that they were undergoing a cultural airport project in order to make the airport into a hub of transportation. In the boarding area are places to experience Korean culture and exhibits of relics. The statues were made through the cooperation of the National Museum of Korea, and cost a total of $70,000 to make.
My opinion? They're not eerie at all, they're worth the cost and the Church Association is completely unfounded here. Korea fails to understand that sometimes people like eerie, that people often to come Asia to experience a bit of this mysticism, and are often disappointed by the bland fare (fried meat and soju-drenched nightlife just to raise one example) they are presented with. Jeju-do is perhaps the only place that understands that eerie is good:
The names of some of the people from the Church Association and the airport are in the original article, and I think it might be a good idea to send off a few emails to the airport to let them know that the statues are really cool. Or maybe letting them know in person the next time you go there. It would be a shame if they were somehow pressured to take them down.