March 11th, 2008 · Accidents, Crimes and Scandals, Sports · 7 comments
Just yesterday Lee Ho-seong, a former ballplayer for the former Haitai Tigers, was publicly identified as the prime suspect in the disappearance of a woman he had been dating and her daughters. Today the bodies of all involved were discovered.
Naver's full archive of related articles is here.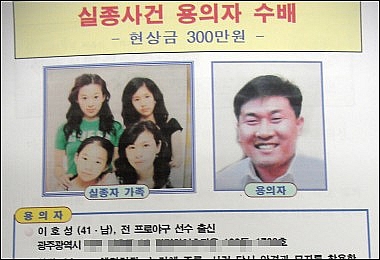 The four-person family from Mapo who disappeared were discovered in Hwasun, Jeollanam-do, having been murdered and buried. The lead suspect, former pro baseball player Lee Ho-seong (41), was found dead in the Han River that afternoon, presumably a suicide.

At approximately 11 o'clock at night police found 46-year old Kim and her children buried in the ground near a church in her hometown of Hwasun, close to the same graveyard in which her father is buried.

Police were alerted by a person named Yu, a neighbor of Mr. Lee's who was asked by him last night to tell the police where they could find the bodies.

Police believe that at 5 am on February 19th Kim's eldest daughter, who was 21, placed a phone call in that area and that after murdering her and her family Mr. Lee buried them.

At approximately 2:30 yesterday afternoon Mr. Lee's body was discovered.

Kim (39), who discovered the body, said, "I was out in my boat on the river when a corpse floated up and I called 119."

Fingerprints confirmed that the body was Mr. Lee's. He was wearing a jacket and a gold ring, and his body did not suffer external injury. From the amount of rigor mortis present police believe he took his life at about 3 am.

A source at the police said, "it looks like Mr. Lee was under a lot of pressure after his name and face were released across the country as the prime suspect and he jumped to his death."

Police are continuing to investigate the circumstances of Mr. Lee's death.

Mr. Lee and Ms. Kim had begun dating two years ago. After retiring from professional baseball in 2001 Mr. Lee worked as an MC and in a horse racing track but fell into debt before being suspected of the crime.

On February 18th, the day that Ms. Kim and her three daughters disappeared, Mr. Lee was captured on security cameras leaving their apartment building carrying six large bags. 22 days later on March 10th police announced to the country that he was the prime suspect.
Write a comment
You must be logged in to post a comment.