Archive for November, 2007
November 30th, 2007 · Photos, Transportation and Urban Design · 1 comment
Via the Hankyoreh here. Korail announced on the 27th that this "hotel-style" train will ferry the Olympic team cheerleaders of both Koreas to the Olympic Games in Beijing next year, with 7 sleeper cars, 2 dining cars, and 1 "event" car. They've promised that after the Games the train will be available to "domestic tourists" — no word on ticket prices, however.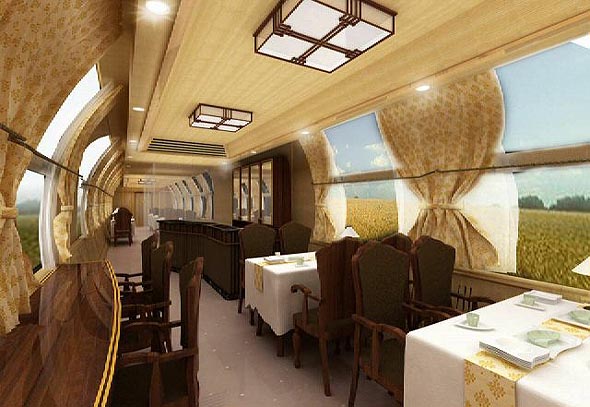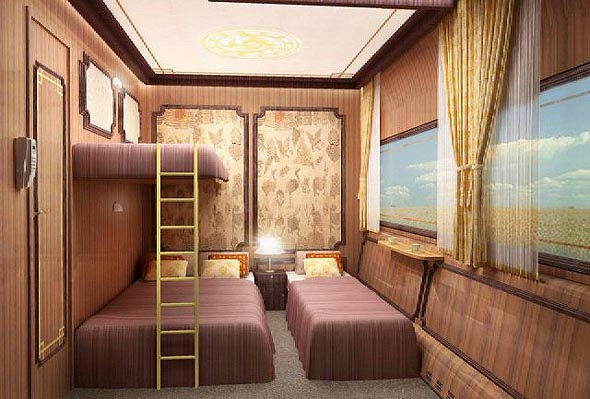 November 30th, 2007 · Photos · 2 comments
The Chosun Ilbo ran this photo of a Christmas tree being erected in Seoul. Gallery here.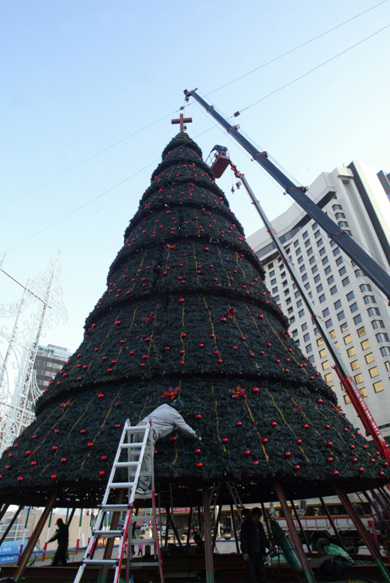 November 30th, 2007 · Health and Environment, Surveys and Studies · 0 comments
Original Article. It seems high school students and office workers are not the only victims of lack of sleep in Korea.
"I wish I could just go to sleep as much as I wanted."

These day's what's bothering privates in the military is not training, the hierarchy or beatings. The most difficult thing for them now is lack of sleep.

For one month starting from September 17 the Korea Institute for Defense Analysis surveyed 2,152 privates and cadets in the army, air force, and navy and found that the greatest on-duty complaint, selected by 22.2% of respondents, was lack of sleep.

After that were "cold, lack of water, and poor living conditions," (18.1%) and "loneliness and solitude" (11.9%). As the aid they offer to citizens is increasing, 10.4% selected the work of repairing flood damage and helping construction projects. The traditional complaints of "bad barracks life culture" and "hard training" came at 9.4% and 8.4% respectively.

Asked how they have changed since beginning military life, 43.4% said "my moral values on human life." After that were "thoughts of my family" (21.9%), "thoughts about North Korea" (14.7%), and "thoughtsd about my country" (8.5%). Those in the Navy were most likely to report such changes as 52.4% did so.
November 29th, 2007 · Nightlife · 10 comments
Over the summer the Hankyoreh examined the key difference between ads for beer and ads for soju.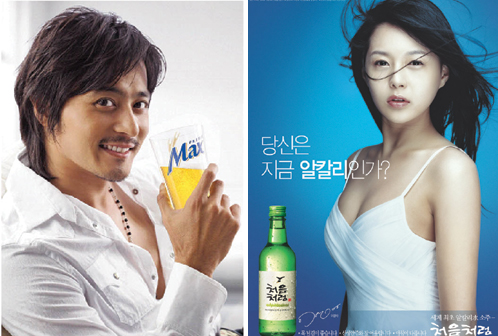 The sculpted good looks and bright smile of leading man Jang Dong-gun are selling "Delicious Beer." The charming innocence and fashy dance of female actor Gu Hye-seon are enticing people to try "Soft Soju."

Already people have made the connection in their minds that "beer = handsome men, soju = beautiful women."

The "wordless competition" in the world of soju busines is fierce. They often use female models to emphasize soju's gentle taste despite being hard liquor. The use of beautiful women in soju ads started in 1998 with the launch of Chamisul, which created a buzz for featuring top star Lee Yeong-ae.

Through Lee Yeong-ae came the common wisdom that "soju  model = pretty star." Hwang su-jeong, Park Ju-mi, Kim Jeong-eun, Kim Tae-hui, and Seong Yu-ri all did a  turn in Chamisul ads.

With the most recent soju model, Nam Sang-mi, the goal is the same — appeal to men with a clean and cute image.

So why do soju ads feature these beautiful stars?

A representative from Jinro explained, "it's because the nature of soju is that it's consumed much more often, 70% more, by men.

"With stars who started out as models, they're well-known by 20-year old college students and men in their early thirties. They show up on PC screens, downloads, and posters."

For the same reason, Doosan hired Lee Yeong-ah to be the model in the first ads for 처음처럼.

Doosan said, "we chose Lee Yeong-ah as the model who can make our brand a big one."

On the other hand beer ads select pretty boys, because many women prefer beer for its lower alcohol content.

Hite's selection of Jang Dong-gun as the model for Prime Max sent the hearts of his many female fans fluttering.

Lee Hyeong-jeong of Hite's PR team said, "Jang Dong-gun got every woman in the Republic of Korea to try out Prime Max. He's a 훈남, a guy with a kind face that makes you feel good to see him again, and that carries over to the product." In fact when people drink Max they tend to think of it as "Jang Dong-gun's beer."

OB used Jo In-seong, popular with women in the 20 – 39 age bracket, as the model for Cass Ice Light. His cute little dance in the ads sent the beer flowing into women's hearts.

OB recently hired Ju Jin-mo to be its model for Cass Red. Ju  was selected to bring in female fans and present Cass Red to them as a full-flavored, high-alcohol drink.

Other 훈남s slated to be in beer ads are heartthrobs Park Ji-sung, Kang Dong-won, and Lee Wan.
November 29th, 2007 · Accidents, Crimes and Scandals, Education and ESL · 0 comments
It's been reported that over the last couple of years a number of schoolteachers and principals have used the fervor for English education to get themselves some free trips to Australia. See also this recent article about English exam cheats in Gimpo.
Police have made a group arrest of elementary school teachers in the Seoul area who used the pretense of creating a "Native Speaker Classroom" in the school to receive money for a free trip abroad. The Bucheon Police Department announced on the 22nd that it had arrested 10 current and 1 former teacher from schools in Incheon, Suwon, Bucheon, Gimpo, and Ansan for receiving over 1 million won each from a company that operates such classrooms over the years 2004 to 2006.

Police plan to charge the teachers who received the money from employee B of company A with bribery and receiving the money.

According to police it is suspected that B used the authority that school principals have to set up native speaker English classrooms to gain between 1.3 and 1.9 million won for teachers from those schools to go on trips to Australia for English camps. In the case of the principal at school C, after over 1 million was paid to the travel company through the influence of B on August 2nd of last year and a 5 day, 6 night trip to Australia, in September the same year the full cost of the travel was received from B.

After travelling to Australia in December 2006, police believe the principal at school D used a bank account in B's name to receive the 1.3 million won-cost of the trip.

School C's principal said, "starting in 2005 B kept asking me to take a trip to Australia and I always refused, but last August I paid the fee directly to the travel agency, went and came back. It wasn't until later I found out that B paid the travel costs through the girl in charge of my bankbook."

The police announced, "we have discovered that at some of the schools lobbied by B that decided to build native speaker classrooms travel costs were reimbursed by B through accounts under other people's names. We have made arrests with consideration given to the long time they have worked in education."
November 28th, 2007 · Photos · 2 comments
Browsing through the Digital Hankooki's archive I came across this cool picture.
November 28th, 2007 · Education and ESL · 6 comments
The ever-colorful Lee Myung-bak apparently stuck his foot in his mouth again a while ago, saying that Korean elementary schools should use English as a language of instruction. His suggested classes, however, inspired some colorful grandstanding over a clearly meaningless proposal.
On the 9th, Hangul Day, the United New Democratic Party, aiming at a statement by presidential candidate Lee Myung-bak, announced, "this is just like the policy the Japanese imperialists created to destroy our national language."

Speaking before a policy committee, representative Kim Hyo-seok said, "using English to teach the subjects of Korean language and history, where the spirit of our people is contained, is a terrible idea," and called for the candidate's plan to be withdrawn.

While on the campaign trail in Busan on the 5th, Lee Myung-bak said, "if we use English to teach Korean language and history classes starting in elementary school, then students will be comfortable with English even if they don't go to language schools."

Spokesman Lee Nak-yeon said, "it would be good to have a president who speaks and writes Korean like a gentleman. This idea of having Korean classes in English is wrongheaded and we need a president who knows how dangerous it is."

RepresentativeLee Gyeong-suk, a member of the educational policy committee, said, "I don't understand how you can teach something like, for example, '사뿐히 즈려밟고 가시옵소서' in English. I want to know if they're going to call Hangul Day English Day? Will this class teach that kimchi is something eaten with forks instead of chopsticks, and the president is the native speaker president?"
November 28th, 2007 · Foreigners, Interviews, Sports · 1 comment
The newest high-profile foreigner in Korea, Lotte Giants manager Jerry Royster, has arrived in Gimhae. The Sports Hankook Ilbo tossed him a few softball questions at the team's training complex.
Jerry Royster, the first foreign manager in the history of the Korean Baseball Organization, arrived at the training grounds in Gimhae and had his first meeting with representatives of the players and management. He announced, "I may not know much about Korean baseball but I will work hard for our fans. We'll need to work hard to get into first place."

▲What's the biggest reason you came to Korea?


= After Lotte contacted me I was really unsure of what to do and got in touch with my old friend Bobby Valentine, who manages Chiba Lotte in Japan. Ultimately I chose Korea because of Bobby's advice and the impressive performance of Korea in the World Baseball Classic.

▲How do you plan to organize the coaching staff?


= I'm thinking about inviting one or two other coaches but I'm still discussing that with the team. We have a lot to think about.

▲How difficult will it be to take the team out of the basement?

= We need to work hard to go from the bottom to the top. To make that kind of change the players have to really pay attention to the fundamentals of the game. I don't know that much about Korean baseball yet but I'm going to ask them to work hard and do their best for the fans. That's the kind of baseball I want to see.

▲What do you want to say to the players?

= I've been a player and coach for 37 years and I know the importance of respecting the fans who come out to the games. The players have to hustle and show them good baseball.

▲What was your initial impression of Busan?


= I just came to Korea yesterday, and it hasn't been that long since I got off the plane but this is obviously a big, busy city.
November 27th, 2007 · Accidents, Crimes and Scandals · 12 comments
The Jeju Police Department announced on the 27th that it has arrested 24 people, including a Mr. Lee(36), and is seeking warrants for four others, including a Mr. Jeong (24), in connection with the prostitution of a teen met through internet chatting.

According to police Jeong and the others met the girl, A (15), through an internet chatting site and paid between 30 and 100,000 won to have sex with her, as many as three times each, between July and October of this year.

The men were caught after an investigation last month arrested two men including another Mr. Lee (18) for forcing A into prostitution, taking the1.1 million she earned that way from her and assaulting her. In the course of that investigation the internet IDs of the men who had purchased her sex were discovered.
The Sports Hankook's headline for this tale of teenage prostitution, rape, and violence?
한 15세소녀와 성관계 남성 많기도 하네! [Wow, lots of guys had sex with a 15-year old!]
Classy, SH. Classy.