Archive for September, 2007
September 30th, 2007 · Legal news, Society · 1 comment
A few days ago Lee Woong-hyeok, professor of criminology at the Korea National Police Academy, wrote this editorial in the Munhwa Ilbo calling for new methods of crime-fighting to be imported from the New York City model made famous during Rudy Giuliani's tenure as mayor, though I wonder how well "community policing" will go down in a country where the police often prefer not to get involved. In any case, the professor's letter comes on the news that the numbers of violent crimes have increased for three consecutive years.
On the 18th at the National Assembly, the police reported that five serious crimes (murder, burglary, rape, theft, and assault) have been steadily increasing, from 455,601 in 2004 to 487,687 in 2005 and 489,372 in 2006. School violence and cybercrime have also continued to rapidly increase. Also, research conducted by the Seoul city government and released on the 19th found that over half of women were fearful of experiencing crime while walking at night and one in three men also feel uneasy about it.

The Ilsan Police Department arrested one of its own men for kidnapping, raping, and robbing three married women starting in January. That policeman, charged with protecting the lives and property of citizens, in fact committed heinous crimes against them. With that kind of crime being committed it seems that our society can never be safe. And even though in that time the police's manpower has steadily increased, crime has become more common and more dangerous. If it were a simple matter of increasing police power then crime would be down, but it appears that it offers little help.

Of course the background to the increase in violent crime in our society is economic trouble, the dissolution of families, the breakdown of societal norms, and the problems that arise from them. Individualism is also a big problem. Obviously, the police cannot cure the root causes of these kinds of crimes. The crime prevention efforts of the police have limits.

But while that's true, we do not have to rely only on traditional methods of fighting crime, which produce no results. In fact most crimes originate indoors. Accordingly, the crimes being committed these days cannot be stopped by police patrolling outdoors. Even allowing that visible patrols can be a deterrent to crime, they still cannot be everywhere. For that reason there are few results from patrols by police who do not know citizens well.

But it is not true that the police have no plans for combating crime.

First, the police power can be dedicated to always having patrols covering half of the jurisdiction at any one time, creating a concrete theme for them. Through this method reduction of crime can be accomplished according to the example of the New York police. They found that instead of regular patrols with vague missions, specialized patrols targeting public urination, turnstile jumping, graffiti and so on can significantly reduce crime.

Second, the identity of the police must change. This means that the police, more than looking at crimes already committed, see themselves as playing a role in resolving individual troubles and local problems. This is much more difficult than the passive reacting to crimes and related issues of normal police work, because they must find the hidden crimes committed within their jurisdictions. It requires being near to the emotional lives of the citizens, and demands initiative and an understanding of the social sciences. Every problem must be understood both qualitatively and quantitatively. To solve concrete problems various public and private organizations must work together, but in fact that is very difficult to achieve.

Third, to be able to take creative and comprehensive actions for public peace and order, organizational changes are also needed. On-duty police patrols meeting directly with citizens should have considerable discretion. Positive results can be seen from rubbing shoulders with the people living in their jurisdication. The organizational structure and the highest tiers must be changed to a "flat structure". This is because the current culture of centralization and hierarchy can only generate resistance to new ways to prevent crime. From now on these changes could help our police reduce crime.
September 28th, 2007 · Education and ESL · 3 comments
With the South Korean government pushing to build foreign language institutions — English villages, specialized high schools — at seemingly breakneck speed, the Korea Educational Policy Institute is calling for a time-out. There is no obvious benefit to these elite institutions, they say, when you factor in the fact that they only admit top students to start with. They also accuse them of being implemented without clear plans, which certainly rings true to me.
Government education policy think tank the Korea Educational Policy Institute criticized current policy on specialized high schools, saying that in reality there is almost no benefit from foreign language education and the introduction of a policy of elite specialized high schools is not producing any special results.

On the 12th at the Appeal Commission for Teacher's lecture hall in Samcheong-dong, Kang Yeong-hye, education policy research leader at KEDI, made a similar presentation about "the present location and growth of specialized high schools" at an educational reform debate sponsored by developers.

Head researcher Kang analyzed the language scores of students in science vs. regular schools and foreign language vs. regular schools, and introduced his findings by saying, "we confirmed the effectiveness of science high schools but found there was almost no benefit from foreign language high schools."

Science schools and foreign language schools all are considerably ahead of regular schools but if you control for the variables of the quality of the students, schools, and curricula, the difference between foreign language schools and regular high schools cannot be found.

Kang emphasized that, "this shows that the benefits of the specialized high schools which parents prefer are really the result of having better environments and school districts, and selecting superior students."

Kang spoke about the fact that specialized high schools are the cause of private education [in other words, hagwons], saying, "our research concluded that to enter a foreign language high school, 60.3% of students received private education, and in the Seoul metropolitan area 83.4% did so. Because entrance exams for specialized high schools exceed the middle school curriculums, private education to prepare for the specialized schools, aside from the burden of fierce competition, leads to a crisis in public education as third-year classes collapse."

Kang also said, "as a considerable portion of the benefits of a specialized high school is in their selection of students with outstanding grades and family backgrounds, we believe that the currently adopted policy on elite institutions cannot produce significant results. In particular in the case of foreign language high schools the meaning and character if the established policy of a 'foreign language genius' is unclear."

He proposed four reforms of specialized high schools.

1. Eliminate the current provisions in education law for specialized high schools and reform them under new a new system

2. That foreign language high schools be judged by periodic evaluations.

3. That more than just scholastic performance be considered for application to language high schools.
4. New methods for college entrance be expanded.

On the subject of the 'international high schools' which educational boards are driven to develop, he said, "the rash establishment of international high schools can bring the same problems as foreign language high schools so their identity must be made clear in the early stages."

Kim Jin-hyeong, professor at Konkuk University who attended as a debater, said, "the limitations of specialized high schools, both for science and foreign languages, means their form is not right. Especially as foreign language schools have lost their capacity as specialized schools, changing to private, autonomous establishments would be a step in the right direction."

Jeong Hyeon-cheol, researcher at KAIST, said, "current science high schools have too many limits placed on them to play their role in the gifted education system. Their school management and aid systems are not very different from those of normal schools. Preparations for a national policy of aiding and managing science high schools are urgently needed."

The Korean Federation of Teacher's Associations review said, "the changing plans to the specialization of foreign language high schools are not plans for a foundational solution for the improvement of the elite education system but rather shortsighted ideas that would create more problems. We call for a new, careful discussion starting from the beginning."
September 28th, 2007 · Transportation and Urban Design · 2 comments
Getting a seat on the Seoul subway is never easy, partly because it's so crowded, partly because Koreans often really want to sit down, but probably mainly just because it covers such a large area — a person can sit down and not get up for an hour or more. The Busan subway covers a much smaller area and finding a seat there is easy, because people tend to ride for just a few stops.
Well, one reader of the Chosun Ilbo writes in with a real heart-warming story of how one young mother got a seat.
At Suseo Station on line three, passengers are always bustling through on their way to the Bundang line or Hwanseung Station. So if you get on at Suseo Station it's pretty tough to find an empty seat if it's not morning. But a few days ago I was touched by a really moving scene. On that day, too, there were lots of passengers on the subway and no empty seats, but one young mother got on carrying her small child. Then wouldn't you know it, suddenly one grandmother got out of her seat and offered it to the woman with her child! The grandmother seemed to be coming from the countryside and was carrying lots of baggage. The child's mother was really surprised and then refused, saying, "How could a young person like me sit down. Grandmother, please, you sit."

But the grandmother said she was ok and told her to sit down. The noisy subway became quiet and then every passenger sitting in that same row suddenly got up and offered their seats. Every passenger on the train smiled and the beautiful spirit of giving up your seat filled the car.
September 28th, 2007 · Accidents, Crimes and Scandals · 1 comment
Why, just a little while ago The Metropolitician was in a froth over bad police officers in the US — here's a story of a very, very bad one in South Korea.
On the 20th the Ilsan Police Department applied for an arrest warrant for Goyang police sergeant Lee (39) on suspiction of forcible rape.

According to police, on August 29th at 11 pm in a public parking lot in front of the Goyang Sports Complex, the sergeant threatened "A" (33, female) with a deadly weapon as she was starting her car.

He bound her hands and feet with tape in the passenger seat, drove her car to a secluded area near Hosu Par, sexually assaulted her and used her Hyundai card to withdraw 6,190,000 won.

The sergeant is also suspected to have committed a similar crime on the night of January 25th, abducting 43-year old "B" and stealing 9,500,000 won. Also, on the night of February 8th he is believed to have abducted 34-year old "C", stealing 3,250,000 won and then forcing her to perform unusual sex acts.

The sergeant took the victimized women to the banks and was not recorded on CCTV while withdrawing the money. Furthermore, he stole the victims' identification cards and told them,"if you report me, I know your address and I will kill your family."

It appears that he wore a mask and committed his crimes while being very careful not to leave fingerprints.

To catch the criminal committing similar crimes in the same area, the police on duty at 8 pm on the 19th arrested the sergeant as he was abducting a woman from the parking lot in front of the Goyang Sports Center.

Investigators, observing the area with binoculars from a building across the street, saw the crime and swiftly caught the sergeant, who had already bound his victim's hands and feet.

So far the sergeant has been arrested for three abductions, and besides those intended to commit two others, confessing to police that he abducted Ms. "D" (29), who attempted to open her car door and escape.

Also, the police have sent evidence from 14 similar forcible rapes since 2004 to the present in Goyang, Paju, Uijeongbu and Yangju to the national forensics laboratory to see if they are related to Sergeant Lee and their investigation of DNA evidence is continuing.

Sergeant Lee, who became a police officer in 1989, was dismissed from duty in the Gwangmyeon policein 1997 after being suspected of bribery, but was reinstated the next year after it was concluded he was blameless. After that his attitude towards his duty was poor and his area of duty often changed.

Also, police have confirmed that in October 2006 he was having financial difficulties including receiving his older brother's debt, towards which most of monthly salary was going, and because of that he began working in management within the police.
September 27th, 2007 · Accidents, Crimes and Scandals, Legal news · 0 comments
A jjimjilbang in Busan once left me and my girlfriend with hives for a few days. It seems that we may have gotten off lucky as Naver brings us two stories of
A jjimjilbang has been ordered to pay a large amount of money in damages for a customer's death by gas poisoning caused by negligence.

The Seoul Central District Court's civil cases division (judge, Park Jeong-ho) ruled on the 20th in favor of the plaintiffs, five surviving family members who sued the jjimjilbang owner, Yang, for damages for the death of Mun, who died of carbon monoxide poisoning while in the jjimjilbang. The judge said, "Yang must pay Mun's family 260,000,000 won including 60,000,000 in consolation money."

Mun, who worked at an electronic parts manufacturing company, went to the S jjimjilbang in Hongcheon in August 2005 and, while using the charcoal sauna, died of carbon monoxide poisoning. Mun's wife and children filed suit against the business.

In his ruling the judge said, "when the defendant, Yang, removed the charcoal carbon monoxide was released, and as customers were caused to leave for their safety there was a duty to inform them, but the facts show the law was broken. As Yang violated the law there is a responsibility to pay damages to the plaintiffs." Last April the Changwon civil court ruled in favor of Choi, a jjimjilbang user who fell to the floor, sustaining serious back and leg injuries, after straddling the railing of a third-floor window in the jjimjilbang's resting area. The judge in that case ordered 9,300,000 won to be paid.

The judge ruled that, "the jjimjilbang owner had a responsibility to put a sign on the guardrail warning users not to sit on it before anything happened. The duty to be concerned for the safety of the customers was broken."
September 26th, 2007 · Society · 2 comments
It's official — Korean kids are definitely getting bigger.

One in ten elementary, middle, and high school students are obese, and every year the number of students who weigh 50% more than normal increases. And seven in ten students who responded to a health and fitness questionnaire had at least one problem, making for an emergency in the health management of elementary schoolers.

According to the Ministry of Education and Human Resources Development's "2006 Report on Elementary, Middle, and High School Student's Body Development and Fitness" released on the 20th, 11.23% of elementary, 11.2% of middle, and 12.81% of high school students are obese, for an average of 11.62%. The obesity rate has continued to increase at a 0.84% rate, greater than the 0.77% rate in 2004 and 0.78% rate in 2005.

Boys are much more likely to be obese than girls. 13.08% of elementary, 13.64% of middle, and 15.06% of high school students are obese, much more than the same figures for girls (9.35%, 8.73%, and 10.68%).

As for the grade of obesity, 6.46% were classified as light, 4.32% as medium, and 0.84% as high. Being 50% over normal weight was high, 20-29% was light, and 30-49% was medium. The rates of severe obesity were 0.64% among elementary schoolers, 0.86% among middle schoolers, and 1.2% among high schoolers.

During high school over-indulgence in hamburgers, hot dogs, cola, and other high-calorie fast foods and sodas is frequent but there is another result. A person from the Ministry of Education said, "this can also be accounted for by the fact that as students progress through high school they are trapped in the competition to enter college and they find it difficult to get enough exercise."

Quite a few students were found to have not just obesity but other afflictions. 64.6% of boys and 69.06% of girls in elementary school, 78.43% of boys and 84.96% of girls in middle school, and 86.75% of boys and 86.64% of girls in high school have at least one health ailment. 34.7% had two or more. The most common was tooth decay, found in 43.43%.

Unrelated to the various problems of obesity, students' height also increased. But because recently every age group has tended towards 몸짱, male and female students' weight is gradually going down.

The average height of elementary schoolers was 149.95 cm for boys and 150.26 for girls, increases since 2005 of 0.83 and 0.64 cm respectively. Third-year middle school studentsare 168.68 cm for boys and 159.53 for girls, increases of 0.23 and 0.21 since 2005. Third-year high school students are 173.9 for boys and 161.1 for girls, increases of 0.3 and 0.11. The average heights for all are two to three centimeters higher compared to 10 years ago.

As for weights, sixth-grade boys weighed 44.74 kg and sixth-grade girls were 43.72 kg, increases of 0.20 and 0.14 since 2005, while third-year high school boys weighed 68.16 kg, 0.06 more than last year. However third-year middle school girls weighed 52.93 kg, a drop of 0.2 from 2005. Third-year high school girls recorded a 0.66 kg drop to 55.43 kg. Boys in the third year of middle school also dropped 0.46 kg to 60.49.
September 26th, 2007 · Accidents, Crimes and Scandals · 1 comment
It's been a long time and everyone seems to have forgotten about the plight of the five Koreans abducted in Somalia last May. Yonhap News filed this story about what their families are doing to try and win their release.
The family of the Korean crewman kidnapped by pirates in Somalia in May prostested at the Ministry of Foreign Affairs building in Seoul on the afternoon of the 20th.

According to the Ministry's statement on the 21st, the wife of abductee Han Seok-ho and six other family members of abducted citizens met at the Ministry with authorities from an organization for overseas Koreans and implored the government to act for the release of the captives.

The families said, "the government, which aggressively negotiated for the release of those abducted in Afghanistan, is dealing with the Somalian situation as if it doesn't care."

Mr. Han and four other Korean citizens were abducted on May 15th along with 20 other crew members of various nationalities while working on the ship Mavuno, which had traveled from Mobasa, Kenya to Yemen and Mogadishu, Somalia, where it was stopped by pirate warlords 210 miles from shore and where its crew are continuing to be held captive.
September 26th, 2007 · Fashion, Society, Women in Korea · 5 comments
Apparently the news of a Japanese man arrested for taking upskirt pictures has Korean netizens all riled up. But let's not think that those rascals have their venom reserved only for Mr. K — no, no, no.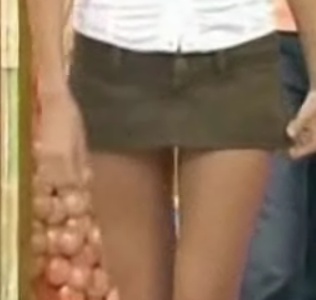 Netizens have been stirred up by K's bad acts, calling for him to be severely punished, writing, "it's disgraceful for that kind of person to be next to our country. He should spend five years in prison," and "he should be banned from Korea forever." Most netizens called for a unique punishment — "let's just let him go free…to swim back to Japan in nothing but his underwear." Another wrote, "make him wear just his underwear and march around the country."

But netizens' reactions also have them saying that women who wear miniskirts are part of the problem, saying, "if you're so worried about things like this happening then don't wear miniskirts," or "that skirt's meant for showing off, isn't it?" "K has to be severely punished, but women who go around in short skirts are also a problem."

Of course there is also opposition to such views. At one netizen discussion board, threads were started saying, "that's just too much. I didn't know there were so many people who would support such a person," and "you who say such things are just like him."

The popularity of miniskirts, being criticized as part of this incident, has continued since 2000 without dipping. Miniskirts had been popular in summer and then in winter, too, after leggings became trendy.

On one internet community site there is a debate on "the reason women wear tiny miniskirts." Netizens in that debate suggested, "they want to look good," "they want to be noticed," "self-satisfaction," "they just think of it as a type of fashion and wear it."

Office worker Ju (28, male) said that women wear miniskirts, "to get men to notice them. They wear them because they're proud of their bodies." But office worker Lee (24, female) retorts, "they're prettier than regular clothes, so I wear them because they look good on me." Miniskirts aren't worn to attract the attention of men.

There are also frequent debates on the internet about the relationship between women wearing miniskirts and sex crimes. At the beginning of this year at one discussion site, in a debate on the subject "miniskirts and sex crimes," the two opinions "sex crimes increase from women wearing miniskirts" and "there's no relationship between sex crimes and miniskirts" butted heads intensely.
September 25th, 2007 · Women in Korea · 0 comments
According to a recent study Korean women worry more about losing weight than about their faces. On the 18th the Korean Cosmetic Association released its research of interviews and questionnaires given to 3,541 women, including 1,079 women in their twenties who attended a cosmetics fair, finding that the area of their bodies they worry about most was not their face but their abs.

Asked, "what part of your body do you normally worry about most?", 27% answered their abs, followed by face (16%), waist (10%), forearms (9%), back (9%), calves (7%), buttocks (6%), thighs (6%), sides (4%), and neck (3%).Of those who said skin troubles, 17.6% answered "big pores" and 15.6% said "wrinkles", with 14.5% saying "freckles or spots", and 10.8% dark circles around the eyes. Asked which type of beauty products they currently use, 95.1% said skin, 89% lotion, 74% essence, 61% cream, 80% UV-blocking sunscreen, and 59% eye cream.

Korean women, to create the so-called "natural look", paradoxically wind up using more makeup compared to foreign women. 72% of respondents spend at least 30,000 won per month on cosmetics. But 57.9% of them spend just 10 minutes or less applying it.

On the subject of information about makeup to erase wrinkles and block UV rays, 86.9% of women said they were aware of it, a high ratio, and 83.4% of them used such products, showing that their understanding of such products is also quite high.
September 25th, 2007 · Education and ESL · 5 comments
It's difficult to know what to make of this case. It does bring to mind last year's case of a teacher fired for hitting and tossing books at her students, but without knowing more of the facts it's not easy to say if the mother is justified. From this short report, it might be worth noting that the teacher doesn't seem surprised she had to go to the hospital, and the city education board doesn't seem to really have his or her back.
Because her daughter was suffering stress and the aftermath of frequent corporal punishment administered by her homeroom teacher, one mother has gone to the police.The mother of 9-year old "S", a second-grader at an elementary school in Gunsan, went to the reporting room in Gunsan City Hall on the 19th and said, "my daughter often receives corporal punishment from her homeroom teacher and my little girl is stressed out by it. Today I've gone to the police and demanded the teacher be punished."

S' mother said, "my daughter is frightened of her teacher, who hits her on the head, and she tries to avoid going to school and sometimes wakes up in the middle of the night because of it. The teacher admits it but completely refuses to pay for her hospital bills."

The teacher, "A", said, "S broke her friend's pencil case and hit her classmates with a wood stick. As for hitting her on the head, S refused to hold out her palms, so I induced her to do so. It was not violence but educational corporal punishment."

Teacher A added, "I can offer to pay some compensation to her mother, who had to go to the hospital on account of her daughter, but I can't understand her demanding 30,000,000 won for medical bills."

"if this kind of thing spreads around the world and huge sums of compensation have to paid, where is the teacher who will stay in the classroom? It's sad to see a society where educational corporal punishment is considered a problem."

The Gunsan city education board announced, "if after an investigation of the facts it is judged to have been excessively violent the disciplinary committee would certainly take action."